Hampi
August 22, 2021

Posted by:

admin1

Category:

DPN Topics

Hampi
Subject – Art and Culture
Context –Vice-­President M. Venkaiah Naidu visited Hampi.
Concept –
It is a UNESCO world heritage site.
It was a part of the Mauryan Empire back in the third century BC. 
Hampi was the capital city during the four different dynasties altogether in the Vijayanagar city that came into existence in the year 1336 AD.
The Vijayanagara Empire reached unfathomable heights under the guidance of King Krishnadeva Raya of the Tuluva Dynasty. 
'KishkindhaKaand' in Ramayana has special significance concerning Hampi.
It is located near the Tungabhadra river.
By 1500 CE, Hampi-Vijayanagara was the world's second-largest medieval-era city after Beijing, and probably India's richest at that time, attracting traders from Persia and Portugal.
It has been described by UNESCO as an "austere, grandiose site" of more than 1,600 surviving remains of the last great Hindu kingdom in South India.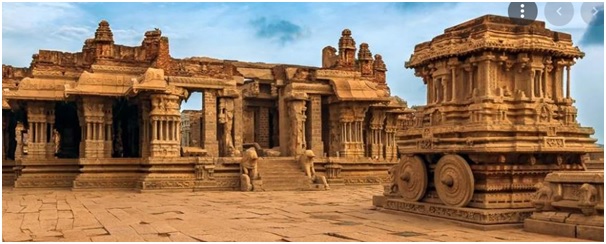 Group of Monuments at Hampi –
The Vitthala temple in Hampi is an excellent example of Vijayanagar style.
The monolithic statues of Lakshmi, Narasimha and Ganesha are noted for their massiveness and grace.
The Krishna temple, Pattabhirama temple, Hazara Ramachandra and Chandrasekhara temple as also the Jain temples, are other examples.
Zenana enclosure wherein a massive stone basement of the Queen's palace and ornate pavilion called 'Lotus-Mahal' are the only remnants of a luxurious 'Antahpura'.
The corner towers of arresting elevation, the Dhananayaka's enclosure (treasury), the Mahanavami Dibba carrying beautifully sculptured panels, a variety of ponds and tanks, Mandapas, the elephant's stables and the row of pillared Mandapas are some of the important architectural remains of Hampi.