Hundreds of elephants, zebras die as Kenya weathers drought
November 5, 2022

Posted by:

OptimizeIAS Team

Category:

DPN Topics

Hundreds of elephants, zebras die as Kenya weathers drought
Subject :Environment
Context-
Hundreds of animals, including elephants and endangered Grevy's zebras, have died in Kenyan wildlife preserves during East Africa's worst drought in decades.
Drought in Kenya-
Parts of Kenya have experienced four consecutive seasons of inadequate rain in the past two years, with dire effects on people and animals, including livestock.
The worst-affected ecosystems are home to some of Kenya's most-visited national parks, reserves and conservancies, including the Amboseli, Tsavo and Laikipia-Samburu areas.
The Kenya Wildlife Service and other bodies counted the deaths of 205 elephants, 512 wildebeests, 381 common zebras, 51 buffalos, 49 Grevy's zebras and 12 giraffes in the past nine months.
They called for an urgent aerial census of wildlife in Amboseli to get a broader view of the drought's impact on wild animals there.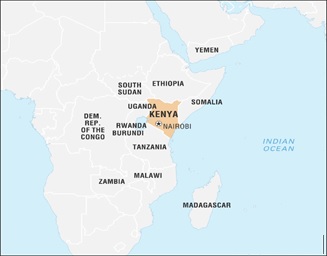 Grévy's zebra (Equus grevyi)
Also known as the imperial zebra, it is the largest living wild equid and the most threatened of the three species of zebra, the other two being the plains zebra and the mountain zebra.
Named after Jules Grévy, it is found in parts of Kenya, Somalia and Ethiopia.
Superficially, Grévy's zebras' physical features can help to identify it from the other zebra species.
Compared to other zebra species, Grévy's are the tallest and have the tightest stripes of all zebras.
The Grévy's zebra live in the semi-arid savanna, where they feed on grasses, legumes, and browse, such as acacia; they can survive up to five days without water.
Listed by the IUCN as endangered.
Its population has declined from 15,000 to 2,000 since the 1970s.
About Amboseli National Park-
Formerly Maasai Amboseli Game Reserve is a national park in Kajiado South Constituency in Kajiado County, Kenya.
The park ecosystem spreads across the Kenya-Tanzania border.
The local people are mainly Maasai
It has 400 species of birds including water birds like pelicans, kingfishers, crakes, hamerkop and 47 raptor species.
The park protects two of the five main swamps and includes a dried-up Pleistocene lake and semiarid vegetation.
 The protected area is home to African bush elephants, Cape buffalo, impala, lion, cheetah, spotted hyena, Masai giraffe, Grant's zebra, and blue wildebeest.
Tsavo East National Park
It is one of the oldest and largest parks in Kenya.
Situated in a semi-arid area previously known as the Taru Desert it opened in April 1948, and is located near the town of Voi in the Taita-Taveta County of the former Coast Province.