Hybrid Immunity
October 24, 2021

Posted by:

OptimizeIAS Team

Category:

DPN Topics

Hybrid Immunity
Subject – Science and Tech
Context – More studies show the superiority of hybrid immunity
Concept –
A study has shown that a combination of natural infection with a single dose of vaccine provides greater immunity than either natural infection without vaccination or full vaccination in infection-naïve individuals.
Hybrid immunity — natural immunity from an infection combined with the immunity provided by the vaccine — had a higher and more durable neutralising antibody response. The hybrid immunity offers stronger protection than just infection or full vaccination alone.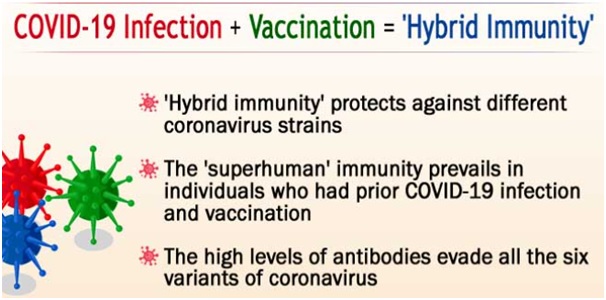 The immunological advantage from hybrid immunity arises mostly from memory B cells. While the bulk of antibodies after infection or vaccination decline after a short while, the memory B cells, which evolve in the lymph nodes, get triggered on subsequent infection or vaccination.
Differences between the memory B cells triggered by infection and those triggered by vaccination — as well as the antibodies they make — might also underlie the heightened responses of hybrid immunity. Infection and vaccination expose the spike protein to the immune system in vastly different ways.
After full vaccination, antibodies produced by natural infection continued to grow in potency and their breadth against variants for a year after infection. Unlike after vaccination, the memory B cells formed after natural infection are more likely to make antibodies that block immune-evading variants.
Memory B cells in the fully vaccinated people without prior infection are growing in number and gaining mutations up to 12 weeks after the second dose, which allows the B cells to recognise and neutralise variants.