India successfully tests Ballistic Missile Defence Interceptor capable of neutralising long-range adversary missiles
November 3, 2022

Posted by:

OptimizeIAS Team

Category:

DPN Topics

India successfully tests Ballistic Missile Defence Interceptor capable of neutralising long-range adversary missiles
Subject : Science
Context-
The Defence Research and Development Organisation (DRDO) conducted a successful maiden flight test of phase-II Ballistic Missile Defence (BMD) interceptor AD-1 missile with a large kill altitude bracket from the APJ Abdul Kalam Island off the coast of Odisha on November 2.
About AD-1 missile-
The system, which is capable of striking down incoming adversary missiles and aircraft, has been developed under the Ballistic Missile Defence programme.
The AD-1 (Air Defence) is a long-range interceptor missile designed for both low exo-atmospheric and endo-atmospheric interception of long-range ballistic missiles as well as aircraft.
The missile is propelled by a two-stage solid motor and equipped with an indigenously developed advanced control system and a navigation and guidance algorithm to precisely guide the vehicle to the targets that move at very high speeds.
The fully functional ballistic missile defence system contained high-power radars and could potentially protect large areas from adversary missiles or other air attacks.
India's Ballistic missile defence (BMD) programme-
The development of anti-ballistic missiles is said to have started by the DRDO around the 2000s (after the 1999 Kargil war) in view of the development of ballistic assets by Pakistan and China.
Phase-1 of the programme is said to have been completed towards the end of the 2010s and consisted of the advanced air defence systems and air defence systems based on the Prithvi missile.
Pradyumna Ballistic Missile Interceptor is going to replace the Prithvi air defence, as per the DRDO.
The second phase focuses on the development of anti-ballistic defence systems like the US's Theatre High-Altitude Area Defence system, which can neutralise intermediate-range ballistic missiles. Akash Surface-to-Air Missiles (SAM) is part of AAD.
The AD-II, which is capable of neutralising missiles of even higher ranges, is also said to be under development.
India also conducted its first successful anti-satellite (ASAT) test, under Mission Shakti in March 2019.
ballistic missile
A ballistic missile follows a ballistic trajectory to deliver one or more warheads on a predetermined target.
It is a rocket-propelled self-guided strategic-weapons system that follows a ballistic trajectory to deliver a payload from its launch site to a predetermined target.
These weapons are guided only during relatively brief periods—most of the flight is unpowered.
Short-range ballistic missiles stay within the Earth's atmosphere, while intercontinental ballistic missiles (ICBMs) are launched on a sub-orbital trajectory.
These weapons are in a distinct category from cruise missiles, which are aerodynamically guided in powered flight.
They can be launched from aircraft, ships, and submarines in addition to land-based silos and mobile platforms.
Ballistic missiles can carry conventional high explosives as well as chemical, biological, or nuclear munitions.
Ballistic Missile Classes and Range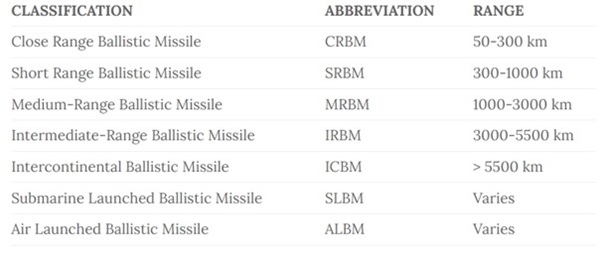 Difference Between Ballistic Missiles and Cruise Missiles
Unlike the long arcing trajectory of a ballistic missile, a cruise missile travels at lower altitudes and on far straighter trajectories.
Cruise missiles don't leave the atmosphere at any point during their flight, nor do they travel unpowered for any significant duration.
Cruise missiles can be launched from land, sea or air for land attacks and anti-shipping purposes, and can travel at subsonic, supersonic and hypersonic speeds.
A cruise missile either locates its target or has a preset target.
Since they stay relatively close to the surface of the earth, they cannot be detected easily by anti-missile systems, and are designed to carry large payloads with high precision.