India's initiatives on green hydrogen could help global decarbonisation
November 24, 2022

Posted by:

OptimizeIAS Team

Category:

DPN Topics

India's initiatives on green hydrogen could help global decarbonisation
Subject: Environment
Context:
India has announced its long-term low-emission development strategy, which focuses on climate justice, sustainable lifestyles, and equity, at the ongoing UN climate summit in Egypt, joining a select group of fewer than 60 nations to do so.
India's vision of the Hydrogen economy-
Green hydrogen mission was announced in 2021 to make India the Green Hydrogen hub.
The central government has set a target of an annual production capacity of 25 million tonnes by 2047.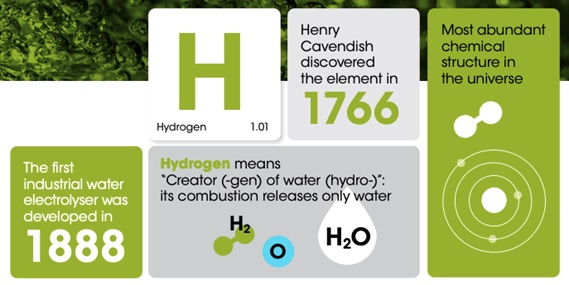 Production of Green hydrogen-
Produced by breaking down water in an electrolyser using only renewable energy, resulting in no carbon emissions.
The hydrogen can then be combined with nitrogen to make green ammonia, avoiding hydrocarbons in the process.
Green ammonia is used to store energy and make fertilisers.
Green hydrogen could become an alternative to coal in steel mills and fossil fuels in long-haul transport like shipping and trucking.
Current status-
Currently, the bulk of hydrogen produced in the world uses natural gas, which is known as black hydrogen.
There is also grey hydrogen made from low-carbon technologies, but its share in the global market is negligible.
India has set a target of five million tonnes of green hydrogen by 2030.
Over the next decade, the country plans to add 175 GW of green hydrogen-based energy.
Cost of production-
Hydrogen produced with renewable resources costs anywhere between $3 per kg and $6.55 per kg, compared with fossil-based hydrogen which costs about $1.80 per kg.
In India, the production cost of green hydrogen is around Rs 500 per kg.
The government expects to reduce the cost of manufacturing green hydrogen by 40-50% through its policy initiatives.
Prospects of the industry-
According to market researcher Precedence Research, the global green hydrogen market was valued at $1.83 billion in 2021 and is expected to hit over $89.18 billion by 2030, expanding at a compound annual growth rate of as high as 54% from 2021 to 2030.
The Asia-Pacific region is the fastest-growing area in the green hydrogen market.
Challenge of demand generation-
Scaling up the technology and making it cost-effective
Uncertainty on demand growth
Fuel may not become the first choice in transport and industry
Private investments in hydrogen energy generation-
Reliance and L&T has announced to invest in hydrogen energy generation.

L&T has recently made a pact with the Indian Institute of Technology Bombay to carry out research on furthering green hydrogen technology.

Indian Oil Corporation also announced its plans to build a green hydrogen plant at its Mathura refinery in Uttar Pradesh.
GAIL plans to build India's largest green hydrogen plant, as does state-owned power utility NTPC.