ISRO, for the first time, delivers FTS packages to space-tech start-ups for sub-orbital mission
November 12, 2022

Posted by:

OptimizeIAS Team

Category:

DPN Topics

ISRO, for the first time, delivers FTS packages to space-tech start-ups for sub-orbital mission
Subject: Science and Technology
Agnikul cosmos-
Chennai-based space-tech start-up Agnikul, with the support of the Indian National Space Promotion and Authorisation Centre (IN-SPACe), has received Flight Termination System (FTS) package from the Indian Space Research Organisation (ISRO) as part of its preparation for a fully controlled sub-orbital mission from SHAR, Sriharikota.
This is also the first time that a system that has been used for ISRO's vehicles is being supplied for supporting a private launch vehicle built in India.
Agnikul's first mission is a controlled flight tracking a predetermined trajectory.
Recently, as a part of Agnikul's preparation for its first launch, ISRO facilitated the test firing of Agnikul's single-piece, 3D-printed rocket engine — Agnilet at Vertical Test Facility, Thumba Equatorial Rocket Launching Station (TERLS), at Vikram Sarabhai Space Center (VSSC), Thiruvananthapuram.
What is a sub-orbital flight-
Sub-orbital flight, just like the ones undertaken by Jeff Bezos and Richard Branson, are those vehicles which are travelling slower than orbital velocity – meaning it is fast enough to reach outer space but not fast enough to stay in an orbit around the Earth.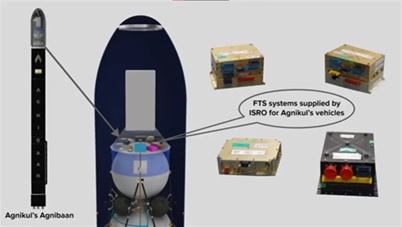 India's Space sector-
The Indian Space Sector has been globally recognised for building cost-effective satellites and taking foreign satellites to space.
Currently, India constitutes 2-3% of the global space economy and is expected to enhance its share to more than 10% by 2030.
As part of India's commitment to the Geneva Conference on Disarmament, the country continues to advocate peaceful and civilian use of outer space and oppose any weaponization of space capabilities or programs.
Opening up of Space for the private sector-
The space sector was opened up to facilitate private sector participation in 2020, and in 2021, Skyroot became the first space technology startup to ink an MoU with ISRO for sharing facilities and expertise.
Currently, the 53 space-tech start-ups in the country have collectively raised funding to the tune of $220 million.
Skyroot Aerospace leads the pack, followed by AgniKul and satellite maker Pixxel.
ISRO's Small Satellite Launch Vehicles (SSLV) are also likely to be manufactured and operated by private players soon.
As for private satellite missions, ISRO's heaviest launch vehicle Mark III launched 36 OneWeb satellites (India's Bharti is a stakeholder).
The space agency will be launching another fleet of 36 satellites for the company as well.