La-Nina
May 8, 2022

Posted by:

OptimizeIAS Team

Category:

DPN Topics

La-Nina
Subject: Geography
Section: Climatology
Context:
This year, the La Nina is being blamed for worsening perhaps the longest spell of heatwaves from March to April in north, west and Central India.
About La-Nina:
La Nina is a climate pattern that describes the cooling of surface ocean waters along the tropical west coast of South America.
La Nina means Little Girl in Spanish.
La Nina is also sometimes called El Viejo (in Spanish), anti-El Niño, or simply "a cold event."
La Nina has the opposite effect of El Nino.
La Niña is caused by a build-up of cooler-than-normal waters in the tropical eastern Pacific due to stronger  south-east trade winds than usual
And pushing more warm water towards Asia from the west coast of the South Americas.
La Nina events are indicated by sea-surface temperature decreases of more than 0.5 for at least five successive three-month seasons.
Upwelling increases, bringing cold, nutrient-rich water to the surface in off the coast of peru
Atmospheric stability and cold and dry conditions prevail over West Coast of South America and instability and low pressure conditions in tropical western pacific
La Nina brings greater than normal rainfall over northern Australia, Indonesia, New-guinea and India during monsoon
La Nina events may lastbetween one and three years, unlike El Niño, which usually lasts no more than a year
La- Nina is a cold phase of EnSo( El-Nino Southern Oscillation)
La-Nina affects the position and intensity of jet streams and storms outside of the tropics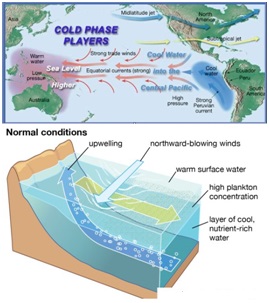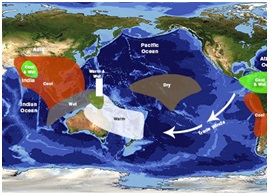 La-Nina and heat waves:
IMD defines a heat wave as a condition when the average maximum temperature exceeds 45°C, or if the temperature is higher than normal by 4.5°-6.4°C on at least two consecutive days
While heat waves are expected to peak in May, the ongoing heat wave first occurred early in March and the spring season felt like summer.
Heat waves in mountain states of Himachal Pradesh, Uttarakhand and UT of J&K are unprecedented this year.
Persistence of La-Nina is believed to be an early and prolonged heat waves in India this year
How La-Nina induces Heat waves?
Every summer, the formation of a low pressure over India pulls in high-pressure winds from the Arabian Sea, causing the monsoon.
However, the formation of a ridge in the subtropical jet stream over India resulted in a high-pressure zone that trapped heat within the subcontinent, creating a persistent heat wave.
The hot air over land is being boxed in from all sides by the jet stream's high pressure, resulting in the formation of a 'heat dome'.
The resultant overall high-pressure region prevents other winds from being pulled into the subcontinent.
Within the heat dome, the jet stream moves air from west to east, but this air sinks back hot, leading to a heat wave.
This anomaly was likely triggered by persistent La Niña conditions
Moreover, the La Niña produced a north-south pressure pattern over India as expected during the winter that normally influences trade winds that bring monsoon rains to India.
However, because of persistence of La-Nina, drove hot westerly winds and blasts of hot air from the Middle East into Pakistan and India.
Western disturbances, or moisture from the Mediterranean region that fall as rain over north-western India brings rainfall in march during rise in temperature.
Temperature difference between Europe and India causes this Western disturbance
Partly due to La Nina, the temperature difference was week and resulted in weak western disturbances with hardly any rain
The similar effect has been seen even during 1998-2000 when La Nina had persisted for three years,