Lockdown increased exposure to indoor air pollution
October 23, 2022

Posted by:

OptimizeIAS Team

Category:

DPN Topics

Lockdown increased exposure to indoor air pollution
Subject :Environment
Context-
During the COVID-19 lockdown, many countries observed historic improvements in ambient air quality.
A study shows that despite the historic improvements in ambient air quality, PM2.5 exposures increased for 65% of Indians and a third of the global population during the lockdown, largely attributed to biomass cooking activity.
Indoor air pollution-
The term "indoor air pollution" refers to the dirt, dust, and gases that enter buildings and contaminate the air within.
It refers to the physical, chemical, and biological properties of air in a home, institution, or commercial facility's indoor environment.
Sources of Indoor air pollution-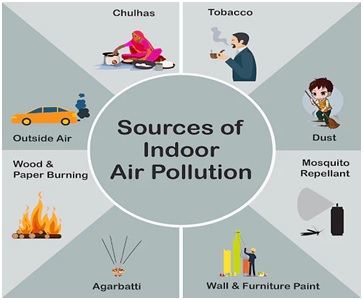 Indoor Air Pollution – Types
Rural-

Rural communities, where households still use conventional energy sources like firewood, charcoal, and cow dung for heating and cooking, are those where interior pollution poses the biggest concern.
The four most dangerous contaminants in the smoke from biofuels are formaldehyde, polycyclic organic matter, carbon monoxide, and particulates, however many hundreds of different chemical agents have been found.

Urban-
Exposure to indoor air pollution has grown in urban areas for a number of reasons, including-

Construction of buildings with tighter seals;
Decreased ventilation;
Using synthetic materials for construction and furnishings;
The use of chemical products, insecticides, and household care items.
Indoor air pollution might start inside the building or be brought in from the outside.
Several other pollutants, besides lead, carbon monoxide, and nitrogen dioxide, have an impact on the quality of the air.
Increased exposure-
Rural women have the highest levels of air pollution exposure.
During the lockdown,workingage men and schoolgoing children observed the largest exposure increases.
Increased exposure is due to prevalence of biomassfueled cookstoves.
The study estimated that 65% of Indians had increased exposures during the lockdown, with average nationwide exposures increasing by 13%.
The indoor PM2.5 concentration for biomass user households is 220 times higher than their respective outdoor concentration in different Indian states.
Various indoor air pollutants–
Volatile Organic Compounds (VOCs)

The primary sources of volatile organic compounds are perfumes, hairsprays, furniture polish, glues, air fresheners, moth repellents, and other goods.

Tobacco Smoke
Indoor Combustion
Biological pollutants

including certain bacteria, fungi, parasites, pet hair, mites, and pollen from plants.

Radon
Carbon monoxide (CO)
Asbestos
Formaldehyde
Exposure across groups-
During baseline conditions, working age rural women have the highest PM2.5 exposures of any demographic, with average exposures of 175 ug m3, due mainly to exposure to biomass cooking related emissions.
During the lockdown, despite everyone being mandated to stay at home, we still found that workingage women continued to maintain the highest exposures (185 ugm3).
The other demographic groups that had the highest exposure were workingage men and schoolage children, whose average modeled exposures increased by 24% and 18%  respectively.
Global scenario-
Global estimation shows that 35% of the global population will have observed increased exposures during the lockdown.
This occurred largely in developing economies (Africa, South East Asia) where biomass use is prevalent.