Mains Optima 2020
October 28, 2020

Posted by:

admin1

Category:

Mains

Hi all,
I hope you all have started your mains preparation. Let me tell you frankly, qualifying CSE Mains is easier than prelims. Trust me on this. I say this from my experience of writing all 6 Prelims and Mains and qualifying most of them. For cracking mains you just need to write 15 awesome answers (Out of 20 questions) in every paper. Other 5 answers may be average. I repeat myself 15 awesome answers. But the million dollar question is what an awesome answer is and how to prepare such answers and write such answers in the exam.
The answer to first part is easy. An awesome answer meets following conditions:
Meets the demand of the question.
Has a rich content.
Has a beautiful presentation
The second part is a bit tricky .To prepare such an awesome answers you need to have very good conceptual understanding of the topic, must do some research to gather relevant facts and examples and then learn the art of presentation.
Can you do it on your own?
Yes of course. Provided you have unlimited time to browse internet and watch YouTube videos. Further, you cannot prepare each and every topic in the syllabus with such depth. It will be a complete waste of time.
What is the way out then?
In one word it is optimization –"doing the most with the least". The purpose of optimization is to achieve the "best" result relative to a set of constraints.  The biggest constraint you have in the next two months is time. You cannot waste your time on reading irrelevant stuff which has low probability of coming in exam.
The key to success is in not spending time, but in investing it.
The MAINS OPTIMA 2020 is designed to optimize your mains preparation.
Let me explain how I am going to help you.
Prediction: To begin with I am going to list all important and expected questions for you in each subject. Here I will make use of my vast experience of UPSC CSE Mains exam. Then I am going to provide you relevant content in Question and Answer format for those topics. This will bring razor sharp focus to your mains preparation.
Discussion: Then these topics will be discussed with you by Subject Experts live.

History by Mr. Amit, AIR, 480 (CSE 2019)
Ethics case study by Mr. Subhadh Mathur, Retd IRS officer
Agriculture and Science and Tech by Mr.Sangeeth , Gold Medalist Agriculture Science
Polity , Economy, Security ,etc will be handled by Santosh Sir
Value Addition and Presentation: We will give you compilation of

Relevant facts and examples important for mains 2020. These facts will be picked by us from Friday Factly of the entire year (Only those facts which you can use in mains 2020).
Important Committee and their recommendations.
Mains Master Notes compilation on important topics for Mains 2020 will be provided. You can have a look at the quality of Mains Master Notes
Exclusive session on answer writing by Santosh Sir and Amit Sir where unique methods of presentation will be shared.
Model Essay on expected topics will be shared with do's and don'ts of essay writing.
I have score more than 100 in all GS papers (GS 1, 2, 3 AND 4) and around 150 is essay. I can say that relevant facts and presentation played the major role.
 Be picky with whom you invest your time in, wasted time is worse than wasted money.
How it is different from a mains test series?
Mains OPTIMA 2020 is not a test series to test your ability, rather it is performance enhancement course designed to optimize your performance. By giving you expected questions and model answer on expected topics and discussing those topics live we will empower you.
Joining a test series is a mechanical exercise. You write what you know and there is just pseudo satisfaction of hard work. There is no value addition. The value of test series depends on quality of evaluation which is not sure in most of the available test series at present because of huge number of students and limited time of the teacher. Most evaluation is done by students who have no idea of mains exam. Who is evaluating your answers is not known to you.
In Mains OPTIMA, we will discuss the important issue in depth in Q n A format with model answer. We will have exclusive answer writing session with model answers for self-evaluation (There is no evaluation from our side).  We will share what UPSC expects in Mains examination.
Both Santosh Sir and Amit Sir have cracked  CSE mains multiple times and have the insight to help you crack mains with least effort.
Choosing smart work over donkey work is the key to success in mains.
Join now: https://www.optimizeiascourses.com/learn/OPTIMA-2020–CSE-MAINS-
First introductory class begins today.
I say all this with my experience of predicting mains questions last years (CSE Mains 2019)
Below is 19th September, 2019 Daily Practice Sheet

This question from the Daily Practice Sheet came directly in CSE Mains GS 1.
Q.9 "Empowering women is the key to control population growth". Discuss
Like this more than 50 questions in GS and 3 Essay Topics in total came from my Daily Practice Sheet. I am attaching few more proof below:
Note: You can cross check from telegram channel files link .You will get all last one year compilation month wise.
Let us start with GS PAPER 4.
(b) "Non-performance of duty by a public servant is a form of corruption". Do you agree with this view? Justify your answer (150 words) (10 marks)
Source: July DPS
Q3. (a) What is meant by the term 'constitutional morality'? How does one uphold constitutional morality? (150 words) (10 marks)
(b) What is meant by 'crisis of conscience'? How does it manifest in the public domain? (150 words) (10 marks)


My Source: August DPS 
 Q4. (a) Explain the basic principles of citizens' charter movement and bring out its importance. (150 words) (10 marks)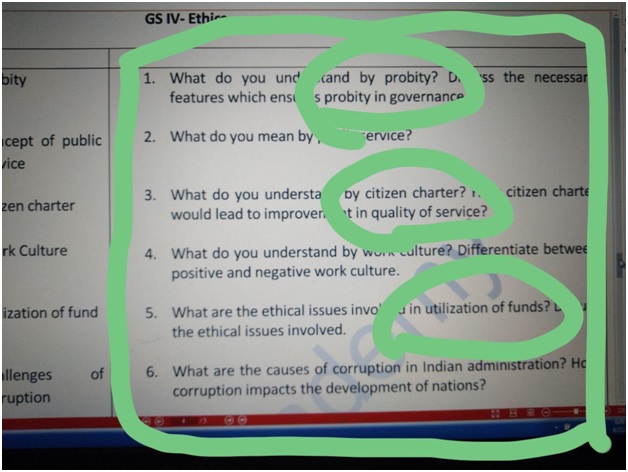 Q5. (a) What do you understand by probity in governance? Based on your understanding of the term, suggest measures for ensuring probity in government. (150 words) (10 marks)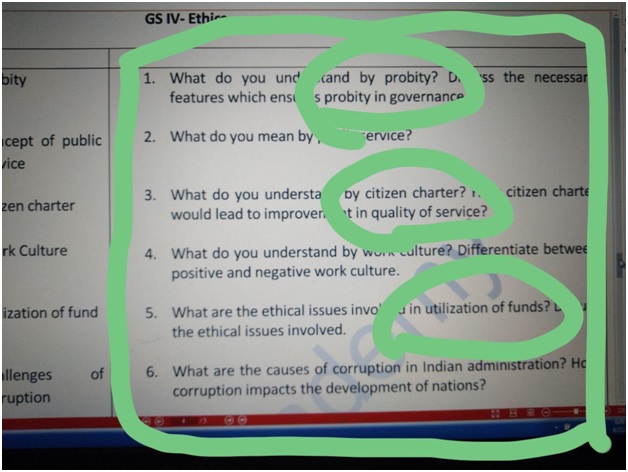 (b) "Emotional Intelligence is the ability to make your emotions work for you instead of against you." Do you agree with this view? Discuss. (150 words) (10 marks)
Q6. What do each of the following quotations mean to you?
(a) "An unexamined life is not worth living." – Socrates (150 words) (10 marks)
(b) "A man is but the product of his thoughts. What he thinks, he becomes." – M.K.Gandhi (150 words) (10 marks)
(c) "Where there is righteousness in the heart, there is beauty in the character. When there is beauty in the character, there is harmony in the home. When there is harmony in the home, there is order in the nation. When there is order in the nation, there is peace in the world." – A.P.J. Abdul Kalam (150 words) (10 marks)
All above questions I had discussed in my Ethics Class. Few toppers who attended my ethics class last year will recall.
Original UPSC GS 4 question:
Q2. (a) Effective utilization of public finds is crucial to meet development goals. Critically examine the reasons for under- utilization and mis- utilization of public funds and their implications. (150 words) (10 marks)
Q3. (a) what is meant by the term 'constitutional morality'? How does one uphold constitutional morality? (150 words) (10 marks)
My Source: August Daily Practice Sheet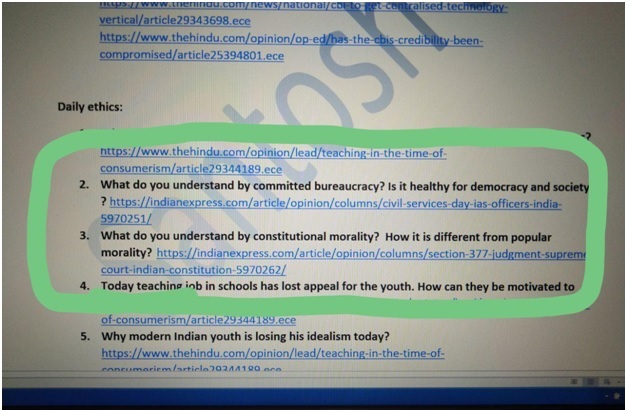 Q10. In a modern democratic polity there is a concept of political executive and permanent executive elected people's representatives forms the political executive and bureaucracy forms the permanent executive. Ministers frame policy decisions and bureaucrats execute these. In the initial decades after independence, relationship between the permanent executives and the political executives were characterized by mutual understanding, respect, and cooperation, without encroaching upon each other's domain.
However, in the subsequent decades the situation has changed. There are instances of the political executive insisting upon the permanent executives to follow its agenda. Respect for an appreciation of an upright bureaucrats has declined. There is an increasing tendency among the political executive to get involved in routine administrative matters such as transfers, posting etc. Under this scenario, there is a definitive trend towards 'politicization of bureaucracy'. The raising materialism and acquisitiveness in social life has also adversely impacted upon the ethical values of both the permanent executive and the political executive.
What are the consequences of this 'politicization of bureaucracy? Discuss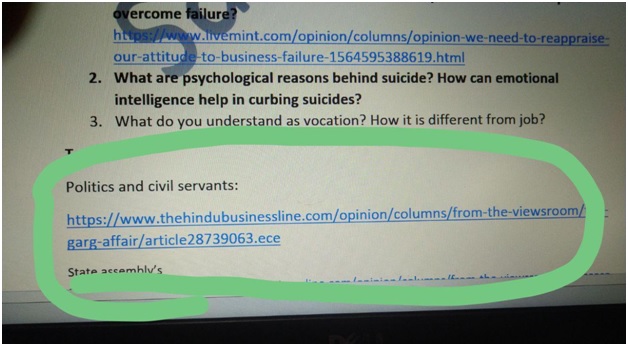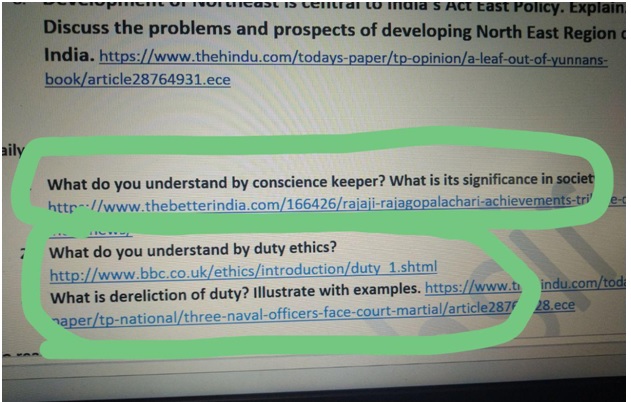 UPSC GS 2 Original Question:
Q.1 Do you think Constitution of India does not accept principle of strict separation of powers rather it is based on the principle of 'checks and balance'? Explain. 

My Source: 12th Sept, 2019 Daily Practice Sheet
UPSC GS 2 Original Question:
Q.3 what are the methods used by the farmer's organizations to influence the policy-makers in India and how effective are these methods? (10 Marks)

Original UPSC Question:
Q6. Despite Consistent experience of high growth, India still goes with the lowest indicators of human development. Examine the issues that make balanced and inclusive development elusive. (10 Marks)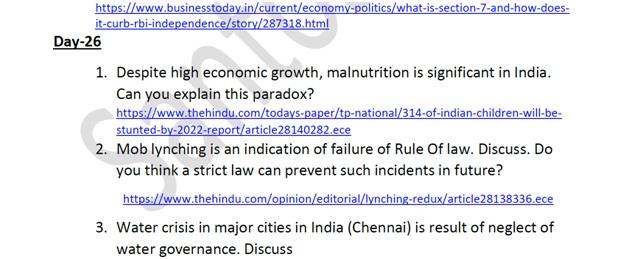 My Source: 26th June, DPS
UPSC GS 2 ORIGINAL QUESTIONS:
Individual parliamentarian's role as the national law maker is on a decline, which in turn, has adversely impacted the quality of debates and their outcome. Discuss. (15 marks)
Q16. 'In the context of neo-liberal paradigm of developmental planning, multi-level planning is expected to make operations cost-effective and remove many implementation blockages'- Discuss (15 marks)

June DPS
Original UPSC GS 2 question
Q.13"The reservation of seats for women in the institution of local self-government has had a limited impact on the patriarchal character of the Indian political process". Comment. (15 marks)
My Source: JUNE 2019 Daily Practice Sheet
What introduces friction into the ties between India and United States is that Washington is still unable to find for India a position in its global strategy, which would satisfy India's national self-esteem and ambitions'. Explain with suitable examples.

Original UPSC GS 3 Questions
Q.2 Do you agree with the view that steady GDP growth and low inflation have left the Indian economy in good shape? Give reasons in support of your arguments. (Answer in 150 words)

Original UPSC GS 3 Questions
Coastal sand mining, whether legal or illegal, poses one of the biggest threats to our environment. Analyse the impact of sand mining along the Indian coasts, citing specific examples. (Answer in 150 words)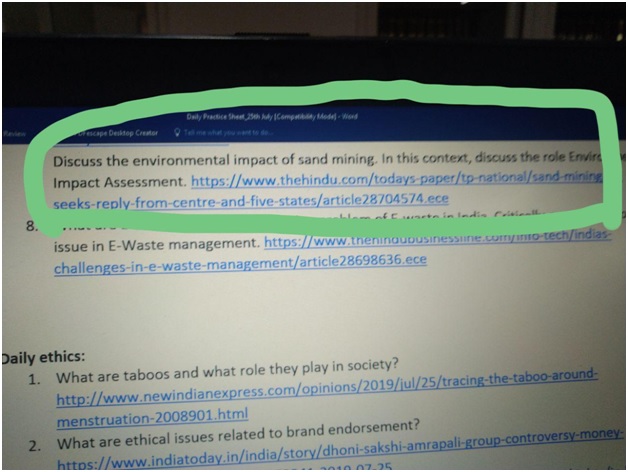 Original UPSC GS 3 Questions
Q8. Vulnerability is an essential element for defining disaster impacts and its threat to people. How and in what ways can vulnerability to disasters be characterized? Discuss different types of vulnerability with reference to disasters. (Answer in 150 words)
My Source: 19th September, 2019 Daily Practice Sheet
Original UPSC GS 3 Questions
Q11. It is argued that the strategy of inclusive growth is intended to meet the objectives of inclusiveness and sustainability together. Comment on this statement. (Answer in 250 words)
Source: August DPS
Original UPSC GS 3 Questions
Q12. The public expenditure management is a challenge to the government of India in the context of budget making during the post-liberalization period. Clarify it. (Answer in 250 words)
Original UPSC GS 3 Questions
Q16. How can biotechnology improve the living standards of farmers? (Answer in 250 words)

Source: June Compilation
Original UPSC GS 3 Questions
Q19. Indian government has recently strengthened the anti-terrorism laws by amending the unlawful activities (Prevention) act (UAPA), 1967 and the NIA Act. Analyze the changes in the context of prevailing security environment while discussing the scope and reasons for opposing the UAPA by human rights organizations. (Answer in 250 words)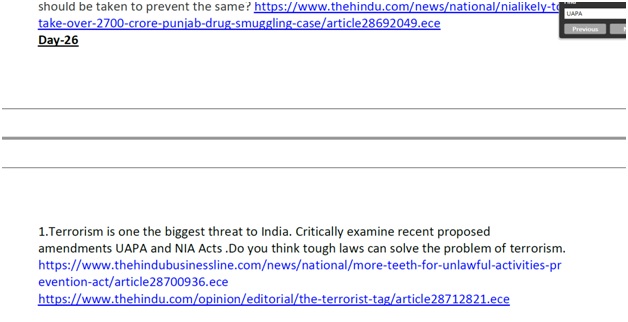 Original UPSC GS 3 Questions
Q18. Disaster preparedness is the first step in any disaster management process. Explain how hazard zonation mapping will help in disaster mitigation in the case of landslides. (Answer in 250 wor
How I Predicted CSE Mains Essay Paper
This is the original essay question
Neglect of primary health care and education in India are reasons for its backwardness
Biased media is a real threat to Indian democracy
Rise of Artificial Intelligence: the threat of jobless future or better job opportunities through reskilling and upskilling
Below is my Daily Practice Sheet and Sunday Essay Sadhna

August DPS

I have just included few proofs not all as I think this is enough to open your eyes.
If you wish to optimize your mains preparation