Malaria
November 7, 2022

Posted by:

OptimizeIAS Team

Category:

DPN Topics

Malaria
Subject :Science and Technology
Malaria is a disease caused by a parasite. The parasite is spread to humans through the bites of infected mosquitoes. People who have malaria usually feel very sick with a high fever and shaking chills.
While the disease is uncommon in temperate climates, malaria is still common in tropical and subtropical countries. Each year more than 400,000 people die of the disease.
Causes
Malaria is caused by a single-celled parasite of the genus plasmodium. The parasite is transmitted to humans most commonly through mosquito bites.
Mosquito transmission cycle
Uninfected mosquito. A mosquito becomes infected by feeding on a person who has malaria.
Transmission of parasite. If this mosquito bites you in the future, it can transmit malaria parasites to you.
In the liver. Once the parasites enter your body, they travel to your liver — where some types can lie dormant for as long as a year.
Into the bloodstream. When the parasites mature, they leave the liver and infect your red blood cells. This is when people typically develop malaria symptoms.
On to the next person. If an uninfected mosquito bites you at this point in the cycle, it will become infected with your malaria parasites and can spread them to the other people it bites.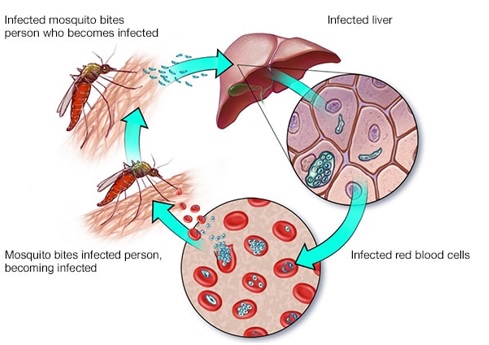 Malaria transmission cycle -crux
Malaria spreads when a mosquito becomes infected with the disease after biting an infected person, and the infected mosquito then bites a noninfected person. The malaria parasites enter that person's bloodstream and travel to the liver. When the parasites mature, they leave the liver and infect red blood cells.