Net-Zero Emissions
October 23, 2021

Posted by:

OptimizeIAS Team

Category:

DPN Topics

Net-Zero Emissions
Subject – Environment
Context – India weighs 'net zero' target ahead of CoP
Concept –
India has not entirely ruled out the possibility of agreeing to a "net zero" climate target, though it will not budge on demanding that developed nations make good their commitments, such as providing an annual $100 billion to developing countries for mitigating the impacts of climate change, facilitating technology transfer and putting in place a tangible market-based mechanism to activate the moribund carbon credit markets, senior officials said.
Ahead of the 26th meeting of the United Nations Conference of Parties (CoP) that begins in Glasgow on November 1, the focus on making the meet a success is to have all nations commit to "net zero", or a year by when a country's fossil fuel emissions will peak and at some point be neutralised by taking out excess carbon from the atmosphere.
All countries doing this by 2050, scientists say, will mean a chance of restricting the average temperature rise to 1.5 degrees Celsius, provided emissions fall to around 45% of the 2010 levels by 2030.
A study by the think tank Council for Energy Environment and Water projects said that for India to achieve the net zero target even by 2070, usage of coal, especially for power generation, will need to peak by 2040 and drop by 99% between 2040 and 2060.
The consumption of crude oil across sectors will need to peak by 2050 and fall substantially by 90% between 2050 and 2070.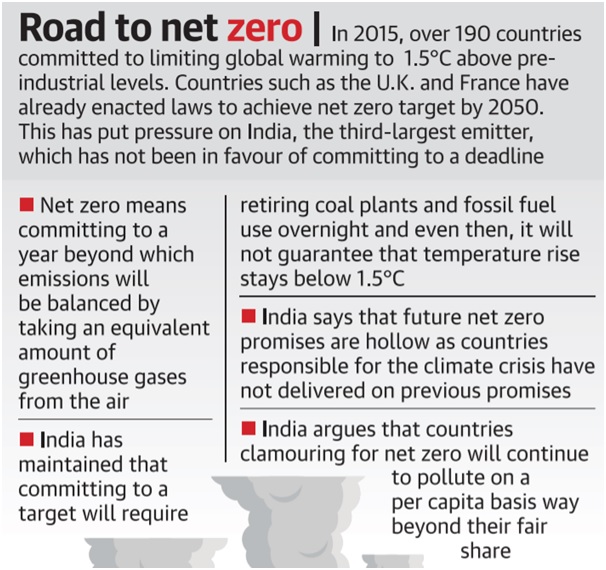 To know more about net-zero, please click here.