Neurodegenerative Disorders
May 15, 2022

Posted by:

OptimizeIAS Team

Category:

DPN Topics

Neurodegenerative Disorders
Subject: Science & Tech
Section: disease
Context- Researchers from IISc Bangalore have identified a protein in yeast cells that dissolve RNA Protein complexes also known as RNA granules.
Concept-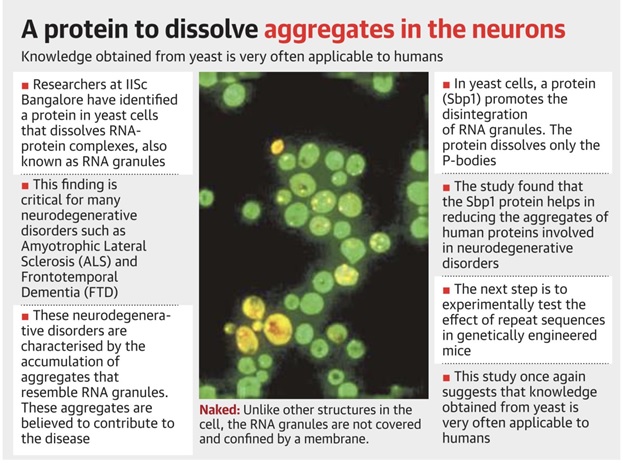 The cytoplasm of any cell consists of structures made of messenger RNA (mRNA) and proteins known as RNA gra­nules, in general.
Unlike oth­er structures in the cell (such as mitochondria), the RNA granules are not covered and confined by a membrane.
This makes them highly dy­namic in nature, thereby al­lowing them to constantly ex­change components with the surrounding.
RNA granules are present in the cytoplasm at low num­bers under normal condi­tions but increase in number and size under stressful con­ditions including diseases.(indicate neurological conditions)
A defining feature of the RNA granule protein is the presence of stretches con­taining repeats of certain amino acids i.e. Repeats of arginine (R), glycine (G) and glycine (G)—known as RGG.
Protein synthesis:
Messenger RNAs are convert­ed to proteins (building blocks of the cell) by the pro­cess of translation.
RNA gra­nules determine messenger RNA (mRNA) fate by deciding when and how much protein would be produced from mRNA.
Protein synthesis is a multi­step and energy expen­sive process.
RNA gra­nules also help in the process of shutting down protein pro­duction.

Some RNA granule types (such as Processing bodies or P ­bodies) not only regulate protein production but also accomplish degradation and elimination of the mRNAs, which in turn helps in reduc­ing protein production.

In yeast cells, a protein sbp1 promotes the disintegration of RNA granules which can help in tackling neurodegenerative disorders, caused by RNA granules.