Norms to get Gold tested at Hallmarking Centres
March 12, 2022

Posted by:

admin1

Category:

DPN Topics

Norms to get Gold tested at Hallmarking Centres
Topic: Government Policies and Interventions
Context: Bureau of Indian Standards (BIS) has made provisions for consumers to get the purity of their unhall-marked gold jewellery tested at any of the recognized Assaying and Hallmarking Centres (AHCs).
Concept:
Gold hallmarking was made mandatory by the government last year. This was done with the aim of avoiding mis selling of gold jewellery.
The Government hallmarks 3 lakh gold articles with HUID (Hallmark Unique Identification) every single day in line with the mandatory gold hallmarking norms.
The new norms let the AHC to test the gold jewellery from common consumers on priority and provide a test report to the consumer.
The test report will assure the purity of the jewellery to the consumers and will be helpful for them at the time of selling as well.
₹ 200 will be charged by AHCs for testing up to four articles and for five or more articles, the charges are ₹ 45 per article.
Also, the authenticity and purity of hallmarked gold jewellery items with HUID number purchased by the consumer can be verified by using 'verify HUID' in BIS CARE app.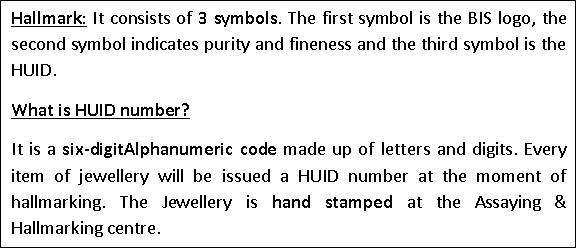 To Read about BIS, refer: https://optimizeias.com/bureau-of-indian-standards-bis/
Taper Tantrum and Impact on India
After the 2007-2009 global financial crisis and recession, the US Federal Reserve started a bond-buying programme (known as quantitative easing) to infuse liquidity. With these funds, the investors started investing in global bonds and stocks.
In 2013, the US Federal Reserve decided to reduce (taper) its quantum of a bond-buying programme that led to a sudden sell-off in global bonds and stocks.
As a result, many emerging market economies that received large capital inflows, suffered currency depreciation and outflows of capital. This is called globally as a 'taper tantrum'.
During the 2013 Taper Tantrum, three of the "Fragile Five" – Brazil, India, South Africa – were BRICS economies. They witnessed unsustainability in external imbalances, "sudden stop" of capital inflows, created a sharp balance of payments pressures, wreaked havoc on the country's currencies, and forced an abrupt tightening that hurt growth.
Fears of Taper Tantrums Post Pandemic
In the wake of the pandemic and its economic implications, U.S. Fed started massive bond-buying programmes in 2020 to infuse liquidity.
It also pushed down the interest rates, to allow banks to offer cheaper loans, thereby stimulating economic activity.
Now, with economic recovery, the US Fed is aiming for a gradual reduction of this quantitative easing programme.
This has led to fears that the move could resemble the "taper tantrum" of 2013.
Likely impact on India
Capital outflow – due to rise in relative interest rate and selling of bonds by foreign investors in India. Thus, decline in FPI and FDI.
Rise in Balance of Payments deficit
Difficulty to finance import
Reduction in forex and import cover
Currency depreciation
Imported inflation due to depreciation
Stock market decline due uncertain investment confidence
Likely abandonment of accommodative monetary policy of the RBI
Rise in government bond yield thus, cost of borrowing for government rises.
India resilience- As compared to the 2013 taper tantrum India is more resilient this time:
India now has more stable foreign direct inflows in 2022 compared with the volatile portfolio inflows that left the country in 2013.
Large forex reserve- 4th largest reserve.
Lower external debt
Surplus liquidity with banks