Nuclear Weapons
June 16, 2020

Posted by:

admin1

Category:

DPN Topics

Subject: IR/Science and tech
Context:
China and Pakistan possess more nuclear weapons than India, according to a new yearbook released by the Stockholm International Peace Research Institute (SIPRI)
Concept:
Findings:
The nine nuclear-armed states—the United States, Russia, the United Kingdom, France, China, India, Pakistan, Israel and the Democratic People's Republic of Korea (North Korea) together possessed an estimated 13 400 nuclear weapons at the start of 2020, which is reduction from 13,865 nuclear weapons last year.
The decrease in the overall number of nuclear weapons in the world in 2019 was largely due to the dismantlement of retired nuclear weapons by Russia and the USA—which together still possess over 90 per cent of global nuclear weapons.
The reductions in US and Russian strategic nuclear forces required by the 2010 Treaty on Measures for the Further Reduction and Limitation of Strategic Offensive Arms (New START) were completed in 2018, and in 2019 the forces of both countries remained below the limits specified by the treaty.
New START will lapse in February 2021 unless both parties agree to prolong it.
The deadlock over New START and the collapse of the 1987 Soviet–US Treaty on the Elimination of Intermediate-Range and Shorter-­Range Missiles (INF Treaty) in 2019 suggest that the era of bilateral nuclear arms control agreements between Russia and the USA might be coming to an end.
The governments of India and Pakistan make statements about some of their missile tests but provide little information about the status or size of their arsenals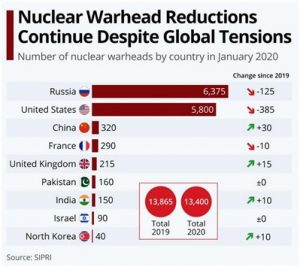 New START
The New Strategic Arms Reduction Treaty (New START) was signed April 8, 2010, in Prague by the United States and Russia and entered into force on Feb. 5, 2011.
New START replaced the 1991 START I treaty, which expired December 2009, and superseded the 2002 Strategic Offensive Reductions Treaty (SORT), which terminated when New START entered into force.
New START continues the bipartisan process of verifiably reducing U.S. and Russian strategic nuclear arsenals begun by former Presidents Ronald Reagan and George H.W. Bush.
New START is the first verifiable U.S.-Russian nuclear arms control treaty to take effect since START I in 1994.
INF treaty
The 1987 Intermediate-Range Nuclear Forces (INF) Treaty required the United States and the Soviet Union to eliminate and permanently forswear all of their nuclear and conventional ground-launched ballistic and cruise missiles with ranges of 500 to 5,500 kilometers.
The treaty marked the first time the superpowers had agreed to reduce their nuclear arsenals, eliminate an entire category of nuclear weapons, and employ extensive on-site inspections for verification.
As a result of the INF Treaty, the United States and the Soviet Union destroyed a total of 2,692 short-, medium-, and intermediate-range missiles by the treaty's implementation deadline of June 1, 1991.
On Aug. 2, 2019, the United States formally withdrew from the INF Treaty.