Ozone Layer
December 28, 2021

Posted by:

admin1

Category:

DPN Topics

Ozone Layer
Subject – Environment
Context – Ozone-destroying greenhouse gas emissions from China increased significantly: Study
Concept –
Emissions of industrially produced chlorocarbon, dichloromethane (CH2Cl2), increased in China from 2011-2019, a new study established.
Short-lived halogenated substances (VSLS) such as dichloromethane have an atmospheric lifetime shorter than six months. Dichloromethane has been identified as the most abundant chlorine-containing VSLS, accounting for 70 per cent of the total stratospheric source gas injection from chlorine-containing VSLS.
Dichloromethane originates mainly from anthropogenic sources, including its use as an emissive solvent for adhesive and cleaning purposes, and as a feedstock for hydrofluorocarbon (HFC) production.
What is Ozone?
Ozone (composed of three atoms of oxygen) is a gas that occurs both in the Earth's upper atmosphere and at ground level.
Ozone can be "good" or "bad" for your health and the environment, depending on its location in the atmosphere.
The ground-level or "bad" ozone is an air pollutant that is harmful to breathe and it damages crops, trees and other vegetation.It is a main ingredient of urban smog.
The stratosphere or "good" ozone layer extends upward from about 6 to 30 miles and protects life on Earth from the sun's harmful ultraviolet (UV) rays.
Ozone is produced naturally in the stratosphere. But this "good" ozone is gradually being destroyed by man-made chemicals referred to as ozone-depleting substances (ODS), including chlorofluorocarbons (CFCs), hydrochlorofluorocarbons (HCFCs), halons, methyl bromide, carbon tetrachloride, and methyl chloroform.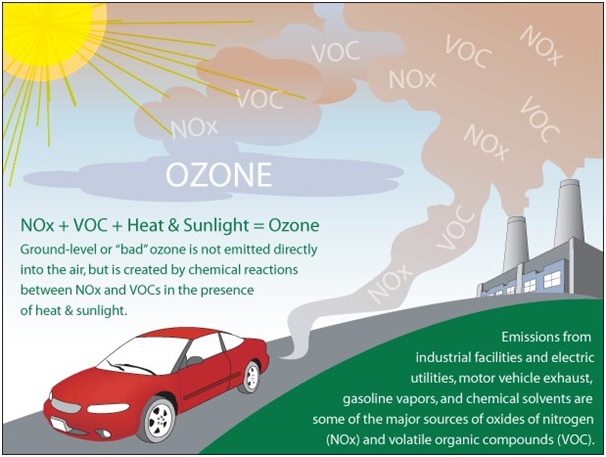 Global Initiatives to Curb Ozone Depletion
The 1985 Vienna Convention for the Protection of the Ozone Layer was an international agreement in which United Nations members recognized the fundamental importance of preventing damage to the stratospheric ozone layer.
The 1987 Montreal Protocol on Substances that deplete the Ozone Layer and its succeeding amendments were subsequently negotiated to control the consumption and production of anthropogenic (ODSs) and some hydrofluorocarbons (HFCs).

The Protocol was signed by 197 parties in 1987 to control the use of ozone-depleting substances, mainly chlorofluorocarbons (CFCs).
The Montreal Protocol mandated the complete phase-out of CFCs and other ozone-depleting substances (ODS), which it has successfully managed to do in the last three decades.
CFCs were gradually replaced, first by HCFCs, or hydrochlorofluorocarbons, in some cases, and eventually by HFCs which have minimal impact on the ozone layer.

The adoption of the 2016 Kigali Amendment to the Montreal Protocol will phase down the production and consumption of some HFCs and avoid much of the projected global increase and associated climate change.
Hydrofluorocarbons, or HFCs
They are a family of chemicals used extensively in the air-conditioning, refrigeration and furnishing foam industry.
HFCs are known to be much worse than carbon dioxide in causing global warming.
In fact, according to the UN Environment Programme (UNEP), the average global warming potential of 22 of the most used HFCs is about 2,500 times that of carbon dioxide.
United States and China are the world's top producers and consumers of HFCs.
India has successfully achieved the complete phase out of Hydrochlorofluorocarbon (HCFC)-141 b, which is a chemical used by foam manufacturing enterprises and one of the most potent ozone depleting chemical after Chlorofluorocarbons (CFCs).(HCFC)-141 b is used mainly as a blowing agent in the production of rigid polyurethane (PU) foams.
"Hydrofluorocarbon (HFC) component R-32"
Finance Ministry has imposed definitive anti-dumping duty on imports of "Hydrofluorocarbon (HFC) component R-32" from China.
R32 is a refrigerant used in small split air conditioning systems.
This definitive antidumping duty would be valid for five years.