Perform Achieve and Trade (PAT) Scheme
December 3, 2021

Posted by:

OptimizeIAS Team

Category:

DPN Topics

Perform Achieve and Trade (PAT) Scheme
Subject – Government Schemes
Context – A key scheme introduced in 2008 by the Indian government to improve energy efficiency in Indian industries and consequently reduce greenhouse gas emissions is not effective, according to a recent report by New Delhi-based non-profit Centre for Science and Environment (CSE).
Concept –
Perform Achieve and Trade (PAT) scheme is a flagship programme of Bureau of Energy Efficiency under the National Mission for Enhanced Energy Efficiency (NMEEE)
The Government of India released the National Action Plan on Climate Change (NAPCC) in 2008 to check the increasing energy consumption of industries and related carbon emissions.
There were eight national missions under the NAPCC. One of them was the National Mission for Enhanced Energy Efficiency (NMEEE).
The Union Ministry of Power and Bureau of Energy Efficiency were entrusted with the task of preparing the implementation plan for the NMEEE.
'Perform, Achieve and Trade' (PAT) is a competitive mechanism under NMEEE for reducing energy use in large industries.
The government shortlists industries and restricts the amount of energy they can consume and defines a time limit of three years by when this restriction should be met as part of PAT scheme.
These three years of time are called one PAT cycle. The industries are chosen after in-depth, sector-wise analysis by the government.
Industries that participate in this scheme are called designated consumers (DC).
The energy savings achieved by notified industries is converted into tradable instruments called Energy Saving Certificates (ESCerts). The ESCerts after issuance by Bureau of Energy Efficiency are traded at Power Exchanges – Indian Energy Exchange and Power Exchange India.
Those that overachieve their targets are issued energy savings certificates (ESCerts) that can be traded with industries that have not achieved their targets.
Non-achievers have to buy the ESCerts after the three years for compliance. Announcements for six cycles since 2012 have been made so far.
PAT scheme covered about 13 energy-intensive sectors. Sectors included are thermal power plants (TPP), cement, aluminium, iron and steel, pulp and paper, fertiliser, chlor-alkali, petroleum refineries, petrochemicals, distribution companies, railways, textile and commercial buildings (hotels and airports).
The industrial sector consumes the most energy in India — accounting for 43 per cent of overall consumption — making it the major contributor to the country's energy and environmental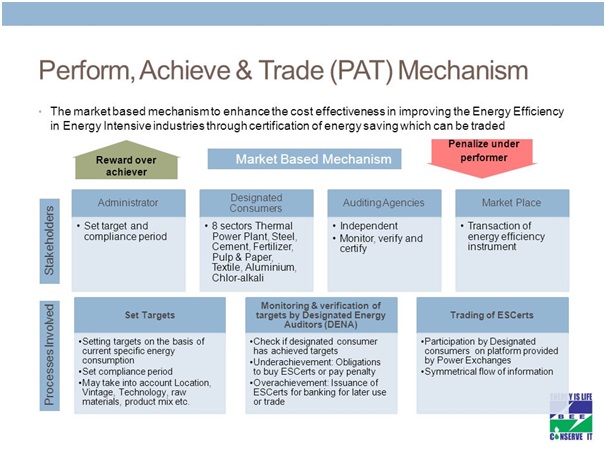 About BEE:
Set up on 1st March 2002 by Government of India.
Under the provision of the Energy Conservation Act, 2001.
It is a statutory body under the Ministry of Power.
Mission – To assist in developing policies and strategies with a thrust on self-regulation and market principles with the primary objective of reducing the energy intensity of the Indian economy within the overall framework of the Energy Conservation Act, 2001.
This can be achieved with the active participation of all stakeholders, resulting in accelerated and sustained adoption of energy efficiency in all sectors.