Prisoners on Parole
October 22, 2021

Posted by:

OptimizeIAS Team

Category:

DPN Topics

Prisoners on Parole
Subject – Defence and Security
Context – System to track prisoners on parole
Concept –
The Union Home Ministry has advised the States to update recent photographs of prisoners released on parole/furlough/premature release in the "ePrisons" and Interoperable Criminal Justice System database to generate immediate alerts and facilitate easy tracking in the event of their violating the law.
In an advisory sent to the Chief Secretaries, the Ministry said the States and the Union Territories were advised to review the existing practices and procedures governing grant of parole, furlough and premature release to inmates, as per provisions under the Model Prison Manual, 2016, and guidelines issued by the Home Ministry, the National Human Rights Commission and the Supreme Court.
It was also advised that in order to ensure that the inmates released on parole, furlough and premature release do not violate law, systems must be put in place for monitoring and followup of each such case.
Prison departments were told to update the details of any escape from the prison/ custody on 'ePrisons' on a real time basis. Quick availability of this information would facilitate police and other authorities concerned in nabbing the escapee/absconder. States/Union Territories should leverage 'ePrisons' application for updating the profile of inmates on a regular basis, the advisory said.
What is Parole?
Parole generally refers to a prisoner's temporary or permanent release before the end of a sentence in exchange for good behaviour.
It is a type of consideration given to prisoners in order to assist them in reintegrating into society. It is nothing more than a tool for the prisoner's social rehabilitation.
The concept of parole has its origins in military law. The interim release was provided to prisoners of war so that they might return to their families and live as members of society for a period of time, with the promise of returning when the time period was over.
With the passage of time, parole became an element of India's criminal justice system, allowing inmates to participate in society for a period of time.
The objective of allowing parole
Parole gives the prisoner a second chance to reform himself. Although the offender may have committed a crime, it is not desirable that he be forever stigmatized and denied the opportunity to rehabilitate himself.
It's a way of assisting the inmate in becoming a law-abiding citizen while also guaranteeing that he doesn't misbehave or return to criminal activity.
The paroling function could be useful as a "safety valve" to help keep jail populations in check in proportion to capacity, avoiding the dangers and costs of overcrowding.
The idea of parole, as established in the case of Budhi v. State of Rajasthan (2005), serves three purposes:

As a motivator for prison inmates to change their ways.
Ensure that the prisoners' family relationships are as intact as possible, as they may be prone to fracture as a result of the prisoner's protracted confinement.
Assist the offenders in gradually assimilating into society and
adapting to its folds.
Application in India
The laws enacted under the Prison Act of 1894 and the Prisoner Act of 1900 govern the award of parole in India.
Each state has its own set of parole guidelines, which differ slightly from one another.
The Prisons (Bombay Furlough and Parole) Rules, 1959, were issued under Section 59(5) of the Prisons Act, 1984, which gives the government the right to make rules.
Certain types of convicts, such as those convicted of crimes against the state or who pose a threat to national security, non-Indian citizens, and others, are not eligible for parole.

People convicted of murder, rape of children, multiple murders, and other crimes are likewise exempt unless the issuing authority decides otherwise.
Eligibility for the grant of parole
According to the 2010 Parole/Furlough Guidelines, to be eligible for parole:
A convict must have served at least one year in jail, excluding any time spent in remission.
The prisoner's behaviour had to be uniformly good.
The criminal should not have committed any crimes during the period of parole if it was granted previously.
The convict should not have broken any of the terms and restrictions of his or her previous release.
A minimum of six months should have passed since the previous parole was terminated.
The procedure followed when a prisoner requests parole
After an inmate requests parole, the jail authority (Superintendent) requests a report from the police station that conducted the arrest, as is standard protocol.
The report, along with all additional documents such as a medical report (in the case of illness as a justification for parole), and the Superintendent's recommendation, is then given to the Deputy Secretary, Home (General), State Government, who makes the final decision on the application.
In some states, the application is referred to the Inspector General of Prisons along with the police report and recommendation, who then considers it before the District Magistrate. The decision is made by the State Government in collaboration with the District Magistrate.
Does CrPC cover the concept of parole?
The Power to Suspend or Remit Sentences is covered by Section 432 of the Criminal Procedure Code, 1973.

In Sunil Fulchand Shah v. Union of India (2000), the Supreme Court said explicitly that "parole does not amount to suspension of sentence."
As a result, it is evident that Section 432 of the Criminal Procedure Code does not apply to parole.

Because there are no sections in the Code of Criminal Procedure, 1973, that deal with parole, and because there is no unified legislation in India that deals with it, individual states have their own laws governing it. As a result, there is some ambiguity when it comes to concerns about parole.
Unlike the United States of America or the United Kingdom, India lacks codified parole legislation, and the power to decide on parole issues is drawn solely from these statutes and judgments.
Types of parole in India
Custody parole or emergency parole

Custody parole is provided in emergency situations. Except for foreigners and those serving death sentences, all convicted persons may be eligible for emergency parole for 14 days for reasons such as the death of a family member (which includes grandparents, father, mother, spouse, son, daughter, brother, sister) and the marriage of a family member (which includes son, daughter, brother, sister), provided that emergency parole cannot be extended.
The Superintendent of jail grants parole, which is subject to verification of the circumstances from the concerned police station. Depending on the offence committed by the prisoner and his behaviour during his stay, the authority approving emergency parole will determine whether to give parole under police escort or with a condition to report daily to the local police station

Regular parole

Except in exceptional circumstances, offenders who have served at least one year in prison are eligible for regular parole for a maximum of one month. It is awarded for a variety of reasons, including:

A family member's (which includes father, mother, spouse, son, daughter) serious illness
A family member's death or an accident. (same as custody parol, as stated above)
A member of the family marries.
The convict's wife gives birth to the child (except for high-security risk prisoners).
Maintain social or familial ties.
Natural calamities cause serious harm to the convict's family's life or possessions.
Continue to file a Special Leave Petition.
The distinction between parole and furlough
The Supreme Court has clarified the difference between parole and furlough in a number of decisions (the State of Maharashtra vs. Suresh Panduram (2006), State of Haryana and Ors. vs. Mohinder Singh (2000), etc). The following are a few of them:
Parole and furlough are both forms of conditional release.
Parole can be awarded in the case of short-term detention, whereas furlough is allowed in the case of long-term detention.
Parole lasts for one month, whereas furlough lasts for a maximum of 14 days.
The Divisional Commissioner grants parole, and the Deputy Inspector General Prison grants furlough.
A specific justification for parole is necessary, whereas a furlough is intended to break the monotony of imprisonment.
In the case of furlough, the duration of incarceration is not taken into account for calculating the term of parole.
Parole can be given multiple times, whereas furlough has a limit.
Furlough can be denied in the interest of society because it is not granted for any specific reason.
Refusal of parole
The prisoners/convicts listed below may not be eligible for parole under the following circumstances:

Convicts whose parole release is deemed risky or a threat to national security, or if any other justifiable reason exists, such as a continuing investigation in a severe crime case;
Prison inmates who have been found to be encouraging major violations of prison discipline or who have been implicated in crimes and offences against the state, such as sedition;
Prison inmates who have fled from prison;
The detainee is not an Indian citizen.
Parole as a right
Parole is not recognized as a right in India, despite the fact that it has administrative importance. A prisoner's claim to parole is not absolute, and prison authorities have considerable discretion in granting parole to that prisoner.
However, parole is considered a right for prisoners by a number of international accords and organizations.
Bombay High Court concluded that parole is a limited legal right afforded to a criminal in the instances of Kantilal Nandlal Jaiswal v. Divisional Commissioner, Nagpur (2019) and Hariom Vijay Pande v. State of Maharashtra (2019).
However, in the Home Secretary (Prison) v. H. Nilofer Nisha (2020), the Supreme Court said unequivocally that "the issuance of remission or release is not a right conferred on the prisoner. It's a privilege that the prisoner can get if he or she meets specific requirements."
e-Prisons
ePrisons computerize and integrate all the activities related to prison and prisoner management in the jail.
This Application Suite provides the vital information about the inmates, lodged in the prisons, in real time environment to the prison officials and other entities, involved in Criminal Justice System.
It also facilitates online visit request and grievance redressal.
ePrisons Application Suite, developed by NIC, is cloud-based product designed with easy to use GUI and embedded with comprehensive security features.
It can be easily adopted by any State Prisons Department with minimum customization efforts since all the possible customization features are parameterized and can be configured by the users.
Key Features:
Available as SaaS from the NIC Cloud, which provides high availability, scalable and robust system to the users;
The solution is ready to adopt by any prison / stakeholder for free.
Parameterized and configurable gap aspects;
SMS and email alerts;
Equipped with necessary services required for integrating with other Criminal Justice System stakeholders; and
Authorization checks & validation to improve the data quality.
This application suite consists of three main products:
ePrisons MIS: Management Information System used at the prisons for their day-to-day regular activities; The major modules of ePrisons MIS are:

Prisoner Information Management System (PIMS);
Visitor Management System (eVisitor);
Hospital Management System (eHospital);
Legal Aid Management System;
Inventory Management System;
Prison Management System (PMS);
Police Intelligence System;
Court Monitoring; and
Kiosk Information.
NPIP: National Prisons Information Portal is a citizen centric portal showing statistical data of various prisons in the country

Visitors can book there visit request to meet their ward inside the prison through this portal;
Grievances with respect to their wards inside the prisons can also submitted through the portal; and
This portal also provides with inmate tracking facilities in a secured way to various investigating agencies.
Kara Bazaar: Portal for showcasing and selling the products manufactured in various prisons of the country by inmates. Necessary platform required for on boarding for all the state prison departments are in place.
To know about National Informatics Centre (NIC), please click here.
Interoperable Criminal Justice System
Interoperable Criminal Justice System (ICJS) aims to integrate CCTNS (Crime and Criminal Tracking Network and System) project with eCourts and ePrisons database in the first instance and with other pillars of judiciary like forensic labs, prosecution and juvenile homes etc.
It is a common platform for information exchange and analytics of all the pillars of the criminal justice system comprising Police, Forensics, Prosecution, Courts, Prisons.
Purpose: To reduce errors and time taken in sharing of necessary information between the pillars, which often lead to larger challenges like longer duration of trials, poorer convictions, transit losses of documents etc.
Some other critical benefits arising out of the ICJS ecosystem are usable analytics products like the National Database on Sexual Offenders (NDSO) to identify & track repeat and habitual sexual offenders.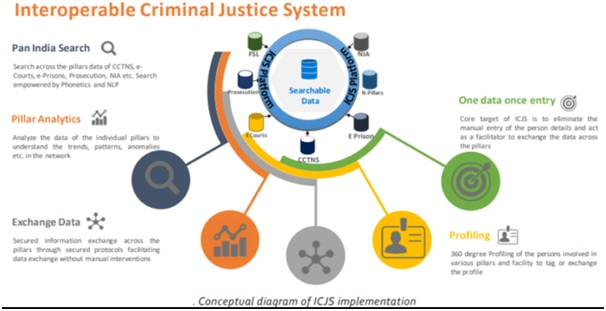 Crime and Criminal Tracking Network and Systems (CCTNS)
Crime and Criminal Tracking Network and Systems (CCTNS) is a Mission Mode project under the National e-Governance Plan for creating a single repository of crime and criminal data for enhancing the efficiency and effectiveness of policing at the Police Station level.
Out of total 16,098 police stations in the country, the CCTNS software is being implemented in over 95 per cent of police stations and connectivity is available at 97per cent police stations. 93 per cent police stations are entering 100 percent FIRs through CCTNS.
CCTNS also created facilities and mechanism to provide public services like registration of online complaints, ascertaining the status of case registered at the police station, verification of persons etc.
Its aims to

Provide Citizen Centric Police Services via a web portal
Pan India search on National database of Crime & Criminal records
Crime and Criminal reports at State and Center
Computerization of Police Processes.