Redefinition of Adjusted Gross Revenue
September 16, 2021

Posted by:

admin1

Category:

DPN Topics

Redefinition of Adjusted Gross Revenue
Subject – Economy
Context – Lifeline for telcos as govt. offers four­year moratorium on dues
Concept –
The Cabinet approved several measures to extend a lifeline to the cash-strapped telecom sector, including a redefinition of the much-litigated concept of adjusted gross revenue (AGR) to exclude non-telecom revenue and a four-year moratorium on players' dues to the government.
The government was keen on ensuring that there were more players in the sector and consumers retained choices when asked about the fears of a duopoly emerging with just two major telecom players — Bharti Airtel and Reliance Jio.
Nine structural reforms and five procedural reforms for the sector were announced, including a fixed calendar for spectrum auctions with an extended tenure of 30 years for future spectrum allocations, and a mechanism to surrender and share spectrum. Foreign direct investment (FDI) in the sector has also been allowed up to 100% under the automatic route, from the existing limit of 49%. Together, these measures would pave the way for largescale investments, including for 5G technology deployment, and generate more jobs.
The earlier definition of AGR, backed by the Telecom Department and upheld by the Supreme Court in 2019, had made telcos liable to pay ₹1.6 lakh crore. Last September, the top court granted players 10 years to pay up, starting April 2021. The change in definition that will reduce the burden on telcos, applies only prospectively, so past dues remain payable.
Interest on those dues will now be compounded annually instead of monthly and the Minister said interest would be charged at a 'reasonable' rate of MCLR plus 2%. MCLR refers to the lowest lending rate banks are permitted to offer.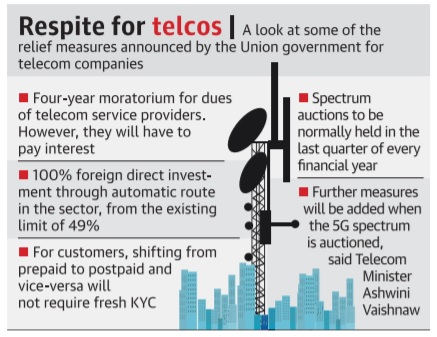 To know more about AGR, please click here.