Rohingya Crisis
October 26, 2021

Posted by:

OptimizeIAS Team

Category:

DPN Topics

Rohingya Crisis
Subject – IR
Context – The Karnataka Government has no plans to deport Rohingyas.
Concept –
The Rohingya people are stateless, Indo-Aryan ethnic group who reside in Rakhine State, Myanmar.

The Rohingya are primarily Muslims who live in Buddhist-majority Myanmar's Rakhine state.

There were an estimated 1 million Rohingya living in Myanmar before the 2016–17 crisis. An estimated 625,000 refugees from Rakhine, Myanmar, had crossed the border into Bangladesh since August 2017. The majority are Muslim while a minority are Hindu.
They are described by the United Nations (UN) as one of the most persecuted minorities in the world.
The Rohingya population is denied citizenship under the 1982 Myanmar nationality law. They have denied the Rohingya the possibility of acquiring a nationality.
Although Rohingya history in the region can be traced back to the 8th century, Myanmar law does not recognize the ethnic minority as one of the eight national indigenous races.
The flow of Rohingya from Myanmar intensified in 2017 and the coast near the Bangladeshi city of Cox's Bazar was taken over by refugee settlements.
In June 2015, the Bangladesh government suggested resettling Rohingya refugees on the Bhasan Char island under its Ashrayan Project.
Where are Rohingya fleeing to?
Bangladesh, Thailand, Malaysia, Pakistan, Indonesia, Saudi Arabia, India, Japan, Nepal, Sri Lanka, the U.S., Canada and some European countries.
Bhasan Char –
Bhasan Char (Floating Island) also known as Char Piya or Thengar Char Island, is an island in Hatiya, Bangladesh. It surfaced only 20 years ago and was never inhabited.
It was formed with Himalayan silt from the mouth of river Meghna in 2006 spanning 40 square kilometres.
The island, which was once regularly submerged by monsoon rains, now has flood protection embankments, houses, hospitals and mosques built at a cost of more than 112 million dollars by the Bangladesh navy.
It is underwater from June to September because of the monsoon.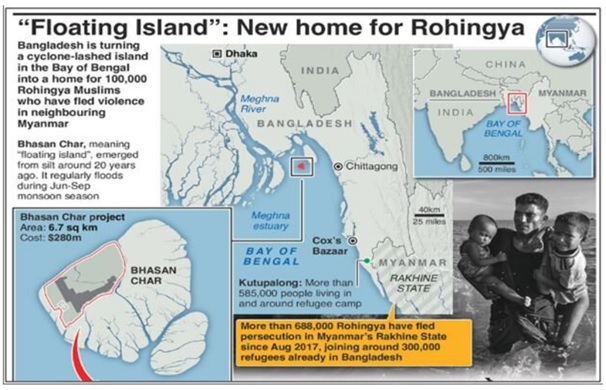 To know about India's Refugee Policy, please refer September 2021 DPN.