Royal Bengal Tiger count rises to 75 in Andhra Pradesh
November 20, 2022

Posted by:

OptimizeIAS Team

Category:

DPN Topics

Royal Bengal Tiger count rises to 75 in Andhra Pradesh
Subject: Environment  
In the news-
Rise in the population of Royal Bengal Tiger-
As per the All India Tiger Estimation taken up in 2022, the population of Royal Bengal Tigers has increased by 60% (73 in number) in Nagarjuna Sagar Srisailam Tiger Reserve (NSTR)  and two tigers have been spotted in Papikonda National Park.
The overall tiger population in India is estimated at around 3,000.
Officials, during the census, observed a rise in the population of Black Buck, Leopard, Porcupine, Indian Gaur, Sloth Bear, Spotted Deer and other animals too.
Royal Bengal Tiger-
The Bengal tiger is a population of the Panthera tigris Tigris subspecies.
It ranks among the biggest wild cats alive today.
It is considered to belong to the world's charismatic megafauna.
The tiger is estimated to have been present in the Indian subcontinent since the Late Pleistocene, for about 12,000 to 16,500 years.
Today, it is threatened by poaching, loss and fragmentation of habitat.
None of the Tiger Conservation Landscapes within its range is considered large enough to support an effective population of more than 250 adult individuals.
The Bengal tiger's historical range covered the Indus River valley until the early 19th century, almost all of India, Pakistan, southern Nepal, Bangladesh, Bhutan and southwestern China.
Today, it inhabits India, Bangladesh, Nepal, Bhutan and southwestern China.
Characteristics-
The Bengal tiger's coat is yellow to light orange, with stripes ranging from dark brown to black; the belly and the interior parts of the limbs are white, and the tail is orange with black rings.
The white tiger is a recessive mutant, which is reported in the wild from time to time in Assam, Bengal, Bihar, and especially in the former State of Rewa.
Where are they found in India?
Good tiger habitats in subtropical and temperate forests include the Tiger Conservation Units (TCUs) Manas-Namdapha.
Tropical dry forests include Hazaribag Wildlife Sanctuary, Nagarjunsagar-Srisailam Tiger Reserve, Kanha-Indravati corridor, Orissa dry forests, Panna National Park, Melghat Tiger Reserve and Ratapani Tiger Reserve.
Tropical moist deciduous forests are probably some of the most productive habitats for tigers and their prey and include Kaziranga-Meghalaya, Kanha-Pench, Simlipal and Indravati Tiger Reserves.
Tropical moist evergreen forests represent the less common tiger habitats, being largely limited to the upland areas and wetter parts of the Western Ghats, and include the tiger reserves of Periyar, Kalakad-Mundathurai, Bandipur and Parambikulam Wildlife Sanctuary.
Conversation effort-
Estimation of Tiger Populations
'Tiger census' is conducted every four years to know the current tiger populations and population trends.
The most commonly used technique in the past was the 'Pugmark Census Technique'.
Recent methods used to estimate the numbers of tigers are camera trapping and DNA fingerprinting.
M-STrIPES (Monitoring System for Tigers – Intensive Protection and Ecological Status) is an app-based monitoring system, launched across Indian tiger reserves by the NTCA in 2010.
LIDAR-based survey technology will be used for the first time to provide water and fodder to animals in the forest itself to deal with the challenge of human-animal conflict which is causing the deaths of animals.
National Tiger Conservation Authority
National Tiger Conservation Authority (NTCA) is a statutory body under the Ministry of Environment, Forests and Climate Change.
It was established in 2005 following the recommendations of the Tiger Task Force.
It was constituted under enabling provisions of the Wildlife (Protection) Act, 1972, as amended in 2006, for strengthening tiger conservation, as per powers and functions assigned to it.
Wildlife Institute of India (WII)
Wildlife Institute of India (WII) offers training programs, academic courses, and advisory in wildlife research and management.
Established in 1982.
Established at Dehradun (winter capital and the most populous city in Uttarakhand).
It is an autonomous Institution of the Ministry of Environment & Forests.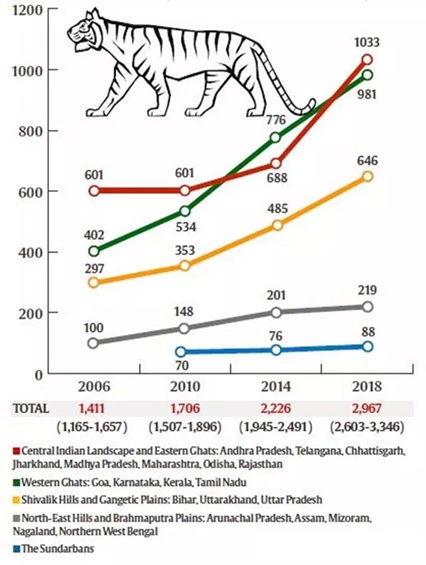 Conservation Assured | Tiger Standards (CA|TS)
CA|TS is a set of criteria which allows tiger sites to check if their management will lead to successful tiger conservation.
CA|TS is organised under seven pillars and 17 elements of critical management activity.
CA|TS was developed by tiger and protected area experts.
Officially launched in 2013, CA|TS is an important part of Tx2, the global goal to double wild tiger numbers by the year 2022.
"The long-term goal of CA|TS is to ensure safe havens for tigers."
Out of the total India's Tiger reserves 14 have received the Conservation Assured Tiger Standards accreditation. The 14 tiger reserves which have been accredited are:

Manas, Kaziranga and Orang in Assam,
Satpura, Kanha and Panna in Madhya Pradesh,
Pench in Maharashtra,
Valmiki Tiger Reserve in Bihar,
Dudhwa in Uttar Pradesh,
Sunderbans in West Bengal,
Parambikulam in Kerala,
Bandipur Tiger Reserve of Karnataka and
Mudumalai and Anamalai Tiger Reserve in Tamil Nadu