Sansad Adarsh Gram Yojana (SAGY) Model Village Scheme
June 22, 2020

Posted by:

admin1

Category:

DPN Topics

Subject: Schemes
Context:
A study commissioned by the Ministry of Rural Development has observed that Sansad Adarsh gram yojana scheme has not made "any significant impact" and that "in the current format is not achieving the desired purpose".
Concept:
Prime Minister has launched the Saansad Adarsh Gram Yojana (SAGY) on 11th October, 2014 on the birth anniversary of LokNayak Jai Prakash Narayan.
The Scheme is unique and transformative as it has a holistic approach towards development. It envisages integrated development of the selected village across multiple areas such as agriculture, health, education, sanitation, environment, livelihoods, etc.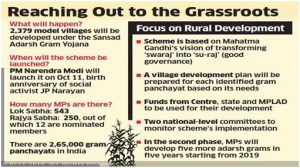 Far beyond mere infrastructure development, SAGY aims at instilling certain values, such as people's participation, Antyodaya, gender equality, dignity of women, social justice, spirit of community service, cleanliness, eco-friendliness, maintaining ecological balance, peace and harmony, mutual cooperation, self-reliance, local self-government, transparency and accountability in public life, etc. in the villages and their people so that they get transformed into models for others.
Ministry of Rural Development will be nodal Ministry coordinating and monitoring the Scheme closely to ensure its efficient implementation. In order to operationalize the strategies the central sector and centrally sponsored schemes along with the state schemes will have to be implemented in a convergent and integrated manner to generate maximum synergy.