Shale Oil
November 19, 2021

Posted by:

OptimizeIAS Team

Category:

DPN Topics

Shale Oil
Subject – Geography
Context – Cairn Oil & Gas has announced that it is partnering US-based Halliburton to start shale exploration in the Lower Barmer Hill formation, Western Rajasthan
Concept –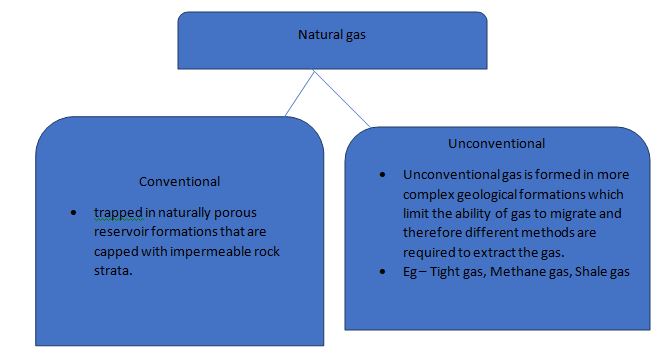 Shale gas and oil is defined as natural gas & oil from shale formations. The shale acts as both the source and the reservoir for these unconventional hydrocarbons. Older shale wells were vertical while more recent wells are primarily horizontal and need artificial stimulation, like hydraulic fracturing, to produce. Only shale formations with certain characteristics will produce gas and oil.
Shales are fine-grained sedimentary rocks that can be rich sources of petroleum and natural gas.
Shale gas is one of a number of unconventional sources of natural gas; others include coalbed methane, tight sandstones, and methane hydrates.
The key difference between shale oil and conventional crude is that the former, also called 'tight oil', is found in smaller batches, and deeper than conventional crude deposits.
Extraction of Shale gas:
Shale gas being an unconventional gas has complex exploration and production challenges than conventional gases.
While conventional gases are found in the porous rock, they can be sponged out easily. Unconventional gases such as shale gas are located under non-porous, low-permeable rocks that do not allow free movement of gases.
Accordingly, the rocks containing unconventional gases need to be fractured through external pressure. In cases of shale gas exploration, a series of wells (sometimes, horizontal as well as vertical) is dug to reach the rock containing shale gas, and through the wells pressurised water, mixed with chemicals, is injected to fracture the rocks. The whole process is known as fracking, and each fracking activity requires around 5 to 9 million gallons of fresh water which is five to 10 times more than processes adopted for exploring conventional gas resources.
Russia and the US are among the largest shale oil producers in the world, with a surge in shale oil production in the US having played a key role in turning the country from an importer of crude to a net exporter in 2019.
Concerns:
Water Intensive: The Directorate General of Hydrocarbons (DGH) states that shale gas extraction requires approximately 5 to 9 million litres of water.
Potential for ground water contamination:
Fracking is a controversial method of extracting shale gas. Chemicals, water, and sand are released at very high pressure into the earth to break rock and uncover gas. It is like a forced earthquake. Environmental campaigners say fracking comes with a huge risk of contaminating water supplies due to the chemicals used in the process. By releasing toxic, radioactive gases and carcinogens, exposing people, land, and water to illness and poison, fracking has caused debilitating health and environmental damage.
Many EU counties like France, Germany and Bulgaria have banned fracking.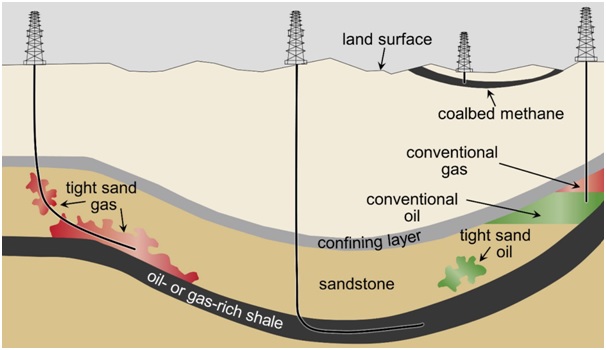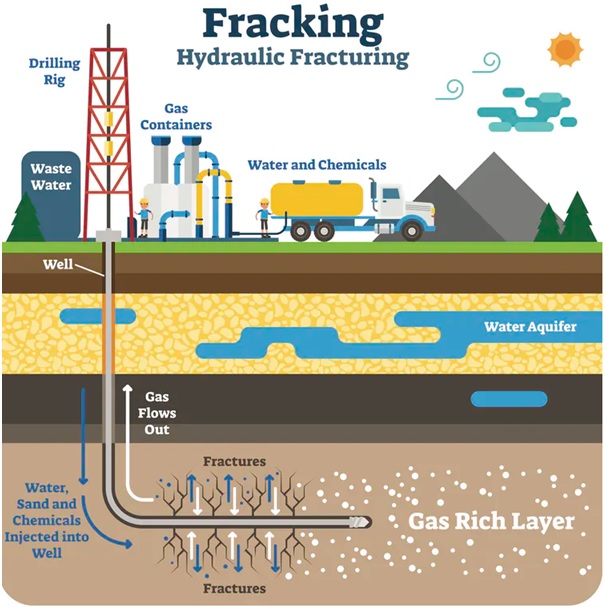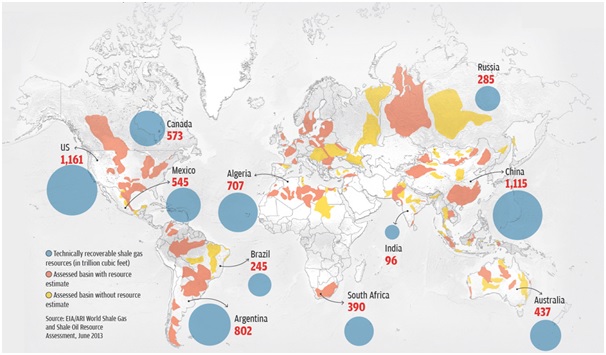 Why the interest in shale gas?
The global energy mix, in the absence of a strong climate policy, is likely to remain highly fossil fuel-dependent. According to the International Energy Agency (IEA), even in 2035 about 75 per cent of the energy demand will be met by fossil fuels. But within the fossil fuels, IEA predicts, the share of coal and oil will reduce and that of gas, which is comparatively cleaner, will increase in the next 20 years under the pressure to curb local pollution and greenhouse gases.
The global demand for gas can increase by 50 per cent by 2035 compared to the 2010 level. The increase in gas demand will make many large countries increasingly import-dependent. China's dependence on imported gas is likely to increase to 40 per cent by 2035; India's to 45 per cent and the European Union's to more than 80 per cent.
Much of the shale resource exists in countries with limited endowments of conventional oil and gas supplies, such as South Africa, Jordan and Chile; or in the countries which are net gas importers and face increasing import dependency, such as the US and China; or in regions where conventional hydrocarbon resources have largely been depleted, such as Europe. The exploitation of shale gas is, therefore, likely to reduce prices and import dependencies of countries for natural gas.
Prospects of shale oil exploration in India
Currently, there is no large-scale commercial production of shale oil and gas in India.
The Government of India has carried out studies through various national and international agencies for the identification of shale oil and gas resources in the country. Based on the data available from conventional oil/gas exploration in the country for the last so many years, the country holds promising reserves of Shale Gas & Oil resources and the following sedimentary basins are considered prospective from Shale oil and gas point of view:
Cambay Basin
Gondwana Basin
KG Basin
Cauvery Basin
Indo-Gangetic Basin
Assam & Assam-Arakan Basin