Shirodhara
December 6, 2021

Posted by:

OptimizeIAS Team

Category:

DPN Topics

Shirodhara
Subject – Science and Tech
Context – Ongoing research at IIT Madras is looking closely at this ayurvedic therapy
Concept –
Shirodhara comes from the two Sanskrit words "shiro" (head) and "dhara" (flow). It's an Ayurvedic healing technique that involves having someone pour liquid — usually oil, milk, buttermilk, or water — onto your forehead.

The treatment involves the low-velocity impact of a medicinal liquid dropping on the forehead from a specific height, at a controlled temperature, for 30-60 minutes, for a defined number of days.

It's often combined with a body, scalp, or head massage.
Shirodhara is said to have relaxing, soothing, and calming effects on the body and mind.
Research also suggests that shirodhara may help:

improve sleep quality
manage insomnia
lessen anxiety (when combined with yoga)
reduce stress

Shirodhara is a non-invasive brain relaxation therapy, comparable to the effects produced by yoga and meditation. However, unlike the other two, it does not require any effort from the patient.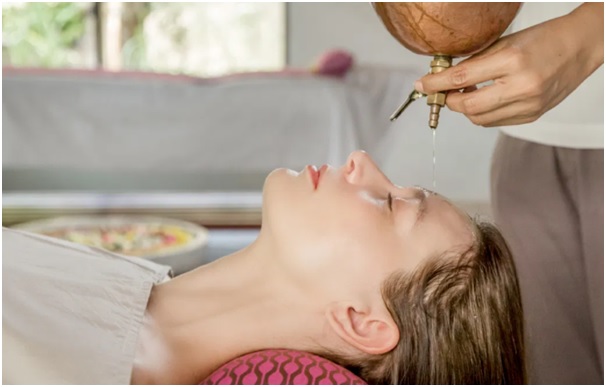 Science behind it –
It holds that a falling liquid on the forehead produces a vibration, which generates electromagnetic waves.
These are transferred to the cerebral cortex and hypothalamus, which has an impact on the brain and the central nervous system.
This could reduce stress and, hence, hypertension.