Subject: Environment/geography
Context:
Sixth mass extinction of wildlife accelerating, scientists warn
Concept:
Mass extinction refers to a substantial increase in the degree of extinction or when the Earth loses more than three-quarters of its species in a geologically short period of time.
So far, during the entire history of the Earth, there have been five mass extinctions. The sixth, which is ongoing, is referred to as the Anthropocene extinction.
The earlier five mass extinctions that took place in the last 450 million years have led to the destruction of 70-95 per cent of the species of plants, animals and microorganisms that existed earlier.
These extinctions were caused by "catastrophic alterations" to the environment, such as massive volcanic eruptions, depletion of oceanic oxygen or collision with an asteroid.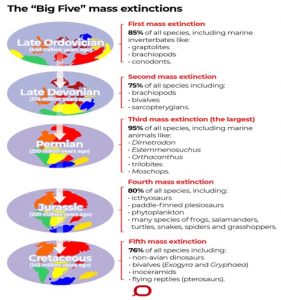 After each of these extinctions, it took millions of years to regain species comparable to those that existed before the event.
Further, attributing sixth mass extinction to humans, scientists said that one of the reasons that humanity is an "unprecedented threat" to many living organisms is because of their growing numbers.
The loss of species has been occurring since human ancestors developed agriculture over 11,000 years ago. Since then, the human population has increased from about 1 million to 7.7 billion.