Sugarcane
August 19, 2021

Posted by:

admin1

Category:

DPN Topics

Sugarcane
Subject – Agriculture
Context – sugarcane prices static for 4 years in Punjab
Concept –
In India, Sugarcane is grown as a Kharif Crop. It needs hot and humid climate with an average temperature of 21°C to 27°C.
75-150 cm rainfall is favorable for sugar cane cultivation.
Irrigation needed for areas with lesser rainfall.
Sugarcane can grow in any soil which can retain moisture. Ideal soil for sugarcane is deep rich loamy soil. The soil needs to be rich in nitrogen, calcium and phosphorus but neither it should be neither too acidic nor too alkaline.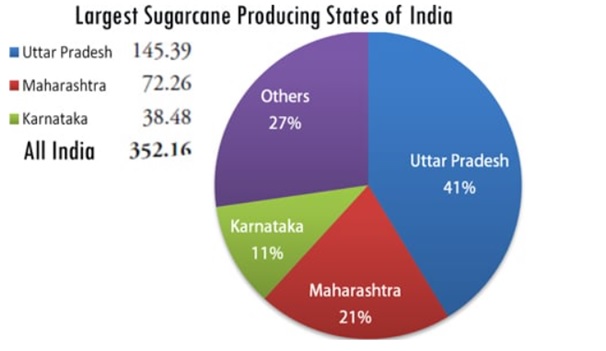 Sugar Industry's Location in India
Sugar industry is broadly distributed over two major areas of production– Uttar Pradesh, Bihar, Haryana and Punjab in the north and Maharashtra, Karnataka, Tamil Nadu and Andhra Pradesh in the south.
South India has tropical climate which is suitable for higher sucrose content giving higher yield per unit area as compared to north India.