Transfer of two pairs of lions to Sanjay Gandhi National Park
November 16, 2021

Posted by:

admin1

Category:

DPN Topics

Transfer of two pairs of lions to Sanjay Gandhi National Park
Subject – Environment
Context – Telangana agrees to transfer two pairs of lions to SGNP
Concept –
Maharashtra forest department, which has been rebuffed by Gujarat and Karnataka for the past three years for the transfer of Asiatic Lions from Gir and Bannerghatta national parks, has now received a positive response from Telangana, to increase the lion population at Sanjay Gandhi National Park (SGNP) in Borivali, Mumbai.
The Telangana forest department has agreed to exchange two pairs of lions from the Nehru Zoological Park in Hyderabad with pairs of breeding rusty-spotted cats from SGNP.
Under existing rules, animals have to be bartered between zoos. The Central Zoo Authority (CZA) regulates the exchange of animals of the endangered category listed under Schedule I and II of the Wildlife Protection Act, 1972, among zoos.

The Central Zoo Authority (CZA) does not allow the inbreeding of wild cats and has also directed states to ensure that breeding of hybrid lions was phased out.
Lions –
Endemic to India, Sri Lanka and areas along the Indo-Nepal border, the rusty-spotted cats are the smallest wild cat species in the world protected under schedule I of the Wildlife Protection Act, 1972.
The Asiatic Lion (also known as the Persian Lion or Indian Lion) is a member of the Panthera Leo Leo subspecies that is restricted to India.
Its previous habitats consisted of West Asia and the Middle East before it became extinct in these regions.
Asiatic lions are slightly smaller than African lions.
At present Gir National Park and Wildlife Sanctuary is the only abode of the Asiatic lion.
IUCN Red List: Endangered
CITES: Appendix I
The "Asiatic Lion Conservation Project" has been launched by the Union Ministry of Environment, Forests and Climate Change (MoEFCC).

It has been approved for three financial years from 2018 to 2021.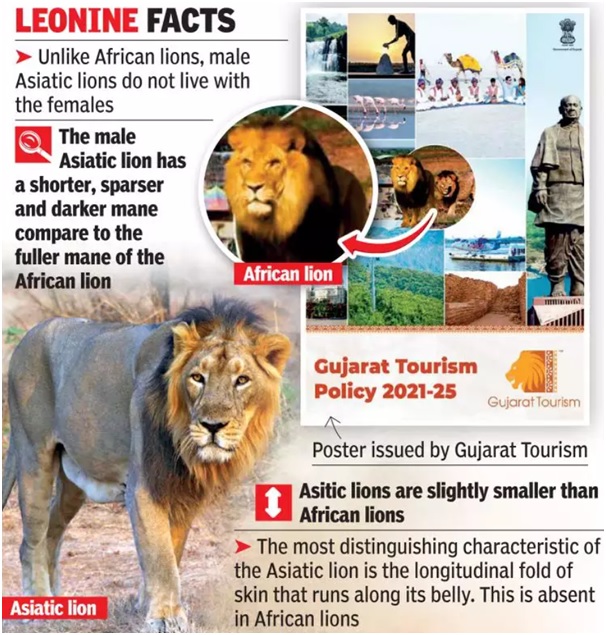 Nehru Zoological Park
It is one of the largest zoos of India and one of the top sightseeing places to visit in Hyderabad, Telangana. Run by the Forest department, Government of Telangana, the zoo has been named after Jawaharlal Nehru, the first prime minister of the country.
It was opened to the public in the year of 1963.
It is situated near the historically important Mir Alam Tank, which is 200 year old and is the first multi-arch masonry dam in the world.
Sanjay Gandhi National Park
Sanjay Gandhi National Park is a 87 km2 (34 sq mi) protected area in Mumbai, Maharashtra State in India.
Tourists enjoy visiting the 2400-year-old Kanheri caves sculpted out of the rocky cliff which lies within the park.

The Kanheri Caves in the centre of the park were an important Buddhist learning centre and pilgrimage site sculpted by Buddhist monks between the 9th and the 1st centuries BCE.
They were chiselled out of a massive basaltic rock outcropping.

It was formerly known as Borivali National Park.
The park has two lakes, Vihar Lake and Tulsi Lake, which meet a part of the city's water requirements.