Welcome to the elusive world of crypto mining: Rohtak rig, 3 engineers, Rs 3-lakh electricity bill
May 27, 2022

Posted by:

admin1

Category:

DPN Topics

Welcome to the elusive world of crypto mining: Rohtak rig, 3 engineers, Rs 3-lakh electricity bill
Subject: Science & Technology
Section: IT
Context: 'The elusive world of cryptocurrency mining'
Content: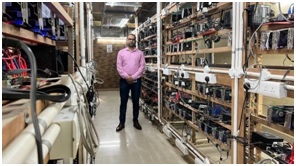 Mining is the process by which networks of specialized computers generate and release new Bitcoin and verify new transactions.
Mining is the process that Bitcoin and several other cryptocurrencies use to generate new coins and verify new transactions. It involves vast, decentralized networks of computers around the world that verify and secure blockchains – the virtual ledgers that document cryptocurrency transactions. In return for contributing their processing power, computers on the network are rewarded with new coins.
It's a virtuous circle: the miners maintain and secure the blockchain, the blockchain awards the coins, the coins provide an incentive for the miners to maintain the blockchain.
Mining rigs are mining platforms that have one or more computers designed for the mining process.
Mining aims to keep the blockchain of the different cryptocurrencies up and running and safe from potential attacks.
When it comes to mining cryptocurrencies, you need a lot of computing power and electricity to be able to earn the rewards and mining rigs allow you to do the job faster than other computers and can earn more.
Types of mining rigs
Depending on the type of mining hardware they use, mining rigs can be classified into 3 types:
CPU: CPU mining rigs are very simple and cheap equipment and are often used by users who want to mine cryptocurrencies directly from their own computer. CPU mining is very expensive and increasingly obsolete and represents a big disadvantage in terms of electricity costs. For those who want to try to mine cryptocurrencies with CPU and do not want to invest a lot, they will have to download some programs on their PC before starting to mine.
The advantage of this type of mining is that it does not require high equipment or electricity costs.
The disadvantage is that it is the slowest form of mining, has a low hash rate and, because of this, is very unprofitable.
Although CPU mining is not advised, there are several altcoins that do allow easy CPU mining.
GPU: GPU mining rigs are the best for those who want to set up their own mining platform. This is the most popular and favorite mining method among miners.
GPU mining equipment uses very powerful graphics cards with high hashing power. There are dedicated or simple GPUs (desktop PCs used for example for video games as they usually have very powerful graphics cards).
Generally, to get the best results, you should use the maximum amount of GPU available. But, even if you have simpler equipment, the results are not long in coming and are noticeable.  The only disadvantage is that they are quite expensive and require maintenance, cooling and a lot of electricity.
ASIC: the word ASIC stands for: Application Specific Integrated Circuits). These are special devices designed to mine certain types of cryptocurrencies.
They are also the most widely used devices for cryptocurrency mining, as they promise good profits. However, they are not the most environmentally friendly and cheapest solution.
These are the three most popular types of mining rigs in the crypto ecosystem and, as we have seen, GPU rigs are the most popular, followed by ASICs and CPUs.