Subject: Geography
Context:
Cyclone Nisarga is expected to make landfall on June 3 which is headed towards the coastline of north Maharashtra and south Gujarat. 
Concept:
IMD's Cyclone E-Atlas, which has been tracking cyclones and weather depressions over the north Indian Ocean, said no weather system has turned into a cyclone and made landfall near Mumbai along the Maharashtra coast during the month of June since 1891.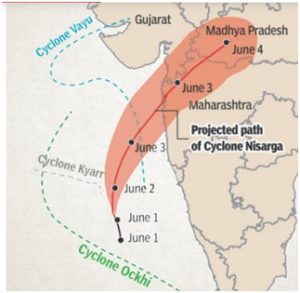 Reason for Mumbai's low risk
Weather dynamics of Arabian sea
Less cyclones in Arabian sea
Even it forms; they head towards Gujarat or gulf of Oman and Aden.
It is because of Easterlies and pre-monsoon formation of an area of high pressure, known as subtropical ridge along the west coast acts as barrier.
Bay of Bengal Vs Arabian sea
Cyclones formed in the Bay of Bengal side of the north Indian Ocean are more frequent and stronger than those on the Arabian Sea side.
Meteorologists suggest the relatively cold waters of the Arabian Sea discourage the kind of very strong cyclones that are formed on the Bay of Bengal side; Odisha and Andhra Pradesh face the brunt of these cyclones every year.
Last year, however, was slightly unusual as the Arabian Sea saw the most frequent and intense cyclonic activity in more than 100 years, according to India Meteorological Department. Five cyclones originated in the area in 2019 — Vayu, Hikka, Kyarr, Maha and Pavan – when normally only one or two are formed.