WTO and India- Food security
June 4, 2022

Posted by:

admin1

Category:

DPN Topics

WTO and India- Food security
Context:
India will push the WTO to allow foodgrain exports from public stocks on a government-to-government (G2G) basis to meet global shortages at the Ministerial Conference (MC12)
Existing mechanism:
WTO restricts exports of food, which is procured by governments at support prices. This rule is limiting wheat exports from India, as the Indian government procures wheat at a minimum support price (MSP) from farmers.
WTO is mainly focused on procurement by the World Food Programme (WFP).
World Food Programme (WFP)?
It is the food-assistance branch of the United Nations (UN). It was founded in 1961 and is the world's largest humanitarian organization focused on hunger and food security. It is headquartered in Rome. The WFP was awarded the Nobel Peace Prize in 2020 for its efforts to provide food assistance in areas of conflict and to prevent the use of food as a weapon of war.
Issue of Food security:
The food market is also extremely fragile, with just six food baskets supplying the major chunk of the world's staple food.
The poor countries are net importers and the high income countries net exporters, irrespective of their food production potential.
The Black Sea region, which includes Russia, Ukraine and Kazakhstan, is one of the world's six food baskets. Russia is the world's largest wheat exporter while Ukraine is sixth on the list.
The Ukraine war has hit the global supplies of food items endangering global food security. The war has led to a "three-dimensional" crisis — rising food prices, rising energy prices and tightening finance.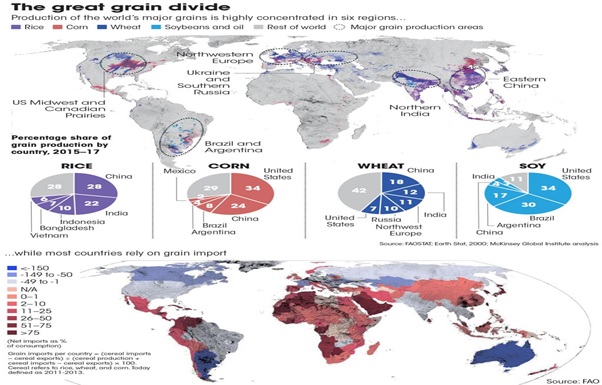 Countries have already resorted to hoarding staple foods that till recently they exported for profits. Hence, in the immediate future, the overall global availability of foodgrains will be further reduced.
This is the third global food crisis (after the crises of 2007-08 and 2010-11) in the past 15 years, but the worst-ever in severity and spread.
https://optimizeias.com/wto-agreement-on-agriculture-and-the-peace-clause/