Daily Prelims Notes 12 September 2021
September 12, 2021

Posted by:

admin1

Category:

DPN

Daily Prelims Notes
12 September 2021
Table Of Contents
Subject – Economy
Context – Stablecoins face crackdown as US discusses risk council review
Concept –
A stablecoin is a new class of cryptocurrencies that attempts to offer price stability and are backed by a reserve asset.
Stablecoins have gained traction as they attempt to offer the best of both worlds—the instant processing and security or privacy of payments of cryptocurrencies, and the volatility-free stable valuations of fiat currencies.
Stablecoins may be pegged to a currency like the U.S. dollar or to a commodity's price such as gold.
Stablecoins achieve their price stability via collateralization (backing) or through algorithmic mechanisms of buying and selling the reference asset or its derivatives.
While bitcoin remains the most popular cryptocurrency, it tends to suffer from high volatility in its valuations.
Two primary reasons for the price stability of fiat currencies are the reserves that back them and the timely market actions by the controlling authorities, like central banks.
To know more about bitcoin, please click here.
Subject – Science and Tech
Context – Italy data authority asks Facebook for clarifications on smart glasses
Concept –
Facebook smart glasses, which were created in partnership with Ray-Ban maker EssilorLuxottica (ESLX.PA), allow wearers to listen to music, take calls or capture photos and short videos and share them across Facebook's services using a companion app.
It is a step toward its aim of offering true augmented-reality spectacles.
The social media giant, which reported revenue of about $86 billion in 2020, makes most of its money from advertising but has invested heavily in virtual and augmented reality, developing hardware such as its Oculus VR headsets and working on wristband technologies to support augmented reality glasses.
Facebook's CEO, Mark Zuckerberg, recently announced the company was setting up a team to work on building the metaverse, a shared virtual environment which it is betting will be the successor to the mobile internet.
3. Gold Exchange-Traded Funds (ETFs)
Subject – Economy
Context – Investors turn positive for Gold ETFs in Aug on positive global outlook.
Concept –
A gold exchange-traded fund (Gold ETF) is a passive investment fund that aims to track the price of physical gold.
Each unit of a gold ETF represents one gram of gold as the fund invests in physical gold and investors get the units in dematerialised form.
Since it's an ETF, the units are listed on stock exchanges and investors can buy or sell units on the exchange platform like any equity instrument.
Simply put, gold ETF is like buying gold in an electronic form.
Hence, while selling a gold ETF unit, an investor will not get physical gold but the cash equivalent.
The cost of investment in gold ETFs is generally cheaper than that of investing in gold in physical form.
Gold ETFs back their assets by buying actual physical gold of 99.5% purity.
This physical gold is stored in vaults with the custodian bank and valued periodically, according to the Securities and Exchange Board of India (SEBI) guidelines.
Benefits of a gold ETF –
First, one gets to invest in gold without worrying about factors such as purity of gold, transparency of pricing, making charges, lockers and theft, among other things.
Second, one can purchase as little as one unit — representing one gram — at a time and still have the flexibility of buying more units depending on liquidity and prevailing gold prices.
Since it's an ETF, it's a liquid investment and can be sold at any time on the exchanges.
Also, some mutual funds provide the option of giving physical gold at the time of redeeming but it is subject to certain conditions.
It also offers many benefits in terms of tax, as income earned is treated as long term capital gain and there is no other levy such as wealth tax.
How to invest in gold ETFs
To invest in gold ETFs, you need two main things:
Choose a gold ETF product/fund manager: Gold ETF products are offered by several banks and private financial institutions. Once you choose a product, your ETF fund manager will act as your stock broker on the NSE and buy and sell the gold instead of you. This process is just like trading in stocks and shares.
Open a demat account: Since gold ETF is a security that is bought and sold in electronic, dematerialised form and not in physical form, you need to have a demat account to trade in them. You can open a demat account through your stock broker or the ETF fund manager you have selected.
Features of gold ETFs
Transparency: Similar to stocks and shares, gold prices on the stock exchange are available publicly. You can know the value of your portfolio by checking the prices of gold for the day or hour.
Easy to trade: The minimum bundle or lot that you need to purchase to start trading in ETFs is 1 unit. i.e. 1 gram of gold. You can buy and sell the units through your stock broker or ETF fund manager on a daily or even hourly basis, just like equities.
Cost-effective: If you invest in a gold ETF listed on the stock exchange, there is no entry or exit load – a type of charge that is to be paid to buy or sell units. The brokerage charges are very low – 0.5 percent to 1 percent.
Lower risk: Fluctuations in gold prices are generally not as high as in equities. This means that even if your returns on equities go down, gold ETFs could act as your safety net. It will prevent you from incurring large losses.
Tax benefits: While gold ETFs attract long-term capital gains tax after one year, you do not have to pay VAT, Wealth Tax or Securities Transaction Tax on them.
Are gold ETFs popular
According to the Association of Mutual Funds in India, there are 12 gold ETFs in the market.
These funds had assets under management totalling more than ₹5,600 crore as on September 2019.
Risks in gold ETF investments
Price fluctuations: Just like in any equity product, the Net Asset Value (NAV) of the units issued under a gold ETF can rise or fall according to economic fluctuations.
Less total returns: The additional charges – brokerage, commission or fund management fees – to maintain a gold ETF could bring down its total returns in comparison with sale of physical gold.
Gold ETFs Vs Sovereign Gold Bonds
Total returns on investment through gold ETFs is lower than actual return on gold whereas it is higher than actual return on gold in case of Sovereign Gold Bonds (due to the interest paid on the bond during holding period).
Unlike Sovereign Gold Bonds, gold ETFs can't be used as collateral for loan.
Subject – Science and Tech
Context – Facebook-owned messaging platform WhatsApp has introduced end-to-end encryption for backups of chats that its users take on cloud services such as Google Drive or Apple's iCloud.
Concept –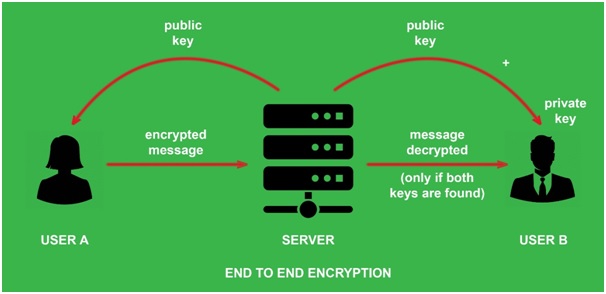 To know more about end-to-end encryption, please click here.
5. Insurance Regulatory and Development Authority of India (IRDAI)
Subject – Economy
Context – Widening cyber insurance ambit: Irdai pitches for global jurisdiction
Concept –
Insurance Regulatory Development Authority (IRDA) is a statutory body set up by the IRDA Act, 1999.
It is an autonomous and apex body which has the responsibility to regulate and control the Insurance sector in India.
Insurance Regulatory Development Authority (IRDA) was established after the recommendations of Malhotra Committee report of 1994. The committee had recommended for the establishment of an independent authority for the regulation of Insurance sector in India.
As per the section 4 of IRDAI Act' 1999, Insurance Regulatory and Development Authority of India has composition of a Chairman; five whole-time members; four part-time members, all appointed by the Government of India.
According to the Irdai document, FIR is a critical requirement to assess claims and hence can't be fully dispensed with. However, for small claims up to Rs 5,000, insurers may ask for an e-complaint lodged at the National Cyber Crime Reporting Portal.
Cyber- Issues
Cyber insurance policies generally exclude coverage for damaged computer hardware.
Online shopping frauds, like when the item that individual has bought but not received the goods or sold something that has left their custody but the payment is not received, is not covered or only a very small coverage for the same is available.
Non-delivery of goods ordered from merchant or non-receipt of premium while goods are delivered are prima facie business risks and cannot be classified under cyber coverages unless resulting directly from cyber-related events.
As per Swiss Re's global survey, the top four cyber risk scenarios that people worry about most are: illicit access of financial credentials; identity theft; data loss due to a technical issue; and illicit publication of personal data.
Some of the cyber risks are –
SIM-Jacking: In layman's terms, SIM-jacking is essentially taking control of someone's phone number, and tricking a carrier into transferring it to a new phone. Thieves usually manage to gain control of your number by fooling or bribing someone who works for the carrier or contacting the carrier and stating the subscriber's personal information, which thieves can come by in multiple ways.
Card cloning – Credit card cloning refers to making an unauthorized copy of a credit card. This practice is also sometimes called skimming. Thieves copy information at a credit card terminal using an electronic device and transfer the data from the stolen card to a new card or rewrite an existing card with the information.
SIM Swap – original SIM gets cloned and becomes invalid, and the duplicate SIM can be misused to access the user's online bank account to transfer funds.
Credential Stuffing – compromising devices and stealing data.
Subject – Environment
Context – On display in Delhi, exhibition of 125 paintings of birds from 18th C India.
Concept –
IN 18th Century India, while the royal courts continued to support artists, new patronage for art came from the Europeans, several of who tasked artists to paint the land and its people.
Their interests were varied and included among others its birds, as is evident from an exhibition in Delhi that brings together 125 paintings of birds from the various Company-commissioned albums.
Titled 'Birds of India, Company Paintings c. 1800 to 1835', the display at DAG, The Claridges Hotel, is curated from the gallery collection and comprises a variety of birds, including game birds, coastal waders, woodland, and forest birds.
Viewers at the gallery spot the still common birds — the Brown Wood Owl, Common Sandpiper, Indian Myna, House Crow, and Common Kingfisher.
What was company school of painting?
'Company painting' is a broad term for a variety of hybrid styles that developed as a result of European (especially British) influence on Indian artists from the early 18th to the 19th centuries.
It evolved as a way of providing paintings that would appeal to European patrons who found the purely indigenous styles not to their taste.
As many of these patrons worked for the various East India companies, the painting style came to be associated with the name, although it was in fact also used for paintings produced for local rulers and other Indian patrons.
The subject matter of company paintings made for western patrons was often documentary rather than imaginative, and as a consequence, the Indian artists were required to adopt a more naturalistic approach to painting than had traditionally been usual.
Europeans commissioned sets of images depicting festivals and scenes from Indian life or albums illustrating the various castes and occupations, as well as the architecture, plants and animals of the sub-continent.
While most of the works were painted on paper, there was also a fashion for images of Mughal monuments and Mughal rulers and their wives painted on small plaques of ivory. This increased use of western approaches to painting coincided with the later phases of local painting styles, as manifested in centres such as Lucknow, Murshidabad and Delhi in North India and Mysore and Thanjavur in the South. As a result, the line between 'company' painting and later provincial work for local patrons is often blurred.
Subject – Polity
Context – Gujarat Chief Minister resigns
Concept –
The Chief Minister can resign from his office by submitting a resignation letter to the respective Governor of the State.
The term of the Chief Minister is not fixed and he holds office during the pleasure of the governor.
However, this does not mean that the governor can dismiss him at any time. He cannot be dismissed by the governor as long as he enjoys the majority support in the legislative assembly.
But, if he loses the confidence of the assembly, he must resign or the governor can dismiss him.
About Chief Minister
In the scheme of parliamentary system of government provided by the Constitution, the governor is the nominal executive authority (de jure executive) and the Chief Minister is the real executive authority (de facto executive).
In other words, the governor is the head of the state while the Chief Minister is the head of the government. Thus the position of the Chief Minister at the state level is analogous to the position of prime minister at the Centre.
The Constitution does not contain any specific procedure for the selection and appointment of the Chief Minister. Article 164 only says that the Chief Minister shall be appointed by the governor.
However, this does not imply that the governor is free to appoint any one as the Chief Minister. In accordance with the convections of the parliamentary system of government, the governor has to appoint the leader of the majority party in the state legislative assembly as the Chief Minister.
But, when no party has a clear majority in the assembly, then the governor may exercise his personal discretion in the selection and appointment of the Chief Minister.
In such a situation, the governor usually appoints the leader of the largest party or coalition in the assembly as the Chief Minister and ask him to seek a vote of confidence in the House within a month.
According to the Constitution, the Chief Minister may be a member of any of the two Houses of a state legislature. Usually Chief Ministers have been selected from the Lower House (legislative assembly), but, on a number of occasions, a member of the Upper House (legislative council) has also been appointed as Chief Minister.
Subject – Environment
Context – Myristica swamps exist as isolated pockets
Concept –
Myristica swamps — tree ¬covered wetlands within the evergreen forests of the Western Ghats that once formed a large hydrological network all along the Western Ghats — now exist as small, isolated pockets, said a new study.
Myristica swamps are one of the most threatened ecosystems in India due to increased human pressure.
According to the researchers, even with their little-known biota, the swamps harbour several rarerelic floristic and faunal taxa comprising many endemic and threatened species, with most plant species highly restricted in their distribution. These swamps are one of the most unique and primeval ecosystems of the Western Ghats.
Critical inland swamp habitats of India are the Myristica swamps, the Elaeocarpus swamps and the Hadlus, all of which are forested wetland ecosystems that are invariably freshwater in character.
Myristica swamps have the characteristic traits of a dense evergreen closed forest, presence of abundant knee roots protruding from waterlogged soil, soils with high humus content, and are moist or inundated throughout the year.
The ancient swamp forests are endemic to the Western Ghats and a smaller distribution exists in the Andaman and Nicobar Islands. There are 60¬odd swamps reported from Kerala and there may be many smaller ones, which are either not mapped or reported. An attempt has been made to map the swamps in Karnataka and a few studies have focused on swamps in Goa and Sindhudurga, the northernmost limit of swamps in Maharashtra.
In recent years, many Myristica swamps in the central and southern Western Ghats are threatened by the growing agricultural demand and are often converted to paddy fields, or arecanut and teak plantations. This is especially true of those swamps existing outside protected forest tracts in the Western Ghats landscape. While wetlands have been given prioritisation in the past, swamps in India have been relatively ignored by scientists and policymakers.
Myristica swamps, like the floral plateaus of the northern Western Ghats and the Shola grassland mosaics, face a higher threat of destruction than other evergreen forest types. The Biodiversity Act of 2002 declares important biodiversity areas, including Myristica swamps, as Biodiversity Heritage Sites.
many swamps are in reserve forests or sacred groves/community conservation landscapes, which do not grant them protection from land use conversion, and are also highly fragmented and isolated.
As of February 2021, 58 scientific studies have been conducted on the floristic components and vegetation of Myristica swamp forests and according to them, there are at least 79 tree species, 26 shrubs, 27 climbers, and 44 herb species recorded.
Any loss of the swamps will also lead to the extinction of associated species.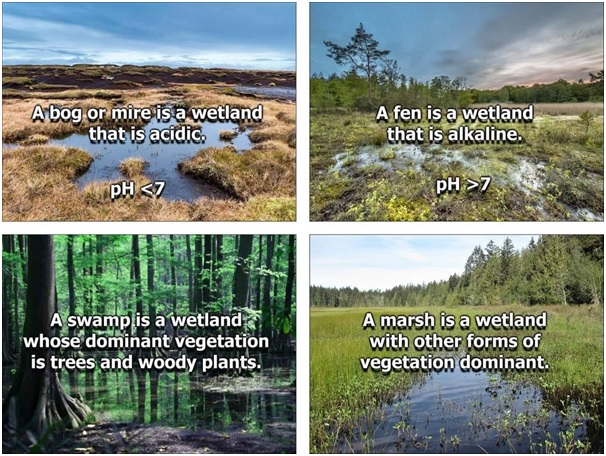 9. Unlawful Activities Prevention Act
Subject – Security
Context – Magistrates can't extend probe under UAPA: SC
Concept –
Under UAPA, the investigation has to be completed within 90 days. If not, the accused is entitled to default bail.
The only competent authority to consider such request would be 'the Court' as specified in the proviso in Section 43¬D (2) (b) of the UAPA.
By 'the Court', the Bench meant the Special Court under the UAPA.
To know more about UAPA, please click here.
10. Jatayu Conservation and Breeding Centre
Subject – Environment
Context –
Concept –
The Jatayu and Sparrow Conservation Breeding Centre, Pinjore (JCBC), is world's largest facility within BirShikargah Wildlife Sanctuary for the breeding and conservation of Indian vultures and House sparrow in the State of Haryana, India, in Panchkula district in the town of Pinjore.
It is run by the Forests Department, Haryana and Bombay Natural History Society (BNHS) with the help of British charity Royal Society for the Protection of Birds (RSPB).
Species at JCBC
JCBC houses the following four species, three critically endangered (CR) species and one threatened species for breeding and conservation at the centre:
Critically Endangered species

Indian vulture, scientific name: Gyps indicus, formerly knows as the long-billed vulture.
Slender-billed vultures, scientific name: Gyps tenuirostris, formerly called long billed vultures, 97% have been wiped out by the diclofenac.
White-rumped vulture, scientific name: Gyps bengalensis, formerly knows as the Oriental White-Backed vulture, 99.9% have been wiped out by the diclofenac.

Threatened species

Himalayan vulture, scientific name: Gyps himalayensis.
To know more about Action Plan for Vulture Conservation for 2020-2025, please click here.
11. National Company Law Appellate Tribunal (NCLAT)
Subject – Governance
Context – NCLAT admits Dhoot petition against Twin Star takeover
Concept –
To know more about NCLAT, please click here.
Subject – Science and Tech
Context – countries abandoned 'Zero Covid' strategy
Concept –
The objective of this strategy is to keep transmission of the virus as close to zero as possible and ultimately to eliminate it entirely from particular geographical areas.
The strategy aims to increase the capacity to identify and trace chains of transmission and to identify and manage outbreaks, while also integrating economic, psychological, social and health-care support to guarantee the isolation of cases and contacts. This approach is also known as "Find, Test, Trace, Isolate and Support" (FTTIS).
The more coordinated, flexible and effective the process, the easier it is to curb the circulation of the virus and keep the number of cases close to zero. Likewise, the lower the incidence of infection, the more effective the strategy is and the easier it becomes to slow the pandemic and mitigate its impacts on health, society and the economy.
As a public health strategy, it is important to distinguish maximum suppression from the strategy of seeking to end the pandemic by gradually allowing the population to become infected. This approach, known as herd immunity, can be a lengthy and costly way to control an epidemic, especially for groups at higher risk of severe disease. It also disproportionately affects the most economically and socially vulnerable individuals and communities. From the standpoint of the precautionary principle, a herd immunity approach is inadvisable because we have a limited understanding of the duration of immunity, the long-term impact of the disease, the behaviour of the disease in successive reinfections, and the associated rates of morbidity and mortality.
The maximum suppression strategy should also be distinguished from containment or mitigation strategies aimed at preventing the health system from being overwhelmed ("flattening the curve"). Even though mitigation strategies are useful when community spread is already very high and impacting the health system, they have an important weakness: they fail to address periods of low transmission or sporadic cases. A mitigation approach therefore runs a high risk of leading to persistent transmission, necessitating endless cycles of lockdowns followed by a relaxation of restrictions—a pattern that cripples the economy, the health system and community engagement.
In contrast, early preventive action to keep transmission under control not only prevents health system overload at every level of care—including care for diseases other than COVID-19—but also protects the physical and emotional health of citizens and health professionals, while also preserving social and economic life and increasing the trust and commitment of society as a whole.