Daily Prelims Notes 13 October 2021
October 14, 2021

Posted by:

admin1

Category:

DPN

Daily Prelims Notes
13 October 2021
Table Of Contents
1. Central Drugs Standard Control Organisation (CDSCO)
Subject – Governance
Context – Expert panel clears Covaxin for emergency use in 2­18 age group
Concept –
Covaxin is the country's first indigenous, whole-virion, inactivated vaccine developed by Bharat Biotech in collaboration with the Indian Medical Research Council (ICMR) and the National Institute of Virology (NIV).
To know about CDSCO, please click here.
CDSCO along with state regulators, is jointly responsible for grant of licenses of certain specialized categories of critical Drugs such as blood and blood products, I. V. Fluids, Vaccine and Sera.
Within the CDSCO, the Drug Controller General of India (DCGI) regulates pharmaceutical and medical devices and is positioning within the Ministry of Health and Family Welfare.

The DCGI is advised by the Drug Technical Advisory Board (DTAB) and the Drug Consultative Committee (DCC).
Drugs Controller General of India
Drugs Controller General of India (DCGI) is the head of department of the Central Drugs Standard Control Organization of the Government of India responsible for approval of licences of specified categories of drugs such as blood and blood products, IV fluids, vaccines, and sera in India.
Drugs Controller General of India, comes under the Ministry of Health & Family Welfare.
DCGI also sets standards for manufacturing, sales, import, and distribution of drugs in India.
Function

DCGI lays down the standard and quality of manufacturing, selling, import and distribution of drugs in India.
Preparation and maintenance of national reference standard.
To bring about the uniformity in the enforcement of the Drugs and Cosmetics Act.
Training of Drug Analysts deputed by State Drug Control Laboratories and other Institutions
Analysis of Cosmetics received as survey samples from CDSCO (central drug standard control organisation)
With the notification of Medical Device Rules 2017 by the Government of India, DCGI will also act as Central Licensing Authority (CLA) for the medical devices which fall under the purview of these rules.

Out of four Classes of medical devices from Class A to Class D, DCGI will be the direct licensing authority for Class C and Class D devices, whereas it will coordinate licensing for Class A and B devices through State drug controllers, who will act as State Licensing Authority or SLA.
2. UN Security Council Resolution 2593
Subject – IR
Context – Modi for 'humanitarian help' to Afghanistan
Concept –
To know about UNSC Resolution 2593, please click here.
Subject – Social Issues
Context – Do not breathe easy on the silicosis prevention policy
Concept –
Silicosis is a fatal respiratory illness caused by inhaling fine silica dust through prolonged exposure in sandstone mines and quarries.

Silica (SiO2/silicon dioxide) is a crystal-like mineral found in abundance in sand, rock, and quartz.

Silicosis is part of the pneumoconiosis family of diseases, described by the policy as "occupational diseases due to dust exposure… are incurable, cause permanent disability and are 'totally preventable by available control measures and technology'.
Silica can have deadly consequences for people who work with stone, concrete, glass, or other forms of rock.
Silicosis is an incurable condition with its potential to cause permanent physical disability.
Any level of silica exposure can result in silicosis. There are three types of silicosis:

Acute: Acute silicosis forms a few weeks or months after high levels of silica exposure. This condition progresses rapidly.
Accelerated: Accelerated silicosis comes on five to 10 years after exposure.
Chronic: Chronic silicosis occurs 10 years or more after silica exposure. Even low exposure levels can cause chronic silicosis.

Silica dust particles act as tiny blades on the lungs.
These particles create small cuts that can scar the lung tissue when inhaled through the nose or mouth. Scarred lungs do not open and close as well, making breathing more difficult.
Silica is called as a "carcinogen." This means that silica can cause cancer, including lung cancer.
Exposure to large amounts of free silica may not be noticed because silica is odourless, non-irritant and does not cause any immediate health effects, but long-term exposure is associated with pneumoconiosis, lung cancer, pulmonary tuberculosis, and other lung diseases.
Diagnosis is a challenge because it is difficult to even find out if a person has tuberculosis or silicosis.

The nodules that collect to form a mass can take up to 20 years to be identified in chest x-rays and the victim notices symptoms only after many years of exposure to silica.
Steps taken by Government of India to reduce and to prevent incidents of Silicosis include:
In India, more than 10 million workers are at risk of silicosis and thus it is recognized as occupational diseases by the Factories Act and Employees Compensation Act, which mandates employers must pay compensation to workers who are afflicted.
In India silicosis is prevalent in Gujarat, Rajasthan, Pondicherry, Haryana, Uttar Pradesh, Bihar, Chhattisgarh, Jharkhand, Orissa and West Bengal among the workers of construction and mining.
Factory Act of India (1948) mandates a well-ventilated working environment, provisions for protection from dust, reduction of overcrowding and provision of basic occupational health care.
Silicosis is a notified disease under the Mines Act (1952) and the Factories Act (1948).
Subject – Agriculture
Context – Govt. nod for fertilizer subsidy
Concept –
The Centre has approved an additional fertilizer subsidy of ₹28,655 crore for the rabi or winter planting season, which runs from October 2021 to March 2022.
The Cabinet Committee on Economic Affairs approved the new nutrient-based subsidy rates for phosphatic and potassic fertilizers.
Unlike urea where the Centre sets a fixed maximum retail price, non-urea fertilizer prices are decontrolled, with the government fixing nutrient-based subsidy rates instead.
The subsidy is paid to fertilizer companies as compensation for selling their products to farmers below market prices.
Thus, the price a farmer pays for a 50-kg bag of di-ammonium phosphate (DAP), the most popular fertilizer after urea, would continue to remain at ₹1,200.
The increased subsidy would off-set the hike in global rates of DAP, nitrogen, phosphate and potassic fertilizers.
To know about Fertilisers, please click here.
To know about Fertilisers subsidy, please click here.
How is the subsidy paid and who gets it?
The subsidy goes to fertiliser companies, although its ultimate beneficiary is the farmer who pays MRPs less than the market-determined rates.
Companies, until recently, were paid after their bagged material had been dispatched and received at a district's railhead point or approved godown.
From March 2018, a new so-called direct benefit transfer (DBT) system was introduced, wherein subsidy payment to the companies would happen only after actual sales to farmers by retailers.
With the DBT system, each retailer — there is over 2.3 lakh of them across India — now has a point-of-sale (PoS) machine linked to the Department of Fertilizers' e-Urvarak DBT portal.
Subject – History
Context – Veer Savarkar an icon of Indian history, will remain so: Rajnath
Concept –
To know about VD Savarkar, please click here.
6. Plastic Waste Recycling Targets
Subject – Environment
Context – Govt. announces plastic waste recycling targets
Concept –
The Environment Ministry has issued draft rules that mandate producers of plastic packaging material to collect all of their produce by 2024 and ensure that a minimum percentage of it be recycled as well as used in subsequent supply.
It has also specified a system whereby makers and users of plastic packaging could collect certificates — called Extended Producer Responsibility (EPR) certificates — and trade in them.
The notification was expected to come into force by December 6 and, as of now, was open to public feedback.
Only a fraction of plastic that cannot be recycled — such as multi-layered multi-material plastics — would be eligible to be sent for end-of-life disposal such as road construction, waste to energy, waste to oil and cement kilns.
Only methods prescribed by the Central Pollution Control Board (CPCB) would be permitted for their disposal.
Plastic packaging, as per the rules made public on October 6, fall into three categories.

The first is "rigid" plastic;
Category 2 is "flexible plastic packaging of single layer or multilayer (more than one layer with different types of plastic), plastic sheets and covers made of plastic sheet, carry bags (including carry bags made of compostable plastics), plastic sachet or pouches;
Third category is called multi-layered plastic packaging, which has at least one layer of plastic and at least one layer of material other than plastic.

Producers of plastic would be obliged to declare to the government, via a centralised website, how much plastic they produce annually.
Companies would have to collect at least 35% of the target in 2021-22, 70% by 2022-23 and 100% by 2024.
In 2024, a minimum 50% of their rigid plastic (category 1) would have to be recycled as would 30% of their category 2 and 3 plastic.
Every year would see progressively higher targets and after 2026-27, 80% of their category 1 and 60% of the other two categories would need to be recycled.
If entities cannot fulfil their obligations, they would on a "case by case basis" be permitted to buy certificates making up for their shortfall from organisations that have used recycled content in excess of their obligation.
The CPCB would develop a "mechanism" for such exchanges on an online portal.
Non-compliance would not invite a traditional fine. Instead, an "environmental compensation" would be levied, though the rules do not specify how much this compensation would be.

To know about Plastic waste management amendment rules 2021, please click here and here.
Subject – Polity
Context – Anticipatory bail can be set aside: SC
Concept –
The Supreme Court has held that a superior court can set aside an anticipatory bail order if there was enough material to suggest that factors like gravity of the offence and the role of the accused in the crime were not considered by the lower court.
A court, while considering an application for grant of anticipatory bail, had to consider the nature of the offence, the role of the person, the likelihood of his influencing the course of investigation, etc.
To know about Anticipatory bail, please click here.
Subject – Environment
Context – China launches biodiversity fund
Concept –
China pledged to inject $233 million into a new fund to protect biodiversity in developing countries during a key UN conservation summit, despite disagreements among major donors on the initiative.
Beijing — the world's biggest polluter — has sought to play a more prominent role internationally on biodiversity conservation in recent years.
Its pledge came as delegates from about 195 countries gathered in the southern Chinese city of Kunming for the first of a two-part summit on safeguarding plants, animals and ecosystems.
The summit aims to establish a new accord setting out targets for 2030 and 2050.
China will take the lead in establishing the Kunming biodiversity fund with a capital contribution of 1.5 billion yuan ($233 million) to support the cause of biodiversity conservation in developing countries.
A key proposal being debated at the conference is the "30 by 30" agenda that would afford 30% of the Earth's land and oceans protected status by 2030.
But some rich country donors say a new fund for conservation is unnecessary because the United Nations' Global Environment Facility already helps developing nations finance green projects.
To know about United Nations' Global Environment Facility, please click here.
Subject – Environment
Context – 'Seas will rise for centuries to come'
Concept –
Even if humanity beats the odds and caps global warming at 1.5 degrees Celsius above pre-industrial levels, seas will rise for centuries to come and swamp cities currently home to half-a-billion people, researchers warned.
In a world that heats up another half-degree above that benchmark, an additional 200 million of today's urban dwellers would regularly find themselves knee-deep in sea water and more vulnerable to devastating storm surges, they reported in Environmental Research Letters.
Worst hit in any scenario will be Asia, which accounts for nine of the 10 mega-cities at highest risk.

Land home to more than half the populations of Bangladesh and Vietnam fall below the long-term high tide line, in a world with even a 2 degrees Celsius rise.
Built-up areas in China, India and Indonesia would also face devastation.

Most projections for sea level rise run to the end of the century. But oceans will continue to swell for hundreds of years beyond 2100 — fed by melting ice sheets, heat trapped in the ocean and the dynamics of warming water — no matter how aggressively greenhouse gas emissions are drawn down.
10. Bioethanol blending in aviation fuel
Subject – Environment
Context – 'Bioethanol can be reliable aviation fuel'
Concept –
Bioethanol can be a sustainable fuel for the aviation sector.
It can provide 80% savings on greenhouse gas emissions and be blended up to 50% with conventional jet fuels without any modification. It has already been tested and approved by the Indian Air Force.
With the roll out of flex-fuel vehicles that run 100% on bioethanol, the demand for ethanol will jump four to five times.
Brazil, under its Air Force programme, is adding 50 per cent ethanol in aviation fuel and India will communicate with the authorities of the concerned department.
As per the study conducted by Indian Oil Corporation, the existing vehicles running on Indian roads currently can take up to 13 per cent ethanol-blended petrol without any modification in the engine and any loss in its efficiency.
Accordingly, the government has fixed BIS standards for E12 and E15, which will be slowly rolled out over the next couple of years to move from the 10 per cent blending expected to be achieved in 2022 to 20 per cent blending by 2025.
To know more about Bioethanol (aka ethanol or ethyl alcohol (C2H5OH)), please click here.
11. Carbon Footprint Tracker And Satellite Imagery Suite
Subject – Environment
Context – Carbon footprint tracker and satellite imagery suite unveiled by Google Cloud
Concept –
Alphabet Inc's Google will tell its cloud customers the carbon emissions of their cloud usage and open satellite imagery to them for the first time for environmental analysis, as part of a push to help companies track and cut carbon budgets
The leading cloud vendors Google, Microsoft Corp and Amazon.com have been competing on sustainability offerings for years.

They aim to serve companies that are under pressure from stakeholders to rethink operations in light of climate change.

Google's new carbon footprint reporting tool, similar to one Microsoft already provides, shows the emissions associated with the electricity that was used to store and process a customer's data.
In addition, Google will now warn customers when they are wasting energy on inactive cloud services.
The new mapping offering, Google Earth Engine, had been used by tens of thousands of researchers, governments and advocacy groups since 2009. But Google now is letting businesses in on the service, which includes many huge geospatial datasets such as Landsat and the software needed to analyse them.

Amazon has a similar initiative.

Earth Engine could help ensure supply chains are sustainable and predict operation challenges from extreme weather, according to Google.
Subject – Environment
Context – IOC plans to use grey hydrogen to make aviation fuel
Concept –
Indian Oil Corporation (IOC) will put up a 'demo plant' within the next two years to convert ethanol into a biogas that would be used to run aircraft.
The 'alcohol-to-jet' fuel (ATJ) plant will also use up its refiner's grey hydrogen to produce the ethanol.
There would be a lot of demand for biogas for aviation when the Carbon Offsetting and Reduction Scheme for International Aviation (CORSIA) emission norms kick in in 2027.
Also, there is going to be a huge increase in the demand for ethanol when the government of India's mandate for mixing 20 per cent ethanol with petrol kicks in in 2025.
Meanwhile, IOC plans to do a 'no harm test' on a pipeline to see which steel metallurgy can withstand some amount of hydrogen without suffering embrittlement.
Carbon Offsetting and Reduction Scheme for International Aviation
The Carbon Offsetting and Reduction Scheme for International Aviation (CORSIA) is a carbon offset and carbon reduction scheme to lower CO2 emissions for international flights, to curb the aviation impact on climate change.
Developed by the International Civil Aviation Organization (ICAO) and adopted in October 2016.
Its goal is to have a carbon neutral growth from 2020.
CORSIA uses Market-based environmental policy instruments to offset CO2 emissions: aircraft operators have to purchase carbon credits from the carbon market.
Starting in 2021, the scheme is voluntary for all countries until 2027.
13. Tiananmen Square Massacre Statue
Subject – IR
Context – Hong Kong University ordered removal of Tiananmen Square massacre statue
Concept –
What is the Pillar of Shame statue?
The Pillar of Shame statue was made in remembrance of the June 4, 1989 Tiananmen Square Massacre, which is referred to as the June 4 incident by Chinese authorities.
The People's Liberation Army had opened fire on student protestors who had been protesting since mid-April in 1989 against corruption, unemployment, inflation, etc.
The statue shows 50 bodies — with anguish-ridden faces — piled up together commemorating unarmed student protestors who were killed as Chinese troops opened fire on them.
The 8-metre high statue has been placed within Haking Wong Building inside the Hong Kong University since 1997.
It was painted orange as it "was a mixture of red, representing the dictatorship of China, and yellow, representing freedom and human rights".
Were Hong Kong protests linked to this clampdown?
The 2019 Hong Kong protests began against a proposed extradition bill, which would have allowed authorities to extradite citizens to other countries including China.
Although, after the bill was taken back, the protests grew into being against the increasing control of Chinese authorities over Hong Kong and the loss of the city's autonomy over its functioning.
The protests, which turned extremely violent and went on for months, were against Chinese authorities gaining control over the citizens of Hong Kong and the window of freedom decreasing with bills like extradition law and National Security Law.
Subject – Geography
Context – Saraswati river revival: Rs 215-crore dam proposed
Concept –
The Haryana government proposes to spend Rs 215 crore on the construction of a dam meant for the revival of the Saraswati river.
According to the proposal by the state government, the dam, with a capacity of 224-hectare metre, will be constructed on Haryana's border with Himachal Pradesh.
A portion of the Som river water, officials said, would be diverted to the dam from where it would flow into the stream of Saraswati river starting from Adi Badri (Yamunanagar) to Guhla Cheeka in the Kaithal district.
Later, the Saraswati water will merge with the Ghaggar river in Kaithal district.

Adi Badri is a place in the foothills of Shivalik range, 90 km east of Kurukshetra.
The river Som, which flows from Himachal Pradesh, is considered a tributary of the ancient river Saraswati.

The Saraswati, a legendary river mentioned in ancient Hindu scriptures, is considered sacred by millions of Indians and its existence has been the subject of scientific curiosity.
Haryana Saraswati Heritage Development Board vice-chairman Dhuman Singh Kirmach believes that the river existed over 5,000 years ago but disappeared underground because of earthquakes and other geographical developments.
To know more about Saraswati River, please click here.
Subject – Economy
Context – Neo-banking platform Open raises $100 m from Temasek, Google, SBI Investment
Concept –
Open, a Bengaluru-based SME-focussed neo-banking platform, has raised $100 million in Series C round from Temasek, along with the participation of Google and SBI Investment.
Founded in 2017, Open offers a neo-banking platform that integrates all the tools used by small businesses and integrates it with the business current account.

The Open platform powers close to 2 million SMEs and processes over $20 billion in annualised transactions.
The platform also adds over 90,000 SMEs every month, making it the fastest growing SME-focused neo-banking platform globally.
What is Neobank?
A neobank is a kind of digital bank without any branches. Rather than being physically present at a specific location, neobanking is entirely online.
It's a wide umbrella of financial service providers who beseech today's tech-savvy customers. Neobanks can be called fintech firms that provide digital and mobile-first financial solutions payments and money transfers, money lending, and more.
Neobanks don't have a bank license of their own but count on bank partners to provide bank licensed services.
How does a neobank work?
Unlike a traditional banking system, neobanks have a completely different business model altogether. But, like traditional banks, neobanks do make money marginally between money inflow and lending.
And, since there isn't a physical location and that they're completely online, the customer fees are slashed by a significant amount. Because Neobanks are customer-centric, they provide personalized services to their customers that are fired up via technology.
Data-driven decisions drive the decision-making process of a neobank. Since their platforms are also very modernized, it becomes easier for them to collect and analyze data and understand how their customers behave in the neobanking ecosystem. Based on these observations, they create cohorts of customers based on their actions rather than merely sticking to one or two data points.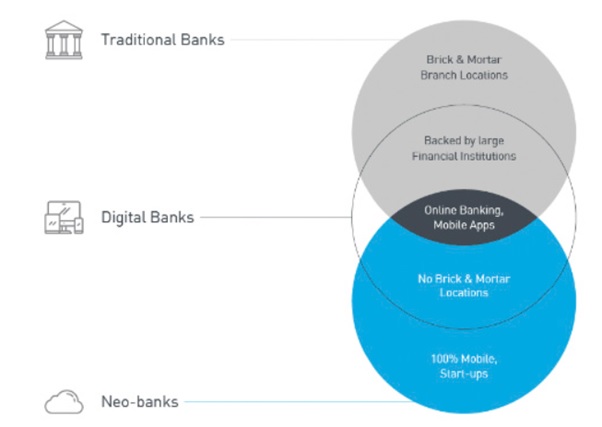 Subject – Environment
Context – India needs 5,630 GW solar capacity by 2070 for net zero emissions: study
Concept –
India's total installed solar power capacity will need to increase to 5630 gigawatt (GW) by 2070 in order to achieve net zero emissions, according to a new report by independent think tank Council on Energy, Environment and Water (CEEW).
Consequently, the total corresponding land requirement for India's power generation assets, especially solar, would be approximately 4.6 percent, says the report – titled 'Implications of a Net-zero Target for India's Sectoral Energy Transitions and Climate Policy'.
At present, India has 100 GW of installed renewable energy capacity, of which solar comprises 40 GW, and it aims to enhance the RE capacity to 450 GW by 2030.
The report further highlighted that in order to achieve net-zero by 2070, usage of coal, especially for power generation, would need to peak by 2040 and drop by 99 percent between 2040 and 2060.

Further, consumption of crude oil, across sectors, would need to peak by 2050 and fall substantially by 90 percent between 2050 and 2070.
Green hydrogen could contribute 19 percent of the total energy needs of the industrial sector.

These insights assume that hydrogen will play an integral part in this transition, while Carbon Capture and Storage (CCS) technology would play a negligible role.

The recent IPCC report released earlier this year has underscored the importance of achieving net-zero globally to limit the total rise in temperatures to 1.5-2 degrees in the coming decades.
Further, if India were to attain net-zero emissions by 2070, then the economic cost of the transition could be around 4.1% of the GDP in the net-zero year. But, if India were to prepone the timeline to 2050, the economic cost would be much higher, around 7% in that particular year.
More than 125 countries have expressed their willingness to achieve a net-zero future.

Even though India is yet to commit to a net-zero target, it is the only G20 country to meet its emission reduction commitments made in the Paris Agreement.
It is also a leading partner in the International Solar Alliance and has recently announced the National Hydrogen Mission to push the innovation, production, storage, and usage of green hydrogen.
To know more about Net-Zero Emissions, please click here.
Subject – Economy
Context – Ports Bill is raising States' hackles
Concept –
The Indian Ports Bill 2021 seeks to replace more than a century old Indian Ports Act 1908.
The new Bill incorporates a number of international regulatory developments in the national legislation namely the "International Ship and Port Facility Security (ISPS) Code 2004, the International Convention for the prevention of pollution from ships (MARPOL) – (1983, 2005).
It mandates port authorities to provide adequate "reception facilities" to ships to dispose of their waste.
The International Ballast Water Management (BWM) convention (2017) aims at preventing the spread of invasive aquatic species and potentially harmful pathogens in ships' ballast water when it is released into port premises or adjacent environment.
The draft Bill under Chapter IX contains provisions for safety and security of ports and Chapter X for prevention and containment of pollution at ports and these provisions will apply to all ports in India — major and non-major and they are required to prepare a "Security Plan" and a waste reception and handling plan and will be subject to periodic audit by the Union government to ensure compliance.
The controversial provisions
Chapter II deals with establishment of a Maritime State Development Council by the Centre with the Union Minister as the Chairperson and Ministers in charge of ports in the Maritime States as members. It also includes the Secretary and Joint Secretaries of the Ministry dealing with ports.

Surprisingly, neither the State Maritime Boards nor expert members on port administration and trade interests find a place in the Council.
It also proposes to make this Council a permanent body with wide-ranging powers to formulate a national plan for development of existing and new ports and to revise the plan periodically, monitor the development of major and non-major ports to ensure integrated development of major and non-major ports with the national plan.

Section 17, Chapter IV empowers the Union government to make a port non-operational if it is not in consonance with the national plan.

Chapter XII, section 83 proposes heavy penalties for administrative lapses on Port authorities and officials ranging from ₹50,000 to ₹2 lakh or imprisonment up to six months or both.
This excessive authority and power concentrated in the Union government relegating the maritime States into secondary position have led to the maritime States — Tamil Nadu, Kerala, Andhra Pradesh, Odisha and Maharashtra to lodge their protest and convey their objections to the Centre.
Indian Ports –
India has 12 major ports and about 212 non-major ports.
Major ports come under the direct control of the Centre while all non-major ports come under the control of respective State governments.
In 2000-01 Indian ports handled a total traffic of 369 million tonnes (major 281 and non-major 88) and the share of major ports was 76 per cent and that of non-major ports 24 per cent.
There is every reason to believe that by 2030 nonmajor ports in India will overtake the major ports in cargo handling and the maritime State governments will be the main driving force to effect such developments.
The British Government in 1962 appointed Lord Rochdale as Chairman of a Committee to study the organisation of ports and the committee recommended establishment of a National Ports Authority for British ports.

The British government did not accept this recommendation but felt that ports should be left to the respective local authorities for development with local initiative.
To know about The Major Port Authorities Act 2020, please click here.
18. UN Committee on the Rights of the Child
Subject – IR
Context – UN panel says it cannot rule on Greta Thunberg's climate case
Concept –
The Committee on the Rights of the Child (CRC) is a body of experts that monitor and report on the implementation of the United Nations Convention on the Rights of the Child.
It recognizes a child as every human being under 18 years old.
The Committee also monitors the Convention's three optional protocols:

the Optional Protocol on the Involvement of Children in Armed Conflict,
the Optional Protocol on the Sale of Children, Child Prostitution and Child Pornography
Optional Protocol to the Convention on the Rights of the Child on a Communications Procedure

The UNCRC is a human rights treaty that sets the political, civil, economic, social, health and cultural rights of children.
It is an international agreement that is legally binding on the members.
It consists of 54 articles that spell out various children's rights and also the measures governments should take in order to make these rights available to children.
The CRC was adopted by the United Nations in 1989. It entered into force in 1990 after receiving the minimum of 20 ratifications.
It has been ratified by all members of the UN except for the United States. It is the most widely ratified human rights treaty in the history of the world.
Under the articles of the convention, all parties to it are required to ensure that children's basic needs are fulfilled and they are able to reach their full potential.
4 core principles of the Convention on the Rights of the Child
Non-discrimination
Right to life, survival and development
Best interests of the child
Respect for the child's views
Subject – Economy
Context – Indian equities on track to join top-5 market-cap club, displacing UK
Concept –
India's equity market is on the cusp of overtaking that of the UK in value to join the world's top-five club, at least by one measure.
The likely feat comes as record-low interest rates and a retail-investing boom propel stocks in the former British colony to record highs.
India's market capitalisation has surged 37 per cent this year to $3.46 trillion, according to an index compiled by Bloomberg, representing the combined value of companies with a primary listing there.
What Is Equity Market?
Equity market is a place where stocks and shares of companies are traded.
The equities that are traded in an equity market are either over the counter or at stock exchanges.
Often called as stock market or share market, an equity market allows sellers and buyers to deal in equity or shares in the same platform.
In the Indian stock market, equities are available for trading at the National Stock Exchange (NSE) , the Bombay Stock Exchange (BSE) and the latest entrant, Metropolitan Stock Exchange of India (MSE). Shares of stock market listed companies are bought/sold.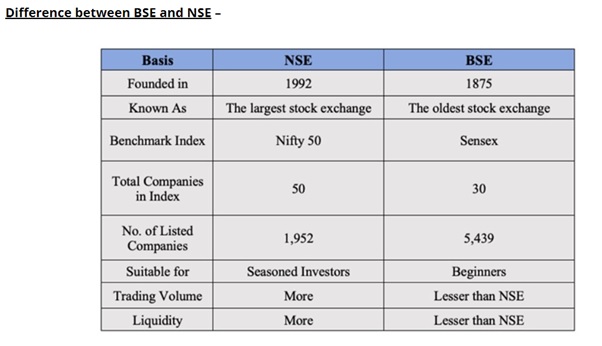 Equity share trading is roughly in two forms – spot/cash market and futures market.

The spot market or cash market is a public financial market in which stocks are traded for immediate delivery.
The futures market is a place where the shares' delivery is due at a later date.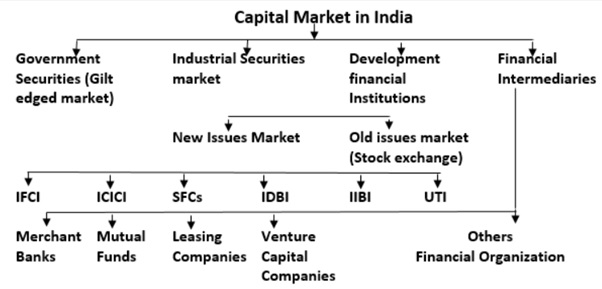 Difference between Debt and Equity
Important Terms Related To Financial Market
Subject – IR
Context – Goyal pushes for IPR waiver on vaccines, breaking trade barriers
Concept –
Commerce & Industry Minister Piyush Goyal made a renewed call for a temporary waiver of Intellectual Property Rights (IPR) on vaccines and medical products and dismantling of new trade barriers such as vaccine discrimination to fight the global pandemic.
The Minister said there was a need for active resolution of new trade barriers like vaccine differentiations or Covid passports, which impose mobility restrictions and impede the movement of personnel needed for delivering critical services.
Goyal pointed out that India's telemedicine initiative 'e-Sanjeevani' has been serving millions of Indians, and the country is ready to offer it to the rest of the world.
The G20 includes Argentina, Australia, Brazil, Canada, China, France, Germany, India, Indonesia, Italy, Japan, Republic of Korea, Mexico, Russia, Saudi Arabia, South Africa, Turkey, the UK, the US and the European Union.
To know more about G 20, please click here.
21. Depreciation and Devaluation of currency
Subject – Economy
Context – Rupee Weakens To 15-Month Low
Concept –
Devaluation of a currency
Devaluation of a currency is associated with countries having a fixed exchange rate regime.
Under the fixed rate regime, the central bank or the government decides the value of the currency with respect to other foreign currencies. The central bank or the government purchases or sells its currencies to maintain the exchange rate.
When the government or the central bank reduces the value of its currency, then it is known as the devaluation of the currency. Under this, the value of the domestic currency is deliberately reduced in terms of other foreign currencies.
Reasons of currency devaluation
To increase Exports
Competitive devaluation (race to the bottom)
To reduce trade deficits
To reduce the sovereign debt burden
Disadvantages of currency devaluation
Inflation: it can lead to increase in the inflation rate as essential imports such as oil etc will become more expensive. It can also lead to demand-pull inflation.
It reduces the purchasing power of the country's citizens and foreign goods and foreign tours become expensive for them.
Large and quick devaluation of currency may reduce the faith of international investors in the domestic economy. Foreign investors would be less interested in holding the government debt as devaluation reduces the value of their holdings.
Devaluation of currency negatively impacts the corporates and individuals who hold debt in the foreign currency.
Reasons responsible for currency devaluation
Decline in exports: the decline in a country's overall exports leads to a decline in export revenues. This reduces the demand for the country's currency and leads to its depreciation.
Large increase in imports: a large increase in the demand for imported goods and services can lead to a trade deficit. Increase in the current account deficit can lead to a net outflow of the currency which can weaken the exchange rate leading to currency depreciation.
Monetary policy of Central Bank: if the central bank reduces its policy interest rates it can lead to the outflow of hot money such as foreign portfolio investment etc. This can lead to the depreciation of domestic currency.
Open market operations of the central bank: if the Central bank undertakes open market operations to buy foreign currency and gold etc it can lead to the depreciation of domestic currency. RBI undertakes open market operations in case of rapid appreciation or depreciation of the rupee and to reduce volatility in the foreign exchange market.

Depreciation of a currency
Depreciation of a currency is a phenomenon associated with countries with floating exchange rate regime.
In the floating exchange rate regimes, the value of a country's currency is determined by the market forces of demand and supply. The exchange rate of the currency changes on daily basis as per the demand and supply of that currency with respect to foreign currencies.
A currency depreciates with respect to foreign currency when the supply of currency in the market increases while its demand falls.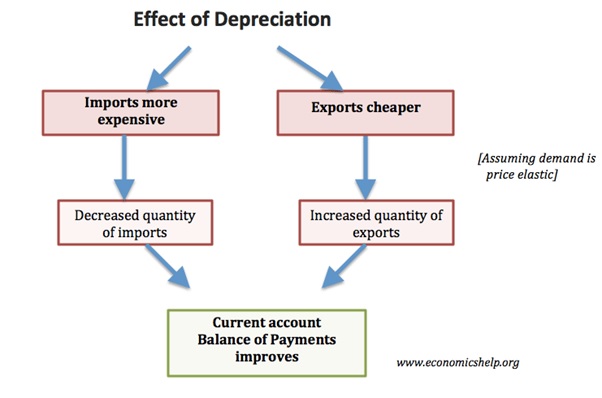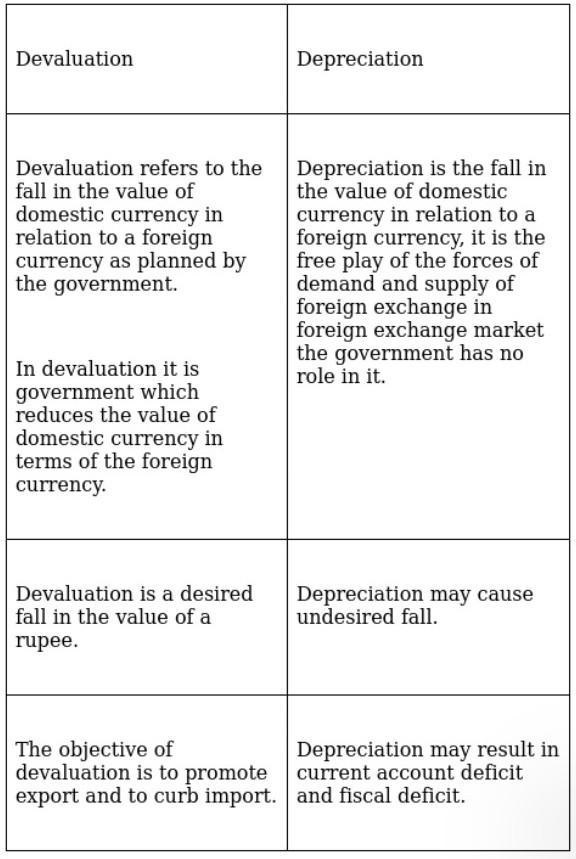 Subject – Economy
Context – RBI grants banking licence to USFBL
Concept –
The Reserve Bank of India on Tuesday granted a banking licence to Unity Small Finance Bank Ltd (USFBL), which was established jointly by Centrum Financial Services Ltd (CFSL) and Resilient Innovations Private Limited (BharatPe), to carry on SFB business in India.
About BharatPe –
BharatPe is a fintech company that caters to the small merchants and kirana store owners of India.
The company offers a range of fintech products including interoperable QR code for UPI payments, Bharat Swipe (POS machine) for card acceptance, and small business financing.
It facilitates small merchants to accept payments via UPI (Unified Payments Interface) for free, through the BharatPe QR code.
It also offers merchant loans of up to Rs. 7 lacs for a duration of 3 to 12 months.
The other products include and a peer-to-peer lending product called 12% Club.
In 2020 they launched Digital Gold product for merchant.
BharatPe, India's largest merchant fin-tech company had won the DigiDhan Mission Fin-tech Award 2018-2019 for 'Innovation in Digital Payments through Emerging Technology' at the MeitY Start-up Summit 2019.
23. Minimum wage panel may opt for multiple criteria model
Subject – Governance
Context – Minimum wage panel may opt for multiple criteria model
Concept –
Moving away from nutritional requirement as a criteria to fix minimum wages, the newly reconstituted expert committee, may opt for Multi Criteria Decision Making method to fix the amount.
The MCDM will also address employers' views while suggesting the minimum wage.
The new chairman of the panel, statistician and economist SP Mukherjee, told that most of the examples of minimum wages practices in various countries, found in International Labour Organisation's (ILO) compendium, have not adopted a scientific approach.
The latest report on the matter, submitted by Anoop Satpathy also used a tool based on "demographic structure, consumption pattern and nutritional intakes, the composition of food baskets and the relative importance of non-food consumption items to address the realities in the Indian context by using official data made available by the National Sample Survey Office (NSSO)".
The panel will also see whether the minimum wage should vary from one level of occupation to another and from one region to another.
The three criteria, Mukherjee explained, include how the policy and the amount will impact the living quality of workers.
How it will improve their standard of living is the question.
Secondly, if we increase the minimum wages substantially, what is going to be the impact on employment.

If the owner of a small establishment has to pay higher than what he is paying now, he may have to minimise his profit or close down the business which will impact the employee too. So the impact of any policy on employment has to be studied," Mukherjee said.

The third criteria will be the impact of minimum wage on industrial disputes.

Will disputes get easily resolved or will it reach higher in numbers? Will it become more complicated? This is related again on enterprises and establishments operating in various States. The policy has to be scientific, Mukherjee added.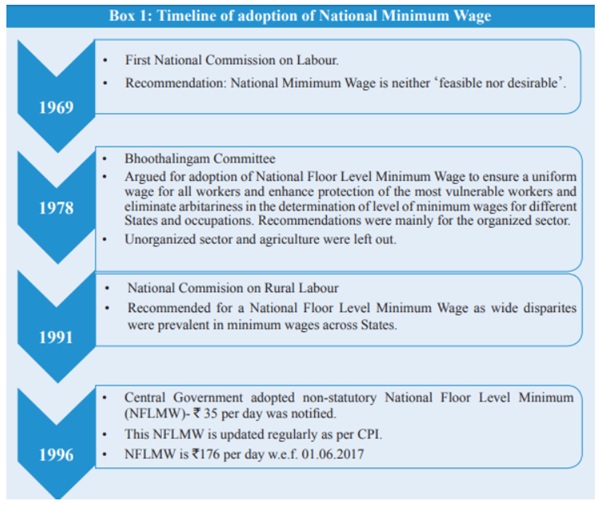 Code on Wages Act 2019
The new wage code removes the multiplicity of wage definitions, which can significantly reduce litigation as well as compliance cost for employers.
The new Act links minimum wage across the country to the skills of the employee and the place of employment.
It seeks to universalizes the provisions of minimum wages and timely payment of wages to all employees irrespective of the sector and wage ceiling.
It seeks to ensure "Right to Sustenance" for every worker and intends to increase the legislative protection of minimum wage.
A National Floor Level Minimum Wage will be set by the Centre and will be revised every five years, while states will fix minimum wages for their regions, which cannot be lower than the floor wage.
It subsumes the following four labour laws:

The Payment of Wages Act, 1936
The Minimum Wages Act, 1948
The Payment of Bonus Act, 1965
The Equal Remuneration Act, 1976.
Types of Wages
Minimum Wage: International Labour Organisation defines it as "the minimum amount of remuneration that an employer is required to pay wage earners for the work performed during a given period, which cannot be reduced by collective agreement or an individual contract".

The minimum wage includes the bare needs of life like food, shelter, and clothing.

Living Wage: It is the wage needed to provide the minimum income necessary to pay for basic needs based on the cost of living in a specific community.

In addition to bare needs, a 'living wage' includes education, health, insurance, etc.

Fair Wage: A 'fair wage' is a mean between 'living wage' and 'minimum wage'.
Starvation Wage: It refers to the wages which are insufficient to provide the ordinary necessities of life.
Subject – Environment
Context – 'Approve norms for gene-edited plants without delay'
Concept –
With an "inordinate delay" in pronouncing safety norms for gene-edited plants delaying research, a group of pro-biotechnology intellectuals and scientists have written to Prime Minister Narendra Modi, expressing concern over the undue delay.
Seeking his attention to hasten the process, the India Agriculture Advancement Group (IAAG) International said that the Draft Guidelines for Safety Assessment of Genome and Gene-Edited Plants were already reviewed by an expert committee constituted by the Department of Biotechnology (DBT).

They were later endorsed by the Review Committee on Genetic Manipulation (RCGM) before it was forwarded to the Genetic Engineering Appraisal Committee (GEAC). Regulatory trials

The GEAC, which works under the Ministry of Environment, Forest and Climate Change, is the nodal agency for giving approvals to agribiotech companies for agri biotechnology trials.
They argue that the genome-editing plants under the category that are in question do not require any regulatory trials as these are similar to other varieties and hybrids bred through conventional plant breeding.
25. Govt Proposes To Redefine Forests
Subject – Environment
Context – Last week, the Ministry for Environment, Forests and Climate Change (MoEFCC) published proposed amendments to the Forest Conservation Act, 1980, easing diversion of forests and exempting certain categories of development from the need to take clearance from the Ministry.
Concept –
Last week, the Ministry for Environment, Forests and Climate Change (MoEFCC) published proposed amendments to the Forest Conservation Act, 1980, easing diversion of forests and exempting certain categories of development from the need to take clearance from the Ministry.
Why is the Act being amended now?
It has been amended only once before, in 1988.
Ministry officials have said the current definition of forests has locked land across the country; even private owners cannot utilise their own property for non-forestry purposes.
Under the Act, any diversion of any forest land for any purpose, including assignment of leases, needs prior approval of the Centre.
In 1996, ruling in T N Godavarman Thirumulpad v Union of India, the Supreme Court had expanded the definition and scope of forest land to include all areas recorded as forest in any government record, irrespective of ownership, recognition and classification.

Previously, the Act had applied largely to reserve forests and national parks.
The court also expanded the definition of forests to encompass the "dictionary meaning of forests", which would mean that a forested patch would automatically become a "deemed forest" even if it is not notified as protected, and irrespective of ownership.
The order was also interpreted to presume that the Act is applicable over plantations in non-forest land.
What are the proposed amendments?
The Ministry has proposed that all land acquired by the Railways and Roads Ministries prior to 1980 be exempted from the Act. It says these lands had been acquired for expansion, but subsequently forests have grown in these areas, and the government is no longer able to use the land for expansion. If the amendment is brought in, these Ministries will no longer need clearance for their projects, nor pay compensatory levies to build there.
For individuals whose lands fall within a state-specific Private Forests Act or come within the dictionary meaning of forest as specified in the 1996 Supreme Court order, the government proposes to allow "construction of structures for bona fide purposes'' including residential units up to 250 sq m as a one-time relaxation.
Defence projects near international borders will be exempted from forest clearance.
Oil and natural gas extraction from forested lands will be permitted, but only if technologies such as Extended Reach Drilling are used.
The Ministry has proposed doing away with levies for non-forestry purposes during the renewal of a lease, saying the double levy at the time of awarding of the lease and the renewal is "not rational".
Strip plantations alongside roads that would fall under the Act will be exempted.
26. Antarctic Larsen C ice shelf break in 2017
Subject – Environment
Context – NASA has an answer for Antarctic Larsen C ice shelf break in 2017
Concept –
When an iceberg, more than nine times the size of Mumbai in India, split off from Antarctica's Larsen C ice shelf July 10-12, 2017, the scientific fraternity dived in to look for answers.
Researchers had attributed the phenomenal event, not to climate change, but to ice-shelf dynamics.
The answer is in the ice-shelf behaviour — but peddled by the massive changes to Antarctic that can only be attributed to global warming.
The study found that mélange — a collection of windblown snow, broken icebergs and sea ice lodged in and around ice shelves and which is critical in holding ice shelves together — may cause the shelves to break up even faster due to rising air temperatures. When this layer of melange, which helps the ice stick to the shelf, gets thinner, is when the cracks in the ice shelf grow bigger.
Ice shelves are floating extension of land ice and are firmly attached to the land. Ice mélange commonly occurs when ice breaks off the edge of a glacier.
Global warming contributes to weakening ice shelves as warmer ocean water erodes the underbelly of the ice shelves, while rising air temperatures weaken them from above.
But this theory did not sit well with the Larsen C ice shelf split, because the ice had been frozen solid for months.
NASA's research –
NASA scientists focused on the melange, which has natural properties similar to glue: It fills cracks or gaps and sticks to ice and rock. When it accumulates in a crack in an ice shelf, it creates a layer — thin but as hard as the surrounding ice — that holds the crack together.
The gluey melange helped the ice stick to the rock walls around the ice shelves.
The researchers found that only when the melange grew thinner that the rifts in the ice shelves grew larger. The thickness of the ice shelf, in this case, was not tampered with.
The analysis found that simply thinning the ice shelf without changing the mélange actually closed the rifts; and so did thinning both the ice shelf and the mélange.
This meant that the melting of glacial ice alone is not enough to explain why the shelves are breaking up more rapidly, as has been the case in the Antarctic.
So this is what happened in Larsen C: The rifts in the ice shelf widened more quickly, accelerating from an average rate of 249-367 feet (76-112 meters) per year, when the melange was thinned without altering the ice shelf.
When the narrow layers of mélange thinned to about 30 to 50 feet (about 10 or 15 meters), they completely lost their ability to hold rifts together. The rifts could rapidly gape open and large icebergs break loose, just as happened on Larsen C.
The layers of mélange melt by coming in contact with the ocean water below, according to the study. So this process continues through the year, and the melange becomes too thin to keep holding the ice shelf together.
This is why Larsen C split, despite having frozen ice for months. The process may explain why ice shelves in the Antarctic peninsula started to break up decades before meltwater began to accumulate on their surface.
Subject – Environment
Context – Save hornbills, for they are the gardeners of tropical forests: Study
Concept –
Scientists from two organisations studied how fruiting plants and hornbills influenced each other's distribution in the Namdapha Tiger Reserve. The reserve, located in Arunachal Pradesh, is one of India's most biodiverse protected areas. It is home to five of India's nine species of hornbills.
The conservation of hornbills is of prime importance since they have a symbiotic relationship with several canopy trees in tropical forests. They are attracted to such trees for food and in turn, they scatter their seeds, creating orchards, a new study has said.
Hornbills were among the very few birds that could feed on fruits with large seeds, regurgitate and disperse the undamaged seeds away from the mother plant.

This was an important service that hornbills provided to trees.

Our study shows that forest patches that have rare trees like Canarium, attract hornbills in large numbers. In turn, hornbills end up dispersing seeds of a diverse array of plant species in higher numbers in these patches with some of these hornbill food trees. In the longer term, this likely creates orchards that continue attracting hornbills.
The researchers observed four species of hornbills including the Great, Rufous-necked and Brown, apart from the Wreathed Hornbills. The most common Wreathed Hornbill was mostly seen in patches with the rare, large-seeded canopy trees.
The number of dispersed seeds was highest in patches with the highest abundance of hornbills. The diversity of regenerating saplings was also highest in those patches.
The study strengthens the popular image of hornbills being gardeners or farmers of the forest, demonstrating that they farm their own food-rich patches through their seed dispersal.
The statement said hornbills were being driven locally extinct because of threats posed by hunting and habitat loss.
About Hornbills –
The hornbills (Bucerotidae) are a family of birds found in tropical and subtropical Africa and Asia.
India is home to nine species of hornbills. The northeastern region has the highest diversity of hornbill species within India.
Papum Rerserve Forest in Arunachal Pradesh is a nesting habitat of three species of hornbills: the great hornbill (Buceros bicornis), wreathed hornbill (Aceros undulatus) and the Oriental pied hornbill (Anthracoceros albirostris), Wreathed and Oriental Pied.

The 862 sq.km. Pakke reserve houses a fourth species, the Rufous-necked hornbill (Aceros nipalensis) species are found here.

The great hornbill is the state bird of Arunachal Pradesh and Kerala.
They are the cultural symbols of some ethnic communities in the northeast, specifically the Nyishi of Arunachal Pradesh.
They are referred to as 'forest engineers' or 'farmers of forest' for playing a key role in dispersing seeds of tropical trees and indicate the prosperity and balance of the forest they build nests in.
The Hornbill festival celebrated in Nagaland is named after the bird – Hornbill which is the most revered and admired bird for the Nagas.
Currently, 26 out of the 62 species (40%) of hornbills are Globally Threatened or Near Threatened with extinction, with all other species listed as Least Concern, according to the International Union for Conservation of Nature (IUCN) Red List of Threatened Species.
The great hornbill is evaluated as vulnerable.
It is protected at the highest level under Schedule I of the Wildlife Protection Act, 1972.