Daily Prelims Notes 14 November 2021
November 15, 2021

Posted by:

OptimizeIAS Team

Category:

DPN

Daily Prelims Notes
14 November 2021
Table Of Contents
1. Jawaharlal Nehru Birth anniversary
Subject: History
Context: PM Modi pays tribute to the first Prime Minister
Content:
Jawaharlal Nehru was born to Born to Motilal Nehru and Swarup Rani on November 14, 1889 in Allahabad. He started the National Herald (daily) 1938. Nehru was also a very prolific writer in English and authored a number of books, including The Discovery of India, Glimpses of World History, and his autobiography Toward Freedom.
Contributions:
Before Independence
After independence

In 1912, he attended the Bankipore Congress as a delegate.

1916, he joined

Annie Besant's Home Rule League

. He met Mahatma Gandhi and entered the freedom struggle at the national level during the

Non-Cooperation Movement in 1920

On October 31, 1940 Pt. Nehru was arrested for offering individual Satyagraha to protest against India's forced participation in war. He was released along with the other leaders in December 1941. On August 7, 1942 Pt. Nehru moved the historic 'Quit India' resolution at the A.I.C.C. session in Bombay. On August 8, 1942 he was arrested along with other leaders and taken to Ahmednagar Fort. This was his longest and also his last detention. In all, he suffered imprisonment nine times. After his release in January 1945, he organized legal defence for those officers and men of the INA charged with treason. In March 1946, Pt. Nehru toured South East Asia. He was elected President of the Congress for the fourth time on July 6, 1946 and again for three more terms from 1951 to 1954. Earlier, in 1926, at the Madras Congress, Nehru had been instrumental in committing the Congress to the goal of Independence. While leading a procession against the Simon commission, he was lathi-charged in Lucknow in 1928.

On August 29, 1928 he attended the All-Party Congress and was one of the signatories to the Nehru Report on Indian Constitutional Reform, named after his father Shri Motilal Nehru.

The same year, he also founded the 'Independence for India League', which advocated complete severance of the British connection with India, and became its General Secretary.

In 1929, Pt. Nehru was elected President of the Lahore Session of the Indian National Congress, where complete independence for the country was adopted as the goal. He was imprisoned several times during 1930-35 in connection with the Salt Satyagraha and other movements launched by the Congress. He completed his 'Autobiography' in Almora Jail on February 14, 1935. After release, he flew to Switzerland to see his ailing wife and visited London in February-March, 1936. He also visited Spain in July 1938, when the country was in the throws of Civil War. Just before the court-break of the Second World War, he visited China too.

Jawaharlal Nehru, Subhash Bose, and Congress socialists and communists were opposed to office acceptance and thereby in the working of the 1935 Act because they argued that it would negate the rejection of the Act by the nationalists. It would be like assuming responsibility without power. On October 31, 1940 Pt. Nehru was arrested for offering individual Satyagraha to protest against India's forced participation in war. He was released along with the other leaders in December 1941.

On August 7, 1942 Pt. Nehru moved the historic 'Quit India' resolution at the A.I.C.C. session in Bombay. On August 8, 1942 he was arrested along with other leaders and taken to Ahmednagar Fort. This was his longest and also his last detention. In all, he suffered imprisonment nine times.

After his release in January 1945, he organized legal defence for those officers and men of the INA charged with treason. In March 1946, Pt. Nehru toured South East Asia.

He was elected President of the Congress for the fourth time on July 6, 1946 and again for three more terms from 1951 to 1954.

Ministers of Interim Government (September 2, 1946–August 15, 1947), Jawaharlal Nehru: Vice President of Executive Council, External Affairs and Common Wealth Relations

After the passing a general 'Objectives Resolution' drafted by Jawaharlal Nehru stating the ideals of an independent sovereign republic with autonomous units, adequate minority safeguards and social, political and economic democracy

On August 15, 1947, Jawaharlal Nehru, as Prime Minister of India, hoisted the Indian national flag above the Lahori Gate of Red Fort in Delhi

To resolve the problems of refugees and restore communal peace in the two countries, especially in Bengal (East Pakistan as well as West Bengal), the Indian prime minister, Jawaharlal Nehru and the Pakistani prime minister, Liaquat Ali Khan, signed an agreement on April 8, 1950

1953, he appointed the States Reorganisation Commission for the creation of states on linguistic lines.

When Zhou Enlai visited India, he and his Indian counterpart, Jawaharlal Nehru in a joint statement elaborated their vision of Panchsheel as the framework for the relations between the two countries

He established institutions of higher learning including IITs, AIIMS and IIMs. He even included free and compulsory primary education to all children in his five-year plan. He established and heavy industries. Nehru laid the stepping stone for the foundation of the National Defence Academy

The first non-aligned movement or NAM summit—held in Belgrade in 1961 and attended by 36 Mediterranean and Afro-Asian powers.

In 1955, the government passed the Anti-Untouchability Law, making the practice of untouchability punishable and a cognisable offence.

For women's equal rights in the society, the Hindu Code Bill was moved in Parliament in 1951.
2. Controlling Mosquito-borne diseases
Subject: Science and Tech
Context: Mosquito-borne diseases have been a scourge for thousands of years, with huge armies defeated, and economies shattered. The reports announcing an effective malaria vaccine, following clinical trials in Burkina Faso conducted by the University of Oxford, the Serum Institute of India and others.
Content:
Malaria vaccine
Malaria, the parasites spread through the bites of infected female Anopheles mosquitoes.Four types of malaria parasites can infect humans: Plasmodium Vivax, P. ovale, P. malariae and P. falciparum. Plasmodium falciparum and Plasmodium Vivax are the most common types that infect humans.Plasmodium falciparum causes a more severe form of the disease leading to higher risk of death.
The R21 vaccine targets the 'circumsporozite' protein (CSP) of the malarial parasite, Plasmodium falciparum. The sporozite stage of this parasite secretes CSP. Mosquito bites transfer the CSP and sporozites into the human bloodstream, and the CSP nudges the parasite towards the liver, where it enters liver cells, matures and proliferates. The release of mature merozites marks the onset of the symptoms of malaria. Efficient vaccines
The WHO has cleared another vaccine, called
Dengue vaccine
Dengue is a mosquito-borne tropical disease caused by the dengue virus (Genus Flavivirus), transmitted by several species of mosquito within the genus Aedes, principally Aedes aegypti. This mosquito also transmits chikungunya, yellow fever and Zika infection. There are 4 distinct, but closely related, serotypes (separate groups within a species of microorganisms that all share a similar characteristic) of the virus that cause dengue (DEN-1, DEN-2, DEN-3 and DEN-4). Serotypes make vaccine development difficult, as a different vaccine is needed against each serotype.
DENGVAXIA, from Sanofi Pasteur, is approved in several countries and shows efficacies ranging from 42% to 78% against the four serotypes of the virus
In India, ZydusCadilla has been developing a DNA Vaccine against dengue.
Bacterium Wolbachia pipientis :
An interesting strategy involves a bacterium, Wolbachia pipientis, an intracellular parasite commonly found in many insects, but not in the dengue-carrying mosquito. When introduced into this mosquito's cells, this parasite competes successfully against other parasites such as the viruses that cause dengue, chikungunya, yellow fever and Zika.
Aedes mosquitoes, doped with Wolbachia in the laboratory, are released in localities where the disease is prevalent. They quickly spread the bacterium to native Aedes mosquitoes, and the incidence of new dengue cases starts to decline.
Other ways
Both mosquitoes and the Plasmodium parasite need warm, moist weather to flourish. Using data continuously gathered by environmental satellites such as the NOAA-19, scientists at ICMR's National Institute of Malaria Research have built elaborate models that correlate monthly rainfall data and data on annual state-wise incidence of dengue and malaria with the El-Nino Southern Oscillation, which influences global atmospheric circulation.
Subject: Science and Tech
Context: The European Physical Journal C brings in an alternative explanation for the compact object that was imaged by the Event Horizon Telescope. The authors say it (M87*) is not necessarily a black hole but could even be a "naked singularity with a gravitomagnetic monopole.
Content:
Black hole:
This black hole is calculated to be 6.5 billion times the Sun's mass and is 55 million light years away from the Earth. In 2019, astronomers of the Event Horizon Telescope captured the first ever image of a supermassive black hole (M87*) which was located at the centre of a galaxy Messier 87 (M87).
When stars much more massive than the Sun reach the end of their lives, they collapse under their own gravity, and the product of this collapse, most astronomers believe is a black hole.
A black hole has two parts: At its core is a singularity a point that is infinitely dense, as all the remnant mass of the star is compressed into this point. Then there is the event horizon – an imaginary surface surrounding the singularity, and the gravity of the object is such that once anything enters this surface, it is trapped forever.
Not even light can escape the pull of the singularity once it crosses the event horizon, that is why, we cannot see the singularity at the heart of a black hole It can only see points outside the event horizon.
In many scenarios of stellar collapse, the event horizon does not form, and the singularity is exposed to the outside, without any event horizon shielding it.
Naked singularity with a gravitomagnetic monopole
In general relativity, a naked singularity is a hypothetical gravitational singularity without an event horizon.
In a black hole, the singularity is completely enclosed by a boundary known as the event horizon, inside which the gravitational force of the singularity is so strong that light cannot escape. Hence, objects inside the event horizon including the singularity itself cannot be directly observed. A naked singularity, by contrast, would be observable from the outside.
The theoretical existence of naked singularities is important because their existence would mean that it would be possible to observe the collapse of an object to infinite density.
In generic black holes, this is not a problem, as an outside viewer cannot observe the space-time within the event horizon.
Naked singularities have not been observed in nature
M87* could be either a black hole or a naked singularity and each of these possibilities could be plain or coupled with what is called a gravitomagnetic monopole.
In the nineteenth century, James Clerk Maxwell unified electricity and magnetism as one combined phenomenon, showing that light is an electromagnetic wave.
In 1963, Newman, Tamburino and Unti (NUT) proposed a theoretical concept called a "gravito-magnetic charge" also called a gravitomagnetic monopole.
A gravitomagnetic monopole is an asymmetry between electricity and magnetism. While positive and negative electric charges can be found to exist independently, the poles of a magnet are always found in pairs, north and south bound together.
The Kerr and the Schwarzschild solutions of Einstein's equations [namely black holes with spin and having an event horizon] are considered appropriate for describing astrophysical black holes, like the one imaged in M87.
Subject: History
Context: Madhya Pradesh Chief Minister has set the stage for Prime Minister Narendra Modi's visit to the State by renaming the Habibganj railway station after Rani Kamlapati, an 18th century Gond queen
Content:
Rajgonds are the ruling class among the Gond.The name Gondwana named after Gondi people. The Gond Tribal dominating Community in Gondwana.
Ginnor was considered an impregnable fort, located summit of a steep 2000-foot-high rock and surrounded by thick forest and  also area around the upper lake of Bhopal was mainly (1710s)   populated by  Bhil and  Gond tribals.
Nizam Shah, strongest local Gond warlords and ruled his territory from the Ginnor fort (Ginnorgarh in the present-day Sehore district).Rani Kamlapati (or Kamlavati) was one of the seven wives of NizamShah.Kamlapati famous for her beauty and talents. local legends describe her more beautiful than a pari.
Nizam Shah was poisoned to death by his nephew Alam Shah (known as Chain Shah) the raja Chainpur-Bariand also who wanted to marry Kamlapati. Kamlapati offered Dost Mohammad Khana hundred thousand rupees to protect her honor, kingdom and to avenge her husband's death.
Mohammad Khan led a joint army of Afghan and Gond soldiers to defeat and kill Alam Shah. Khan accepted the offer, and also Kamlapati tied a rakhi on his hand. In lieu of the remainder king's territory was annexed to Kamlapati's kingdom.   Rani did not have one hundred thousand rupees and so she paid him half sum and gave the village of Bhopal.
Rani Kamlapati committed suicideIn 1723 near her palace (present- Kamla Park in Bhopal)and also Dost initially feigned allegiance to the Rani's son Nawal Shah, who controlled Ginnor fort and was invited to live in the fort.
The unprefaced guards of Nawal Shah let the inside the fort without examination and At night, Khan's soldiers killed Nawal Shah and his guards.
Mohammad Khan then took the control of Ginnor fort, other territories and of Kamlapati's kingdom. The greater part of Gondwana, was incorporated into the dominions of the Bhonsle rajas of Nagpur andnizams of Hyderabad.The Gonds   18th century were   conquered by the Marathas.
Subject: Economy
Context: RBI revealed a new scheme
Content:
Retail Direct Schemes:
The Retail Direct Scheme, small investors can now buy or sell government securities (G-Secs), or bonds, directly without having to go through an intermediary like a mutual fund.
It is similar to placing funds in debt instruments such as fixed deposits in banks. However, the same tax rules apply to income from G-Secs.
The Government being the borrower, there is a sovereign guarantee for the funds and hence zero risk of default. Also, government securities may offer better interest rates than bank fixed deposits, depending on prevailing interest rate trends.
Investors wishing to open a Retail Direct Gilt account directly with the RBI can do so through an online portal set up for the purpose of the scheme.
The investors will be permitted to buy securities either in the primary market or in the secondary market. The minimum amount for a bid is ₹10,000 and in multiples of ₹10,000 thereafter.
Retail participants would be bidding for the securities under the non-competitive segment of primary auctions of Government Securities and Treasury Bills.
Significance:
The scheme would help broaden the investor base and provide retail investors with enhanced access to the government securities market — both primary and secondary.
It is a major structural reform placing India among select few countries which have similar facilities
It would facilitate smooth completion of the Government borrowing programme in 2021-22.
It will also reduce crowding of private investments Government accessing retail investors could be the freeing up of room for companies to mop up funds from institutional investors; funds that may otherwise have been cornered by the government to fund its expenses.
6. Integrated Ombudsman Scheme
Subject: Economy
Context: Integrated Ombudsman Scheme unveiled
Content:
Prior to the introduction of this scheme, the RBI had three different ombudsman schemes to aid dispute resolution with respect to banks, NBFCs, and non-bank pre-paid payment issuers (PPIs). They were operated by the RBI through 22 ombudsman offices.
This scheme, the introduction of the integrated scheme, the earlier ones stands repealed. When the regulator unveiled the proposal for an Integrated Ombudsman.
The RBI would appoint the Ombudsman and a Deputy Ombudsman for three years.
Though the three earlier schemes have been repealed, the RBI clarified that the adjudication of pending complaints, appeals and execution of the awards passed shall continue to be governed by the provisions of the respective Ombudsman Schemes and instructions of the Reserve Bank issued thereunder.
7. Alternative Fuel and Employment
Subject: ECONOMY
Context: Toyota partners with four Japan automakers to explore alternative green fuels for internal combustion engine cars including hydrogen and synthetic fuels derived from biomass.
Concept:
What are Alternative Fuels?
Alternative fuels include gaseous fuels such as hydrogen, natural gas, and propane; alcohols such as ethanol, methanol, and butanol; vegetable and waste-derived oils; and electricity.
These fuels may be used in a dedicated system that burns a single fuel, or in a mixed system with other fuels including traditional gasoline or diesel, such as in hybrid-electric or flexible fuel vehicles.
Converting internal combustion engines to green fuels such as hydrogen is technologically difficult, but it would let the companies to support the existing supply chains employing hundreds of thousands of workers who may otherwise drop their jobs as they switch to building Electric Vehicles (EV's).
Some vehicles and engines are designed for alternative fuels by the manufacturer. Others are converted to run on an alternative fuel by modifying the engine controls and fueling system from the original configuration.
Subject: GEOGRAPHY
Context: Nearly 37,024 tons of Monazite can be extracted from beach sand stored by private miners in Thoothukudi, Tirunelveli and KanyaKumari districts of Tamilnadu claims amicus curiae.
Content:
Since 2000, illegal mining and transportation of Garnet, Ilmenite, Rutile, Zirem, Sillemanate and Leucoxene were happening despite the State government's complete ban in these three districts.
In 2016, the Madras HC ordered strict enforcement of ban. However, the prohibited mineral Monazite are clandestinely sold by mixing it with processed minerals.
Monazite:
Monazite is one of the beach sand minerals that contains rare earths like, lanthanum, cerium, praseodymium, neodymium etc. It also contains thorium which is a "prescribed substance", the list of which was revised in 2006 under the Atomic Energy Act, 1962.
While different rare earths are used for manufacturing of various parts of the computer, mobile phones, magnet for electric motors fitted in automobiles and gas mantle etc, thorium is important for the country's third stage nuclear power programme and has the potential to emerge as next generation fuel for nuclear power plants. It is being stockpiled for future use, said chairman-cum managing director, IREL RN Patra.
It is a rare phosphate mineral usually occurs in small isolated grains in Igneous and Metamorphic rocks such as granite, pegmatite, schist, and gneiss.
It is translucent and one of the most resistant minerals to weathering.
Stream sediments, alluvial terraces, beach sediments, beach terraces, and shallow water sediments have all been dredged for heavy minerals.
But all monazite mining is focused on placer deposits because they are easier to mine, and the monazite is often present in higher concentrations than in hard rock deposits.
Other heavy minerals that accumulate with monazite include Gold, Platinum, Magnetite, Ilmenite, Rutile, Zircon and a variety of gemstones.
Today, most of the world's monazite is produced in the offshore waters of India, Malaysia, Vietnam, and Brazil. Southern India and Sri Lanka have the most extensive offshore monazite resources known.
It is a radioactive atomic mineral used for production of Thorium (as high as 500 ppm) and has the potential to be used as fuel in the nuclear power system.
World Distribution:
India
Guangdong, China
Mount Weld, Australia
Kangankunde, Malawi
Zandkopsdrift, SA
Steenkampskaal, SA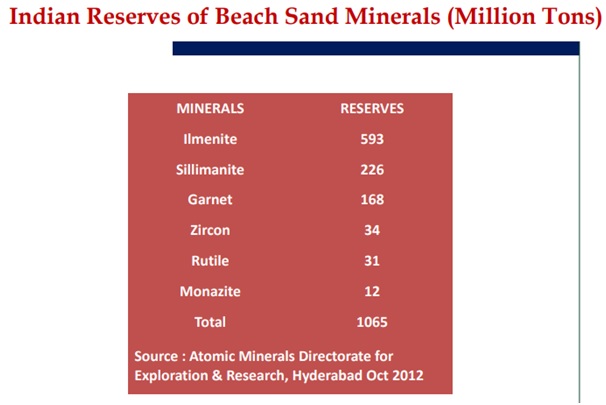 Recent studies revealed that Thorium-232 could be an efficient and safe fuel alternative to uranium to generate nuclear power for commercial purposes for two major reasons:
Abundance of thorium in nature is three or four times higher than uranium compared to uranium fuels,
Thorium fuels produce much less plutonium and minor actinides therefore, induced radiotoxicities are lower by more than two orders of magnitude
Subject: ENVIRONMENT
Context: 3 Judge bench of SC headed by CJI ask Centre and Delhi Government to hold meet and suggest emergency measures like a lockdown or vehicular ban to bring the severe pollution under control.
Concept:
Air quality in Delhi, often ranked the world's most polluted capital, has declined due to crop stubble burning, emissions from transport, coal-fired plants outside the city and other industry, Crackers as well as open garbage burning and dust.
The Air Quality Index (AQI) in and around city has worsened to 470-499 on a scale of 500, according to federal pollution control board data.
"We have been forced to wear masks at home also, the situation is very serious," said chief justice of India N. V. Ramana.
Deputy chief minister of Delhi Manish Sisodia urged the residents of the national capital to use bicycles or buses to commute at least one day in a month to reduce the alarming levels of pollution.
Air pollution (World Air quality report)
Delhi has been ranked as the world's most polluted capital in a new report that placed India as having the third worst air quality out of 106 countries in 2020
22 of the top 30 most polluted cities globally are in India.
The average concentration of PM 2.5 in Delhi in 2020 was 84.1 µg/m3, the highest among the capital cities of 92 countries mentioned in the report.
To know about Air Pollution, please refer October 2020 DPN.https://optimizeias.com/air-pollution/
10. Subsidy and Climate Change
Subject: ENVIRONMENT
Context: India and many other developing countries strongly objected the draft agreement of Glasgow climate meeting that calls for 'an end to fossil fuel subsidies', the first such explicit mention in any climate agreement in 20 years.
Concept:
India's view: UNFCCC has referred to mitigation of GHG emission from many sources. Targeting any particular sector i.e., "phasing out of unabated coal power and inefficient fossil fuel subsidies" in the draft agreement has raised inequity amidst developing countries and "lack of balance" in their fair share of global carbon budget.
LDC's, small island states and the Africa group push for creation of 'Loss and Damage facility' to deal with relief & rehabilitation efforts for countries affected by climate change disasters.
INDIA'S TOTAL ENERGY SUBSIDIES (FY 2014- 2020):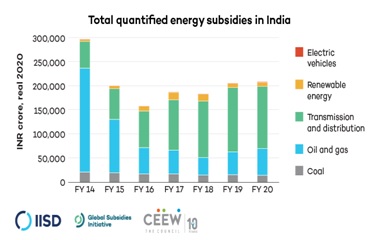 FOSSIL FUEL SUBSIDY- INDIA

BENEFITS

IMPACTS ON CLIMATE CHANGE

1. Significant contribution to government revenue and rail cross subsidies.
support for fossil fuels has increased to Rs 70,578 crore in 2020 – which is over seven times the sum of subsidies to clean energy – contribute to GHG emissions.
2. reforming fossil fuel subsidies can generate valuable additional resources for economic recovery from Covid-19 and investments in clean energy
support for coal continue with concessional tax benefits (87%), the largest subsidy for the sector.
3. social cost is much higher than its net contributions.
Non-subsidy measures to incentivize domestic coal production like withdrawing environmental regulations despite health impacts and climate destabilization.
Subject: ECONOMY
Context: According to RBI data, country's Forex reserves decreased amid a fall in currency and gold assets. FCA, an essential component of the forex reserves decreased by $881 mn to $577 bn.
Concept:
HOW FALL IN FOREIGN RESERVES IMPACT?
Higher reserves are a big cushion in the event of any economic crisis and help to cover the import bill of the country for a year, demonstrate the backing of domestic currency by external assets and maintain a reserve for national disasters or emergencies.
Falling reserves worry Govt and RBI in managing the nation's external and internal financial issues.
India's Forex Reserve include:
Foreign Currency Assets
Gold reserves
Special Drawing Rights
Reserve position with the IMF
Foreign Currency Assets:
are assets held on reserve by a central bank in foreign currencies, which can include bonds, treasury bills and other government securities.
Expressed in dollar terms, the FCA includes the effect of appreciation or depreciation of non- US units like the Euro, Sterling and Yen held in the forex reserves.
RBI is the custodian and manager of forex reserves.
Gold Reserves:
Gold occupies a special position in the foreign reserves of central banks as it is widely stated to beheld for reasons of diversification.
Moreover, the unique property of gold is believed to be its ability to enhance the credibility of the central bank when it holds adequately, and this has been proved time and again.
Special Drawing Rights:
The SDR is an international reserve asset, created by the International Monetary Fund (IMF) in 1969 to supplement its member countries' official reserves.
The SDR is neither a currency nor a claim on the IMF. Rather, it is a potential claim on the freely usable currencies of IMF members. SDRs can be exchanged for these currencies.
The value of the SDR is calculated from a weighted basket of major currencies, including the US dollar, the euro, Japanese yen, Chinese yuan, and British pound.
The interest rate on SDRs or (SDRi) is the interest paid to members on their SDR holdings.
Reserve Position in the International Monetary Fund:
A reserve tranche position implies a portion of the required quota of currency each member country must provide to the IMF that can be utilized for its own purposes.
The reserve tranche is basically an emergency account that IMF members can access at any time without agreeing to conditions or paying a service fee.