Daily Prelims Notes 14 October 2021
October 14, 2021

Posted by:

admin1

Category:

DPN

Daily Prelims Notes
14 October 2021
Table Of Contents
1. World Meteorological Congress
Subject – Environment
Context – World Meteorological Congress calls for international cooperation in meteorology, climatology, operational hydrology
Concept –
Weather, climate and the water cycle are oblivious to national borders and so global cooperation in the domains of meteorology, climatology and operational hydrology is crucial.
In 2021, both the developed and developing world witnessed record-breaking extreme weather events.
Weather4UN, a pilot project led by MeteoSwiss and supported by the Swiss Federal Council, aims to improve the coordination of meteorological data production and transmission within the United Nations system and for humanitarian organisations around the world.

As a result of this initiative, early action can be taken and people will be better protected from extreme weather events.

In the last five decades (1970-2019), the number of disasters increased five times, stated WMO Secretary-General Petteri Taalas.

These have been attributed to climate change, more extreme weather and improved reporting.

Water-related hazards top the list of disasters in terms of both the human and economic toll over the past 50 years, according to Atlas of Mortality and Economic Losses from Weather, Climate and Water Extremes (1970–2019) released by the WMO September 2021.
India experienced the second-wettest September in 27 years in 2021. June (the onset month) and September experienced higher-than-normal rainfall this year.
But many countries, particularly in the developing regions of the Global South, are not prepared to handle the surge in water-related extremes, reminded WMO in its report on the State of Climate Services, 2021 a week ago.
World Meteorological Organization (WMO)
The World Meteorological Organisation (WMO) is a specialised agency of the United Nations.
Established in 1950, the World Meteorological Organisation (WMO) is an intergovernmental organisation that originated from the International Meteorological Organisation (IMO).

The International Meteorological Organisation (IMO) had its roots from the Vienna International Meteorological Congress of 1873.

It became a specialised agency of the UN in 1951.
The United Nations Economic and Social Council is the parent organization of the UN's WMO.
WMO celebrated its 70th Anniversary in 2020.
The WMO has 193 Member States and 6 Member Territories.
WMO is headquartered in Geneva, Switzerland.
Reports:

Greenhouse Gas Bulletin.
Status of the World Climate.
What does WMO do?
WMO coordinates the activities of National Meteorological and Hydrological Services in 191 States and Territories so that basic weather, climate and water services are made available to anyone who needs them, when they need them.
WMO guarantees the publication of observations and statistics and furthers the application of meteorology and hydrology (including the monitoring and predictions of climate change and ozone) to all aspects of human activities such as aviation, shipping, water management and agriculture.
WMO also encourages research and training in meteorology and hydrology and their related applications and contributes towards reducing the impact of weather- and climate-related hazards.
Predictions concerning locust swarms and the transport of pollutants (nuclear and toxic substances, volcanic ash) are also provided by WMO Members.
World Meteorological Congress
The World Meteorological Congress is the supreme body of the WMO. It is headed by its Secretary-General.
World Meteorological Congress is composed of member states, which meets every four years to set policies and priorities.
The Congress is led by an Executive Council which implements its decisions, while Six Regional Associations are responsible for the coordination of meteorological, hydrological and related activities within their respective regions.
Subject – Economy
Context – Resha Mandi raises $30 m through Series A funding
Concept –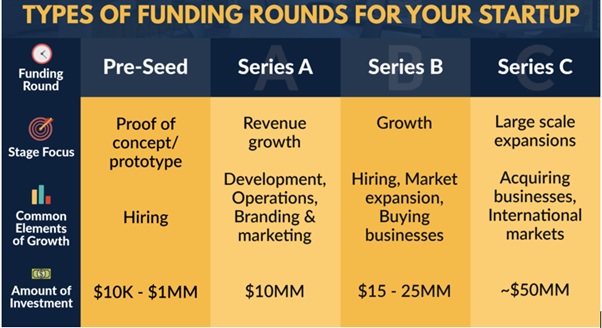 To know more about Series A, B, C Funding, please click here.
3. EC to derecognise 5 agencies certifying organic exports from India
Subject – Agriculture
Context – As many as five certifying agencies are set to be blacklisted from certifying organic product exports from India by the European Commission.
Concept –
As many as five certifying agencies are set to be blacklisted from certifying organic product exports from India by the European Commission as Indian shippers, cleared by them, failed to meet the norms for ethylene oxide presence in their consignments, particularly sesame (til/gingelly).
The action, which withdraws recognition granted to them to certify organic products from India, comes after the European Union issued at least 90 notifications in the Organic Farming Information System (OFIC) over the past few months.
The development is unlikely to affect exports of organic products from India since there are 28 other agencies, both local and foreign, which can certify organic product exports from the country.
The EU considers ETO as carcinogenic for humans and has been strictly monitoring imports to ensure that the maximum permissible level of ETO residue is not exceeded.

In the case of Indian sesame shipments, the EC said they had far exceeded the maximum level permitted for the chemical.

In particular, the draft said the certifying agencies should not appear in the list of control bodies recognised by India's competent authority – the Agricultural and Processed Food Products Export Development Authority (APEDA).
Agricultural and Processed Food Products Export Development Authority (APEDA)
The Agricultural and Processed Food Products Export Development Authority (APEDA) was established by the Government of India under the Agricultural and Processed Food Products Export Development Authority Act passed by the Parliament in December, 1985.
The Authority replaced the Processed Food Export Promotion Council (PFEPC).
It is an apex body that promotes export trade of agricultural products in India.
Set-up by the ministry of Commerce and Industry, Government of India.
Functions of APEDA –
APEDA is responsible for export promotion of Fresh Fruits & Vegetables, Processed Food products, Livestock products and Cereals.
It provides the crucial interface between farmers, storehouses, packers, exporters, surface transport, ports, Railways, Airways, all others engaged in export trade and finally to the international market.

Directly or indirectly, it offers services that support farmers and exporters from different states in the country.

It bridges the gap between agricultural and processed food producers to reach to the exporters in international markets.
APEDA has been entrusted with the responsibility to monitor import of sugar.
It looks after the development of industries relating to the scheduled products for export by way of providing financial assistance or otherwise for undertaking surveys and feasibility studies, participating through subsidy schemes.
Registration of persons as exporters of the scheduled products and fixing of standards and specifications for the scheduled products for the purpose of exports.
Carrying out inspection of meat and meat products in slaughterhouses, processing plants, storage premises and improving packaging of the scheduled products.
Administrative set up of APEDA –
Chairman – Appointed by the Central Government
Director – Appointed by APEDA
Secretary – Appointed by the Central Government
Other Officers and Staff – Appointed by the Authority.
European Commission
The European Commission (EC) is the executive branch of the European Union, responsible for proposing legislation, enforcing EU laws and directing the union's administrative operations.
The Commission operates as a cabinet government, with 28 members of the Commission. There is one member per member state. These members are proposed by member countries and European Parliament gives final approval on them.
Ethylene Oxide
Ethylene oxide is an organic compound with the formula C2H4O.
At room temperature, ethylene oxide is a flammable colorless gas with a sweet odor.
It is used primarily to produce other chemicals, including antifreeze.
In smaller amounts, ethylene oxide is used as a pesticide and a sterilizing agent.
The ability of ethylene oxide to damage DNA makes it an effective sterilizing agent but also accounts for its cancer-causing activity.
Export Of Organic Products from India
In 2020-21, the total volume of organic products export was 8.88 lakh metric tonne and the export realization was around ₹7,078 crores or $1 billion.
As per the available statistics, India's rank 8th in terms of World's Organic Agricultural land and 1st in terms of total number of producers as per 2020 data (Source: FIBL & IFOAM Year Book, 2020).
Madhya Pradesh has covered largest area under organic certification followed by Rajasthan, Maharashtra, Gujarat, Karnataka, Odisha, Sikkim and Uttar Pradesh.

During 2016, Sikkim has achieved a remarkable distinction of converting its entire cultivable land (more than 75000 ha) under organic certification.

Organic products are exported to USA, European Union, Canada, Great Britain, Korea Republic, Israel, Switzerland, Ecuador, Vietnam, Australia etc.
In terms of export value realization Processed foods including soya meal (57%) lead among the products followed by Oilseeds (9%), Cereals and millets (7%), Plantation crop products such as Tea and Coffee (6%), Spices and condiments (5%), Medicinal plants(5%), Dry fruits (3%), Sugar(3%), and others.
Organic products are currently exported from India only if they are produced, processed, packed, and labelled as per the requirements of the National Programme for Organic Production (NPOP).

The NPOP certification has been recognised by the European Union and Switzerland which enables India to export unprocessed plant products to these countries without the requirement of additional certification.
National Programme for Organic Production (NPOP)
The APEDA, Ministry of Commerce & Industries, Government of India is implementing the National Programme for Organic Production (NPOP).
The programme involves the accreditation of Certification Bodies, standards for organic production, promotion of organic farming and marketing etc.
The NPOP standards for production and accreditation system have been recognized by European Commission and Switzerland for unprocessed plant products as equivalent to their country standards.

With these recognitions, Indian organic products duly certified by the accredited certification bodies of India are accepted by the importing countries.
Subject – Economy
Context – EoI for strategic sale of IDBI by Dec: DIPAM Secretary
Concept –
Government of India (GoI) and LIC together own more than 94 per cent of equity of IDBI Bank (GoI 45.48 per cent, LIC 49.24 per cent).
LIC is currently the promoter of IDBI Bank with Management Control and GoI is the co-promoter.
To know about Strategic Disinvestment, please click here.
5. Centre scraps import duty on crude edible oils
Subject – Economy
Context – Centre scraps import duty on crude edible oils, lowers agri cess
Concept –
The Centre cut the import duty on crude edible oils to zero and reduced the Agriculture Infrastructure and Development Cess (AIDC) on all oils — crude and refined — to contain surging cooking oil prices during the festival season and rein in inflation.
The Department of Revenue under the Ministry of Finance issued two notifications that will bring the duty cuts — ranging from 16.5 to 19.25 per cent —into force.
According to the notifications, import duty on crude palm oil (CPO), crude soyabean oil and crude sunflower oil has been reduced to zero from 2.5 per cent.
Agriculture Infrastructure and Development Cess (AIDC)
Cess is a kind of special-purpose tax which is levied over and above basic tax rates.
The purpose of the new AIDC is to raise funds to finance spending on developing agriculture infrastructure.
The new cess will be levied on 29 products, prominent among which are gold, silver, imported apple, imported alcohol (excluding beer), imported pulses, imported palm oil, imported urea, and petrol/diesel including branded ones.
The new cess will only offset the reduction in customs or excise duty and thus will not raise the tax incidence for consumers.
Drawing power from Articles 270 and 271 of the Constitution, the Centre collects cess and deposits it in the Consolidated Fund of India. However, the money is then supposed to be transferred to a segregated fund to be used for specific purpose.
6. G-Secs to floating rate bonds
Subject – Economy
Context – Govt announces switching two G-Secs to six floating rate bonds
Concept –
The government announced the conversion or switch of two government securities (G-Secs), both maturing in 2022 and aggregating ₹36,000 crores (face value) into six floating rate bonds (FRBs) maturing between 2028 and 2034.
Thus, the government does not have to redeem them on their maturity dates.
The conversion or switch will take place through a multiple-price based auction.
Bidding in the auction implies that the market participants agree to sell the source security/ies to the government, and simultaneously agree to buy the destination security from the GoI at their respective quoted prices.
Market participants are required to place their bids through thee-Kuber portal, giving the amount of the source security and the price of the source and destination security expressed up to two decimal places.
The price of the source security quoted must be equal to the FBIL (Financial Benchmarks India) closing price of the source security as on the previous working day.
Bond price and yield are inversely correlated and move in opposite directions.
What are floating rate bonds?
Unlike regular bonds that pay a fixed rate of interest, floating rate bonds have a variable rate of interest.
The rate of interest of a floating rate bond is linked to a benchmark rate and is reset at a regular interval.
Interest rate risk is largely mitigated as these bonds will pay higher return when prevailing rates are high.
There is no certainty of the future stream of income when investing in a floating rate bond.
The best time to buy floating rate bonds is when rates are low and are expected to rise.
E-Kuber
e-Kuber is the Core Banking Solution of Reserve Bank of India.
E-Kuber provides the provision of a single current account for each bank across the country, with decentralised access to this account from anywhere-anytime using portal based services in a safe manner.

Core Banking Solutions (CBS) can be defined as a solution that enables banks to offer a multitude of customer-centric services on a 24×7 basis from a single location, supporting retail as well as corporate banking activities, as well as all possible delivery channels existing and proposed.
The centralisation thus makes a "one-stop" shop for financial services a reality.
Using CBS, customers can access their accounts from any branch, anywhere, irrespective of where they have physically opened their accounts.
Almost all branches of commercial banks, including the Regional Rural Banks (RRBs), are brought into the core-banking fold.
Core Banking Solutions (CBS) marked a paradigm shift as it made a bank's particular branch customers, now bank customers as they can access their accounts from any branch for defined purposes.
CBS links all branches of a bank and offers opportunities for information management, better customer service and improved risk management.

e-Kuber enables ease of operations. The system also benefits state /central Governments as users.
Some of the facilities offered include the provision of portal based access which allows Government departments to access on anywhere-anytime basis and view their balances – of all types including the Ways and Means Advances, drawings, funds positions and the like – all in a consolidated manner so as to help them in better funds management.
The capability of consolidating revenue collections by banks through the e-Kuber offers the potential for better flexibility for the Government in managing its finances apart from moving over towards higher levels of electronic banking.
The e-kuber system can be accessed either through INFINET or Internet.

The INFINET is a Closed User Group Network for the exclusive use of member banks and financial institutions and is the communication backbone for the National Payments System, which caters mainly to inter-bank applications like Real Time Gross Settlement (RTGS), Delivery Vs Payment, Government Transactions, Automatic Clearing House, etc.

The e-kuber system, implemented in 2012, is reported to be one of the foremost central bank oriented Core Banking Systems in the world.
Auction of Government securities is done through e-kuber system.
Sovereign Gold Bonds are available for subscription at the branches of scheduled commercial banks and designated post offices through RBI's e-kuber system.
Goods and Service Tax (GST) settlements are also proposed to be done through e-kuber.
On 7 April 2016, RBI launched a platform to enable trading in the priority sector lending certificates (PSLC) through its Core Banking Solution (CBS) portal (e-Kuber).
Kuber refers to Lord Kubera – the lord of wealth in Hindu Mythology.
Technology partner for RBI for launching e-kuber is Polaris Ltd.
Subject – Economy
Context – The Prime Minister's Office reviewed the coal stock situation in India's thermal power plants in a meeting with senior officials of the coal and power ministries.
Concept –
India's thermal power plants currently have an average of four days worth of coal stock against a recommended level of 15-30 days, with a number of states highlighting concerns about blackouts as a result of the coal shortage.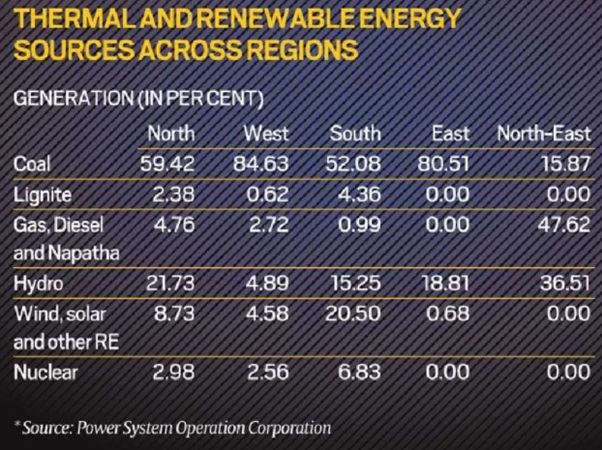 Coal and lignite fired thermal power plants account for about 54 per cent of India's installed power generation capacity but currently account for about 70 per cent of power generated in the country.
To know more about Coal Crisis in India, please click here and here.
Power Purchase Agreements
It is a contract between the one who generates electricity and one which is looking to purchase it.
It defines all of the commercial terms for the sale of electricity between the two parties, including when the project will begin commercial operation, schedule for delivery of electricity, penalties for under delivery, payment terms, and termination.
8. Kunming Declaration on biodiversity conservation
Subject – Environment
Context – Over 100 countries sign Kunming Declaration on biodiversity conservation
Concept –
The Kunming Declaration was adopted by over 100 countries October 13, 2021 at the first part of the ongoing virtual 15th meeting of the Conference of the Parties to the United Nations Convention on Biological Diversity.
It calls upon the parties to "mainstream" biodiversity protection in decision-making and recognise the importance of conservation in protecting human health.
By adopting this, the nations have committed themselves to support the development, adoption and implementation of an effective post-2020 implementation plan, capacity building action plan for the Cartagena Protocol on biosafety.
The theme of the declaration is Ecological Civilization: Building a Shared Future for All Life on Earth.
Signatory nations will ensure that the post-pandemic recovery policies, programmes and plans contribute to the conservation and sustainable use of biodiversity, promoting sustainable and inclusive development.
This declaration is a reflection of the political will of all parties to the United Nations Convention on Biological Diversity.
The parties have demonstrated their commitment to accelerate development and update of the strategy document National Biodiversity Strategies and Action Plans.
The signed declaration will be submitted to the General Assembly of the United Nations, the 2022 High-Level Political Forum on Sustainable Development, and the United Nations Environment Assembly at the second part of the ongoing session in Kunming, China from 25 April-8 May 2022.
To know about Cartagena Protocol on Biosafety, please click here.
Subject – Environment
Context – Fish species found only in the Pacific, discovered in the Bay of Bengal
Concept –
A unique, lesser-known fish species that was till now thought to be found only in the Pacific Ocean has been found in the Indian Ocean too.
Hoplosebastes Armatus, also known as the flower scorpionfish, belongs to the order of ray-finned fish that are also known Scorpaeniforme. The Hoplosebastes Armatus was discovered in the Pacific Ocean off Japan almost a century ago in 1929.
The species had not been found in the Indian Ocean.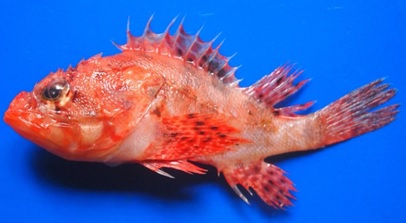 The length of the species ranged from 75-127 mm, while its body width was from 14-22 mm. The head of the species was comparatively large and greater than the body.
The fresh specimen of the species, caught from the sea, was faint red, he noted. But alcohol specimens were pale yellow colour and formalin specimens were brownish.
The specimen found from the Indian Ocean resembles PJ Schmidt's specimen that was found in 1929. But it differs in the presence of tentacles on the head, extensive spots on the fins, scale-less maxilla, number of spines on sub-orbital stray, etc.
The rise in the temperature of sea water due to global warming might induce the migration of this species from different regions.
Subject – Environment
Context – microplastics end up in babies' poop
Concept –
When plastic bags or bottles are discarded, they degrade into small pieces that can creep into every part of nature, even human tissues.
Microplastics have also been found in places like the Arctic and deepest parts of the oceans.
Most products today like sipper cups, lunch boxes, baby bottles and wiping napkins are made of a substance called PET or polyethylene terephthalate. PET is taken from natural gas and crude oil.
It is also another version of the polyester fabric, which is added to rayon, cotton and wool to retain their 'newness'. The synthetic form of the fiber can be converted to a molten liquid and made into any shape.
While this type of plastic can be recycled, in reality the percentage that is recycled is negligible.
When babies put these in their mouth or play, they ingest microplastics that these products shed.
As a result, they are exposed to more microplastics as compared to adults, according to a study published in the journal Environmental Science & Technology Letters.
To know about microplastics, please click here.
11. Smartphones are killing the planet
Subject – Environment
Context – smartphones have a highly detrimental impact on the physical and social well-being of the planet.
Concept –
Smartphones are typically discarded after an average of two years despite being operational. A McMaster University study found that 85-95 per cent of carbon emissions during this two-year period correspond to the manufacturing phase alone.
The energy used to build a single smartphone is equal to the energy required to operate it for about a decade. This alone makes smartphones the most damaging of information and communication technology (ICT) devices.
The iPhone 6s produced 57 per cent more carbon dioxide (CO2) than the iPhone 4s, with less than one per cent smartphones are recycled by Apple and other companies.
Gold mining for the tech industry is a major causes of deforestation and depletion of natural CO2 sinks in the Amazon.
Vast quantities of water evaporate in Chile, Argentina and Bolivia, to obtain lithium for batteries that power smartphones.
Mercury and cyanide by-products further contaminate local water bodies. Discarded smartphones add to toxic e-wastes which then leach into the groundwater.
Greenpeace, a non-profit, estimated that the European Union would produce more than 12 million tonnes a year of electrical and electronic waste by 2020.
From 2007 to 2017, around 7.1 billion smartphones were manufactured. A majority of these smartphones are now past their two-year discard period and are now part of the growing global toxic e-waste.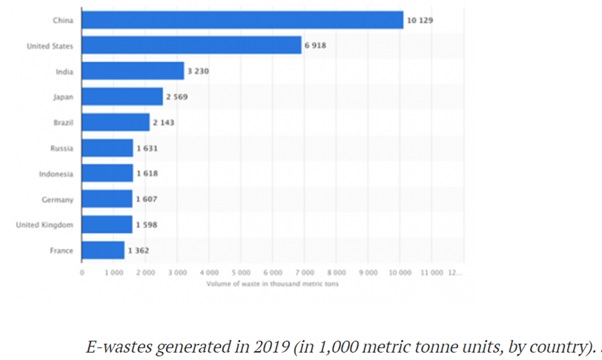 To know about E-Waste management in India, please click here.
12. Border Security Force (BSF)
Subject – Defence and Security
Context – Punjab unhappy after Centre enhances powers of BSF
Concept –
The Union Home Ministry has enhanced the powers of the Border Security Force (BSF) to "arrest, search and seize" within 50 km from the international boundary in Assam, West Bengal and Punjab.
Such operational powers to the BSF, a Central Armed Police Force under the Union, will also be applicable to the newly created Union Territories of Jammu and Kashmir and Ladakh, according to a notification published in the Gazette of India on October 11.
Earlier, the BSF's limit was fixed up to 80 km from the international boundary in Gujarat and 15 km in Rajasthan, Punjab, West Bengal and Assam.
The October 11 notification replaces a 2014 order under the BSF Act, 1968, which also covered the States of Manipur, Mizoram, Tripura, Nagaland and Meghalaya.
To know about CAPF, please click here.
Subject – Geography
Context – Duplicates from Nepal add to India's Darjeeling tea worries
Concept –
After years of countering cheaper teas imported from Kenya and Sri Lanka, the beverage industry in India has a new worry — duplicate Darjeeling tea brought in from Nepal.
The Tea Association of India (TAI) has raised the red flag on Nepal-origin teas reportedly sold in the domestic market as the premium Darjeeling teas, thereby "diluting the brand image of Darjeeling tea and adversely impacting prices".
A revised treaty on trade signed in 2009 allowed the free and unhampered flow of goods between India and Nepal. But that should not be the reason for overlooking certain regulation
The current trade between India and Nepal allows mandatory sanitary and phytosanitary certificates before products are allowed in the country. This should be strictly enforced and a notification may accordingly be issued.
About Tea –
Tea is a beverage made from the Camellia sinesis plant. It is the world's most consumed drink, after water.
Origin: It is believed that tea originated in northeast India, north Myanmar and southwest China, but the exact place where the plant first grew is not known. There is evidence that tea was consumed in China 5,000 years ago.
Tea is a tropical and sub-tropical plant and grows well in moderately hot and humid climates.
The ideal temperature for its growth is 20°-30°C and temperatures above 35°C and below 10°C are harmful for the bush.
It requires 150-300 cm annual rainfall which should be well distributed throughout the year.
The most suitable soil for tea cultivation is slightly acidic soil (without calcium) with porous sub-soil which permits a free percolation of water.
Tea is a shade-loving plant and develops more vigorously when planted along with shady trees.
FAO has designated 4 tea cultivation sites in China, Korea and Japan as Globally Important Agricultural Heritage Systems.

Pu'er Traditional Tea Agrosystem (China)
Fuzhou Jasmine and Tea Culture System (China)
Traditional Tea-grass Integrated System (Japan)
Traditional Hadong Tea Agrosystem, Hwagae-myeon (Republic of Korea).

India and Tea Production

The largest consumer of tea in the world
The second largest producer of tea in the world
The fourth largest exporter of tea in the world.
Tea Board
It is a statutory body under the Ministry of Commerce.
The Board is constituted of 31 members (including Chairman) drawn from Members of Parliament, tea producers, tea traders, tea brokers, consumers, and representatives of Governments from the principal tea producing states, and trade unions.
The Board is reconstituted every three years.
Subject – Governance
Context – '100 new Sainik Schools will admit students from 2022-23'
Concept –
The 100 new Sainik Schools to be set up under public-private partnership will function in an exclusive vertical, distinct from the existing schools under the Defence Ministry, and admissions are targeted for the academic year 2022-23.
In the first phase, 100 schools are proposed to be drawn from the States, NGOs and private partners.
The Cabinet had approved the proposal for launching 100 schools to be affiliated with the Sainik Schools Society. The existing 33 Sainik Schools had an admission capacity of approximately 3,000 students in Class 6.
The society would provide affiliation to private and government schools that qualify a certain objective criteria related to academics and infrastructure.
The scheme envisages to provide an annual fee support of 50% subject to an upper limit of ₹40,000 per annum, for 50% of the class strength, subject to an upper limit of 50 students per year from Class 6 to Class 12, on a merit-cum-means basis.
Thus, initially the maximum expenditure on account of fee rebate will amount to ₹20 lakhs per class per school per year.
To know more about Sainik Schools, please click here.