Daily Prelims Notes 15 September 2021
September 15, 2021

Posted by:

admin1

Category:

DPN

Daily Prelims Notes
15 September 2021
Table Of Contents
1. Headline And Core Inflation
Subject – Economics
Context – Fuel prices quicken WPI inflation to 11.39% in August
Concept –
To know about Headline and Core Inflation, please click here.
Subject – Environment
Context – Tiger, injured in fight with porcupine, dies of wounds caused by snare in Bandipur reserve
Concept –
To know about Bandipur Tiger Reserve, please click here.
Subject – Polity
Context – Protests mark Hindi Diwas
Concept –
Every year, 14th September is celebrated as Hindi Diwas in India.
Hindi, written in the Devanagari script, was adopted as the official language of the Republic of India on 14th September, 1949.
Besides Hindi, English is the other official language (Article 343 of the Constitution).
Hindi was adopted as one of the two official languages of the Republic of India by Constituent Assembly of India due to the efforts of Beohar Rajendra Simha along with Hazari Prasad Dwivedi, Kaka Kalelkar, Maithili Sharan Gupt and Seth Govind Das.

As such, on the 50th birthday of Beohar Rajendra Simha on the 14th of September 1949, the efforts resulted in the adoption of Hindi as an official language

About 45% of the Indian population speaks in Hindi.
Hindi is the fifth most spoken language among the total languages spoken in the world.
Constitutional Provisions –
Hindi is an eighth schedule language of the 22 officially recognized Indian languages.
Article 351 pertains to 'Directive for development of the Hindi language'.
Part XVII of the Constitution deals with the official language in Articles 343 to 351.
4. National Human Rights Commission (NHRC)
Subject – Polity
Context – NHRC notice on farmers' protest
Concept –
To know about NHRC, please click here.
5. Juvenile Justice (Care and Protection of Children) Act 2015
Subject – Governance
Context – The Women and Child Development Ministry will bridge the legislative gap between the Hindu Adoptions and Maintenance Act (HAMA) and the Juvenile Justice (Care and Protection of Children) Act, 2015 that has forced adoptive parents under HAMA to move court to take their child abroad.
Concept –
To know about Juvenile Justice (Care and Protection of Children) Act, 2015, please click here.
6. Hindu Adoptions and Maintenance Act 1956
Subject – Governance
Context – The Women and Child Development Ministry will bridge the legislative gap between the Hindu Adoptions and Maintenance Act (HAMA) and the Juvenile Justice (Care and Protection of Children) Act, 2015 that has forced adoptive parents under HAMA to move court to take their child abroad.
Concept –
The Hindu Adoptions and Maintenance Act (HAMA) was established in the year 1956 as part of the Hindu Code Bills.
Hindu Adoptions and Maintenance Act was introduced to codify and standardize the current Hindu legal tradition.
Applicability –

Hindu Adoptions and Maintenance Act apply to Hindus and all those considered under the umbrella term of Hindus.
To apply the Hindu Adoptions and Maintenance Act in the territories, the person should not belongs to Muslim, Christian, Parsi, or Jew by religion.

Under HAMA, any male Hindu who is of sound mind and not a minor can take a son or a daughter in adoption. If he has a wife living, he cannot adopt a child except with the consent of his wife unless the wife has completely renounced the world or has ceased to be a Hindu or has been declared by a court of competent jurisdiction to be of unsound mind.
(HAMA – Hindu Adoption And Maintenance
CARA – Central Adoption Resource Authority, apex controlling body in a matter relating to adoption in India under the Ministry of Women and Child Development (MWCD) for legal adoption, under Juvenile Justice Act 2015).
7. Variants of Concern and Variants of Interest
Subject – Science and Tech
Context – Coronavirus variants Mu, C.1.2 not detected in India: INSACOG
Concept –
To know about Variants of Concern and Variants of Interest, please click here.
Subject – Governance
Context – Modi holds brainstorming session with Ministers
Concept –
Chintan Shivir' is a contemplation session for overall improvement in efficiency and governance.
The Union Council of Ministers met at the auditorium of the Rashtrapati Bhavan for what is being termed a "Chintan Shivir", or brainstorming session, where Prime Minister Narendra Modi told the Ministers, many of whom are first timers, to stress simplicity in lifestyle, best practices of colleagues and time management.
Good practices on time management, efficiency, root cause analysis of problems and selection of personal staff, good practices about some basic issues such as dealing with people, promptly responding to letters were also shared in their presentation.
9. Emergency Use Listing by WHO
Subject – Science and Tech
Context – Covaxin may get WHO approval soon
Concept –
The WHO EUL is a risk based procedure for assessing and listing unlicensed vaccines, therapeutics and in-vitro diagnostics with the ultimate aim of expediting the availability of these products to people affected by a public health emergency.
Emergency Use Listing (EUL) is the procedure to streamline the process by which new or unlicensed products can be used during public health emergencies.
The EUL replaces the Emergency Use Assessment and Listing (EUAL) procedure, which was used during the West Africa Ebola outbreak of 2014-2016.
The WHO established its emergency use listing (EUL) process to help poorer countries without their own regulatory resources quickly approve medicines new diseases like Covid-19, which otherwise could lead to delays.
The EUL is not intended to interfere with ongoing clinical trials.
The process may include on-site inspections of the company's facilities.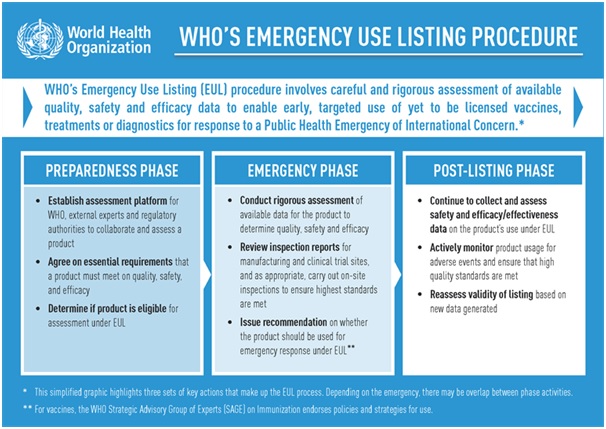 Subject – Environment
Context – Finally, J&K tribal population to get their due
Concept –
After a long delay, the Jammu and Kashmir government has decided to implement the Forest Rights Act, 2006, which will elevate the socio-economic status of a sizeable section of the 14 lakh population of tribals and nomadic communities, including Gujjar-Bakerwals and Gaddi-Sippis in the Union Territory
To know about FRA, please click here.
11. Unified Payments Interface (UPI)
Subject – Economy
Context – India, Singapore to link fast payment systems
Concept –
The Reserve Bank of India (RBI) and the Monetary Authority of Singapore (MAS) on Tuesday announced a project to link their respective fast payment systems — Unified Payments Interface (UPI) and PayNow — to facilitate instant, low-cost, cross-border fund transfers. The linkage is targeted to be operationalised by July 2022.
UPI is India's mobile-based, 'fast-payment' system that facilitates customers to make round-the-clock payments instantly using a virtual payment address created by the customer.
PayNow is the fast payment system of Singapore that enables peer-to-peer fund-transfer service.
About UPI –
UPI is a real-time payment system that helps in instant and quick transfer of funds between two bank accounts.
The transfer of funds is done through a single mobile application.
Some of its important features are –

Immediate fund transfer which is faster than NEFT.
UPI is available for 24 hours
It is also available on public holidays
Every Bank provides its own UPI for different mobile platforms like Android, IOS.
It can be utilized for making payments to merchants, and utility bill payments.
Any complaint can be raised from Mobile App directly.

UPI is currently the biggest among the NPCI operated systems including National Automated Clearing House (NACH), Immediate Payment Service (IMPS), Aadhaar enabled Payment System (AePS), Bharat Bill Payment System (BBPS), RuPay etc.
The idea of UPI was developed by the National Payments Corporation of India (NPCI) and is controlled by the Reserve Bank of India (RBI) and IBA (Indian Bank Association).
The UPI interface is based on the authentication of 2 factors. This is in line with the regulatory guidelines making it very safe.
Are BHIM and UPI the same?
UPI is a platform whereas BHIM is a separate mobile wallet app like Paytm, PhonePe, etc.
If a person has bank accounts with the different banks then the person will have to use different UPI apps and VPA (Virtual Payment Address). On the other hand, BHIM is a unified payment app based on UPI which can be synced to any of the UPI enabled bank accounts.
The BHIM app is an upgraded version of existing bank UPI apps.
The biggest advantage of BHIM apps over other payment apps is that transactions happen directly between bank accounts and no charges associated with the transfer.
Unlike other payment apps, there is no need to recharge BHIM payment apps. There are no commission or hidden charges.
To know more about BHIM app, please click here.
National Payments Corporation of India
National Payments Corporation of India (NPCI), an umbrella organisation for operating retail payments and settlement systems in India, is an initiative of Reserve Bank of India (RBI) and Indian Banks' Association (IBA) under the provisions of the Payment and Settlement Systems Act, 2007.
It is a "Not for Profit" Company under the provisions of Section 25 of Companies Act 1956 (now Section 8 of Companies Act 2013), with an intention to provide infrastructure to the entire Banking system in India for physical as well as electronic payment and settlement systems.
Subject – Geography
Context – Deep depression weakens, but heavy rains to continue
Concept –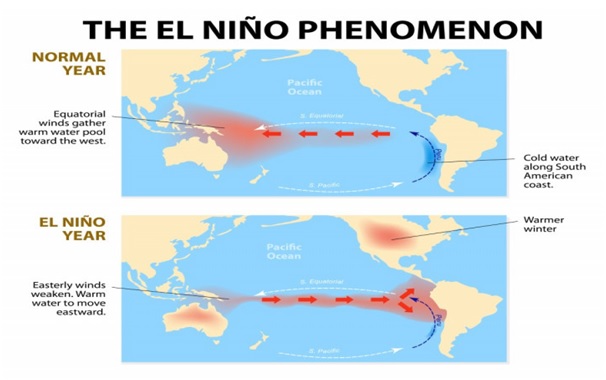 To know about El-Nino, please click here.
To know about La-Nina, please click here.
13. Lithium Reserves in Afghanistan
Subject – IR
Context – China's support to the new Taliban regime in Afghanistan has raised suspicions that Beijing is eyeing Kabul's mineral wealth, estimated at $1-3 trillion.
Concept –
According to a 2015 report by the Henry M Jackson School of International Studies at the University of Washington, Afghanistan has newly discovered mineral wealth that could boost its economy over the next few decades by $1-3 trillion and employ thousands of new workers.
A 2010 US study had shown that Afghanistan could have among the world's largest deposits of lithium.
China is the top consumer of lithium, processing nearly 90 per cent of the total lithium hydroxide available globally.
Chinese producers have invested significant volumes in lithium projects outside China this year. The Ganfeng Lithium group is among the notable investors
China has much better options for foreign mineral extraction and is already using them — for example Argentina, Chile, Zambia and Congo DRC.
Lithium, a key metal in Electric Vehicles, is in the limelight as prices have almost doubled since the start of the year.
To know about Lithium and Lithium triangle, please click here.
To know about Li-ion Batteries, please click here.
Lithium Reserves in India –
India currently imports all its lithium needs.
The domestic exploration push, which also includes exploratory work to extract lithium from the brine pools of Rajasthan and Gujarat and the mica belts of Odisha and Chhattisgarh, comes at a time when India has stepped up its economic offensive against China, a major source of lithium-ion energy storage products being imported into the country.
The Marlagalla-Allapatna area, along the Nagamangala Schist Belt, which exposes mineralised complex pegmatites (igneous rocks), is seen as among the most promising geological domains for potential exploration for lithium and other rare metals.
The lithium find is comparatively small, considering the size of the proven reserves in Bolivia (21 million tonnes), Argentina (17 million tonnes), Australia (6.3 million tonnes), and China (4.5 million tonnes).
Lithium can be extracted in different ways, depending on the type of the deposit – it is generally done either through solar evaporation of large brine pools or by hard-rock extraction of the ore.
In India, alongside the rock mining at Mandya, there is some potential for recovering lithium from the brines of Sambhar and Pachpadra in Rajasthan, and Rann of Kachchh in Gujarat. The major mica belts in Rajasthan, Bihar, and Andhra Pradesh, and the pegmatite belts in Odisha and Chhattisgarh apart from Karnataka, are the other potential geological domains.
14. Raja Mahendra Pratap Singh
Subject – History
Context – Two years after Uttar Pradesh Chief Minister Yogi Adityanath said Raja Mahendra Pratap Singh had not received the recognition due to him for having donated land for Aligarh Muslim University (AMU), and promised to construct a university in the same city in his name, Prime Minister Narendra Modi on Tuesday (September 14) laid the foundation stone of the university.
Concept –
Raja Mahendra Pratap Singh was a freedom fighter, revolutionary, writer, social reformer, and internationalist who entered Lok Sabha as an Independent candidate from Mathura in 1957, in an election in which Atal Bihari Vajpayee of the Bharatiya Jana Sangh came fourth.
Mahendra Pratap established a "Provisional Government of India" in Kabul in the middle of World War I in 1915 and, as the British government targeted him for his activities, based himself in Japan.
In 1932, he was nominated for the Nobel Peace Prize.
The Raja finally returned to India a year before Independence, and immediately began work with Mahatma Gandhi. In free India, he diligently pursued his ideal of panchayati raj.
He was not a political figure. He was more of a reformer who promoted education. He gave his own residence to establish the first technical school of the country. He was well versed in eight different languages, he practised different religions, he founded the world federation, he was nominated for the Nobel Prize, he set up a Provisional Government of India in Afghanistan.
Raja gave up his own residence in Mathura to be converted into a technical school named Prem Mahavidyalaya in 1909. It is said to have been the country's first polytechnic.
After studying at the Government School in Aligarh, Raja Mahendra Pratap went to the Muhammadan Anglo-Oriental College in Aligarh, which later came to be called Aligarh Muslim University.
Although he was unable to complete his graduation from the institution, Raja Mahendra Pratap's name is counted among the prominent alumni of the university.
His family is said to have given land to AMU, some parts of which were donation, while other parts were granted on lease. Raja Mahendra Pratap too, gave land to various educational institutions.
Contribution to the Freedom Struggle
Raja Mahendra Pratap Singh is said to have left his estate in 1914 to plunge into India's struggle for independence.
On December 1, 1915, he proclaimed the first Provisional Government of India outside India at the historic Bagh-e-Babur in Kabul.
He declared himself president, and his fiery fellow revolutionary Maulana Barkatullah of Bhopal, prime minister, of the Provisional Government.
Mahendra Pratap subsequently travelled to various countries to gather support for the revolutionaries fighting for independence in India.
He went to Germany, Japan, and Russia, and met the political leaders of those countries. He is said to have met Vladimir Lenin in 1919, two years after the Bolshevik Revolution.
15. North Korea's first 'strategic' cruise missile test
Subject – Science and Tech
Context – North Korea tested a strategic cruise missile.
Concept –
This is not the first cruise missile test by the country. However, it is "North Korea's first long-range (1,000 km+) cruise missile and first claimed nuclear-capable cruise missile.
According to a Popular Science report from 2013, cruise missiles "are fast-moving, guided bombs that soar at a very low trajectory, parallel to the ground. They are distinct from regular (non-cruise) missiles primarily because they go really far" and all such missiles have an internal guidance system.
These missiles differ from ballistic missiles in that they are "designed to travel within the earth's atmosphere and aerodynamically maneuver for most of their flight time.
Most cruise missiles use a small, solid- propellant rocket booster, which allows them to gain enough altitude and speed for the onboard sustainer engine to take over.
Some analysts say these types of missiles are also slightly difficult to detect.
These cruise missiles don't come under UNSC sanctions that were placed on the DPRK in an attempt to curb its nuclear development programme.
Subject – Agriculture
Context – A year after first trying it, farmers warm up to Pusa decomposer, officials plan to ramp up use.
Concept –
Used to decompose paddy stubble after a harvest and prevent stubble burning, the decomposer was sprayed on around 30 acres of farmer Umesh Singh's farmland in Hiranki village last year.
It can take about 20 to 22 days for stubble to decompose.
The decomposer has also helped improve soil fertility and reduced the need for extensive ploughing to mix stubble with soil.
By the time farmworkers arrive to sow the wheat, the land is free of stubble.
The decomposer has reduced the need for fertiliser.
The paddy is ready for harvesting in some fields, but there has been no information from the government yet on whether or not the decomposer will be made available.
Indramani Mishra, head of the Agricultural Engineering Department at the Indian Agricultural Research Institute where the decomposer was developed, said it is likely to be used more extensively this year. It has been licensed to nine companies for production.
17. Private Final Consumption Expenditure (PFCE)
Subject – Economy
Context – weakening growth in consumer demand impacted GDP growth
Concept –
The GDP is calculated by capturing the expenditures of different components of the economy.
It adds up the expenditure by private individuals (PFCE), by businesses investing money to ramp up production (Gross Fixed Capital Formation or GFCF), and all the spending by the government (Government Final Consumption Expenditure or GFCE).
In India, the PFCE accounts for 55-56%of all national GDP in a year and is, quite obviously, the biggest driver of economic growth.
Apart from this direct influence, it also indirectly influences the next biggest driver of GDP — the Gross Fixed Capital Formation (GFCF). This is a measure of the money spent by businesses when they make investments, and it accounts for33% of all GDP.
It is crucial to understand the economic logic that links these two biggest drivers of economic growth, which together account for 88% to 89% of all GDP in India.
If consumer demand slows down, it robs businesses of any incentive to boost productive capacities by making fresh investments. Just boosting investments—without regard for demand—will not make sense.
The weighty role of private consumer demand in boosting the GDP makes it the most important factor determining India's economic fortunes.
The third driver of GDP is government spending (GFCE), and it accounts for 10%-11% of all GDP. It should typically be counter-cyclical. In other words, when the rest of the economy is doing well — consumers are demanding lots of goods and businesses are investing in new capacities to furnish such demand — the government should try to limit its spending in such a manner that it does not hurt (or "crowd out") private sector firms from accessing credit and markets.
But when consumer demand is weak, and firms are holding back (justifiably) from making fresh investments, the government should ramp up its spending to jump-start the economy and, hopefully, "crowd in" the private sector in the growth process.
The fourth engine — net exports or the net effect of India's demand for imports and the Rest of the World's demand for our products (exports) — is quite small in India's case.
How has consumer demand grown over the years?
Given the overwhelmingly dominant role of private consumption demand in determining India's economic growth in any year, it is instructive to look at how PFCE has grown in the recent past –
The graph maps the last two GDP data series — one based on 2004-05 prices and the second based on 2011-12 prices.
As can be seen, private consumption expenditure grew at an annual rate of 8.2% between 2004-05 (Financial Year 2005 or FY05) and 2011-12.
Then, between FY12 and FY20 (that is, just before Covid hit India), its annual growth slowed down to 6.8%. In fact, if one further zooms into the years FY17 (after which India's GDP growth rate started decelerating sharply) and FY20, the PFCE annual growth rate had slowed to 6.4%.
Then came Covid-induced lockdowns in FY21 and they destroyed the already weakening demand. If we include FY21 as well, then the PFCE growth rate since FY12 falls to below 5% per annum.
In FY22, the current financial year, the Indian economy is expected to register a recovery. Even if we assume that at the end of the current financial year, PFCE would grow at the same rate — 6.8% — that it had in the eight years before Covid, the FY12 to FY22 annual growth rate would barely rise above 5%.
Implications –
The most important implication of weak consumer demand is that investments by corporations are unlikely to pick up in a hurry.
They are expected to remain subdued for the coming year or two as indeed they were in the years preceding the pandemic despite historic cuts in corporate tax rates in 2019.
A good measure of whether India has inadequate supply capacity or not is the rate of capacity utilisation. The data from repeated RBI's OBICUS (Order Books, Inventories and Capacity Utilisation Survey) show how capacity utilisation has struggled to breach the 75% mark. Clearly, firms have been working far below their full capacity for several years now.