Daily Prelims Notes 17 February 2022
February 17, 2022

Posted by:

OptimizeIAS Team

Category:

DPN

Daily Prelims Notes
17 February 2022
Table Of Contents
TOPIC: HISTORY
Context- Bihar Chief Minister Nitish Kumar said that February 15 would be commemorated as "ShahidDiwas" in memory of the 34 freedom fighters who were killed by police in Tarapur town of Bihar's Munger district 90 years ago.
Prime Minister Narendra Modi had referred to the Tarapur massacre in his Mann kiBaat radio address of January 2021.
Concept-
Tarapur Massacre:
The Tarapur massacre was the biggest carried out by the British police after the one in Jallianwala Bagh in Amritsar in 1919.
On February 15, 1932, a group of young freedom fighters planned to hoist an Indian national flag at Thana Bhavan in Tarapur.
Police were aware of the plan. Around 2 pm, even as the police carried out a brutal lathicharge, Gopal Singh succeeded in raising the flag at Thana Bhavan.
A 4,000-strong crowd pelted the police with stones, injuring an officer of the civil administration.
The police responded by opening indiscriminate fire on the crowd.
After about 75 rounds were fired, 34 bodies were found at the spot, even though there were claims of an even larger number of deaths.
Trigger for protest:
The hanging of Bhagat Singh, Sukhdev, and Rajguru in Lahore on March 23, 1931.
Following the collapse of the Gandhi-Irwin Pact, the Mahatma was arrested in early 1932.
The Congress was declared an illegal organization, and Nehru, Patel, and Rajendra Prasad were also sent to jail.
In Munger, freedom fighters Srikrishna Singh, Nemdhari Singh, Nirapad Mukherjee, PanditDasrathJha, Basukinath Rai, Dinanath Sahay, and JaymangalShastri were arrested.
A call given by the Congress leader SardarShardul Singh Kavishwarto raise the tricolour over government buildings resonated in Tarapur.
TOPIC: IR
Context- Russia has announced withdrawal of some troops from the Ukraine border, but US concerns remain around the Russia-to-Germany Nord Stream 2 gas pipeline.
Concept-
Nord Stream 2 is an undersea Gas pipeline from Russia to Germany. It bypasses Ukraine thus deny its transit fee for Russia's Gas exports
Some EU members have security concerns regarding Russia's presence in Baltic Sea.
US fears that it could give Russia too much leverage in Europe and increase threat of Ukraine Invasion by Russia.
Nord Stream 2 Pipeline:
This is a 1,200-km pipeline that runs from Ust-Luga in Russia to Greifswald in Germany through the Baltic Sea. It will carry 55 billion cubic metres of gas per year.
It was decided to build this pipeline in 2015.
Nord stream 1 system is already completed & functional since 2011 and together with NS2P, it will supply 110 billion cubic metre of gas a year to Germany.
Russia's economy is mainly dependent on exports of oil & gas and Europe is its largest buyer.
3. EASE OF DOING BUSINESS (EoDB)
TOPIC: Economy
Context- A research report by think tank ORF identifies a staggering 26,134 imprisonment clauses in the thousands of laws that govern businesses in India.
According to the report, "Of the 1,536 laws that govern doing business in India, more than half carry imprisonment clauses.
Concept-
Ease of Doing Business:
The Doing Business Report is the flagship publication of the World Bank Group that benchmarks business regulations in 191 economies.

The Doing Business Report measures regulations that enhance business activity and those that constrain it.

The Ease of Doing Business (EoDB) index is a ranking system established by the World Bank Group wherein the 'higher rankings' (a lower numerical value) indicate better, usually simpler, regulations for businesses and stronger protections of property rights.
The Ease of doing business ranking is an indication of an economy's position relative to that of other economies.
In India, these indicators relate to business regulations for small and medium sized firms located in Delhi and Mumbai based on standardized case scenarios.
The indicators are from 11 areas of business regulation such as: Starting a Business, Dealing with Construction Permits, Getting Electricity, Registering Property, Getting Credit, Protecting Minority Investors, Paying Taxes, Trading across Borders, Enforcing Contracts, and Resolving Insolvency.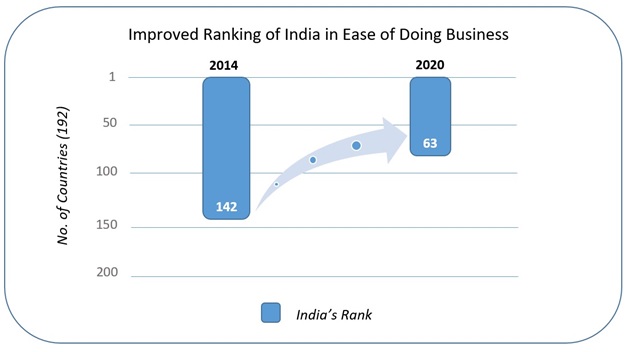 4. UNIVERSAL SERVICE OBLIGATION FUND (USOF)
TOPIC: Governance
Context- Reliance Jio has asked the Telecom Regulatory Authority of India (TRAI) to stop collecting from telecom operators contributions to the Universal Service Obligations (USO) fund until the existing corpus is utilised.
Concept-
The Indian telecom sector is a heavily taxed sector among the Asian countries.
The contribution to the USO Fund by telecom service providers is equivalent to 5 per cent of AGR paid on quarterly basis.
USOF:
The Universal Service Obligation Fund (USOF) was formed by an Act of Parliament, was established in April 2002 under the Indian Telegraph (Amendment) Act 2003.
It aims to provide financial support for the provision of telecom services in commercially unviable rural and remote areas of the country.
It is an attached office of the Department of Telecom, and is headed by the administrator, who is appointed by the central government.
USOF is a non-lapsable Fund.
The Levy amount is credited to the Consolidated Fund of India. The fund is made available to USOF after due appropriation by the Parliament.
The National Optical Fibre Network (NOFN)/ Bharatnet which aims to connect all the 2,50,000 Gram panchayats in the country and provide 100 Mbps connectivity to all gram panchayats (GPs) was funded by the Universal Service Obligation Fund (USOF).
TRAI:
The Telecom Regulatory Authority of India (TRAI) was established by the Telecom Regulatory Authority of India Act, 1997.
TRAI regulates telecom services including fixation/revision of tariffs for telecom services which were earlier vested in the Central Government.
The head office of the Telecom Regulatory Authority of India (TRAI) is located at New Delhi.
The recommendations of the TRAI are not binding upon the Central Government.
The TRAI Act was amended in 2000 which established a Telecommunications Dispute Settlement and Appellate Tribunal (TDSAT) to take over the adjudicatory and disputes functions from TRAI.
TOPIC: Science & Tech
Context- A U.S. patient with leukemia has become the first woman and the third person to date to be cured of HIV after receiving a stem cell transplant from a donor who was naturally resistant to the virus that causes AIDS.
Concept-
Stem Cell Therapy:
Stem-cell therapy is the use of stem cells to treat or prevent a disease or condition.
Stem cell therapy, also known as regenerative medicine, promotes the repair response of diseased, dysfunctional or injured tissue using stem cells or their derivatives.
Stem cells can then be implanted into a person.
Stem Cells:
Stem cells are the cells from which all other cells with specialized functions are generated.
Under certain conditions in the body or a laboratory, stem cells divide to form more cells called daughter cells.
These daughter cells either become new stem cells (self-renewal) or become specialized cells (differentiation) with a more specific function, such as blood cells, brain cells, heart muscle cells or bone cells.
No other cell in the body has the natural ability to generate new cell types.
HIV:
HIV is a ribonucleic acid virus.
HIV attacks CD4, a type of White Blood Cell (T cells) in the body's immune system. T cells are those cells that move around the body detecting anomalies and infections in cells.
HIV is transmitted from person to person through bodily fluids including blood, semen, vaginal secretions, anal fluids and breast milk.
TOPIC: Economy
Context- The Credit Guarantee Fund Trust for Micro and Small Enterprises (CGTMSE) has included non-scheduled urban co-operative banks (NSUCBs), state co-operative banks, and district central co-operative banks as member lending institutions (MLIs) under a scheme that provides guarantee for the collateral-free loans given to micro and small enterprises (MSEs).
Concept-
This is beneficial for NSUCBs, which face a higher priority sector lending (PSL) target.

The Reserve Bank of India (RBI) had revised the PSL target for all urban co-operative banks from 40 percent to 75 percent by march 2024.
Credit Guarantee Fund Scheme (CGS) for Micro and Small Enterprises
It was launched in 2000 by the Government of India (GoI) to make available collateral-free credit to the micro and small enterprise sector.
The credit guarantee scheme (CGS) assures a lender that if an MSE unit that has availed itself of collateral-free credit facilities (fund-based and/or non- fund based) fails to discharge its liabilities, then the trust would make good the loss, to the tune of 50- 85 percent of the credit facility.
Both the existing and the new enterprises are eligible to be covered under the scheme.
The corpus of CGTMSE is being contributed by the GoI and SIDBI in the ratio of 4:1 respectively.
The Ministry of MSMEs, GoI and Small Industries Development Bank of India (SIDBI) established a trust named Credit Guarantee Fund Trust for Micro and Small Enterprises (CGTMSE) to implement the CGS.
TOPIC: Polity
Context- Need to strengthen the federal nature of our judiciary by empowering High Courts.
Concept-
Integrated Judiciary:
Indian Constitution has established an independent and integrated judiciary to protect the supremacy of the Constitution.
B.R. Ambedkar stated in the Constituent Assembly: "The Indian Federation though a dual polity has no dual judiciary at all. The High Courts and the Supreme Court form one single integrated judiciary having jurisdiction and providing remedies in all cases arising under the constitutional law, the civil law or the criminal law."
Integrated judiciary refers to the integrated structure of Indian judiciary with the Supreme Court at the top and the state high courts below it.
The Indian Constitution envisaged the equality of power of High Court judges and Supreme Court judges, with a High Court judge not being a subordinate of a Supreme Court judge.
This ensures a single system of courts enforcing both the Central as well as the state laws. In USA, we have a double system of courts wherein federal courts enforce federal laws and state judiciary enforces state laws.
Constitution ensures integrated judiciary by placing SC at the top, while High Courts, subordinate courts and district courts work below it.
It is a unitary feature of the Constitution.
8. ORGANIZATION FOR ISLAMIC COOPERATION (OIC)
TOPIC: IR
Context- India lashed out at the Organisation of the Islamic Cooperation (OIC) for being "communal minded" after the grouping called on the UN Human Rights Council to take "necessary measures" on the issue of Muslim girl students being told not to wear the hijab in Karnataka schools.
Concept-
What is the OIC?
The Organisation of the Islamic Cooperation is the world's second largest multilateral body after the UN.
It has 57 members, all of which are Islamic countries or Muslim majority members.
Headquarters: Jeddah, Saudi Arabia.
The OIC's stated objective is "to safeguard and protect the interests of the Muslim world in the spirit of promoting international peace and harmony among various people of the world".
The Organisation of the Islamic Conference was established by the First Islamic Summit Conference held in Morocco in September 1969.
It was known as the Organisation of Islamic Conference until 2011.
India & OIC
India comprises of the world's second largest Muslim community.
India is not a member of the OIC.
9. RENEWABLE PURCHASE OBLIGATIONS (RPOs)
TOPIC: Environment
Context- Row between Centre and Telangana govt over renewable energy procurement.
Telangana has been particularly vocal about the "increasing burden" forced upon states by the Centre on account of the clean energy cess imposed on coal and the RPOs (Renewable Purchase Obligation).
Concept-
Renewable Purchase Obligation:
Under RPO, power distribution companies purchase a certain percentage of their requirements from renewable energy sources.
Renewable purchase obligations set targets for states for both solar and non-solar energy procurement as part of their RPO.
Under Renewable Purchase Obligation (RPO) bulk purchasers like discoms, open access consumers and capacitive users are required to buy a certain proportion of RECs(Renewable Energy Certificates). They can buy RECs from renewable energy producers.

Renewable Energy Certificates (RECs) is a market-based instrument to promote renewable sources of energy and development of the market in electricity.
One REC is created when one megawatt hour of electricity is generated from an eligible renewable energy source.

RPO was instituted in 2011, it is a mandate that requires large power procurers to buy a predetermined fraction of their electricity from renewable sources.
The proportion of renewable energy for utilities is fixed by the central and state electricity regulatory commissions.
In India, RECs are traded on two power exchanges — Indian Energy Exchange (IEX) and Power Exchange of India (PXIL).
The price of RECs is determined by market demand, and contained between the 'floor price' (minimum price) and 'forbearance price' (maximum price) specified by the Central Electricity Regulatory Commission (CERC).
10. BUILDINGS SAFETY STANDARDS
TOPIC: Economy
Context- Two people were killed and several others injured on February 10 when a portion of a flat collapsed at Chintels Paradiso housing complex in Gurgaon's Sector 109. The incident has raised apprehensions regarding safety standards of multi-story residential buildings.
Concept-
How to know if a house is safe or not?
Every state has building bylaws that have to be followed during the time of construction and it is the role of the authorities to ensure that.
These bylaws cover aspects like ground coverage, floor area ratio, material used as per the soil requirement, tensile strength, beam and column strength, height restrictions as per the seismic zone.
National Building Code of India (Fire and Life safety):
It is a comprehensive building code for regulating the building construction activities across the country.
It serves as a Model Code for adoption by all agencies involved in building construction works, be they Public Works Departments, other government construction departments, local bodies or private construction agencies.
National Building Code of India covers the detailed guidelines for construction, maintenance and fire safety of the structures.
National Building Code of India is published by Bureau of Indian Standards and it is recommendatory document.
Guidelines were issued to the States to incorporate the recommendations of National Building Code into their local building bylaws making the recommendations of National Building Code of India as mandatory requirement.
TOPIC: Economy
Context- Banks interest rates are based on repo & reverse repo rates.
Concept-
Repo Rate: The interest rate that the RBI charges when commercial banks borrow money from it is called the repo rate.
Reverse Repo: The interest rate that the RBI pays commercial banks when they park their excess cash with the central bank is called the reverse repo rate.
Since RBI is also a bank and has to earn more than it pays, the repo rate is higher than the reverse repo rate.
At present, the repo rate is 4%, and the reverse repo rate is 3.35%.
It is a key deciding factor for the interest rates that commercial banks themselves pay (or get) when they borrow (or deposit) money from (or in) the Reserve Bank of India.