Daily Prelims Notes 18 January 2022
January 18, 2022

Posted by:

admin1

Category:

DPN

Daily Prelims Notes
18 January 2022
Table Of Contents
1. Livestock Health and Disease Control (LH&DC) programme
Subject – Government Schemes
Context – With most of India's livestock in rural and remote areas, a game changer now will be the use of mobile veterinary units
Concept –
For promotion of health of livestock and animals, the Department of Animal Husbandry & Dairying implements a Centrally Sponsored Scheme "Livestock Health & Disease Control" (LH&DC), which envisages control & containment of economically important animal diseases by providing central financial assistance to the States.
Under this scheme, vaccination is carried out for control of diseases like Foot and Mouth Disease (FMD), Peste des Petits Ruminants (PPR), Brucellosis, Anthrax, Hemorrhagic Septicemia (HS), Black Quarter (BQ), Classical Swine Fever, Ranikhet disease, etc.
This scheme also provides for establishment & strengthening of veterinary hospitals and dispensaries for veterinary services.
Training of veterinarians and para-veterinarians is conducted for latest techniques, technology and advancement in treatments.
The 'Livestock Health & Disease Control' scheme comprises of the following components –
Foot and Mouth Disease Control Programme (FMD-CP)
Foot and mouth disease is an infectious (viral) disease that affects cloven hoofed animals, including domestic and wild bovids and results in reduced milk production.
Symptoms include fever, blisters inside the mouth and on the feet that may rupture and cause lameness, excessive salivation (smacking jaw movements in cattle), neo-natal mortality, etc.
To prevent economic losses due to this disease, the programme is implemented nationally, where central financial assistance is provided for biennial (six monthly) vaccination and surveillance.
Peste des Petits Ruminants Control Programme (PPR-CP)
Peste des Petits Ruminants (PPR) or sheep /goat plague is a viral disease characterized by high fever, inflammation of the gastro-intestinal tract leading to necrosis and ulceration of the mucous membrane and diarrhoea.
PPR infection causes losses in the rural economy, both in terms of morbidity and mortality.
The programme is presently implemented throughout the country by vaccinating all susceptible sheep & goats for which central financial assistance is provided for vaccination and surveillance.
Brucellosis Control Programme (Brucellosis-CP)
Brucellosis, an economically important zoonotic disease has become endemic in most parts of the country. It causes early abortions in animals.
This component was implemented since 2010 and central assistance is provided for mass vaccination of all eligible female calves between ages 6-8 months in the areas where incidence of the disease is high.
Classical Swine Fever Control Programme (CSF-CP)
Classical swine fever is highly contagious and potentially a fatal viral disease that affects pigs.
This disease is a major constraint to the development of pig farming in the North East part of the country where pig farming is a major source of livelihood for most households.
In order to control the CSF disease in pigs, central assistance is provided for vaccination against Classical Swine Fever under the component – 'Classical Swine Fever Control Programme' (CSF-CP).
Assistance to States for Control of Animal Diseases (ASCAD)
Under this component, assistance is provided to State/Union Territory Governments for control of economically important and zoonotic diseases of livestock and poultry by immunization, strengthening of the existing State Veterinary Biological Production Unitsand ofthe existing Disease Diagnostic Laboratories as well asfor providing in-service training to veterinarians and para-veterinarians.
Funds are provided also for vaccination against canine rabies and for control of endo-parasites in cattle and buffaloes.
National Project on Rinderpest Surveillance and Monitoring (NPRSM)
Under this component, assistance is given to strengthen surveillance to maintain the country's freedom from Rinderpest & Contagious Bovine Pleuro-Pneumonia (CBPP) infections, secured in May 2006 and May 2007, respectively.
National Animal Disease Reporting System (NADRS)
NADRS is an on-line system of animal disease reporting linking each Block, District and State Headquarters to the Central Disease Reporting and Monitoring Unit in New Delhi.
Establishment &Strengthening of Existing Veterinary Hospitals and Dispensaries (ESVHD)
In order to help States establish new veterinary hospitals and dispensaries as well as strengthen/equip the existing ones as well as run mobile veterinary ambulances, the Department provides financial assistance under this component.
Professional Efficiency Development (PED)
Under this component, assistance is given to the State Veterinary Councils and the Veterinary Council of India (VCI) to carry out their statutory functions under the Indian Veterinary Council Act, 1984 as well as to carry out Continuous Veterinary Education (CVE) for in-service veterinarians.
To know about One-Health, please refer October 2021 DPN.
"Priority Pathogens"
The World Health Organization (WHO) has listed antibiotic-resistant "priority pathogens" — a catalogue of 12 species/families of bacteria that pose the greatest threat to human health.
Priority 1: CRITICAL
Acinetobacterbaumannii, carbapenem-resistant
Pseudomonas aeruginosa, carbapenem-resistant
Enterobacteriaceae, carbapenem-resistant, ESBL-producing
Priority 2: HIGH
Enterococcus faecium, vancomycin-resistant
Staphylococcus aureus, methicillin-resistant, vancomycin-intermediate and resistant
Helicobacter pylori, clarithromycin-resistant
Campylobacter spp., fluoroquinolone-resistant
Salmonellae, fluoroquinolone-resistant
Neisseria gonorrhoeae, cephalosporin-resistant, fluoroquinolone-resistant
Priority 3: MEDIUM
Streptococcus pneumoniae, penicillin-non-susceptible
Haemophilus influenzae, ampicillin-resistant
Shigella spp., fluoroquinolone-resistant
Subject – Personalities in News
Context – EC reschedules Punjab poll to enable devotees participate in Guru RavidasJayanti at Varanasi
Concept –
Guru Ravidas was an Indian mystic poet-sant of the Bhakti movement and founder of Ravidassia religion during the 15th to 16th century CE.
Venerated as a guru (teacher) in the region of Uttar Pradesh, Rajasthan, Gujarat, Maharashtra, Madhya Pradesh and mainly Punjab and Haryana.
Guru Ravidas was a 14th century saint and reformer of the Bhakti movement in North India.
He was a poet-saint, social reformer and a spiritual figure.
The life details of Guru Ravidas are uncertain and contested. Scholars believe he was born in 1450 CE.
Ravidas's devotional Verses were included in the Sikh scriptures known as Guru Granth Sahib.
The Panch Vani text of the Dadupanthi tradition within Hinduism also includes numerous poems of Guru Ravidas.
He taught removal of social divisions of caste and gender, and promoted unity in the pursuit of personal spiritual freedom.
He is believed to be a disciple of the bhakti saint-poet Ramananda and a contemporary of the bhakti saint-poet Kabir.
One of his famous disciples was the saint, Mirabai.
Among Ravidas's moral and intellectual achievements were the conception of "Begampura", a city that knows no sorrow; and a society where caste and class have ceased to matter.
Literary works
The AdiGranth of Sikhs, and Panchvani of the Hindu warrior-ascetic group Dadupanthis are the two oldest attested sources of the literary works of Guru Ravidas.
Guru RavidasJayanti
RavidasJayanti is celebrated on Magh Purnima, the full moon day in the month of Magh according to the Hindu lunar calendar.
It is believed that he was born in Varanasi in a cobbler's family.
Subject – Art and Culture
Context – Centre cites Covid-19 risk, tells SC can't let plea to allow Parsi last rites
Concept –
Parsi rituals prohibit the cremation or burial of dead bodies, and instead, they allow the corpses to decay naturally.
A dakhma, also known as a Tower of Silence, is a circular, raised structure built by Zoroastrians for excarnation–that is, the exposure of human dead bodies to the elements for decay in order to avert contamination of the soil with the corpses.
Carrion birds, usually vultures and other sc avengers, would typically consume the flesh and the skeletal remains would have been left in the pit.
Zoroastrian exposure of the dead is first attested in the mid-5th century BCE Histories of Herodotus, but the use of towers is first documented in the early 9th century CE.
The doctrinal rationale for exposure is to avoid contact with Earth, Water, or Fire, all three of which are considered sacred in the Zoroastrian religion.
Parsis, who came to India from Persia (Iran) a thousand years ago with their Zoroastrian faith, have gone to great lengths to maintain their unique funeral rituals.
Why letting bodies decay is risky?
According to scientific evidence, the virus can survive on a dead body, in bodily fluids, secretions and moist cells of the body for up to nine days, according to the affidavit filed by the Centre in the apex court.
World Health Organization has noted that if a person died of Covid-19 while he or she was infectious, the lungs and other organs may still contain live virus even after death and recommended only cremation or burial for the disposal of such dead bodies.
OIE (World Organization for Animal Health) has observed that the people who are suspected or confirmed to be infected with the virus should minimise close direct contact with animals, including wildlife.
Subject – Environment
Context – Forest report's conclusion of increase in cover should not lead to complacency. Loss of natural forests is worrying
Concept –
At present, in India, there is no clear nationally-accepted definition of 'forest'.
States are responsible for determining their definition of forests.
The prerogative of the states to define forests stems from a 1996 Supreme Court order called the T.N. Godavarman Thirumulkpad vs the Union of India judgment.

SC had opined that all-encompassing definition of forest wasn't possible for India because the country has 16 different kinds of forest and a tract of grassland in one State might qualify in one region as forest but not in another.
In the judgement, the Supreme Court interpreted that the word "forest" must be understood according to its "dictionary meaning".
This description covers all statutorily recognised forests, whether designated as reserved, protected or otherwise.

The Forest Advisory Committee (FAC) now has clarified that the States need not take the Centre's approval to define what constitutes unclassified land as forest.
India's forests are currently governed by the National Forest Policy, 1988 which has environmental balance and livelihood at its centre.
FAO's definition of Forest
In 2017, the Food and Agricultural Organisation (FAO) slotted all plantations, other than oil palm trees, in its definition of forests.
Plantations are typically composed of even-aged trees of the same species. Such monocultures do have economic value and limited utility as carbon sinks.

But they cannot be compared to natural forests in harbouring biodiversity or aiding pollination or as sources of water bodies.
5. Tonga Volcanic Eruption and Global Climate
Subject – Environment
Context – underwater volcanic eruption occurred in Tonga in the southern Pacific Ocean January 15, 2022.
Concept –
Volcanic eruption occurred in Tonga in the southern Pacific Ocean January 15, 2022, affect global climate.The explosion spewed plumes of gases, steam and ash into the stratosphere.
The gases included sulphur dioxide (SO2), which is of particular interest because of its global cooling effect.
Extreme levels of SO2 have not been recorded in the stratosphere going by the early data. The Tonga volcanic cloud contains roughly 0.4 teragram (Tg) of SO2.
1991 Mount Pinatubo explosion in the Philippines –
According to studies, Pinatubo spewed about 15 million tonnes of sulphur dioxide into the stratosphere. The total mass of SO2 in the volcanic cloud was 20 Tg.
Researchers recorded a 0.5 degrees Celsius (°C) drop in the average global temperature over large parts of the earth between 1992 and 1993.
Mount Pinatubo recorded the largest SO2 cloud since 1978. It took about three weeks to spread around the world.
The Tonga event follows the Intergovernmental Panel on Climate Change report of 2021, which had suggested that an explosive volcanic eruption could occur in the 21st century.
This eruption could lower surface temperature and precipitation globally, especially over land, for one to three years. "If such an eruption occurs, it would therefore temporarily and partially mask human-caused climate change," the report had added.
SO2 reacts with water to form sulphuric acid droplets, which become a part of aerosol particles. Aerosols are tiny liquid droplets suspended in the air.
The aerosols block sunlight from reaching the Earth's surface, causing cooling. Sulfurous aerosols, along with chlorine, contribute to the destruction of stratospheric ozone, though most of this depletion comes from man-made chemical
The sulphuric acid-rich aerosol particles induce cooling by reflecting the incoming sunlight into space.
The particles from Mount Pinatubo remained in the stratosphere for three-four years after the explosion, according to a study.
Pacific ring of fire
According to the US Geological Survey there are some 1,350 potentially active volcanoes around the world.
Many are located along a 40,000km (25,000-mile) arc along the Pacific known as the "Ring of Fire", which is also where about 90 percent of all earthquakes occur.
Tonga is home to several volcanoes, all along the Ring of Fire.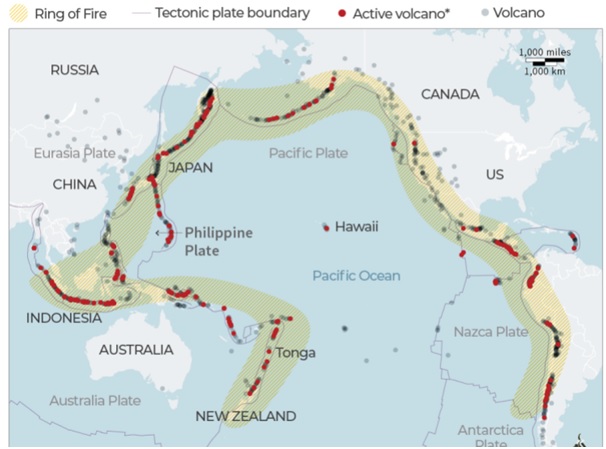 6. Save Silent Valley Campaign
Subject – Environment
Context – MK Prasad, who brought environmental consciousness in India, is no more
Concept –
Save Silent Valley was a social movement aimed at the protection of Silent Valley, an evergreen sub-tropical forest in the Palakkad district of Kerala, India.
It was started in 1973 by an NGO led by Kerala Sasthra Sahithya Parishad (KSSP) to save the Silent Valley from being flooded by a [hydroelectric] project.
The valley was declared as Silent Valley National Park in 1985.
The Kuntipuzha is a major river that flows 15 hydroelectric dams across the Kunthipuzha River that runs through Silent Valley.
Because of concern about the endangered lion-tailed macaque, the issue was brought to public attention.
About Silent Valley National Park
Silent Valley National Park is a national park in Kerala, India. It is located in the Nilgiri hills.
It is located in the rich biodiversity of Nilgiri Biosphere Reserve.

Contiguous with the proposed Karimpuzha National Park to the north and Mukurthi National Park to the north-east, it is the core of the Nilgiri Biosphere Reserve.

Karimpuzha Wildlife Sanctuary, New Amarambalam Reserved Forest, and Nedumkayam Rainforest in Nilambur Taluk of Malappuram district, Attappadi Reserved Forest in Mannarkkad Taluk of Palakkad district, and Mukurthi National Park of Nilgiris district, are located around Silent Valley National Park.
Mukurthi peak, the fifth-highest peak in South India, and Anginda peak are also located in its vicinity.
Bhavani River, a tributary of Kaveri River, and Kunthipuzha River, a tributary of Bharathappuzha river, originate in the vicinity of Silent Valley. The Kadalundi River has also its origin in Silent Valley.
The national park is one of the last undisturbed tracts of South Western Ghats Mountain rain forests and tropical moist evergreen forest in India.
CLIMATE – The climate is tropical with summer rains constituting the bulk of the precipitation.
TOPOGRAPHY – The terrain is generally undulating with steep escarpments and many hillocks.
VEGETATION – Silent Valley Reserve Forest can be classified under four forest types viz.,

West-coast tropical evergreen forest (600 to 1100 m),
Southern subtropical broad leaved hill forest (1300 to 1800 m),
Southern montane wet temperate forest (above 1900 m) and
Grassland.

FAUNA –

The most famous resident of the Park is Lion Tailed Macaque whose name has become almost synonymous with that of the Valley.
Subject – IR
Context – Two Indians, a Pakistani killed in UAE tanker blasts
Concept –
Red Sea is a seawater inlet of the Indian Ocean, lying between Africa and Asia.
Its connection to the ocean is in the south, through the Bab el Mandeb strait and the Gulf of Aden.
To its north lie the Sinai Peninsula, the Gulf of Aqaba, and the Gulf of Suez (leading to the Suez Canal).
It is underlain by the Red Sea Rift, which is part of the Great Rift Valley.
It is the world's northernmost tropical sea, and has been designated a Global 200 ecoregion.
The elongated and narrow-shaped basin extends between the Mediterranean Sea, to the north-west, and the Indian Ocean, to the south-east.
It is surrounded by desert or semi-desert areas, with no major freshwater inflow.
The Red sea acquired its present shape over the past 4 to 5 million years, by slow seafloor spreading, a fact that makes it a geologically recent opening and one of the youngest oceanic zones on Earth.
Subject – Defence and Security
Context – NIA gathering details of 2 Indians who were killed in Abu Dhabi attack
Concept –
To know about NIA and NIA (Amendment) ACT, 2019, please refer September 2021 DPN.
9. World Economic Forum's Davos Agenda 2022 Summit
Subject – IR
Context – Prime Minister Narendra Modi on Monday pitched India as a country that is supporting the world in dealing with the COVID pandemic
Concept –
The WEF annual meeting in Davos (Switzerland) engages the world's top leaders to shape global, regional and industry agendas.
The three main areas of concern at the summit are Climate Action, Pandemic Recovery, and Economic and Social Resilience.
To know about World Economic Forum, please refer December 2021 DPN.
10. Republic Day Tableaux Selection
Subject – Art and Culture
Context – T.N., West Bengal, Kerala kick up political storm over rejection of their proposals for R­Day parade
Concept –
When does the process to decide the tableaux start and who can participate?
Around September every year the Defence Ministry, which is responsible for the Republic Day parade and the celebrations, invites all the states, the Union Territories, Central Government departments, and a few constitutional authorities to participate in the parade through tableaux.
Shortlisting of the proposals begin in the second week of October.
Can the participating states or central government departments depict anything through their tableaux?
The participants have to showcase elements relevant to their state/ UT/ department, within the overarching theme. The theme given to participants this year was around 75 years of India's Independence. The theme, the government told willing participants is India@75 – Freedom struggle, Ideas @ 75, Achievements @ 75, Actions @ 75 and Resolve @ 75.
The Defence Ministry also shares the basic guidelines about what all the tableaux can or should include.
The participating entities must engage "young qualified designers from renowned institutions", electronic display walls for bright display of images or content, moving elements using robotics or mechatronics, 3D printing could be used for certain elements, use of augmented or virtual reality, and special effects to improve the optics and visual effects of the tableau.
The tableaux of two different states/ UTs cannot be too similar, as the tableaux, together, should showcase the diversity of the country.
The tableaux cannot have any writing or use of logos, except for the name of the state/ UT/ department, which should be written in Hindi on the front, English on the back, and a regional language on the sides.
The Defence Ministry also asked the participants to use eco-friendly material for the tableaux, and avoid the use of plastic or plastic-based products.
How are the tableaux selected?
The selection process is elaborate and time-consuming. The Defence Ministry constitutes an expert committee of distinguished persons from fields like art, culture, painting, sculpture, music, architecture, choreography, etc, who help in shortlisting the tableaux from the proposals.
First, the submitted sketches or designs of the proposals are scrutinised by this committee, which can make suggestions for any modifications in the sketch or design. The sketch should be simple, colouful, easy to comprehend and should avoid unnecessary detail. It should be self-explanatory, and should not need any written elaboration.
If there is a traditional dance involved with the tableau, it should be a folk dance, and the costumes and musical instruments should be traditional and authentic. The proposal should include a video clipping of the dance.
Once approved, the next stage is for the participants to come up with three dimensional models for their proposals, which are again examined by the expert committee for final selection, taking in view several criteria.
In making the final selection the committee looks at a combination of factors, looking at the visual appeal, impact on the masses, idea/ theme of the tableaux, degree of detail involved, accompanying music, among other factors.
The committee meets for around half a dozen rounds over a number of days, eliminating and shortlisting the proposals as they go along. Only those who are shortlisted are informed about the next round.
The Defence Ministry recommends the participants to try and not engage any firm or fabricator that are involved in creation of two tableaux, including their own.
Do they have to be of a particular size?
The Defence Ministry provides each participant with one tractor and one trailer, and the tableau should fit on that. The ministry prohibits use of any additional tractor or trailer, or even any other vehicle to be part of it. However, the participant can replace their ministry-provided tractor or trailer with other vehicles, but the total number should not be more than two vehicles.
The tractor has to be camouflaged in harmony with the tableau's theme, and the ministry stipulates a distance of around six feet between the tractor and the trailer for turning and manoeuvering.
The participants can add ground elements on some tableaux, considering the theme.
The dimensions of the trailer on which the tableau will be placed is 24 feet, 8 inches long; eight feet wide; four feet two inches high; with a load bearing capacity of 10 tonnes. The tableaux should not be more than 45 feet long, 14 feet wide and 16 feet high from the ground.