Daily Prelims Notes 19 August 2021
August 19, 2021

Posted by:

admin1

Category:

DPN

Daily Prelims Notes
19 August 2021
Table Of Contents
Subject – Security
Context – In interim measure, SC allows women to take NDA exam
Concept –
The National Defence Academy (NDA) is the joint defence service training institute of the Indian Armed Forces, where cadets of the three services i.e. the Indian Army, the Indian Navy and the Indian Air Force train together before they go on to respective service academy for further pre-commission training.
The NDA is located in Khadakwasla, Pune, Maharashtra.
It is the first tri-service academy in the world.
The motto has been inspired and extracted from the Bhagavat Gita –

Karmanevadhikaraste ma phaleshukadachina (Your duty is action with no eye on the fruits it will bring)

In the fifties it was decided to do away with an English motto and have a corresponding Sanskrit version, keeping in line with the Indian culture. Thus, 'Service Before Self' was translated into 'SevaParmoDharm'.
All the cadets joining the NDA after their 10+2 Examination are trained in the Academy for three years culminating in graduation with BA(or)BSc or BCs (Computer Science) degree of Jawaharlal Nehru University.
Apart from academic training they are also trained in outdoor skills, like Drill, PT and games; apart from one of the foreign languages up to the lower B1 level (according to the international standards).
Subject – Governance
Context – Taliban's return to power in Afghanistan will see the re-imposition of Sharia law, which will restrict women's rights.
Concept –
Sharia in Arabic means "the way," and does not refer to a body of law. It's a set of wide-ranging moral and broad ethical principles drawn from the Koran and the practices and sayings (hadith) of Prophet Muhammad.
It also draws from Ijma'a, the consensus of Muslim scholars, and Qiyas, reasoning through analogy.
Sharia acts as a code for living that all Muslims should adhere to, including prayers, fasting and donations to the poor. It aims to help Muslims understand how they should lead every aspect of their lives according to God's wishes.
Sharia is not a book of statutes or judicial precedent imposed by a government, and it's not a set of regulations adjudicated in court.
Sharia has been applied in varying degrees and with great diversity in practice — both by individual Muslims and predominantly Muslim countries. Countries like Saudi Arabia, Qatar and Iran follow it much more closely.
What are crimes under Sharia?
Crimes fall into three categories under Sharia law:
Tazir offences are the least serious and are at the discretion of a judge.
Qisas crimes result in the offender being subjected to the exact same affliction as the victim.
Hudud are the most severe offences that are considered crimes against God.
Subject – Environment
Context – New plant found in Tumakuru takes the district's name.
Concept –
A new plant of the Brachystelma R.Br. species has been found in Tumakuru, and has been named after the district from where its type material was collected. 'B. tumakurense' comes from a tuber and belongs to the Apocynaceae family (a family of flowering plants).
Brachystelma R.Br. is the second largest genus in the tribe Ceropegieae with over 116 species distributed in the old­ world tropics. They are slender stemmed with a brilliant display of colours in their flowers, especially in their corolla and coronal structures.
They are mainly distributed in Peninsular India in dry hill ranges. There are seven species from Karnataka. All of them exhibit erect stems and are non­climbing in nature.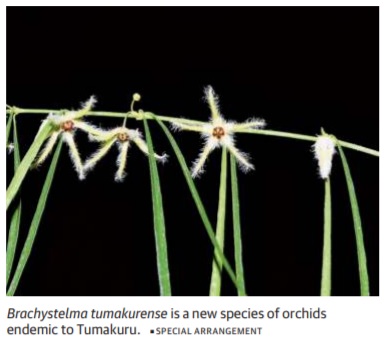 4. Peechi-Vazhani Wildlife Sanctuary
Subject – Environment
Context – A moderate earthquake of 3.3 magnitudes on the Richter scale was reported in the Peechi-­Vazhani Wildlife Sanctuary areas of Thrissur district.
Concept –
Headquartered in Peechi, Thrissur District of Kerala, India.
The sanctuary was established in 1958 consisting of Palappilli- Nelliyampathi forests including the area of Chimmony Wildlife sanctuary and is the second oldest sanctuary in Kerala.
Kuthiran Tunnel, first road tunnel in Kerala, runs through the Peechi-Vazhani wildlife sanctuary.
5. National Human Rights Commission (NHRC)
Subject – Polity
Context – NHRC flags delay in criminal justice reform process
Concept –
It is a statutory body established on 12th October, 1993 under the Protection of Human Rights Act (PHRA), 1993.
The Act also provides for the creation of the State Human Rights Commission as well.
The chairperson is a retired chief justice of India or a judge of the Supreme Court.
They are appointed by the President on the recommendations of a six-member committee consisting of:

Prime Minister (head)
Speaker of the Lok Sabha
Deputy Chairman of the Rajya Sabha
Leaders of the Opposition in both the Houses of Parliament
Union Home Minister.

They hold office for a term of three years or until they attain the age of 70 years, whichever is earlier.
The President can remove them from the office under specific circumstances.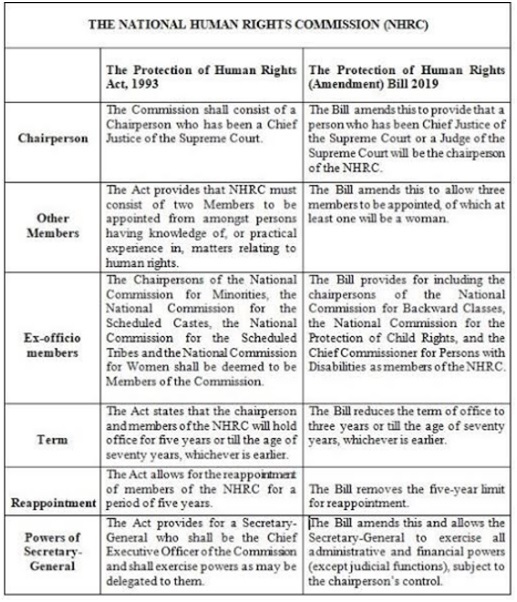 Subject – Governance
Concept –
Thetribe Tiwas (Lalungs) lives both in the hills and plains of Assam and Meghalaya state. Tiwa means people who were lifted from below.
They are recognized as a Scheduled tribe within the State of Assam.
Wanchuwa festival is celebrated by Tiwa tribe to mark their good harvest.
The hill Tiwa villagers are habitual to the Jhum cultivation, horticulture, vegetables and the crops which are cultivable in the area.
They speak a Tibeto Burman language.
Subject – IR
Context – Tech to help protect UN peacekeepers: Jaishankar.
Concept –
External Affairs Minister, S. Jaishankar announced the rollout of a technological platform in partnership with the UN — 'UNITE Aware' — to help enhance the safety of UN peacekeepers.
The launch of the UNITE AWARE platform came as India assumed the Presidency of the 15-nation UN Security Council for the month of August.
This project aims to demonstrate the impact of modern surveillance technology on the detection of asymmetric threats.
Situational Awareness Software Programme: It utilises modern surveillance technology for real time threat assessments to peacekeepers in maintaining security.
India has developed the technology platform in partnership with the UN Department of Peacekeeping Operations and the Department of Operational Support.
Deployment: The platform will be deployed initially in four UN Peacekeeping Missions: MINUSMA (Mali), UNMISS (South Sudan), UNFICYP (Cyprus) and AMISOM (Somalia).
India's Contribution: India has contributed USD 1.64 million for this project.
UN Peacekeeping:
Joint Effort: It is a joint effort between the Department of Peace Operations and the Department of Operational Support.
It deploys troops and police from around the world, integrating them with civilian peacekeepers to address a range of mandates set by the UN Security Council (UNSC)and the General Assembly.
Every peacekeeping mission is authorized by the Security Council.
Financial Contribution: The financial resources of UN Peacekeeping operations are the collective responsibility of UN Member States.
According to the UN Charter, every Member State is legally obligated to pay their respective share for peacekeeping.
India's Contribution – India is a major contributing nation to UN peacekeeping activities.

Currently, there are 5506 troops and police from India who have been deployed to nine different UN peacekeeping missions, the second highest amongst troop-contributing countries.
India has a long tradition of sending women on UN peacekeeping missions.
In 2007, India became the first country to deploy an all-women contingent to a UN peacekeeping mission.

The top 5 providers of assessed contributions to United Nations Peacekeeping operations for 2020-2021 are:
United States (27.89%).
China (15.21%).
Japan (8.56%).
Germany (6.09%).
United Kingdom (5.79%).
8. National Edible Oil Mission – Oil Palm (NMEO-OP)
Subject – Environment
Context – Centre to boost oil palm farming.
Concept –
Current situation
India's import bill of edible oils will top ₹1.20-lakh crore this year from ₹75,000 crore last year. According to SEA, the country has 3 lakh hectares of land under oil palm cultivation, producing around 2.80 lakh tonnes of crude palm oil (CPO) a year.
There is a potential to bring 1.9 million hectares of land. It had urged the government to target additional 5 lakh hectares in the next five years
India currently depends on imports for nearly two thirds of edible oil used in the country. "Palm oil accounts for nearly 55 per cent of edible oil imported by India.
National Edible Oil Mission – Oil Palm (NMEO-OP)
This is a giant step for oil palm development in the country and towards 'Atmanirbhar Bharat' in edible oil
Prime Minister Narendra Modi launched a ₹11,000 crore National Edible Oil Mission-Oil Palm (NMEO-OP) to make India self-reliant in edible oils
The NMEO proposal would aim to reduce import dependence from 60% to 45% by 2024-25, by increasing domestic edible oil production from 10.5 million tonnes to 18 million tonnes, a 70% growth target.
It projected a 55% growth in oilseed production, to 47.8 million tonnes.
Oil palm is a long-gestation crop.
Oil palm produces 10 to 46 times more oil per hectare compared to other oilseed crops,
The government will ensure that farmers get all needed facilities, from quality seeds to technology. Along with promoting the cultivation of oil palm, this mission will also expand the cultivation of our other traditional oilseed crops
The NMEO-OP's predecessor was the National Mission on Oil Seeds and Oil Palm, which was launched at the end of the UPA government's tenure and later merged with the National Food Security Mission.
Laying out its achievements, oilseed production had grown 35% from 27.5 million tonnes in 2014-15 to 37.3 million tonnes by 2020-21. Although oilseed acreage rose only 8.6% over that six year period, yields rose more than 20%.
This is the first time the Centre will give oil palm farmers a price assurance, with industry mandated to pay the viability gap funding of 14.3% of crude palm oil prices.
In a bid to encourage oil palm cultivation in north – eastern India and in the Andaman and Nicobar islands, the Centre will bear an additional cost of 2% of the crude palm oil prices in these States.
The scheme has a sunset clause, ending November 1, 2037.
Oil Seed
India is one of the major oilseeds grower and importer of edible oils. India's vegetable oil economy is world's fourth largest after USA, China & Brazil.
The oilseed accounts for 13% of the Gross Cropped Area, 3% of the Gross National Product and 10% value of all agricultural commodities (Less than four lakh hectares are currently planted with oil palm).
The diverse agro-ecological conditions in the country are favourable for growing 9 annual oilseed crops, which include 7 edible oilseeds (groundnut, rapeseed & mustard, soybean, sunflower, sesame, safflower and niger) and two non-edible oilseeds (castor and linseed).
Oilseeds cultivation is undertaken across the country in about 27 million hectares mainly on marginal lands, of which 72% is confined to rainfed farming.
Main oil-seeds produced in India are groundnut, mustard, coconut, sesamum (til), Soyabean, castor seeds, cotton seeds, linseed and sunflower.
Groundnut is a kharif crop and accounts for about half of the major oilseeds produced in the country.
Major states Gujrat, Madhya Pradesh, Rajasthan, Gujrat, Maharastra, UP
The policy impetus to oilseed production in India came for the first time in 1986 when the government launched Technology Mission on Oilseed. This was a golden period for oilseed production in India when productivity jumped from 670 kg per hectare in the eighties to 835 kg per hectare in the nineties.
To achieve self-sufficiency in edible oils production the government has launched several policy initiatives since the mid-1980s. They mainly include supply of high yielding oilseed cultivars, extension services and subsidised inputs; offering of minimum support prices (MSP); fixation of price band; import controls via canalisation; and promotion of oil palm cultivation.
The outcomes of these initiatives, known as "Yellow Revolution", were highly encouraging. Between 1985 and 1994 the growth rate of area, production and yield of oilseeds increased significantly. As a result, the proportion of imported edible oils in total edible oil availability declined from 26.72 per cent in 1985 to 2.17 per cent in 1993, thereby making India almost self-sufficient in edible oil production
Oilseed crops are the second most important determinant of the agricultural economy, next only to cereals within the segment of field crops.
9. G­-sec Acquisition Programme (G­SAP 2.0)
Subject – Economy
Context – RBI to buy ₹25,000­cr. of bonds Aug. 26.
Concept –
The Reserve Bank of India (RBI) said it will conduct an open market purchase of government securities of ₹25,000 crore on August 26 under the G-sec Acquisition Programme (G-SAP 2.0).
The RBI periodically purchases Government bonds from the market through Open Market Operations (OMOs).
The G-SAP is in a way an OMO.
But there is an upfront commitment by the RBI to the markets that it will purchase bonds worth a specific amount.
The idea is to give a comfort to the bond markets.
In other words, G-SAP is an OMO with a 'distinct character.'
Subject – Environment
Context – India can do more, hints climate official.
Concept –
Climate neutrality is achieved when a country's emissions are balanced by absorptions and removal of greenhouse gases from the atmosphere. It is also expressed as a state of net-zero emissions.
Net zero or carbon neutrality is when more carbon is sucked out from the atmosphere or prevented from being emitted than what a country emits and is critical to ensuring that the planet does not heat up an additional half a degree by 2100.
Bhutan and Suriname are the only carbon neutral countries in the world.
Countries that have announced net-zero Targets (Some Examples):
The European Union has a plan, called "Fit for 55", to deliver the carbon neutrality goal.
China also announced that it would become net-zero by the year 2060 and that it would not allow its emissions to peak beyond what they are in 2030.
The International Energy Agency's (IEA) has released its Net Zero Emissions (NZE) Roadmap – named 'Net Zero by 2050'.
Subject – Agriculture
Context – In his Independence Day speech, Prime Minister Narendra Modi announced the fortification of rice distributed under various government schemes, including the public distribution system (PDS) and midday meals in schools, by 2024.
Concept –
The Food Safety and Standards Authority of India (FSSAI) defines fortification as "deliberately increasing the content of essential micronutrients in a food so as to improve the nutritional quality of food and to provide public health benefit with minimal risk to health".
In other words, rice fortification is a process of adding micronutrients to regular rice. The micronutrients are added keeping in mind dietary requirements.
Various technologies are available for rice fortification, such as coating and dusting. For rice fortification in India, 'extrusion' is considered to be the best technology. This involves the production of fortified rice kernels (FRKs) from a mixture using an extruder machine.
How does the extrusion technology to produce FRK work?
In extrusion technology, dry rice flour is mixed with a premix of micronutrients, and water is added to this mixture. This mixture then goes into a twin-screw extruder with heating zones, which produces kernels similar in shape and size to rice. These kernels are dried, cooled and packaged for use.
FRK has a shelf life of at least 12 months.
Why is rice fortification needed?
India has very high levels of malnutrition among women and children. According to the Food Ministry, every second woman in the country is anaemic and every third child is stunted. India ranks 94 out of 107 countries on the Global Hunger Index (GHI), which puts it in the 'serious hunger' category.
Fortification of food is considered to be one of the most suitable methods to combat malnutrition. Rice is one of India's staple foods, consumed by about two-thirds of the population. Per capita rice consumption in India is 6.8 kg per month. Therefore, fortifying rice with micronutrients is an option to supplement the diet of the poor.
What are the standards for fortification?
Under the Ministry's guidelines, 10 g of FRK must be blended with 1 kg of regular rice.
According to FSSAI norms, 1 kg of fortified rice will contain the following: iron (28 mg-42.5 mg), folic acid (75-125 microgram), and vitamin B-12 (0.75-1.25 microgram). Rice may also be fortified with zinc (10 mg-15 mg), vitamin A (500-750 microgram RE), vitamin B-1 (1 mg-1.5 mg), vitamin B-2 (1.25 mg-1.75 mg), vitamin B-3 (12.5 mg-20 mg) and vitamin B-6 (1.5 mg-2.5 mg) per kg.
Does fortified rice have to be cooked differently?
The cooking of fortified rice does not require any special procedure. The rice needs to be cleaned and washed in the normal way before cooking. After cooking, fortified rice retains the same physical properties and micronutrient levels as it had before cooking.
What will be the cost of fortification?
The Ministry estimates that the cost of producing FRK with three micronutrients — iron, folic acid, and vitamin B-12 — will come to around Rs 0.60 per kg. This cost will be shared by the Centre and the states. The government will pay this cost to rice millers.
Has any other country tried this?
According to the Ministry, seven countries have mandated rice fortification — the United States, Panama, Costa Rica, Nicaragua, Papua New Guinea, Philippines, and the Solomon Islands.
Subject – Governance
Context – In the two years since the ambitious Jal Jeevan Mission was launched by the Modi government, Bihar has performed the best in providing rural tap water connections. The state has gone from being among the bottom five in terms of rural tap water supply (with only 1.84% households having connections), to among the top four (86.96%).
Concept –
Jal Jeevan Mission (JJM) envisages supply of 55 litres of water per person per day to every rural household through Functional Household Tap Connections (FHTC) by
JJM focuses on integrated demand and supply-side management of water at the local level.
Creation of local infrastructure for source sustainability measures as mandatory elements, like rainwater harvesting, groundwater recharge and management of household wastewater for reuse, would be undertaken in convergence with other government programmes/schemes.
The Mission is based on a community approach to water and includes extensive Information, Education and Communication as a key component of the mission.
JJM looks to create a janandolan for water, thereby making it everyone's priority.
Funding Pattern: The fund sharing pattern between the Centre and states is 90:10 for Himalayan and North-Eastern States, 50:50 for other states, and 100% for Union Territories.
Subject – Governance
Context – The Karnataka government has decided to test various health parameters of its over 1.5 crore population of children ahead of an anticipated third wave of Covid-19.
Concept –
A new initiative to test all children for COVID­19 in Karnataka.
With Anganwadis remaining closed, the government has come up with a micro plan including Accredited Social Health Activist (ASHA) workers and Anganwadi teachers, who have collated information on children in each village (ward in rural areas) aged up to 18. The medical officer from the concerned primary health centre along with the Rashtriya Bal SwasthyaKaryakram (RBSK) mobile team will then decide on a date and venue at each village where the health screening activity will take place.
Subject – Agriculture
Context – sugarcane prices static for 4 years in Punjab
Concept –
In India, Sugarcane is grown as a Kharif Crop. It needs hot and humid climate with an average temperature of 21°C to 27°C.
75-150 cm rainfall is favorable for sugar cane cultivation.
Irrigation needed for areas with lesser rainfall.
Sugarcane can grow in any soil which can retain moisture. Ideal soil for sugarcane is deep rich loamy soil. The soil needs to be rich in nitrogen, calcium and phosphorus but neither it should be neither too acidic nor too alkaline.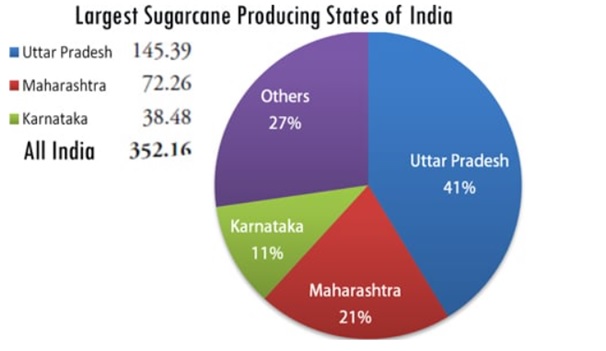 Sugar Industry's Location in India
Sugar industry is broadly distributed over two major areas of production– Uttar Pradesh, Bihar, Haryana and Punjab in the north and Maharashtra, Karnataka, Tamil Nadu and Andhra Pradesh in the south.
South India has tropical climate which is suitable for higher sucrose content giving higher yield per unit area as compared to north India.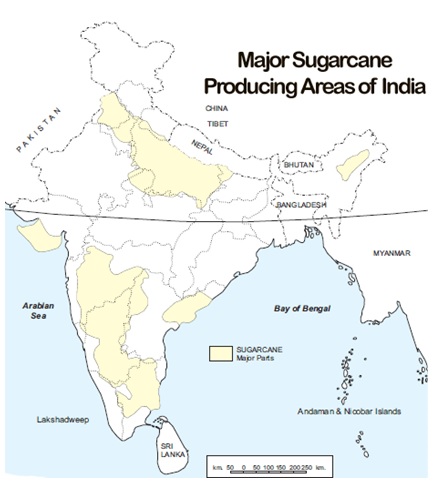 Subject – Science and Tech
Context – Lawrence Livermore National Laboratory in California announced that an experiment carried out in its National Ignition Facility has made a breakthrough in nuclear fusion research.
Concept –
Nuclear Fusion is defined as the combining of two lighter nuclei into a heavier one.
Such nuclear fusion reactions are the source of energy in the Sun and other stars.
It takes considerable energy to force the nuclei to fuse. The conditions needed for this process are extreme millions of degrees of temperature and millions of pascals of pressure.
The hydrogen bomb is based on a thermonuclear fusion However, a nuclear bomb based on the fission of uranium or plutonium is placed at the core of the hydrogen bomb to provide initial energy.
Subject – Governance
Context – After IndiGo, budget carrier SpiceJet will also start trials of IATA's travel pass next week onwards.
Concept –
The travel pass will be a mobile app that will help passengers manage their travel in line with government requirements for Covid-19 tests or vaccines.
The IATA Travel Pass will also enable authorised labs and test centres to securely send test results or vaccination certificates to passengers.
17. Kigali Amendment to the Montreal Protocol
Subject – Environment
Context – Cabinet approves Ratification of Kigali Amendment to the Montreal Protocol on Substances that Deplete the Ozone Layer for phase down of Hydrofluorocarbons.
Concept –
The Kigali agreement is an amendment to the Montreal Protocol. It aims to phase down hydrofluorocarbons (HFCs) by curbing both their production and consumption.
Target: To achieve over 80% reduction in HFC consumption by 2047 which will curb a global increase of temperature by up to 0.5 degrees Celsius by the end of the century.
India: India will complete its phase-down of HFCs in four steps from 2032 onwards with a cumulative reduction of 10% in 2032, 20% in 2037, 30% in 2042 and 80% in 2047.
Hydrofluorocarbons
HFCs are entirely man-made. They are primarily produced for use in refrigeration, air-conditioning, insulating foams and aerosol propellants, with minor uses as solvents and for fire protection.
HFCs were developed to replace stratospheric ozone-depleting substances (ODS) that are currently being phased out under the Montreal Protocol on Substances that Deplete the Ozone Layer.
Though HFCs do not impact the ozone layer, many HFCs are very powerful greenhouse gases and a substantial number are short-lived climate pollutants with a lifetime of between 15 and 29 years in the atmosphere.
Implementation strategy of India to phase out HFCs
National strategy for phase down of Hydrofluorocarbons will be developed after required consultation with all the industry stakeholders by 2023.
Ozone Depleting Substances (Regulation and Control) Rules will be amended to allow appropriate control of the production and consumption of Hydrofluorocarbons to ensure compliance with the Kigali Amendment will be done by mid-2024.
Montreal Protocol
The Montreal Protocol on Substances that Deplete the Ozone Layer, is an international environmental treaty for protection of the Ozone Layer by phasing out the production and consumption of man-made chemicals referred to as ozone depleting substances (ODS). The stratospheric ozone\ layer protects humans and the environment from harmful levels of ultraviolet radiation from the sun.
India became a Party to the Montreal Protocol on Substances that Deplete the Ozone Layer on 19 June 1992 and since then has ratified the amendments to the Montreal Protocol.
Through the present approval of the Cabinet, India will be ratifying the Kigali Amendment to the Montreal Protocol for phase down of Hydrofluorocarbons.
India has successfully met the phase out targets of all the Ozone Depleting Substances as per the Montreal Protocol Schedule.
Subject – Environment
Context – Instability in yield of pollinator-dependent crops a 'serious' or 'high risk' in Latin America, Asia, Africa and Oceania.
Concept –
World's biodiversity faces a risk from a reduction of pollinators — bees, butterflies, birds, bats, etc. It seems that the risk is greater for most of the developing world, including Africa.
This casts a darker shadow on livelihoods: Rural populations in low-income countries are dependent on wild-growing foods. And the loss of pollinators poses risks to wild plants and fruits. 
Around 40 per cent of the invertebrate pollinator species, particularly bees and butterflies, face extinction across the world, according to a report by Food and Agriculture Organization.  
This is especially concerning for Africa and the Asia-Pacific, where pollinated crops are of notable nutritional and economic value to livelihoods and well-being.
These findings are all the more significant because pollinator-dependent food production increased 300 per cent over the past half century, according to the 2016 Assessment Report by Intergovernmental Science-Policy Platform on Biodiversity and Ecosystem Services.
Destruction of habitat, improper land-use such as grazing, fertilisers and crop monoculture of farming, along with high pesticide use have been identified as the leading causes behind the declining pollinators.
Climate change ranks as the fourth cause behind declining pollinators.