Daily Prelims Notes 19 November 2021
November 19, 2021

Posted by:

OptimizeIAS Team

Category:

DPN

Daily Prelims Notes
19 November 2021
Table Of Contents
Subject – Geography
Context – Cairn Oil & Gas has announced that it is partnering US-based Halliburton to start shale exploration in the Lower Barmer Hill formation, Western Rajasthan
Concept –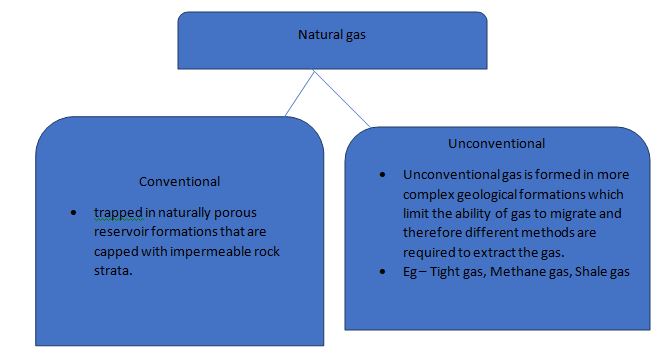 Shale gas and oil is defined as natural gas & oil from shale formations. The shale acts as both the source and the reservoir for these unconventional hydrocarbons. Older shale wells were vertical while more recent wells are primarily horizontal and need artificial stimulation, like hydraulic fracturing, to produce. Only shale formations with certain characteristics will produce gas and oil.
Shales are fine-grained sedimentary rocks that can be rich sources of petroleum and natural gas.
Shale gas is one of a number of unconventional sources of natural gas; others include coalbed methane, tight sandstones, and methane hydrates.
The key difference between shale oil and conventional crude is that the former, also called 'tight oil', is found in smaller batches, and deeper than conventional crude deposits.
Extraction of Shale gas:
Shale gas being an unconventional gas has complex exploration and production challenges than conventional gases.
While conventional gases are found in the porous rock, they can be sponged out easily. Unconventional gases such as shale gas are located under non-porous, low-permeable rocks that do not allow free movement of gases.
Accordingly, the rocks containing unconventional gases need to be fractured through external pressure. In cases of shale gas exploration, a series of wells (sometimes, horizontal as well as vertical) is dug to reach the rock containing shale gas, and through the wells pressurised water, mixed with chemicals, is injected to fracture the rocks. The whole process is known as fracking, and each fracking activity requires around 5 to 9 million gallons of fresh water which is five to 10 times more than processes adopted for exploring conventional gas resources.
Russia and the US are among the largest shale oil producers in the world, with a surge in shale oil production in the US having played a key role in turning the country from an importer of crude to a net exporter in 2019.
Concerns:
Water Intensive: The Directorate General of Hydrocarbons (DGH) states that shale gas extraction requires approximately 5 to 9 million litres of water.
Potential for ground water contamination:
Fracking is a controversial method of extracting shale gas. Chemicals, water, and sand are released at very high pressure into the earth to break rock and uncover gas. It is like a forced earthquake. Environmental campaigners say fracking comes with a huge risk of contaminating water supplies due to the chemicals used in the process. By releasing toxic, radioactive gases and carcinogens, exposing people, land, and water to illness and poison, fracking has caused debilitating health and environmental damage.
Many EU counties like France, Germany and Bulgaria have banned fracking.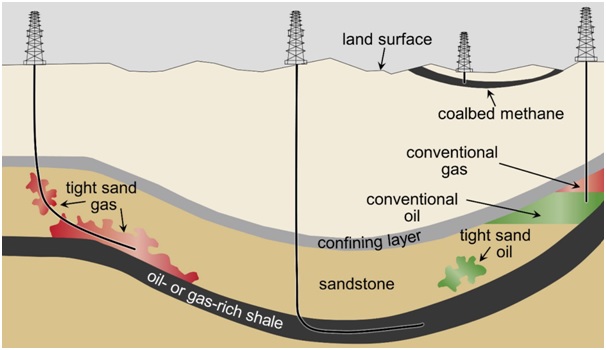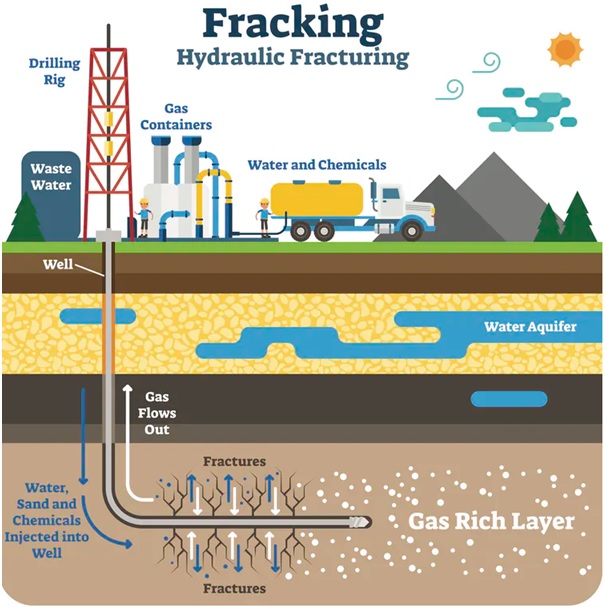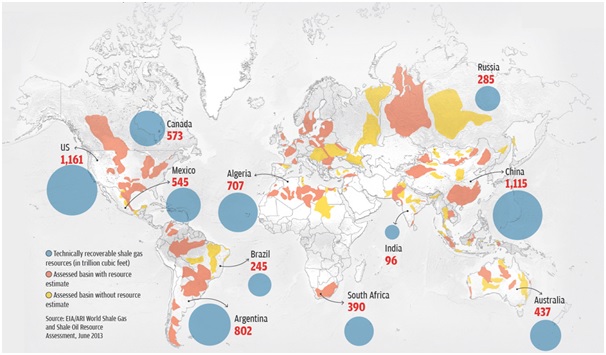 Why the interest in shale gas?
The global energy mix, in the absence of a strong climate policy, is likely to remain highly fossil fuel-dependent. According to the International Energy Agency (IEA), even in 2035 about 75 per cent of the energy demand will be met by fossil fuels. But within the fossil fuels, IEA predicts, the share of coal and oil will reduce and that of gas, which is comparatively cleaner, will increase in the next 20 years under the pressure to curb local pollution and greenhouse gases.
The global demand for gas can increase by 50 per cent by 2035 compared to the 2010 level. The increase in gas demand will make many large countries increasingly import-dependent. China's dependence on imported gas is likely to increase to 40 per cent by 2035; India's to 45 per cent and the European Union's to more than 80 per cent.
Much of the shale resource exists in countries with limited endowments of conventional oil and gas supplies, such as South Africa, Jordan and Chile; or in the countries which are net gas importers and face increasing import dependency, such as the US and China; or in regions where conventional hydrocarbon resources have largely been depleted, such as Europe. The exploitation of shale gas is, therefore, likely to reduce prices and import dependencies of countries for natural gas.
Prospects of shale oil exploration in India
Currently, there is no large-scale commercial production of shale oil and gas in India.
The Government of India has carried out studies through various national and international agencies for the identification of shale oil and gas resources in the country. Based on the data available from conventional oil/gas exploration in the country for the last so many years, the country holds promising reserves of Shale Gas & Oil resources and the following sedimentary basins are considered prospective from Shale oil and gas point of view:
Cambay Basin
Gondwana Basin
KG Basin
Cauvery Basin
Indo-Gangetic Basin
Assam & Assam-Arakan Basin
2. Real Estate (Regulation and Development) Act 2016 (RERA)
Subject – Governance
Context – SC verdict on real estate Act benefits homebuyers
Concept –
The Act seeks to protect home-buyers as well as help boost investments in the real estate sector by bringing efficiency and transparency in the sale/purchase of real estate.
The Act establishes Real Estate Regulatory Authority (RERA) in each state for regulation of the real estate sector and also acts as an adjudicating body for speedy dispute resolution.
Key Provisions of Real Estate Regulation Act
Establishment of state level regulatory authorities– Real Estate Regulatory Authority (RERA): The Act provides for State governments to establish more than one regulatory authority for promotion and regulation of the sector.
Establishment of Real Estate Appellate Tribunal- Decisions of RERAs can be appealed in these tribunals.
Mandatory Registration: All projects with plot size of minimum 500 sq.mt or eight apartments need to be registered with Regulatory Authorities.
Deposits: Depositing 70% of the funds collected from buyers in a separate escrow bank account for construction of that project only.
Liability: Developer's liability to repair structural defects for five years.
Penal interest in case of default: Both promoter and buyer are liable to pay an equal rate of interest in case of any default from either side.
Cap on Advance Payments: A promoter cannot accept more than 10% of the cost of the plot, apartment or building as an advance payment or an application fee from a person without first entering into an agreement for sale.
Defines Carpet Area as net usable floor area of flat. Buyers will be charged for the carpet area and not super built-up area.
Punishment: Imprisonment of up to three years for developers and up to one year in case of agents and buyers for violation of orders of Appellate Tribunals and Regulatory Authorities.
Supreme Court Rulings –
Last week, the Supreme Court affirmed that the provisions of the Real Estate (Regulation and Development) Act, 2016 (RERA) are applicable to projects that were ongoing and for whom completion certificates were not obtained at the time of the enactment of the law, in effect interpreting that the law is retroactive.
The court also held that the amount invested by the allottees, along with interest as quantified by the regulatory authority or the adjudicating officer, can be recovered as arrears of land revenue from the builders.
Aimed at protecting homebuyers, the ruling brings a major relief for the buyers, speeds up the resolution process, and makes it difficult for state governments to dilute the intent of the law.
Under Chapter II of the Act, registration of real estate projects was mandatory. It mandated that for projects that were ongoing on the date of commencement of the Act, specifically projects for which the completion certificate had not been issued, the promoters shall be under obligation to make an application to the authority for registration of the project.

Projects that received their completion certificate prior to enactment of RERA, however, are not covered by the law.
What must builders do for filing an appeal?
The Supreme Court affirmed that it is mandatory for real estate developers to deposit at least 30% of the penalty ordered by the regulator, or the full amount as the case may be, before they challenge any RERA order under Section 43(5).
This is expected to ensure that only genuine appeals are filed and homebuyers' interests are protected.
Subject – Economy
Context – Digital lending: RBI panel pitches for tougher norms, separate law
Concept –
Digital lending is the process of availing credit online.
It consists of lending through web platforms or mobile apps, by taking advantage of technology for authentication and credit assessment.
Its increased popularity amongst new-age lenders can be attributed to expanding smartphone penetration, credit range flexibility, and speedy online transactions.
India's digital lending market has seen a significant rise over the years.
Banks have launched their own independent digital lending platforms to tap in the digital lending market by leveraging existing capabilities in traditional lending.
A working group set up by the Reserve Bank of India (RBI) has proposed stringent norms for digital lenders, including a separate legislation to prevent illegal digital lending activities.

The RBI says lending through digital mode relative to physical mode is still at a nascent stage in the case of banks (Rs 1.12 lakh crore via digital mode against Rs 53.08 lakh crore through the physical mode) whereas for NBFCs, higher proportion of lending (Rs 0.23 lakh crore via digital mode against Rs 1.93 lakh crore through the physical mode) is happening through digital mode.
While banks have been increasingly adopting innovative approaches in digital processes, NBFCs have been at the forefront of partnered digital lending.
Key proposals
Digital lending apps should be subjected to a verification process by a nodal agency to be set up in consultation with stakeholders
The working group proposed the setting up of a Self-Regulatory Organisation (SRO) covering the participants in the digital lending ecosystem
Disbursement of loans should be directly into bank accounts of borrowers.
Maintenance of a 'negative list' of lending service providers by the proposed SRO.
4. Thermal Coal vs Coking coal
Subject – Geography
Context – Thermal, coking coal prices may weaken
Concept –
Coal is a type of sedimentary rock that is combustible. It appears in black or brownish-black colour.
Mostly, coal contains carbon and variable amounts of other chemical elements such as hydrogen, sulfur, oxygen, and nitrogen.
There are different types of coal, such as peat, lignite, sub-bituminous coal, bituminous coal, etc. depending on the composition.
Also, we can categorize coal into different types according to the application; thermal coal and coking coal are two such categories.

The key difference between coking coal and thermal coal is that coking coal is mainly used to produce high quality coke, whereas thermal coke is important in producing electricity.
Coking Coal –
Coking coal is a type of coal that is important in making high-quality coke. It is also called metallurgical coal.
This substance is an essential fuel and is useful as a reactant in the blast furnace process of primary steelmaking. Therefore, the demand for this type of coal is parallel to that of steel.
Coking coal has a low ash content, low moisture content and low sulfur and phosphorous contents.
We can categorize coking coal as a type of bituminous coal depending on the chemical composition.
During the process of coking (production of coke from coking coal), the material tends to swell and its volume increases.

The ability of coking coal to form coke relates to its physical properties such as the rank of coal. In contrast to coking coal, thermal coal cannot produce coke when the material is heated.
Thermal Coal
Thermal coal is a type of coal that is mainly used for the generation of power. This type of coal can produce electricity upon heating.
Thermal coal is also named as steam coal.
However, due to various environmental considerations, the use of thermal coal is limited now.
Subject – Science and Tech
Context – Lithium prices may rise further on supply shortage
Concept –
lithium (Li), chemical element of Group 1 (Ia) in the periodic table, the alkali metal group, lightest of the solid elements.
It is a soft, silvery-white alkali metal.
Under standard conditions, it is the lightest metal and the lightest solid element.
Like all alkali metals, lithium is highly reactive and flammable, and must be stored in vacuum, inert atmosphere or inert liquid such as purified kerosene or mineral oil.
When cut, it exhibits a metallic luster, but moist air corrodes it quickly to a dull silvery gray, then black tarnish.
It never occurs freely in nature, but only in (usually ionic) compounds.
Due to its solubility as an ion, it is present in ocean water and is commonly obtained from brines.
Lithium metal is isolated electrolytically from a mixture of lithium chloride and potassium chloride.
Lithium takes an active part in many reactions with organic and inorganic reactants. It reacts with oxygen to form monoxide and peroxide.
Metallic Lithium reacts extremely vigorously with water.
It has high specific heat which is the calorific capacity.
It has very low density and low viscosity.
Lithium is found only in salts and minerals.
Applications of lithium
Lithium and its compounds have several industrial applications, including heat-resistant glass and ceramics, lithium grease lubricants, flux additives for iron, steel and aluminium production, lithium batteries, and lithium-ion batteries. These uses consume more than three-quarters of lithium production.
Lithium is present in biological systems in trace amounts; its functions are uncertain. Lithium salts have proven to be useful as a mood stabilizer and antidepressant in the treatment of mental illness such as bipolar disorder.
Bromine and lithium chloride together form concentrated brine which absorbs the humidity under high temperature. Brine is used in the manufacturing of air conditioning systems.
Alloys of the metal with manganese, cadmium, copper, and aluminium are used to make aircraft's parts.
To know about Lithium reserves in India, please refer September 2021 DPN.
Lithium triangle
Lithium Triangle is an intersection of Chile, Bolivia and Argentina, known for high quality salt flats.
Salar de Uyuni in Bolivia, Salar de Atacama in Chile and Salar de Arizaro in Argentina contains over 45%of known global lithium reserves.
Beneath Salar de Uyuni, the world's largest salt flat lies the world's greatest lithium deposits.
Bolivia, one of South America's poorest countries, envisions development by harvesting lithium on an industrial scale from underground saltwater brines.
It can be mined from rock or processed from brine.
Lithium dissolved in underground saline aquifers called "brine", pumped to surface by wells and then allowed to evaporate in vast knee-deep ponds.
Subject – Economy
Context – Renewable wood-based products can help combat climate change: FAO
Concept –
Biobased economy, bioeconomy or biotechonomy refers to economic activity involving the use of biotechnology and biomass in the production of goods, services, or energy.
The terms bioeconomy (BE) and bio-based economy (BBE) are sometimes used interchangeably. However, it is worth to distinguish them:

The biobased economy takes into consideration the production of non-food goods.
Bioeconomy covers both bio-based economy and the production and use of food and feed.

The term 'bioeconomy' refer to as the production of renewable biological resources and the conservation of these resources and waste streams into value added products, such as food, feed, bio-based products and bioenergy.
It also exploits the untapped potential stored within millions of tons of biological waste and residual materials.
The transition from a fossil fuel-based to a biobased economy is expected to reduce our dependence on fossil fuels and achieve more sustainability as well as contribute to climate and environmental protection.
The bioeconomy involves breaking up plants into their component parts as completely as possible and converting them into valuable materials. It is expected that this challenge will be met in the future by large biorefineries with many coordinated process steps.
The concept of Bioeconomy was started by USA, Canada, and European Union (EU) and Australia to boost their economy by using bio-resources.
Bioeconomy has emerged as a concept for tackling challenges such as the over consumption of an overreliance on non-renewable natural resources. Forests and the forest sector are important components of a bioeconomy.
National Mission on Bio-economy
National Mission on Bio-economy was launched in Shillong, Meghalaya by the Institute of Bio-resources and Sustainable Development (IBSD) under the Ministry of Science and Technology, In order to boost rural economy by utilizing bio-resources.
The mission is unique to south-east Asia and India has become one of the few countries to have tapped bio-resources, which when optimally utilized can create a large number of jobs at village level.
The purpose of the mission is to boost rural economy by utilizing bio-resources and create a large number of jobs at village level.
7. Assam notified Raimona and Dihing Patkai National Park
Subject – Environment
Context – Assam has become the second state in the country to have the highest number of National Parks after Madhya Pradesh. Raimona and Dihing Patkai National Parks have been formally notified, adding to Assam's total tally of seven National Parks. The newly created National Parks will help to boost conservation efforts and provide a fillip to tourism and agriculture sectors
Concept –
Raimona
In June this year, the Assam government declared the state's sixth national park, Raimona National Park, spreading over an area of 422 sq. km. in the Kokrajhar district under the Bodoland Territorial Region (BTR) combining parts of Ripu-Chirang reserve forests.
Known for its legendary elephant herds and rare butterflies, Raimona national park is also home to Gee's golden langur, one of the world's most endangered primates, and other rare species such as Bengal tiger, clouded leopard, gaur, and chital.
The establishment of the park is expected to help boost biodiversity conservation, transboundary wildlife management, and ecotourism.
The area of the park includes the northern part of the notified Ripu Reserve Forest, which forms the western-most buffer to the Manas National Park that straddles the India-Bhutan border.
It is bounded on the west by the Sonkoshriver and the Saralbhanga river on the east.

Both the rivers are tributaries of Brahmaputra.

The Pekuariver defines Raimona's southern boundary.
Raimona also shares contiguous forest patches of the Phipsoo Wildlife Sanctuary and the JigmeSingyeWangchuk National Park in Bhutan creating a transboundary conservation landscape of more than 2,400 sq. km.
Raimona is an integral part of the 2,837 sq. km Manas Biosphere Reserve and the Chirang-Ripu Elephant Reserve.
The five national parks that existed prior to the Raimona are Kaziranga, Manas, Nameri, Orang and Dibru-Saikhowa.
Dihing Patkai
The 111.942 sq km Dehing Patkai Wildlife Sanctuary is located within the larger Dehing Patkai Elephant Reserve, which spreads across the coal- and oil-rich districts of Upper Assam (Dibrugarh, Tinsukia and Sivasagar) and is believed to be the last remaining contiguous patch of lowland rainforest area in Assam.
While the first proposal to accord national park status to the region dates back to 1995, Dehing Patkai was declared a wildlife sanctuary in 2004. Now it has been upgraded to Nzational Park
The 234.26-sq. km Dihing Patkai straddling eastern Assam's Dibrugarh and Tinsukia districts is a major elephant habitat and 310 species of butterflies have been recorded there. The park has 47 species each of reptiles and mammals, including the tiger and clouded leopard.
Dihing Patkai, in focus a year ago for illegal coal mining in the vicinity, encompasses the erstwhile Dehing Patkai Wildlife Sanctuary, the Jeypore Reserve Forest and the western block of the Upper Dihing Reserve Forest.
Subject – Environment
Context – Rising ammonia levels in West Africa linked to biomass burning
Concept –
Its chemical formula is NH3.
It is a colourless gas and is used as an industrial chemical in the production of fertilisers, plastics, synthetic fibres, dyes and other products.
More than 80 per cent of ammonia made is consumed in the manufacturing of fertilizer, and most of the remainder goes into the production of formaldehyde.
It occurs naturally in the environment from the breakdown of organic waste matter, and may also find its way to ground and surface water sources through industrial effluents, contamination by sewage or through agricultural runoff.
Effect of High Level of Ammonia:
According to experts in Chemistry, ammonia is stored for industrial use in liquid form under high pressure or in gaseous form at low temperature.
Ammonia reduces the amount of oxygen in water as it is transformed to oxidised forms of nitrogen. Hence, it also increases Biochemical oxygen demand (BOD).
If the concentration of ammonia in water is above 1 ppm it is toxic to fishes.
In humans, long term ingestion of water having ammonia levels of 1 ppm or above may cause damage to internal organs.
Ammonia, even in moderate concentration, can cause irritation to eyes, skin, nose and throat.
It interacts immediately upon contact with moisture present in the skin, eyes, oral cavity, and respiratory tract to form ammonium hydroxide.
It is very caustic and disrupts the cell membrane lipids, ultimately leading to cellular destruction.
Ammonia in Humans
Ammonia, which is highly soluble in water, is found in soil, air, and water; it is naturally present in the body.
It is secreted by the kidneys to neutralize excess acid.
However, it is highly diluted when in the environment and does not affect the human body to a noticeable level.
9. The 1999 Gothenburg Protocol to Abate Acidification Eutrophication and Ground-level Ozone
Subject – Environment
Context – Rising ammonia levels in West Africa linked to biomass burning
Concept –
The Protocol sets national emission ceilings for 2010 up to 2020 for four pollutants: sulphur (SO2), nitrogen oxides (NOx), volatile organic compounds (VOCs) and ammonia (NH3).
This protocol is also known as Muti-effect protocol.
These ceilings were negotiated on the basis of scientific assessments of pollution effects and abatement options.
Parties whose emissions have a more severe environmental or health impact and whose emissions are relatively cheap to reduce will have to make the biggest cuts.
Currently, the protocol is under negotiation for a revised protocol.
10. No consensus on limiting the Speaker's powers
Subject – Polity
Context – The All-India Presiding Officers' Conference (AIPOC) ended here on Thursday with the delegates failing to reach a consensus on whether the Speaker's powers under the anti-defection law should be limited
Concept –
P. Joshi committee was formed in 2019 to examine the role of the Speaker in cases of disqualification on grounds of defection under the Tenth Schedule of the Constitution.
To know about Anti-defection law, please refer August 2021 DPN.
Subject – IR
Context – Christian Michel, an alleged middleman in the ₹3,600­ crore VVIP chopper scandal seeks sanctions against India.
Concept –
The Magnitsky Act, formally known as the Russia and Moldova Jackson–Vanik Repeal and Sergei Magnitsky Rule of Law Accountability Act of 2012, is a bipartisan bill passed by the U.S. Congress and signed into law by President Barack Obama in December 2012, intending to punish Russian officials responsible for the death of Russian tax lawyer Sergei Magnitsky in a Moscow prison in 2009 and also to grant permanent normal trade relations status to Russia.
Since 2016, the bill, which applies globally, authorizes the U.S. government to sanction those it sees as human rights offenders, freeze their assets, and ban them from entering the U.S.
12. Procedural Justice vs Substantive Justice
Subject – Polity
Context – four civilians were killed in Srinagar's Hyderpora
Concept –
Procedural justice
Procedural justice is the idea of fairness in the processes that resolve disputes and allocate resources
Substantive justice
A clear definition for substantive justice is that it is a just behavior or treatment that is fair and reasonable.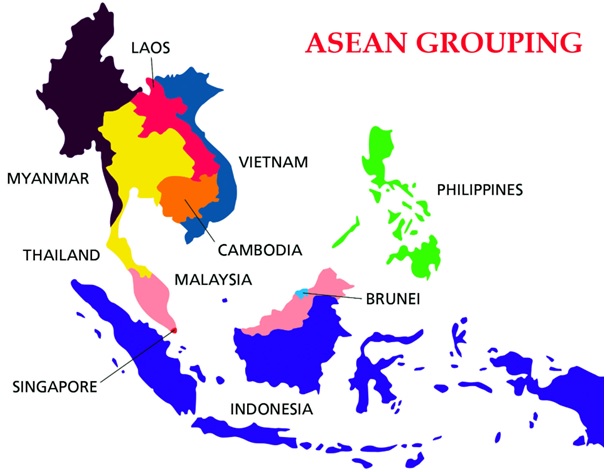 Subject – IR
Context – ASEAN objects as China wants Myanmar junta to join summit
Concept –
It is a regional grouping that promotes economic, political, and security cooperation.
It was established on 8th August 1967 in Bangkok, Thailand with the signing of the ASEAN Declaration (Bangkok Declaration) by the founding fathers of ASEAN, namely Indonesia, Malaysia, Philippines, Singapore and Thailand.
Ten Members: Brunei, Cambodia, Indonesia, Laos, Malaysia, Myanmar, the Philippines, Singapore, Thailand, and Vietnam.
Chairmanship: It rotates annually, based on the alphabetical order of the English names of Member States.
ASEAN countries have a total population of 650 million people and a combined Gross Domestic Product (GDP) of USD 2.8 trillion. It is India's 4th largest trading partner with about USD 86.9 billion in trade.
The group has played a central role in Asian economic integration, signing six free-trade agreements with other regional economies and helping spearhead negotiations for what could be the world's largest free trade pact.
14. Russian Hypersonic cruise missile
Subject – Science and Tech
Context – Russia tests hypersonic cruise missile
Concept –
Russia has carried out another successful test of its Zircon hypersonic cruise missile, one the latest additions to the country's arsenal of weapons called "invincible" by President Vladimir Putin.
Hypersonics can travel more than five times the speed of sound and manoeuvre in mid-flight, making them much harder to track and intercept than traditional projectiles.