Daily Prelims Notes 2 June 2020
June 5, 2020

Posted by:

admin

Category:

DPN

Table Of Contents
1. CHAMPIONS
Subject: Economy
Context:
Prime Minister has launched the technology platform CHAMPIONS which stands for Creation and Harmonious Application of Modern Processes for Increasing the Output and National Strength.
Concept:
The portal is basically for making the smaller units big by solving their grievances, encouraging, supporting, helping and handholding.
It is a real one-stop-shop solution of MSME Ministry.
This ICT based system is set up to help the MSMEs in present difficult situation and also to handhold them to become national and international champions.
Detailed objectives of CHAMPIONS:
Grievance Redressal: To resolve the problems of MSMEs including those of finance, raw materials, labor, regulatory permissions etc particularly in the COVID created difficult situation;
To help them capture new opportunities:  including manufacturing of medical equipment and accessories like PPEs, masks, etc and supply them in National and International markets;
To identify and encourage the sparks:  i.e. the potential MSMEs who are able to withstand the current situation and can become national and international champions.
In addition to ICT tools including telephone, internet and video conference, the system is enabled by Artificial Intelligence, Data Analytics and Machine Learning.
Importance of MSMEs
MSMEs are the backbone of Indian economy. Silently operating in different areas across the country, more than 6 crore MSMEs have a crucial role to play in building a stronger and self-reliant India.
These small economic engines have a huge impact on the country's GDP-making a contribution of 29 percent.
They contribute to almost half of exports from the country.
Additionally, more than 11 crore people are employed in the MSME sector.
2. Minimum Support Prices (MSP)
Subject: Economy
Context:
The Cabinet Committee on Economic Affairs (CCEA) chaired by Prime Minister has approved the increase in the Minimum Support Prices (MSPs) for all mandated Kharif crops for marketing season 2020-21.
Concept:
Based on the recommendation of Commission for Agricultural Costs and Prices (CACP), the Cabinet has approved MSP of 14 kharif crops for 2020-21. Farmers would get 50-83 per cent higher return over the cost of production
The Centre has increased the MSP of kharif crops for 2020-21 crop year in line with the principle of fixing MSPs at a level which is at 1.5 times the cost of production that was announced in Union Budget 2018-19.
Concerted efforts were made over the last few years to realign the MSPs in favour of oilseeds, pulses and coarse cereals to encourage farmers shift to larger area under these crops and adopt best technologies and farm practices, to correct demand – supply imbalance.
The added focus on nutri-rich nutri-cereals is to incentivize its production in the areas where rice-wheat cannot be grown without long term adverse implications for groundwater table.
Crops covered under MSP: Paddy, Jowar, Bajra, Ragi, Maize, Tur, Moong, Urad, groundnut, sunflower seed, soyabean, nigerseed, Cotton and sesamum
Besides, the Umbrella Scheme "Pradhan MantriAnnadataAaySanraksHanAbhiyan" (PM-AASHA) announced by the government in 2018 will aid in providing remunerative return to farmers for their produce.
The Umbrella Scheme consists of three sub-schemes i.e.
Price Support Scheme (PSS)
Price Deficiency Payment Scheme (PDPS)
Private Procurement &Stockist Scheme (PPSS) on a pilot basis.
3. Upward revision of MSME definition
Subject: Economy
Context:
Cabinet Committee on Economic Affairs (CCEA) approved the upward revision of MSME definition
Concept:
Formally, MSMEs are defined in terms of investment in plant and machinery
But this criterion for the definition was long criticized because credible and precise details of investments were not easily available by authorities.
In February 2018, the Union Cabinet decided to change the criterion to "annual turnover", which was more in line with the imposition of GST.
According to the new definition, limit of micro unit was increased to Rs. 1 crore of investment and Rs 5 crore of turnover and limit of small unit was increased to Rs. 10 crore of investment and Rs 50 crore of turnover. Similarly, the limit of a medium unit was increased to 50 crore of investment and Rs. 250 crore of turnover. 
It may be noted that this revision was done after 14 years since the MSME Development Act came into existence in 2006.
Category and distribution
According to the latest available (2018-19) Annual Report of Department of MSMEs, there are 6.34 crore MSMEs in the country.
Around 51 per cent of these are situated in rural India. Together, they employ a little over 11 crore people but 55 per cent of the employment happens in the urban MSMEs.
95 per cent of all MSMEs fall in the micro category. While micro enterprises are equally distributed over rural and urban India, small and medium ones are predominantly in urban India.

The medium and small enterprises — that is, the remaining 0.5% of all MSMEs — employ the remaining 5 crore-odd employees.
4. Pradhan Mantri Bhartiya Janaushdhi Kendra's –PMBJK
Subject: Schemes
Context:
Pradhan Mantri Bhartiya Janaushdhi Kendra has achieved an impressive sales of Rs 100.40 Crore in first two months of 2020-21 as compared to Rs 44.60 Crore  in same period of 2019-20.
Concept:
"Pradhan Mantri Bhartiya Jan AaushadhiPariyojana" is a noble initiative by Department of Pharmaceuticals, Government of India which is now making an impact on masses in its endeavor to provide quality medicines at an affordable price.
Jan aushadhi Kendra is considered as the biggest retail pharma chain in the world with around 6200 outlets in 700 districts.
Bureau of Pharma PSUs of India (BPPI) is the implementing agency of PMBJP. BPPI (Bureau of Pharma Public Sector Undertakings of India) has been established under the Department of Pharmaceuticals, Govt. of India, with the support of all the CPSUs.
The scheme aims toextend coverage of quality generic medicines so as to reduce the out of pocket expenditure on medicines and thereby redefine the unit cost of treatment per person.
5. Kutch
Subject:Arts and culture/ Environment
Context:
Ministry of Tourism has organized  DekhoApnaDesh webinar titled 'The Tenacity of Survival -Inspirational story of Kutch'
Concept:
Kutch is a land of salt desert, grasslands and mangroves.
Interestingly, the mangroves here are known for an amazing phenomenon of being world's only Inland Mangrove.
The Rann of Kutch alone produces three-fourth of total salt supply of India.
The place is also the home to the Kharai breed of camel which has the special ability to survive on both dry land as well as in the saline water. They can even swim in sea water and feed on saline water and plants. They are well-adapted to the extreme climate of the desert and high salinity of water.
The key highlights of the presentation were virtual visit to the community of Ajrakh traditional block printers. Ajrakh is one of the oldest types of block printing on textiles still practiced in parts of Gujarat and Rajasthan in India.
The other salient attractions of Kutch showcased in the webinar included:

Dholavira- UNESCO World Heritage Site and second largest Harappan site located in India. It is indeed a marvellous example of town-planning and architecture.
Fossil Park
Rann of Kutch-Salt Desert of Arabian Sea
Surhando- Unique peacock-shaped instrument plays a melodious music
Thaali Dance- A balancing dance performed to commensurate the celebrations of marriage and child birth
Tooofaan- Famous wild dance of the ocean also known as "SamundarkiMasti"
Subject: Economy
Context:
A SEBI-constituted panel on social stock exchange has suggested that non-profit organisations can directly list on such a bourse through issuance of bonds.
Concept:
The panel was set up by SEBI in September 2019 under the Chairmanship of Ishaat Hussain to suggest possible structures and regulations for creating SSE to facilitate listing and fund-raising by social enterprises as well as voluntary organisations.
Its recommendations:
The social stock exchange (SSE) can be housed within the existing stock exchange such as the BSE and/or National Stock Exchange (NSE).
Further, ranges of funding mechanisms have been recommended including some of the existing mechanisms such as Social Venture Funds (SVFs) under the Alternative Investment Funds.
In addition, a new minimum reporting standard has been proposed for organizations which would raise funds under SSE.
Social stock exchange
A social stock exchange is a platform that allows investors to buy shares in a social enterprise that has been vetted by the exchange.
There are only a few international examples and they follow different models.
In London, it acts more as a directory connecting social enterprises with potential investors, while in Canada the SVX is an online platform where even retail investors can invest in funds or companies with social impact.
In India, the finance minister said the exchange will come under the ambit of the Securities and Exchange Board of India and mentioned that it will be "an electronic fundraising platform", but the precise nature of its functioning is unclear so far
Subject: Science and tech
Context:
The World Health Organization on Monday confirmed a second outbreak of the deadly Ebola virus in the Democratic Republic of Congo, just as an initial outbreak appeared to be ending.
Concept:
Causative agent
Ebola virus disease (EVD) is a deadly disease with occasional outbreaks that occur primarily on the African continent.
EVD most commonly affects people and nonhuman primates (such as monkeys, gorillas, and chimpanzees).
It is caused by an infection with a group of viruses within the genus Ebolavirus
Ebola virus was first discovered in 1976 near the Ebola River in what is now the Democratic Republic of Congo.
Scientists do not know where Ebola virus comes from. However, based on the nature of similar viruses, they believe the virus is animal-borne, with bats or nonhuman primates with bats or nonhuman primates (chimpanzees, apes, monkeys, etc.) being the most likely source.
Transmission
Infected animals carrying the virus can transmit it to other animals, like apes, monkeys, duikers and humans.
The virus spreads to people initially through direct contact with the blood, body fluids and tissues of animals.
Ebola virus then spreads to other people through direct contact with body fluids of a person who is sick with or has died from EVD. This can occur when a person touches these infected body fluids (or objects that are contaminated with them), and the virus gets in through broken skin or mucous membranes in the eyes, nose, or mouth.
People can get the virus through sexual contact with someone who is sick with EVD, and also after recovery from EVD. The virus can persist in certain body fluids, like semen, after recovery from the illness.
Treatment:
Community engagement is key to successfully controlling outbreaks.
Good outbreak control relies on applying a package of interventions, namely case management, infection prevention and control practices, surveillance and contact tracing, a good laboratory service, safe and dignified burials and social mobilisation.
8. BHIM App
Subject: Science and Tech/ Economy
Context:
The National Payments Corporation of India (NPCI) has issued a statement that there has been no compromise of data on the BHIM app, after Israeli cybersecurity firm vpnMentor's claims that it had discovered a breach of personal records of around 7 million Indians used to onboard them to the mobile payment app.
Concept:
Bharat Interface for Money (BHIM) is a payment app that lets people make simple, easy and quick transactions using Unified Payments Interface (UPI).
Direct bank payments to anyone on UPI using their UPI ID or scanning their QR with the BHIM app.
Pioneered and developed by National Payments Corporation of India (NPCI), BHIM has been to bring in Financial Inclusion to the nation and a digitally empowered society
The BHIM apps has three levels of authentication. For one, the app binds with a device's ID and mobile number, second a user needs to sync whichever bank account (UPI or non-UPI enabled) in order to the conduct transaction. Third, when a user sets up the app they are asked to create a pin which is needed to log into the app. Further, the UPI pin, which a user creates with their bank account is needed to go through with the transaction.
Subject: Geography
Context:
Monsoon has arrived in Kerala and the India Meteorological Department (IMD) has announced that the normal onset of monsoon has begun with most of Kerala being now covered under monsoon as of 1 June 2020
Concept:
The normal date of onset of the southwest monsoon over Kerala i.e. the first place of entry in the mainland of India is 1st June.
The monsoons advance quickly accompanied with a lot of thunder, lightning and heavy downpour. This sudden onset of rain is termed as monsoon burst.
Sometimes monsoons are delayed or they come much earlier than normal.
Normally the onset occurs between 29th May and 7th June.
The earliest onset was on 11th May in 1918 and 1955, while the most delayed onset was on 18th June in 1972.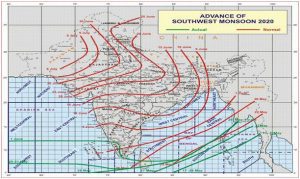 10. Air Bubble and Air bridges
Subject: IR
Context:
The concept of 'air bridges' and 'bubbles' is gaining prominence as countries are looking for restarting international flights.
Concept:
"Air bubbles" or "air bridges" are joining jurisdictions that have largely eliminated the cornovirus, and trust in each other's testing and case numbers.
Australia and New Zealand could lead the way with a proposed "Covid-safe travel zone", or the trans-Tasman bubble.
Small countries in the Pacific including Fiji and the Cook Islands, which have kept the virus at bay, could join in, with the zone being expanded to other jurisdictions such as Hong Kong, South Korea and Taiwan.
Subject: Geography
Context:
Cyclone Nisarga is expected to make landfall on June 3 which is headed towards the coastline of north Maharashtra and south Gujarat. 
Concept:
IMD's Cyclone E-Atlas, which has been tracking cyclones and weather depressions over the north Indian Ocean, said no weather system has turned into a cyclone and made landfall near Mumbai along the Maharashtra coast during the month of June since 1891.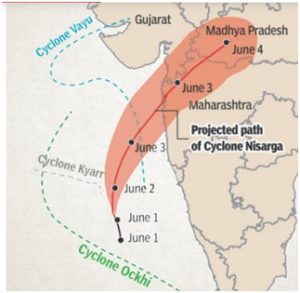 Reason for Mumbai's low risk
Weather dynamics of Arabian sea
Less cyclones in Arabian sea
Even it forms; they head towards Gujarat or gulf of Oman and Aden.
It is because of Easterlies and pre-monsoon formation of an area of high pressure, known as subtropical ridge along the west coast acts as barrier.
Bay of Bengal Vs Arabian sea
Cyclones formed in the Bay of Bengal side of the north Indian Ocean are more frequent and stronger than those on the Arabian Sea side.
Meteorologists suggest the relatively cold waters of the Arabian Sea discourage the kind of very strong cyclones that are formed on the Bay of Bengal side; Odisha and Andhra Pradesh face the brunt of these cyclones every year.
Last year, however, was slightly unusual as the Arabian Sea saw the most frequent and intense cyclonic activity in more than 100 years, according to India Meteorological Department. Five cyclones originated in the area in 2019 — Vayu, Hikka, Kyarr, Maha and Pavan – when normally only one or two are formed.
12. PM Svanidhi
Subject: Schemes
Context:
Union Government launched PM SVANIDHI – Pradhan Mantri Street Vendor's AtmanirbharNidhi
Concept:
It is a special micro-credit facility scheme for providing affordable loan to street vendors.
The scheme is aimed at enabling the street vendors to resume their livelihoods that have been adversely affected due to COVID-19 lockdown.
Under the scheme, each of these streets vendors will be given a credit loan of Rs 10,000, which they can return as monthly installments within a year.
Those who repay their loans on time will get 7 percent annual interest as subsidy which will be transferred in their bank accounts. There is no provision for penalty
The scheme targets to benefit over 50 lakh street vendors, who had been vending on or before 24th March this year, in urban areas. The duration of the scheme is till March 2022. The street vendors belonging to the surrounding peri-urban or rural areas are being included as beneficiaries under the urban livelihoods programme for the first time.
The lending institutions under the Scheme include Scheduled Commercial Banks, Regional Rural Banks, Small Finance Banks, Cooperative Banks, NBFCs, Micro Finance institutions and Self Help Group banks.
13. Implications of rating downgrade
Subject: Economy
Context:
International rating agency Moody's downgraded India's sovereign rating by a notch to Baa3 from Baa2 with a negative outlook over a weak reform push contributing to a prolonged period of slow growth that it expects to continue beyond the Covid-19 pandemic.
Concept:
There are four main reasons why Moody's has taken the decision.
Weak implementation of economic reforms since 2017
Relatively low economic growth over a sustained period
A significant deterioration in the fiscal position of governments (central and state)
And the rising stress in India's financial sector
Ratings are based on the overall health of the economy and the state of government finances. A rating downgrade means that bonds issued by the Indian governments are now "riskier" than before, because weaker economic growth and worsening fiscal health undermine a government's ability to pay back.
It will increase cost of borrowing and investors will not show interest.