Daily Prelims Notes 20 July 2022
July 20, 2022

Posted by:

OptimizeIAS Team

Category:

DPN

Daily Prelims Notes
20 July 2022
Table Of Contents
Subject: Economy
Section: External Sector
Context:
The department of commerce under the commerce ministry has notified a new rule 43A for WFH in Special Economic Zones Rules, 2006.
Details:
The work from home rules are applicable to Special Economic Zones, which are areas subject to a set of different economic regulations than other regions within India.
Work from home will be allowed in special economic zones (SEZs) for a maximum period of one year, and may be extended to a maximum of 50 per cent of total employees including the contractual employees.
The new rule provides work from home for a certain category of employees of a unit in SEZ:

Employees of IT/ ITeS SEZ units
Employees, who are temporarily incapacitated
Employees, who are traveling
Employees, who are working offsite
Flexibility granted to development commissioners (DC) of SEZs for:

Approving a higher number of employees for a genuine reason.
Extension of one year period by further one year on the request of units.

The notification provides a 90-day transition period to get approvals to SEZ units whose employees are already working from home.
The equipment and secured connectivity for WFH for the employees should be provided by the SEZ units itself.
Concept:
Special Economic Zone:
An SEZ is a territory within a country that is typically duty-free and has different business and commercial laws chiefly to encourage investment and create employment.
Asia's first EPZ (Export Processing Zones) was established in 1965 at Kandla, Gujarat.
While these EPZs had a similar structure to SEZs, the government began to establish SEZs in 2000 under the Foreign Trade Policy to redress the infrastructural and bureaucratic challenges that were seen to have limited the success of EPZs.
The Special Economic Zones Act was passed in 2005. The Act came into force along with the SEZ Rules in 2006.

Objectives of the SEZ Act:

To create additional economic activity.
To boost the export of goods and services.
To generate employment.
To boost domestic and foreign investments.
To develop infrastructure facilities.
India's SEZs were structured closely with China's successful model.
Presently, 379 SEZs are notified, out of which 265 are operational
There are eight functional SEZs in India at the moment including — Santa Cruz (Maharashtra), Cochin (Kerala), Kandla and Surat (Gujarat), Chennai (Tamil Nadu), Visakhapatnam (Andhra Pradesh), Falta (West Bengal) and Noida (Uttar Pradesh).
About 64% of the SEZs are located in five states – Tamil Nadu, Telangana, Karnataka, Andhra Pradesh and Maharashtra.
The Board of Approval is the apex body and is headed by the Secretary, Department of Commerce (Ministry of Commerce and Industry).
Major Incentives and Facilities Available to SEZ:

Duty-free import or domestic procurement of goods for developing, operating and maintaining SEZ units.
100% Income tax exemption on export income for SEZ units under the Income Tax Act for first 5 years, 50% for next 5 years thereafter and 50% of the ploughed back export profit for next 5 years. (Sunset Clause for Units will become effective from 2020).
Units are exempted from Minimum Alternate Tax (MAT).
They were exempted from Central Sales Tax, Service Tax and State sales tax. These have now subsumed into GST and supplies to SEZs are zero-rated under the IGST Act, 2017.
Single window clearance for Central and State level approvals.
There is no need for a license for import.
In the manufacturing sector, barring a few segments, 100% FDI is allowed.
Profits earned are permitted to be repatriated freely with no need for any dividend balancing.
There is no need for separate documentation for customs and export-import policy.
Many SEZs offer developed plots and ready-to-use space.
Contributions:
There are about two million people employed across over 350 SEZs.
SEZs contribute over 25% of total exports from India.
A majority of SEZs in India include information technology (IT) or IT- enabled services firms.
2. Factors of falling exchange rate and Impact
Subject :Economy
Section: External Sector
Context:
Since the war in Ukraine and consequential rise in the crude oil prices, the indian rupee has steadily lost its value against the dollar
Details:
While the US dollar has become stronger against all other major currencies including the rupee, the rupee, in turn, has become stronger than many other currencies such as the euro.
Forex reserves have fallen by over $50 billion between September 2021 and now.
In these 10 months, the rupee's exchange rate with the dollar has fallen 8.7% against a normal depreciation of 3-3.5% in a year.
Factors:
Rise in US rate of interest-The Federal Reserve has been raising its benchmark interest rate causing investors seeking higher returns to pull capital away from emerging markets such as India and back into the U.S.
Rise in Current account Deficit-This means that India's import demand amid rising global oil prices is likely to negatively affect the rupee unless foreign investors pour sufficient capital into the country to fund the deficit. But foreign investors are unlikely to invest capital into India when investment yields are rising in the U.S.
Inflation– Higher inflation in India suggests that the RBI has been creating rupees at a faster rate than the U.S. Federal Reserve has been creating dollars. Thus, higher supply of rupee
Impact:
Imported inflation- when the rupee depreciates, importing goods and services becomes costlier. Costlier Imports add to the cost-push inflation .

Since a large proportion of India's imports are dollar-denominated, these imports will get costlier, for example-the crude oil import bill. 
Costlier imports, in turn, will widen the trade deficit as well as the current account deficit, which, in turn, will put pressure on the exchange rate.

Increase export competitiveness-if one is trying to export goods and services to other countries, especially to the United States, India's products become more competitive because depreciation makes these products cheaper for foreign buyers.

If however the other currency has lost more than the rupee, the net effect could be negative on exports from India.

Capital outflows- A weakening rupee hurts foreign investors, who came looking for a good return, as well as Indians, who have loans abroad
Implications on Balance of payments-due to deficit in current and capital account, can lead to overall BOP deficit.
Implication on Forex reserves-RBI swoops in and removes all the deficit of  dollars from the market by selling forex reserves thus, reducing forex reserves and import cover.
3. RBI new four-tiered regulatory framework for Urban Co-operative Banks (UCBs)
Subject :Economy
Section :Banking
The RBI has decided to adopt a simple four-tiered regulatory framework for Urban Co-operative Banks (UCBs) based on size of deposits, with an aim to strengthen their financial soundness.
Details:
An expert committee, headed by former RBI deputy governor N S Vishwanathan, had made a host of recommendations for strengthening the UCBs including:
A four-tiered regulatory framework based on size of deposits of the banks and their area of operations.

Specifically, a minimum net worth of Rs 2 crore for Tier 1 UCBs operating in a single district and Rs 5 crore for all other UCBs (of all tiers) has been stipulated.

The differentiated regulatory approach for key parameters such as net worth, Capital to Risk-weighted Assets Ratio (CRAR), branch expansion and exposure limits.

The RBI has said the minimum CRAR requirement for Tier 1 banks is retained at the present prescription of 9 per cent under current capital adequacy framework based on Basel I.
For Tier 2, Tier 3 and Tier 4 UCBs, it has been decided to revise the minimum CRAR to 12 per cent.
In respect of housing loans, it has been decided to assign the risk weights on the basis of Loan to Value (LTV) Ratio alone for all tiers of UCBs.

Membership to an Umbrella Organisation also formed a vital part of the recommendations.

The Reserve Bank had accorded regulatory approval for setting up of UO for UCB sector which will have a paid-up capital of Rs 300 crore.
The National Cooperative Finance and Development Corporation Limited (NCFDC) has been incorporated, which is in the process of enrolling UCBs as members.
Concept: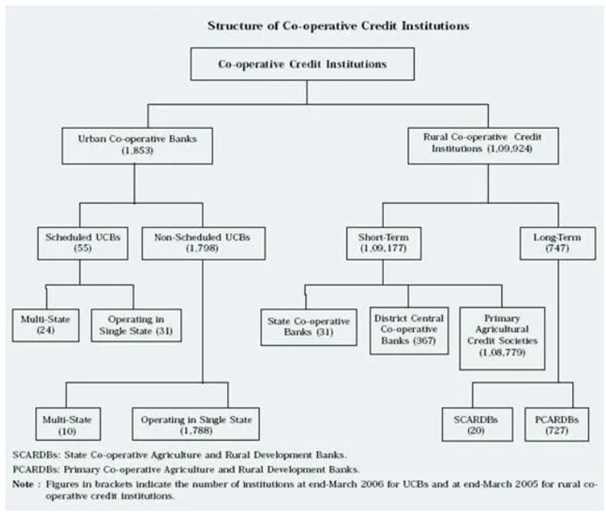 Urban Cooperative banks (UCB):
The term Urban Cooperative Banks (UCBs) is not formally defined but refers to primary cooperative banks located in urban and semi-urban areas.
As on March 31, 2021, there were 1,534 UCBs (53 scheduled and 1,481 non-scheduled). They constituted4 percent of the asset size of commercial banks.
Per Section 56 of the Banking Regulation Act, 1949, a primary co-operative bank (Urban Co-operative Bank or UCB) means a co-operative society, other than a primary agricultural credit society, whose,

Primary or principal business is a transaction of banking business.
Paid-up share capital and reserves of which are not less than one lakh of rupees

The UCBs are categorised under two Tiers (Tier I and II).

Tier I UCBs is defined as

Banks with deposits below 100 crore operating in a single district,
Banks with deposits below 100 crore operating in more than one district provided the branches are in contiguous districts and deposits and advances of branches in one district along with constitute at least 95 per cent of the total deposits and advances respectively of the bank and
Banks with deposits below 100 crore, whose branches were originally in a single district but subsequently became multi-district due to reorganisation of the district.

All other UCBs are categorised as Tier-II UCBs.

The Banking Regulation Act, 1949, instructs the submission of periodical returns by UCBs to the Reserve Bank of India.
There is duality of control over these banks with banking related functions being regulated by the Reserve Bank and management related functions regulated by respective State Governments/Central Government.
In the case of UCBs, the central bank regulates and supervises them to ensure that the institutions are financially fit to deliver their functions.

Licensing of New Primary (Urban) Cooperative Banks: For starting the banking business, a primary (urban) cooperative bank, as in the case of a commercial bank, is required to obtain a licence from the RBI as per the BR Act.
Licensing of Existing Primary (Urban) Co-operative Banks: A primary credit society which would like to become a primary (urban) cooperative bank (by fulfilling the share capital and reserve norms) should avail a license from the RBI.
Branch Licensing: Primary (urban) cooperative banks are required to obtain permission from the RBI for opening branches.
Statutory Provisions: Some of the statutory provisions under the BR Act is also applicable for UCBs, and they will be monitored on the basis of these provisions:

Minimum Share Capital: Minimum paid-up capital of Rs 1 lakh.
Maintenance of CRR and SLR: The UCBs have to keep the SLR as per the RBI requirements.
4. Over 1.6 lakh Indians gave up citizenship last year
Subject :Polity
Section: Constitution
Context:
Over 1.6 lakh Indians renounced their citizenship in 2021, highest in the past five years, according to information provided by the Ministry of Home Affairs (MHA)
Citizenship:
Citizenship can be defined as a relationship between an individual and a state to which he or she owes loyalty and is thus protected by the law
Citizenship is listed in the Constitution's Union List and thus is under the exclusive jurisdiction of Parliament
India has two kinds of citizens: citizens and aliens. Citizens are full members of the Indian State and owe allegiance to it. They enjoy all civil and political rights
The Indian constitution provides for Single Citizenship
The term "citizen" is not defined in the Constitution. However, Part 2 describes the numerous types of people who are eligible for citizenship (Articles 5 to 11)
Article 5
Citizenship was granted to all persons who were born and raised in India.
Even people who were domiciled in India but not born there, yet had one of their parents born there, were considered citizens
Article 6
It granted citizenship rights to certain Pakistani migrants to India.
Because of Partition and migration prior to Independence, Article 6 stated that anyone who migrated to India prior to July 19, 1949, automatically became an Indian citizen if one of his parents or ancestors was born in India
Article 7
It provided certain migrants to Pakistan with the right to citizenship.
Those who migrated to Pakistan after March 1, 1947 and later returned on resettlement permits were included in the citizenship net
Article 8
Provided certain persons of Indian origin residing outside India with the right to citizenship.
Any Person of Indian Origin residing outside India who was born in India, or either of his or her parents or grandparents, could register as an Indian citizen with the Indian Diplomatic Mission
Article 9 
Article 9 states that if a person voluntarily obtains the citizenship of a foreign state, he or she will no longer be a citizen of India.
Article 10 
Article 10 states that any person who is or is deemed to be a citizen of India under any of the preceding provisions of this Part shall continue to be such a citizen, subject to the provisions of any law made by Parliament.
Article 11 
It gives Parliament the authority to make any provision regarding the acquisition and termination of citizenship, as well as all matters pertaining to it
The Citizenship Act, 1955: Acquisition of citizenship
Indian citizenship can be obtained in the following ways:
Citizenship conferred by birth
Citizenship through descent
Citizenship through registration
Citizenship by Naturalization
Territorial acquired by India in Future
The Citizenship Act, 1955: Termination of citizenship
According to the Act, citizenship can be revoked in three ways
Renunciation: Any Indian citizen who is also a national of another country who renounces his Indian citizenship in the prescribed manner through a declaration ceases to be an Indian citizen
Termination: An Indian citizen's citizenship can be revoked if he or she knowingly or voluntarily adopts the citizenship of another country
Deprivation: In some cases, the Indian government may deprive a person of his citizenship
5. What's causing mass fish death in India's ponds and lakes?
Subject: Environment
Section: Pollution
Context: Every year, several ponds and lakes across various Indian states become sites of mass fish deaths. The primary cause for this phenomenon is water pollution, most often stemming from anthropogenic activities
What has led to pollution of ponds and lakes in India?
India's fast-paced development has resulted in around 70% of its surface water becoming unfit for consumption and severe water body contamination has caused mass deaths of aquatic life.
Sewage and garbage dumping majorly contribute to water pollution and low DO levels in India's ponds and lakes.
Religious events also contribute to water pollution
Harmful substances such as chemicals or microorganisms contaminate a stream, river, lake, ocean, aquifer or any other body of water, degrading its quality and rendering it toxic to humans and the environment
Heavy metal poisoning is often a key factor for such fish kill events. Even if a small amount of heavy metals enter a waterbody, their effect on the ecosystem gets amplified due to processes such as biomagnification and bioaccumulation
How do we know if the water is polluted?
The five basic water quality parameters are dissolved oxygen, temperature, electrical conductivity or salinity, pH and turbidity
Dissolved oxygen:
It is the amount of oxygen dissolved in water – essential for the survival and growth of most aquatic organisms.
This is a key indicator of water quality and the potential of the water body to support aquatic life and ecosystems.
Temperature:
The temperature of the water affects water chemistry and functions of aquatic organisms, such as metabolic rates of organisms, timing of reproduction, migration etc
Conductivity:
It is the ability of the water to conduct electricity – an outcome of dissolved salts in the water that break into positively and negatively charged ions
Salinity:
It is a measure of the amount of salts in water; dissolved salts increase both salinity and conductivity
pH:
The pH is a measure of how acidic or alkaline the water is. Several chemical reactions that are necessary for aquatic organisms to survive and grow, require a very narrow pH range
Turbidity:
It is a measure of the amount of suspended particles in the water. Algae, suspended sediment, and organic matter particles all contribute to turbidity.
The presence of total coliform bacteria, faecal coliform bacteria and E. coli suggests that a water body has been contaminated by faecal matter (e.g.: through untreated sewage discharge)
They are also called 'indicator bacteria' because they are easier to test for compared to other pathogens and can therefore reveal the extent of contamination of a water body
What are possible solutions to the water pollutiion?
Decentralised governance and localised initiatives are often the best ways to undertake the several lake and pond restoration projects as they can address the issues specific to the water body in concern.
Data collection, especially using automated, geotagged, time-stamped real-time sensors to gather data on water quality in a non-stationary manner is one way to effectively identify the spread of water pollution locally.
Regulations, policies and funding towards developing wastewater treatment infrastructure, improving solid-waste management and implementing stringent laws towards curbing industry pollution can lead to pivotal and widespread change in water quality
Promoting greener agricultural practices that cut the use of the chemical inputs can effectively address one major source of water pollution
Stakeholder involvement and innovation are crucial. Supporting frugal innovations and localised, participatory management of water bodies can scale up restoration efforts from the ground up
Concept:
Eutrophication:
Nitrogen is essential for plant growth in an aquatic ecosystem. However, when large amounts of nitrogen are introduced into an aquatic ecosystem (e.g.: due to fertiliser runoff), it can cause excessive algal growth.
In a process known as 'eutrophication', the algae use up the oxygen for photosynthesis, depleting the oxygen available to aquatic organisms. This reduces the dissolved oxygen in the water body and can suffocate and kill the organisms within.
Bioaccumulation
It is typically associated with the build-up of damaging or harmful chemicals in a living thing. These chemicals will not break down in the body or are not able to be excreted. This will cause the chemical to accumulate over time
Biomagnification
Plants that are exposed to and absorb chemicals in the water or soil will accumulate them when they can't break them down. When an animal starts to eat these plants they are also consuming the chemicals. The more plants they eat the more chemical they consume. This is called biomagnifications
Biomagnification occurs as the chemical moves further up in the food chain. The amount of chemical magnifies or the amount increases at each level. This means that animals at the top of the food chain accumulate the highest levels of the chemical through biomagnification.
Subject: Environment
Section: Biodiversity
Context:
A record number of saltwater crocodiles laid eggs during the nesting season this year in Bhitarkanika National Park situated in Odisha's Kendrapara district, with forest officials counting 122 nests from May 1-June 24, 2022.
In 2020 and 2019, we had counted 103 nests. In 2018, we sighted 101 nests. The increased numbers of nests this year indicate that the adult population of the crocodiles is rising
In 1975 a crocodile breeding and rearing project in Dangamala within Bhitarkanika by MOEF in collaboration with the United Nations Development Programme.
Thanks to the success of the project, the crocodile population started increasing in the creeks, river and other water bodies of the park and its nearby areas.
Bhitarkanka National Park
Bhitarkanika is a unique habitat of Mangrove Forests crisscrossed with numerous creeks and mud flats located in Kendra Para district of Orissa.
It is a Ramsar Site under Ramsar Convention on wetlands.
Bhitarkanika located in the estuary of Brahmani, Baitarani, and Dharma & Mahanadi River systems.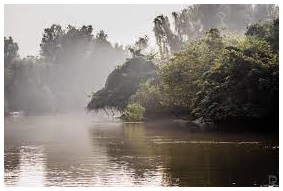 Bhitarkanika National Park is a prime habitat of leopard cat, fishing cat, jungle cat, hyena, wild boar, spotted deer, sambar, porcupine, dolphin, salt water crocodile including partially white crocodile, python, king cobra, water monitor lizards, terrapin, marine turtle, kingfisher, wood pecker, hornbill, bar headed geese, pintail, white bellied sea eagle, tern, sea gull, waders and a large variety of resident and migratory birds.
Nutrients from Bhitarkanika are flushed out to the Gahirmatha Marine Sanctuary, which attracts the world's largest population of Olive Ridley sea turtles for congregation and nesting. Nearly half a million turtles arrive here every winter.
Subject :Environment
Section : Biodiversity
According to a new research led by the University of Minnesota ,the wave of extinction of species underway across the globe might be more intense than previously thought,
Nearly 30 per cent of the species, have been facing global extinction since 1500, according to the new survey published July 18, 2022, in the Frontiers in Ecology and the Environment journal
Mass Extinction
Time Period
Size of extinction
Cause of Extinction
1st Mass Extinction- The Ordovician Mass Extinction
The Ordovician Period of the Paleozoic Era (about 440 million years ago)
Up to 85% of all living species eliminated
 Continental drift and subsequent climate change
2nd Mass Extinction-Devonian Mass Extinction

The Devonian Period of the Paleozoic Era (about 375 million years ago)
Nearly 80% of all living species eliminated
Lack of oxygen in the oceans, quick cooling of air temperatures, volcanic eruptions and/or meteor strikes
3rd Mass Extinction- Permian Mass Extinction

The Permian Period of the Paleozoic Era (about 250 million years ago)
 An estimated 96% of all living species eliminated
Unknown—possibly asteroid strikes, volcanic activity, climate change, and microbes
4th Mass Extinction- The Triassic-Jurassic Mass Extinction

The end of the Triassic Period of the Mesozoic Era (about 200 million years ago)
More than half of all living species eliminated
Major volcanic activity with basalt flooding, global climate change, and changing pH and sea levels of the oceans
5th Mass Extinction- The K-T Mass Extinction

The end of the Cretaceous Period of the Mesozoic Era (about 65 million years ago)
Nearly 75% of all living species eliminated
Extreme asteroid or meteor impact
6th Mass Extinction- Holocene extinction,
Ongoing

The loss of species has been occurring since human ancestors developed agriculture over 11,000 years ago.

1 million animal and plant species face extinction and thousands of these would become extinct within decades.
About 40 per cent of the planet's amphibian species are threatened with extinction.
Since 1900, the number of native species in most of the land-based habitats has declined by 20 per cent.

changes in land and sea use (habitat loss and degradation),
overexploitation of species,
invasive species and disease,
pollution and
climate change.
The IUCN Global Species Programme, in conjunction with the IUCN Species Survival Commission (SSC) and partners, are driving the fight to save species for people and nature. The IUCN Global Species Programme produces, maintains and manages The IUCN Red List of Threatened Species .It implements global species conservation initiatives, including Red List biodiversity assessment projects to assess the status of species for the IUCN Red List and on the ground conservation projects throughIUCN Save Our Species and the Integrated Tiger Habitat Conservation Programme (ITHCP).
Managed from IUCN's international headquarters in Gland, Switzerland, it has  technical units based in:
Cambridge, UK (Red List Unit and Freshwater Biodiversity Unit)
near Washington DC, USA (Biodiversity Assessment Unit)
The Species Programme also supports the activities of the IUCN Species Survival Commission (SSC) and its constituent Specialist Groups, and acts as Secretariat focal point for SSC. It is an integral part of the IUCN Secretariat. The Species Programme and SSC work together with a wide variety of partners, including the IUCN Red List Partnership and other IUCN members
The IUCN Species Survival Commission is the world's largest network of species conservation experts with over 9,000 members globally. It is mandated by the Members of IUCN (governments, NGOs, and indigenous peoples' organisations) to conserve species. This unique body of biologists, ecologists, wildlife managers, health and social scientists, educators, community representatives, economists and government officials is passionate in its commitment to "A just world that values and conserves nature". We devote our lives, generally on an entirely voluntary basis, to saving species. We echo the voices of countless concerned people from every corner of the planet.
Subject :Science and Technology
Section: Biotechnology
A study has identified specific mutations within the spike proteins of the novel coronavirus that help Omicron subvariants evade antibodies. These antibodies can be from vaccines or previous COVID-19 infections.
Concept:
Spike protein protrudes from the surface of a coronavirus, like the spikes of a crown or corona — hence the name 'coronavirus'.
In the SARS-CoV-2 coronavirus, it is the spike protein that initiates the process of infection in a human cell.
It attaches itself to a human enzyme, called the ACE2 receptor, before going on to enter the cell and make multiple copies of itself.
Uses:
The researchers believe the findings have implications for vaccine development.
Many vaccines that are currently in development use the spike protein to stimulate the immune system.
But these may have varying mixes of the prefusion and postfusion forms and that may limit their protective efficacy.
There is need for stabilising the spike protein in its prefusion structure in order to block the conformational changes that lead to the postfusion state. If the protein is not stable, antibodies may be induced but they will be less effective in terms of blocking the virus.
9. Pythagorean geometry in Vedic-era texts and centuries before Pythagoras
Subject: History
Section: Art and Culture
Sulbasutras described procedures based on knowledge of what we call Pythagoras theorem. While this has long been known, the discussion has been revived after a Karnataka position paper calls the theorem 'fake news'.
Madan Gopal, a retired IAS officer who heads Karnataka's NEP task force, referred to a text called the BaudhayanaSulbasutra, in which a specific shloka refers to the theorem.
Pythagoras theorem
If any two sides of a right triangle are known, the theorem allows you to calculate the third side.
Extended to the sides of squares and rectangles and their diagonals, the equation is of immense importance in construction, navigation and astronomy.
Sulbasutras
The Shulba Sutras or Sulbasutras are sutra texts belonging to the Srauta ritual and containing geometry related to fire-altar construction.
The ShulbaSutras are part of the larger corpus of texts called the Shrauta Sutras, considered to be appendices to the Vedas.
They are the only sources of knowledge of Indian mathematics from the Vedic period.
Unique fire-altar shapes were associated with unique gifts from the God For instance, "he who desires heaven is to construct a fire-altar in the form of a falcon"; "a fire-altar in the form of a tortoise is to be constructed by one desiring to win the world of Brahman" and "those who wish to destroy existing and future enemies should construct a fire-altar in the form of a rhombus.
The four major Sulva Sutras, which are mathematically the most significant, are those composed by Baudhayana, Manava, Apastamba and Katyayana. Out of them the oldest belongs to Baudhayana and dates back to 600BC. They discuss the cases of the Pythagorean Theorem and Pythagorean triples.
The Baudhayana sutra
The Baudhāyanasūtras are a group of Vedic Sanskrit texts which cover dharma, daily ritual, mathematics and is one of the oldest Dharma-related texts of Hinduism that have survived into the modern age from the 1st-millennium BCE.
They belong to the Taittiriya branch of the Krishna Yajurveda school and are among the earliest texts of the genre.
The Baudhayana sutra consist of six texts:

the Srauta sutra, probably in 19 Prasnas (questions),
the Karmantasutra in 20 Adhyayas (chapters),
the Dwaidhasutra in 4 Prasnas,
the Grihyasutra in 4 Prasnas,
the Dharmasutra in 4 Prasnas and
the Sulbasutra in 3 Adhyayas.
10. The demand for 'tribal' status for Himachal's Trans-Giri and its Hatti community
Subject: Polity
Section: Constitution
Context:
Political promises have been made over the years; however, the government has cited technical hurdles in its fulfilment. With Assembly elections approaching, the issue is back on top of discussions
Who are Hatti Community?
The Hattis are a close-knit community who take their name from their traditional occupation of selling home-grown crops, vegetables, meat, and wool at small-town markets known as 'haats'.
Hatti men traditionally don a distinctive white headgear on ceremonial occasions.
For declaration of Scheduled Areas the criteria followed are :

preponderance of tribal population,
compactness and reasonable size of the area,
a viable administrative entity such as a district, block or taluk, and
economic backwardness of the area as compared to neighbouring areas.

These criteria are not spelt out in the Constitution of India but have become well established.
The list of STs in Himachal Pradesh includes Gaddis, Gujjars, Kinnaras (Kinnauras), Lahaulas, Pangwalas, and some other smaller tribes.
Constitutional provision related to Schedule areas
It said that the Constitution provides for two types of areas: "Scheduled Areas" in terms of the Fifth Schedule of the Constitution, and "Tribal Areas" in terms of Sixth Schedule.
Article 244

(1) The provisions of the Fifth Schedule shall apply to the administration and control of the Scheduled Areas and Scheduled Tribes in any State other than the States of Assam, Meghalaya, Tripura and Mizoram.
(2) The provisions of the Sixth Schedule shall apply to the administration of the tribal areas in the States of Assam Meghalaya, Tripura and Mizoram.

The various features of administration contained in the Fifth Schedule are as follows
Declaration of Scheduled Areas: The president is empowered to declare an area to be a scheduled area. He can also increase or decrease its area, alter its boundary lines, rescind such designation or make fresh orders for such redesignation on an area in consultation with the governor of the state concerned.
Executive Power of State and Centre: The executive power of a state extends to the scheduled areas therein. But the governor has a special responsibility regarding such areas. He has to submit a report to the president regarding the administration of such areas, annually or whenever so required by the president. The executive power of the Centre extends to giving directions to the states regarding the administration of such areas.
Tribes Advisory Council: Each state having scheduled areas has to establish a tribes advisory council to advise on welfare and advancement of the scheduled tribes. It is to consist of 20 members, three-fourths of whom are to be the representatives of the scheduled tribes in the state legislative assembly. A similar council can also be established in a state having scheduled tribes but not scheduled areas therein, if the president so directs.
Law applicable to Scheduled Areas: The governor is empowered to direct that any particular act of Parliament or the state legislature does not apply to a scheduled area or apply with specified modifications and exceptions. He can also make regulations for the peace and good government of a scheduled area after consulting the tribes advisory council. Such regulations may prohibit or restrict the transfer of land by or among members of the scheduled tribes, regulate the allotment of land to members of the scheduled tribes and regulate the business of money-lending in relation to the scheduled tribes.
States having Fifth Schedule Areas
At present, 10 States namely Andhra Pradesh, Chhattisgarh, Gujarat, Himachal Pradesh, Jharkhand, Madhya Pradesh, Maharashtra, Odisha, Rajasthan and Telangana have Fifth Schedule Areas.
The Fifth Schedule of the Constitution deals with the administration and control of Scheduled Areas as well as of Scheduled Tribes residing in any State other than the States of Assam, Meghalaya, Tripura and Mizoram.
Tribal habitations in the states of Kerala, Tamil Nadu, Karnataka, West Bengal, Uttar Pradesh and Jammu & Kashmir have not been brought under the Fifth or Sixth Schedule.
11. No plan to bring down fisheries subsidies: Govt in Lok Sabha
Subject: Government Schemes
Section: Agriculture
Context:
India had sought a 25-year transition period, contending that fisheries sector in the country requires government support since millions of fisher folks in coastal areas still rely on small-scale fishing for their livelihood.
They are given subsidies to acquire and modernise their relatively small fishing vessels, purchase equipment for vessels, and as insurance charges, the government stated
Fisheries Sector in India:
Fisheries are the primary source of livelihood for several communities.
India is the second major producer of fish through aquaculture in the world.
India is the 4th largest exporter of fish in the world as it contributes 7.7% to the global fish production.
Fisheries are the country's single-largest agriculture export, with a growth rate of 6 to 10 per cent in the past five years.
Currently, this sector provides livelihood to more than 2.8 crore people within the country. Nevertheless, this is a sector with untapped potential.
The fisheries sector has demonstrated double-digit average annual growth of 10.87 % since 2014-15 with record fish production of 145 lakh tons during 2020-21 as per the Economic Survey for 2021-22
Despite challenges pertaining to infrastructure, the measures by the Central government in the past recent years ensured that the fisheries sector continued to register an annual growth rate of more than 10%.
Pradhan Mantri MatsyaSampada Yojana (PMMSY):
Pradhan Mantri MatsyaSampada Yojana (PMMSY) was launched on 10th September 2020.
The aim of the scheme is to bring about Blue Revolution through the sustainable development of the fisheries sector over a period of five years (2020-2025.) PMMSY was announced in the union budget 2019-20.
It has an estimated investment of Rs. 20,050 crores for its implementation during a period of 5 years from FY 2020-21 to FY 2024-25 in all States/UTs, as a part of AatmaNirbhar Bharat Package.
PMMSY aims at enhancing fish production by an additional 70 lakh tonne by 2024-25, increasing fisheries export earnings to Rs.1,00,000 crore by 2024-25.
Thus it aims doubling of incomes of fishers and fish farmers, reducing post-harvest losses from 20-25% to about 10% and generation of gainful employment opportunities in the sector.
The PMMSY is an umbrella scheme with two separate Components namely (a) Central Sector Scheme (CS) and (b) Centrally Sponsored Scheme (CSS). The Centrally Sponsored Scheme (CSS) Component is further segregated into Non-beneficiary oriented and beneficiary orientated subcomponents/activities under the following three broad heads:

Enhancement of Production and Productivity
Infrastructure and Post-harvest Management
Fisheries Management and Regulatory Framework
12. Why is there outrage over the new 'National Emblem'?
Subject: History
Section: Art and Culture
Context:
Prime Minister Narendra Modi recently gave the nation a first glimpse of the national emblem atop the new Parliament House coming up as part of the Central Vista Project.
The National emblem of India is an adaptation from the Sarnath Lion Capital of Ashoka.
The Lion Capital of Ashoka is the capital of a column excavated by the Archaeological Survey of India (ASI) in Sarnath, Uttar Pradesh, India.
The capital was originally installed ca. 250 BCE by orders of the Mauryan emperor Ashoka atop a column in Sarnath, the site of Gautama Buddha's first sermon.
In the sermon, the Buddha taught the Four Noble Truths of Buddhism—suffering, attachment, renunciation, and the right path—which the four lions symbolize.
In July 1947, Jawaharlal Nehru, the interim prime minister of India, and soon-to-be prime minister of the Dominion of India formally proposed in the Constituent Assembly of India that the wheel on the abacus of the Sarnath capital be the model of the national flag of India and the capital itself without the lotus the state emblem of India
Ashokan pillars :4 parts

Shaft: A long shaft formed the base and was made up of a single piece of stone or monolith.
Capital: On top of shaft lay the capital, which was either lotus-shaped or bell-shaped.
Abacus: Above the capital, there was a circular or rectangular base known as the abacus.
Capital Figure: All the capital figures (usually animals like a bull, lion, elephant, etc) are vigorous and carved standing on a square or circular abacus.

Major Pillar Inscriptions of Ashoka

Sarnath Lion Capital: Near Varanasi was built by Ashoka in commemoration of Dhammachakrapravartana or the first sermon of Buddha.
Vaishali Pillar, Bihar, single lion, with no inscription.
Sankissa Pillar, Uttar Pradesh
Lauriya-Nandangarth, Champaran, Bihar.
Lauriya-Araraj, Champaran, Bihar
Allahabad pillar, Uttar Pradesh.

The Chinese pilgrim Hiuen-Tsang (602-664) left detailed accounts of the Dharmarajika stupa and Ashoka's lion pillar.
13. Tunnel vision that is endangering India's history
Subject: History
Section: Art and Culture
Context:
Section 20 of the Ancient Monuments and Archaeological Sites and Remains (AMASR) Act of 1958, last amended in 2010, prohibits construction within a 100 metre radius of all Archaeological Survey of India (ASI)-protected monuments and regulates activities within another 300 metre radius.
BarabarCaves(Bihar)

The Barabar Hill Caves are the oldest surviving rock-cut caves in India, dating from the Maurya Empire (322–185 BCE)
These caves are situated in the twin hills of Barabar (four caves) and Nagarjuni (three caves).
These rock-cut chambers bear dedicatory inscriptions in the name of "King Piyadasi" for the Barabar group, and "DevanampiyaDasaratha" for the Nagarjuni group, thought to date back to the 3rd century BCE during the Maurya period, and to correspond respectively to Ashoka (reigned 273–232 BCE) and his grandson, Dasharatha Maurya.
The sculptured surround to the entrance to the Lomas Rishi Cave is the earliest survival of the ogee shaped "chaitya arch" or chandrashala that was to be an important feature of Indian rock-cut architecture and sculptural decoration for centuries.
The caves were used by ascetics from the Ajivika sect, founded by MakkhaliGosala, a contemporary of Gautama Buddha, the founder of Buddhism, and of Mahavira, the last and 24th Tirthankara of Jainism.
Most caves at Barabar consist of two chambers, carved entirely out of granite, with a highly polished internal surface, the "Mauryan polish" also found on sculptures, and exciting echo effects.

Caves in barabar hills

Lomas Rishi cave has an arch-like shape facade that imitates contemporary timber architecture. On the doorway, a row of elephants proceed towards stupa emblems, along the curved architrave
Sudama cave was dedicated by Mauryan Emperor, Ashoka in 261 BCE. The arches of Sudama cave have bow shape. The caves consist of a circular vaulted chamber with a rectangular mandapa.
Karan Chaupar (Karna Chaupar) consists of single rectangular room with polished surfaces, contains inscription which could be dated to 245 BCE.
Visva karma cave, reachable by Ashoka steps hewn in the cliff, consists of two rectangular rooms.

AjantaCave (Maharashtra)

The Ajanta Caves are approximately 30 rock-cut Buddhist cave monuments dating from the 2nd century BCE to about 480 CE in the Aurangabad district of Maharashtra state in India. The caves include paintings and rock-cut sculptures described as among the finest surviving examples of ancient Indian art, particularly expressive paintings that present emotions through gesture, pose and form
The site is a protected monument in the care of the Archaeological Survey of India, and since 1983, the Ajanta Caves have been a UNESCO World Heritage Site.
The caves are in the rocky northern wall of the U-shaped gorge of the river Waghur, in the Deccan plateau

Masrur Rock cut temple (Himachal Pradesh)

Rock-cut Temples at Masrur, is an early 8th-century complex of rock-cut Hindu temples in the Kangra Valley of Beas River in Himachal Pradesh, India
They are a version of North Indian Nagara architecture style, dedicated to Shiva, Vishnu, Devi and Saura traditions of Hinduism, with its surviving iconography likely inspired by a henotheistic
The temples were carved out of monolithic rock with a shikhara, and provided with a sacred pool of water as recommended by Hindu texts on temple architecture

Guntupalli Cave(Andhra Pradesh)

The rock-cut part of the site has two Buddhist caves, a chaitya hall and a large group of stupas.The chaitya hall has a rare carved stone entrance replicating wooden architecture, a simpler version of that at the Lomas Rishi Cave.
The core of this consists of the stone stupa with an enclosed path around it allowing ritual parikrama (circumambulation).

Pattadakal's temples (Karnataka)

Located on the west bank of the Mallaprabha River in Bagalakote district, this UNESCO World Heritage Site
The Hindu temples are generally dedicated to Shiva, but elements of Vaishnavism and Shaktism theology and legends are also featured. The friezes in the Hindu temples display various Vedic and Puranic concepts, depict stories from the Ramayana, the Mahabharata, the Bhagavata Purana, as well as elements of other Hindu texts, such as the Panchatantra and the Kirātārjunīya.
The most sophisticated temples, with complex friezes and a fusion of Northern and Southern styles, are found in the Papanatha and Virupakshatemples.TheVirupaksha temple is an active house of Hindu worship

Viramgam'sMunsarTalav (Gujarat)

Munsar is water body constructed by Minaldevi, mother of Jayasimha Siddharaja, of Chaulukya dynasty. It was named as Mansavor but due to Indiscretion it's widely known as Munsar. This lake is situated at Viramgam, near Ahmedabad.
It is the centrepiece of a landscape consisting of interlocking ponds, sluice gates, decanting wells, irrigation canals, and farmlands.

Lucknow's imambaras

Bara Imambara, also known as AsfiImambara is an imambara complex in Lucknow, India built by Asaf-ud-Daula, Nawab of Awadh in 1784. Bara means big. This imambara is the second largest after the NizamatImambara.