Daily Prelims Notes 20 November 2022
November 20, 2022

Posted by:

OptimizeIAS Team

Category:

DPN

Daily Prelims Notes
20 November 2022
Table Of Contents
1. Appointment of Election Commissioner
Subject : Polity
Context : Former secretary of the Ministry of Heavy Industries Arun Goel has been appointed as the Election Commissioner.
Concept :
Appointment & Tenure of Election Commissioners
The Election Commission shall consist of the Chief Election Commissioner and such number of other Election Commissioners if any, as the president may from time-to-time fix.
The President appoints Chief Election Commissioner and Election Commissioners.
They have a tenure of six years, or up to the age of 65 years, whichever is earlier.
They have the same status and receive pay and perks as available to Judges of the Supreme Court of India.
The proviso to Article 324 (5) of the Constitution safeguards the Chief Election Commissioner (CEC) from arbitrary removal. The CEC can be removed from office only by the order of the President, just like a judge of the Supreme Court. However, the same constitutional provision is silent about the procedure for removal of the two Election Commissioners. It only provides that they cannot be removed from office except on the recommendation of the CEC
They can resign at any time by addressing the resignation letter to the president or can also be removed before the expiry of their term.
Procedure For Removal
He/she can be removed either on the ground of "proved misbehaviour or incapacity".
He/she can be removed by the president on the basis of a resolution passed to that effect by both the Houses of Parliament with special majority(majority of two-third members present and voting supported by more than 50% of the total strength of the house).
The Constitution does not use the word 'impeachment', for the removal of the Chief Election Commissioner.
The term 'Impeachment' is only used for removing the President.
The Election Commissioner cannot be be removed from office except the  Chief Election Commissioner.
CEC vs ECs
Though the Chief Election Commissioner is the chairman of the election commission, his powers are equal to the other election commissioners.
All the matters in the commission are decided by the majority amongst its members.
The Chief Election Commissioner and the two other election commissioners receive equal salary, allowances and other benefits.
2. NGO Pratham gets Indira Gandhi Prize
Subject : Awards and Recognitions
Context : Former Vice-President Hamid Ansari presented the Indira Gandhi Prize for Peace, Disarmament and Development of 2021 to Pratham, an NGO functioning in the field of education.
Concept : 
The award is in recognition of Pratham's work in ensuring quality education for children of the country, particularly during the COVID-19 pandemic.
Pratham also used digital technology to deliver education so that the children could learn during the school closure amid the pandemic.
About Indira Gandhi Prize 
The Indira Gandhi Prize for Peace, Disarmament and Development was instituted in the memory of the former prime minister by a trust (Indira Gandhi Memorial Trust) in her name in 1986.
It consists of a monetary award of Rs 25 lakh along with a citation.
The award is given to individuals or organisations who work towards ensuring international peace and development, ensuring that scientific discoveries are used to further the scope of freedom and better humanity, and creating a new international economic order.
NGO Pratham
Set up in 1995, Pratham began its work in slum areas by setting up community-based pre-schools and by offering remedial education to students who lagged behind in their classes.
Its Annual Status of Education Report (ASER), based on surveying 6,00,000 rural Indian children, is now used as a model to assess education outcomes and learning deficiencies in 14 countries over three continents.
To respond to the concerns raised by ASER, in 2007 Pratham launched its flagship programme, Read India, which aims to improve children's learning by strengthening basic reading and arithmetic.
3, Commission for Scientific and Technical Terminology
Subject : Science & tech
Context :A website and app by the Commission for Scientific and Technical Terminology will update technical terminology in Indian languages in keeping with the National Education Policy, which advocates teaching in the mother tongue and local languages as far as possible.
Concept : 
The Commission for Scientific and Technical Terminology will soon launch Shabd Shala, a website to invite suggestions for translation of words that are recent additions to the English language.
Technical terms from disciplines like Linguistics, Public Policy, Finance, Agriculture and Engineering will also be available on the website — shabd.education.gov.nic — and will be launched as an app, too.
The domain for the website has been registered and it's expected to become operational before the start of the next academic session.
Commission for Scientific and Technical Terminology(CSTT)
CSTT was established in December 1960 by Government of India resolution under provision Article 344(4) of Constitution
Presently, CSTT is functioning under the Department of Higher Education, Ministry of Education, Government of India with its headquarters at New Delhi.
The main objective is to evolve standard terminology, propagate its use, and distribute it widely.
The commission is mandated to collaborate with State governments, universities, regional textbook Boards, and State 'Granth Academies', which are nodal bodies in-charge of providing translations of English textbooks in local languages for institutions of higher education.
Eighteen States were mandated to have Granth Academies.
4. 400th anniversary of Lachit Barphukan
Subject : Culture/ History
Context: Assam CM launched Launched an event for the 400th birth anniversary    celebration of the Lachit Barphukan.
Concept: 
Lachit Borphukan, born on November 24, 1622, was a commander and Bophukan (councillor) in the Ahom Kingdom, which reigned present-day Assam for over 600 years while successfully resisting the Mughal Empire.
Battle of Alaboi (1669):
In 1669, Aurangzeb dispatched the Rajput Raja Ram Singh I to recapture territories won back by the Ahoms.
The battle of Alaboi was fought between the Ahom armed force and Mughals trespassers on August 5, 1969 in the Alaboi Hills near Dadara in North Guwahati.
Battle of Saraighat (1671):
The battle of Sarai Ghat was one of the most significant warfares in medieval India.
The Battle of Saraighat was a naval battle fought in 1671 between the Mughal Empire (led by the Kachwaha king, Raja Ram Singh I), and the Ahom Kingdom (led by Lachit Borphukan) on the Brahmaputra river at Saraighat, Guwahati, Assam.
Although weaker, the Ahom Army defeated the Mughal Army by brilliant uses of the terrain, clever diplomatic negotiations to buy time, guerrilla tactics, psychological warfare, military intelligence and by exploiting the sole weakness of the Mughal forces (navy).
The Battle of Saraighat was the last battle in the last major attempt by the Mughals to extend their empire into Assam.
Though the Mughals managed to regain Guwahati briefly later after a Borphukan deserted it, the Ahoms wrested control in the Battle of Itakhuli in 1682 and maintained it till the end of their rule.
Ahom Kingdom
The Ahom dynasty (1228–1826) ruled the present-day Assam, India for nearly 598 years.
The dynasty was established by Sukaphaa, a Shan prince of Mong Mao who came to Assam after crossing the Patkai Mountains.
The rule of this dynasty ended with the Burmese invasion of Assam and the subsequent annexation by the British East India Company following the Treaty of Yandabo in 1826.
In external medieval chronicles the kings of this dynasty were called Asam Raja, whereas the subjects of the kingdom called them Chaopha, or Swargadeo
5. INCOIS keeps watch on Barren Island volcano
Subject :Geography
Context-
The volcano on the Barren Island of the Andaman & Nicobar Islands is being closely watched by the Indian Tsunami Early Warning Centre (ITEWC) of the Indian National Centre for Ocean Information Services (INCOIS), to check for signs of an eruption which could lead to a tsunami or a monstrous undersea landslide akin to what had happened in Indonesia in 2018.
Volcano emitting smoke
The volcano about 140 km northeast of Port Blair has been emitting smoke and is not capable of causing major destruction but there could be a localised tsunami.
Early warning system to track movements-
The organisation already have seven tide gauges in the Indian Ocean and there is a plan to put a seismic sensor and another tide gauge to catch any movement generated underwater.
Recent tsunamis, including one in Tonga this year, have brought to the fore the challenge of tsunamis triggered by non-earthquake sources such as submarine landslides and volcanic eruptions.
Tsunami-
The series of extremely long waves, Tsunamis are very long wavelengths of water caused by a large and sudden displacement of the ocean due to earthquakes, volcanic eruptions etc.
These are also called seismic sea waves and are one of the most powerful and destructive natural forces.
Tsunamis can travel from 800 kmph in the deep ocean and about 30 kmph near the shore, with wave heights ranging from less than a metre to nine metres when they reach the shoreline.
Though the devastating tsunami of December 2004 has faded away from public memory, ITEWC continues its round-the-clock vigil for unusual happenings on the sea to give advance warnings to 25 countries apart from India.
Causes of Tsunami-
Earthquake
Underwater explosion
Volcanic eruption
Landslide
Meteorite Impacts
Tsunamigenic earthquake-
Scientists have calculated that it would take a magnitude of more than 6.5 on the Richter scale for a 'tsunamigenic' earthquake occurring in the Indian Ocean to hit the Indian coast, with travel time being 20 to 30 minutes to reach the A&N islands and two or three hours to hit the mainland.
On India's west coast, off the Arabian Sea, it could emerge from the Makran region and take two or three hours to reach the Gujarat coast.
Whenever an earthquake of more than 6.5 on the Richter scale occurs within the Indian Ocean (or above 8 on the Richter scale in other regions), timely and accurate tsunami bulletins are generated.
6. Royal Bengal Tiger count rises to 75 in Andhra Pradesh
Subject: Environment  
In the news-
Rise in the population of Royal Bengal Tiger-
As per the All India Tiger Estimation taken up in 2022, the population of Royal Bengal Tigers has increased by 60% (73 in number) in Nagarjuna Sagar Srisailam Tiger Reserve (NSTR)  and two tigers have been spotted in Papikonda National Park.
The overall tiger population in India is estimated at around 3,000.
Officials, during the census, observed a rise in the population of Black Buck, Leopard, Porcupine, Indian Gaur, Sloth Bear, Spotted Deer and other animals too.
Royal Bengal Tiger-
The Bengal tiger is a population of the Panthera tigris Tigris subspecies.
It ranks among the biggest wild cats alive today.
It is considered to belong to the world's charismatic megafauna.
The tiger is estimated to have been present in the Indian subcontinent since the Late Pleistocene, for about 12,000 to 16,500 years.
Today, it is threatened by poaching, loss and fragmentation of habitat.
None of the Tiger Conservation Landscapes within its range is considered large enough to support an effective population of more than 250 adult individuals.
The Bengal tiger's historical range covered the Indus River valley until the early 19th century, almost all of India, Pakistan, southern Nepal, Bangladesh, Bhutan and southwestern China.
Today, it inhabits India, Bangladesh, Nepal, Bhutan and southwestern China.
Characteristics-
The Bengal tiger's coat is yellow to light orange, with stripes ranging from dark brown to black; the belly and the interior parts of the limbs are white, and the tail is orange with black rings.
The white tiger is a recessive mutant, which is reported in the wild from time to time in Assam, Bengal, Bihar, and especially in the former State of Rewa.
Where are they found in India?
Good tiger habitats in subtropical and temperate forests include the Tiger Conservation Units (TCUs) Manas-Namdapha.
Tropical dry forests include Hazaribag Wildlife Sanctuary, Nagarjunsagar-Srisailam Tiger Reserve, Kanha-Indravati corridor, Orissa dry forests, Panna National Park, Melghat Tiger Reserve and Ratapani Tiger Reserve.
Tropical moist deciduous forests are probably some of the most productive habitats for tigers and their prey and include Kaziranga-Meghalaya, Kanha-Pench, Simlipal and Indravati Tiger Reserves.
Tropical moist evergreen forests represent the less common tiger habitats, being largely limited to the upland areas and wetter parts of the Western Ghats, and include the tiger reserves of Periyar, Kalakad-Mundathurai, Bandipur and Parambikulam Wildlife Sanctuary.
Conversation effort-
Estimation of Tiger Populations
'Tiger census' is conducted every four years to know the current tiger populations and population trends.
The most commonly used technique in the past was the 'Pugmark Census Technique'.
Recent methods used to estimate the numbers of tigers are camera trapping and DNA fingerprinting.
M-STrIPES (Monitoring System for Tigers – Intensive Protection and Ecological Status) is an app-based monitoring system, launched across Indian tiger reserves by the NTCA in 2010.
LIDAR-based survey technology will be used for the first time to provide water and fodder to animals in the forest itself to deal with the challenge of human-animal conflict which is causing the deaths of animals.
National Tiger Conservation Authority
National Tiger Conservation Authority (NTCA) is a statutory body under the Ministry of Environment, Forests and Climate Change.
It was established in 2005 following the recommendations of the Tiger Task Force.
It was constituted under enabling provisions of the Wildlife (Protection) Act, 1972, as amended in 2006, for strengthening tiger conservation, as per powers and functions assigned to it.
Wildlife Institute of India (WII)
Wildlife Institute of India (WII) offers training programs, academic courses, and advisory in wildlife research and management.
Established in 1982.
Established at Dehradun (winter capital and the most populous city in Uttarakhand).
It is an autonomous Institution of the Ministry of Environment & Forests.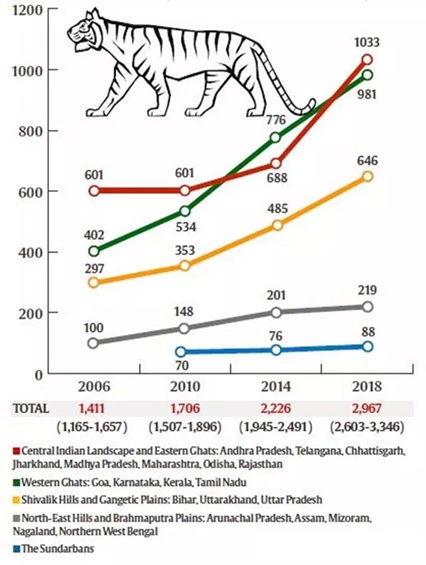 Conservation Assured | Tiger Standards (CA|TS)
CA|TS is a set of criteria which allows tiger sites to check if their management will lead to successful tiger conservation.
CA|TS is organised under seven pillars and 17 elements of critical management activity.
CA|TS was developed by tiger and protected area experts.
Officially launched in 2013, CA|TS is an important part of Tx2, the global goal to double wild tiger numbers by the year 2022.
"The long-term goal of CA|TS is to ensure safe havens for tigers."
Out of the total India's Tiger reserves 14 have received the Conservation Assured Tiger Standards accreditation. The 14 tiger reserves which have been accredited are:

Manas, Kaziranga and Orang in Assam,
Satpura, Kanha and Panna in Madhya Pradesh,
Pench in Maharashtra,
Valmiki Tiger Reserve in Bihar,
Dudhwa in Uttar Pradesh,
Sunderbans in West Bengal,
Parambikulam in Kerala,
Bandipur Tiger Reserve of Karnataka and
Mudumalai and Anamalai Tiger Reserve in Tamil Nadu
7. Climate change drives dengue in France
Subject :Environment  
Impact of climate change on Dengue-
Dengue-endemic countries will see increased dengue cases through faster viral amplification, and increased vector survival, reproduction and biting rates.
Longer period of spread
Increased temperature will allow vector and virus to spread to countries that are currently free of Dengue
Case of France and other countries-
France has recorded highest number of Dengue cases this year since 2006.
And for the first time in Europe, one event causing 34 cases on a single day was recorded in France on October 21, 2022.
Aedes albopictusis is the vector responsible for virus spread in France.
Aedes aegyptiis's (Vector of dengue in tropical countries) eggs are unable to survive the cold winter in Europe.
Aedes-borne virus transmission locally is expected in southern France due to colonisation of A. Albopictus.
The serotype 3 (DENV-3) has been identified for the first time this year in France.
Why Dengue spread in temperate countries-
Environmental conditions have a major impact on the efficiency of the vector system as well as on vector density and host-vector contacts.
Southern France and Mediterranean have been at risk of dengue since the early 2000s when the Asian tiger mosquito (Aedes albopictus) arrived, then spread through Europe.
The dengue season in Europe is only increasing each year with climate change.
Vietnam and the Philippines reported over 3,00,000 cases.
Dengue-
Dengue is a mosquito-borne tropical disease caused by the dengue virus (Genus Flavivirus), transmitted by several species of mosquito within the genus Aedes, principally Aedes aegypti.
This mosquito also transmits chikungunya, yellow fever and Zika infection.
There are 4 distinct, but closely related, serotypes (separate groups within a species of microorganisms that all share a similar characteristic) of the virus that cause dengue (DEN-1, DEN-2, DEN-3 and DEN-4).
Controlling dengue using bacteria-
Recently researchers from the World Mosquito Program have used mosquitoes infected with Wolbachia bacteria to successfully control dengue in Indonesia.
Dengue vaccine-
The dengue vaccine CYD-TDV or Dengvaxia was approved by the US Food & Drug Administration in 2019, the first dengue vaccine to get the regulatory nod in the US.
Dengvaxia is basically a live, attenuated dengue virus which has to be administered in people of ages 9 to 16 who have laboratory-confirmed previous dengue infection and who live in endemic areas.
8. Hypertension: a ticking time bomb in Indian adolescents
Subject :Science and Technology
Hypertension-
Blood pressure is the force exerted by circulating blood against the walls of the body's arteries, the major blood vessels in the body.
Hypertension is when blood pressure is too high.
It is defined as having systolic blood pressure level greater than or equal to 140 mmHg or diastolic blood pressure level greater than or equal to 90 mmHg or/and taking anti-hypertensive medication to lower his/her blood pressure.
India Hypertension control initiative (IHCI)-
The programme was launched in November 2017.
In the first year, IHCI covered 26 districts across five States — Punjab, Kerala, Madhya Pradesh, Telangana, and Maharashtra.
By December 2020, IHCI was expanded to 52 districts across ten States — Andhra Pradesh, Chhattisgarh, Karnataka, Kerala, Madhya Pradesh, Maharashtra, Punjab, Tamil Nadu, Telangana and West Bengal.
The Health Ministry, the Indian Council of Medical Research, State Governments, and WHO-India began a five-year initiative to monitor and treat hypertension.
India has committed to a "25 by 25" goal.

The goal aims to reduce premature mortality due to Non-Communicable Diseases (NCDs) by 25% by 2025.
One of the nine voluntary targets includes reducing the prevalence of high blood pressure by 25% by 2025.
Findings- 
Greater prevalence of hypertension in adolescents
High blood pressure is relatively silent, with grave consequences, as it is a major cause of cardiovascular diseases, including stroke. 
35% children aged 10-12 years and 25% of children above 13 years have hypertension.
As per the Indian national Health Portal Data, 30% of adults have elevated blood pressure– 35% in Urban areas and 28% in rural areas.
The study dispels the notion that hypertension is associated with affluence and will not occur in undernourished children.
Elevated blood pressure is more prevalent in poorer than the richest category. It also occurs with similar frequency in rural and urban areas.
High blood pressure prevalence in younger stunted adolescents is 40% compared to 34% in those not stunted.
Hypertension prevelence in thin/underweight adolescents is also high- 32% in younger and 22% in older adolescents.
Higher prevalence of high blood pressure in rural areas may be due to rapid urbanisation- a lower level of physical activity.
Chhattisgarh, Odisha, Telangana, andhra Pradesh, Manipur, Mizoram, Tripura and nagaland have higher hypertension prevalence (over 35%) compared with the rest of India.
9. Centre scraps export tax on iron ore and steel
Subject :Economy
In news-
India scrapped export taxes on low-grade iron ore and on some intermediate steel products beginning 19 nov 2022, after months of complaints from miners and steel makers about loss of foreign sales opportunities.
Tax imposed-
A notification issued reverses the imposition in May of a 50% tax on exports of iron-ore lumps and fines with less than 58% iron content.
The government also reversed a May increase in export tax on iron ore concentrates other than roasted iron pyrites. That tax returns to 30% from 50%.
Why the tax was imposed-
To boost domestic supply of iron ore, a raw ingredient for making steel,
To hold down inflation.
India exported less than half as much steel in the seven months to October as it did a year earlier.
Consequences of imposing tax-
Earlier this month India's iron ore exports had dropped to "nearly zero" in October and was further expected to decrease due to lower demand from China's weak economy.
Indian producers of low-grade ore depend largely on foreign markets, because most major domestic steel producers use high-grade iron ore.
The iron ore is found in following four types:
Magnetite:

It is the most important and best kind of iron ore.
It contains about 72% metallic iron in it. It is found in Karnataka, Andhra Pradesh, Rajasthan, Tamil Nadu, Goa and Kerala.

Hematite:

It contains about 60-70 percent metallic iron in it.
It is red and brown in colour.
It is found in Odisha, Jharkhand, Chhattisgarh and Andhra Pradesh. In the western section, Karnataka, Maharashtra and Goa have this kind of ore.

Limonite:

It contains about 30 to 40 percent metallic iron in it. It is mostly yellow in colour. It is low-grade iron ore.

Siderite:

It has more impurities.
It contains about 48 percent metallic iron content in it.
It is brown in colour.
It contains a mixture of iron and carbon. It is low-grade iron ore. It is self-fluxing due to the presence of lime.
Reserves and distribution of iron ore
About 95% of total reserves of iron ore are found in the States of Odisha, Jharkhand, Chhattisgarh, Karnataka, Goa, Telangana, Andhra Pradesh, and Tamil Nadu.
India's leading state that produces iron ore is Odisha. It accounts for more than 55% of the total production followed by Chhattisgarh producing almost 17%, this is followed by Karnataka and Jharkhand producing 14% and 11% respectively.
Export of iron ore from India
India is the fifth largest exporter of iron ore in the world.
About 50 to 60 percent of our total iron ore production to countries like Japan, Korea, European countries, and lately to Gulf countries.
Japan is the biggest buyer of Indian iron ore accounting for about three-fourths of our total exports.
Major ports handling iron ore export are Vishakhapatnam, Paradip, Marmagao, and Mangalore.
10. Andaman seeks GI tag for Nicobari hodi
Subject :Economy
In news-
Tribal Development Council, Andaman & Nicobar Islands is seeking the Geographical Indication (GI) tag for the Nicobari hodi boat.
This is the first application from the Union Territory seeking a tag for one its products.
About Nicobari hodi-
The hodi is the Nicobari tribe's traditional craft.
It is an outrigger canoe, very commonly operated in the Nicobar group of islands.
The technical skills for building a hodi are based on indigenous knowledge inherited by the Nicobarese from their forefathers.
The hodi is built using either locally available trees or from nearby islands, and its design varies slightly from island to island.
Considerations to be taken into account including the length of the finished canoe, which has to be 12 times that of its width while the length of the undressed tree trunk has to be 15 times this width.
Hodis are used for transporting people and goods from one island to another, for sending coconuts, for fishing and racing purposes.
The tuhet, a group of families under a headman, consider the hodi an asset.
Hodi races are held between islands and villages.
About Geographical Indication (GI) Tag-
Geographical Indication (GI) is an indication used to identify goods having special characteristics originating from a definite geographical territory.
The Geographical Indications of Goods (Registration and Protection) Act, 1999 seeks to provide for the registration and better protection of geographical indications relating to goods in India.
It is governed and directed by the WTO Agreement on Trade-Related Aspects of Intellectual Property Rights (TRIPS).
It was decided and also stated under Articles 1 (2) and 10 of the Paris Convention that the protection of industrial Property and Geographical Indication are elements of Intellectual Property.
It is primarily an agricultural, natural or a manufactured product (handicrafts and industrial goods).
This tag is valid for a period of 10 years following which it can be renewed.
11. Thanks to Namibia for cheetahs? India abstains on ivory trade vote-
Subject :Environment  
In news-
That proposal, to allow a regular form of controlled trade in ivory from Namibia, Botswana, South Africa and Zimbabwe, was defeated 83-15 at the19th meeting of the CITES Conference of the Parties (CoP 19) in Panama City.
India's abstention —abreak from its past stand— was in tune with what Namibia had asked for when it agreed to transfer cheetahs this summer.
IN THE deal it signed with Namibia to fly in cheetahs, India agreed to promote "sustainable utilisation and management of biodiversity" by supporting advances in this area of bilateral cooperation " at international forums including meetings of the Convention on International Trade in Endangered Species of Flora and Fauna" (CITES).
While the word "ivory" has not been mentioned, Namibia has already sought India's backing, under the commitment to support "sustainable management" at the CITES, for its longstanding proposal to allow trade in ivory derived from elephants of Namibia, Botswana, South Africa and Zimbabwe.
India's standpoint–
India has backed a total ban on the ivory trade since the 1980s.
Namibia is seeking India's support in the 19th meeting of the CITES Conference of the Parties (CoP19).
India has been against removing the ban on the international ivory trade despite having an ivory stockpile of an estimated 20- 30,000 kg worth over $250 million, stored with the forest departments of various states.
India and Kenya together sponsored the proposal in CoP-12 (2002) to put the southern African elephants back in Appendix-I.
Namibia's stand on ivory trade–
On July 20, 2022, India's Environment Minister signed the deal on "Wildlife Conservation and Sustainable Biodiversity Utilisation" with Namibia's Deputy Prime Minister Netumbo Nandi-Ndaitwah to bring cheetahs home.
Namibia and the other three southern African countries – Botswana, South Africa and Zimbabwe– argue that their elephant populations have bounced back and their stockpiled ivory, if sold internationally, can generate much-needed revenue for elephant conservation and incentivising communities.
CITES stand–
CITES said, there was a sharp spike in elephant poaching across the globe when the trade in ivory was allowed by the CITES in 1999 and 2008.
The ivory trade was globally banned in 1989 and all African elephant populations were put in CITES Appendix-I.
The populations of Namibia, Botswana and Zimbabwe were transferred to Appendix- II in 1997 and South Africa's in 2000.
No trade is allowed in species listed in CITES Appendix-I while trade is strictly regulated in those under Appendix II.
 In 1999 and 2008, Namibia, along with Zimbabwe and, later, Botswana and South Africa, was permitted by CITES to conduct one-off sales of ivory stockpiled from natural elephant deaths and seizures from poachers.
Subsequently, Namibia's proposal for allowing a regular form of controlled trade in ivory by delisting the elephant populations of the four countries from CITES Appendix II was rejected at the CoP17 (2016) and CoP18 (2019).