Daily Prelims Notes 20 September 2022
September 20, 2022

Posted by:

OptimizeIAS Team

Category:

DPN

Daily Prelims Notes
20 September 2022
Table Of Contents
1. Judgement by a larger bench prevails
Subject: Polity
Context: A Constitution Bench of the Supreme Court today ruled that a judgment delivered by a larger bench will prevail irrespective of the number of judges constituting the majority.
Concept :
A judgment delivered by a larger bench will prevail irrespective of the number of judges constituting the majority-In view of Article 145(5) of the Constitution of India.
It is settled that a majority verdict by a larger bench will prevail over even a unanimous decision by a bench of lesser strength, although the number of judges constituting the majority in the former may be less than or equal to the number of judges on the smaller bench.
To illustrate, the judgment of a 7-judge bench delivered with a 4:3 majority will prevail over a unanimous 5-judge bench.
Article 145(5) of the Indian Constitution
No judgment and no such opinion shall be delivered by the Supreme Court save with the concurrence of a majority of the Judges present at the hearing of the case, but nothing in this clause shall be deemed to prevent a Judge who does not concur from delivering a dissenting judgment or opinion
Subject : Governance
Concept :
Central Bureau of Investigation (CBI) is the premier investigating police agency in India.
It functions under the superintendence of the of Personnel, Ministry of Personnel, Pension & Public Grievances, Government of India – which falls under the prime minister's office.
However for investigations of offences under the Prevention of Corruption Act, its superintendence vests with the Central Vigilance Commission.
It is also the nodal police agency in India which coordinates investigations on behalf of Interpol Member countries.
Cases Handled by the CBI
Anti-Corruption Crimes – for investigation of cases under the Prevention of Corruption Act against Public officials and the employees of Central Government, Public Sector Undertakings, Corporations or Bodies owned or controlled by the Government of India.
Economic Crimes – for investigation of major financial scams and serious economic frauds, including crimes relating to Fake Indian Currency Notes, Bank Frauds and Cyber Crime, bank frauds, Import Export & Foreign Exchange violations, large-scale smuggling of narcotics, antiques, cultural property and smuggling of other contraband items etc.
Special Crimes – for investigation of serious and organized crime under the Indian Penal Code and other laws on the requests of State Governments or on the orders of the Supreme Court and High Courts – such as cases of terrorism, bomb blasts, kidnapping for ransom and crimes committed by the mafia/the underworld.
Suo Moto Cases – CBI can suo-moto take up investigation of offenses only in the Union Territories.
The Central Government can authorize CBI to investigate a crime in a State but only with the consent of the concerned State Government.
The Supreme Court and High Courts, however, can order CBI to investigate a crime anywhere in the country without the consent of the State.
Director of CBI
Director, CBI as Inspector General of Police, Delhi Special Police Establishment, is responsible for the administration of the organisation.
Till 2014, the CBI Director was appointed on the basis of the DSPE Act, 1946.
In 2003, DSPE Act was revised on Supreme Court's recommendation in the Vineet Narain case.
A committee that had members from Central Vigilance Commission, Secretaries from Home Ministry, Ministry of Personnel and Public Grievances would send recommendations to Central Government for the appointment of CBI Director.
In 2014, the Lokpal Act provided a committee for appointment of CBI Director:
Headed by Prime Minister
Other members – Leader of Opposition/ Leader of the single largest opposition party, Chief Justice of India/ a Supreme Court Judge.
Home Ministry sends a list of eligible candidates to DoPT. Then, the DoPT prepares the final list on basis of seniority, integrity, and experience in the investigation of anti-corruption cases, and sends it to the committee.
Director of CBI has been provided security of two year tenure, by the CVC Act, 2003.
3. Controversy over NAAC system
Subject : Governance
Context: The National Assessment and Accreditation Council (NAAC) courted controversy recently over the rating of the Maharaja Sayajirao University of Baroda and allegations of bribery in the process.
Concept :
NAAC had reportedly withheld the grading of the Maharaja Sayajirao University of Baroda after receiving an anonymous complaint that the university unduly tried to influence the peer review team with gold, cash and other favours.
However, on September 15, NAAC released the improved grading, terming the allegations as "false".
From the prevailing "input-based" approach, the NAAC now plans to adopt an "outcome-based approach".
Under the rules, only higher education institutions that are at least six years old, or from where at least two batches of students have graduated, can apply. The accreditation is valid for five years. Aspiring institutes need to be recognised by the UGC and have regular students enrolled in their full-time teaching and research programmes.
The ratings of institutions range from A++ to C. If an institution is graded D, it means it is not accredited.
About NAAC
It is an organisation that assesses and accredits higher education institutions (HEIs) in India.
It is an autonomous body funded by the University Grants Commission (UGC).
It is an outcome of the recommendations of the National Policy in Education (1986) which laid special emphasis on upholding the quality of higher education in India.
Headquartered in Bangalore.
The mandate of the NAAC as reflected in its vision statement is in making quality assurance an integral part of the functioning of Higher Education Institutions (HEIs).
The NAAC functions through its General Council (GC) and Executive Committee (EC) comprising of educational administrators, policymakers and senior academicians from the cross-section of Indian higher education system.
Subject : Polity/International Relations
Context: The Nordic Model of Social Democracy offers lessons to the developing world, including countries like India despite the myriad complexities of diversities.
Concept :
The Nordic model also known as the Scandinavian model, is the combination of social welfare and economic system adopted by Nordic countries (Sweden, Norway, Finland, Denmark, and Iceland).
It combines features of capitalism, such as a market economy with social benefits, such as state pensions and income distribution.
Important features of the Nordic model include public provision of social services, investment in services associated with human capital, and a strong social safety net.
Subject : Economy
Context:
The Insolvency and Bankruptcy Board of India (IBBI) has amended the IBBI (Insolvency Resolution Process for Corporate Persons) Regulations,  with the "objective to maximise value in resolution"
Amendments:
The Committee of Creditors (CoC) can now examine whether a compromise or an arrangement can be explored for a corporate debtor during the liquidation period.
A resolution professional and the CoC will look for sale of one or more assets of the corporate debtor concerned in cases where there are no resolution plans for the whole business

It will enable a resolution plan to include sale of one or more assets of CD (Corporate Debtor) to one or more successful resolution applicants submitting resolution plans for such assets and providing for appropriate treatment of the remaining assets.
Concept:
The Insolvency and Bankruptcy Code, 2016 (IBC)
The Insolvency and Bankruptcy Code (IBC) provides for a market-linked and time-bound resolution of stressed assets.
It covers all individuals, companies, Limited Liability Partnerships (LLPs) and partnership firms.
The goal of the code is to address insolvencies in a timely way; the evaluation and viability determination must be done within 180 days.

The Company is subject to a 180-day moratorium (which can be extended up to 270 days). The resolution time frame for startups and small businesses is 90 days, which can be extended by 45 days.

Objectives of IBC

To consolidate and amend all existing insolvency laws in India.
To simplify and expedite the Insolvency and Bankruptcy Proceedings in India.
To protect the interest of creditors including stakeholders in a company.
To revive the company in a time-bound manner.
To promote entrepreneurship.
To get the necessary relief to the creditors and consequently increase the credit supply in the economy.
To work out a new and timely recovery procedure to be adopted by the banks, financial institutions or individuals.
To set up an Insolvency and Bankruptcy Board of India.
Maximization of the value of assets of corporate persons.
The framework consists of the following bodies/institutions:
Insolvency Professionals: They will be in charge of the resolution procedure. They also handle the debtor's assets and provide information to creditors to help them make decisions.
Insolvency Professional Agencies: Insolvency practitioners will be registered with professional agencies for insolvency. Exams would be conducted to certify insolvency specialists, and a code of behaviour for their performance would be enforced by the agencies.
Information utilities: They will maintain track of debts owed to creditors, as well as repayments and debt defaults.
Adjudicating authorities: They will sanction the start of the resolution procedure, appoint the insolvency professional, and sign off on the creditors' ultimate judgement.
The National Company Law Tribunal (NCLT) is the deciding authority for corporations and limited liability firms.

Individuals and partnership firms have their debts adjudicated by the Debt Recovery Tribunal (DRT).

The Insolvency and Bankruptcy Board will oversee insolvency experts, professional agencies, and information utilities established under the Code.
Insolvency Resolution Process
Insolvency resolution process can be initiated by any of the stakeholders of the firm:  firm / debtors / creditors / employees.
If the adjudicating authority accepts, an Insolvency resolution professional (IP) is appointed.
The power of the management and the board of the firm is transferred to the committee of creditors (CoC). They act through the IP.
The IP has to decide whether to revive the company (insolvency resolution) or liquidate it (liquidation).

If they decide to revive, they have to find someone willing to buy the firm.
The creditors also have to accept a significant reduction in debt. The reduction is known as a haircut.
They invite open bids from the interested parties to buy the firm.
They choose the party with the best resolution plan, that is acceptable to the majority of the creditors (75% in CoC), to take over the management of the firm.
Insolvency and Bankruptcy Board of India
It was established on 1st October, 2016 under the Insolvency and Bankruptcy Code, 2016 (Code). 
It is a key pillar of the ecosystem responsible for implementation of the Code that consolidates and amends the laws relating to reorganisation and insolvency resolution of corporate persons, partnership firms and individuals in a time bound manner for maximisation of the value of assets of such persons, to promote entrepreneurship, availability of credit and balance the interests of all the stakeholders.
Functions 

It has regulatory oversight over the Insolvency Professionals, Insolvency Professional Agencies, Insolvency Professional Entities and Information Utilities.
It writes and enforces rules for processes, namely, corporate insolvency resolution, corporate liquidation, individual insolvency resolution and individual bankruptcy under the Code.
It has recently been tasked to promote the development of, and regulate, the working and practices of, insolvency professionals, insolvency professional agencies and information utilities and other institutions, in furtherance of the purposes of the Code.
 It has also been designated as the 'Authority' under the Companies (Registered Valuers and Valuation Rules), 2017 for regulation and development of the profession of valuers in the country.
Subject : Economy
Context:
FSSAI registered over 30K cases against food adulterers violating the standards laid down under the FSS Act, 2006 and Regulations in 2021-22  last year.
Most common adulteration :
Spices, oil and other food items–Artificial colours in red chilli powder, blackberries in black pepper, cheap oil mixed with coconut oil, lead chromate adulteration in turmeric and cassia bark in cinnamon.
Food Safety and Standards Authority of India (FSSAI) 
It is an autonomous statutory body established under the Food Safety and Standards Act, 2006.
The Ministry of Health & Family Welfare, Government of India is the administrative Ministry of FSSAI.
The Chairperson is in the rank of Secretary to Government of India.
Headquarters: Delhi.
FSS Act, 2006 consolidates various acts & orders that had earlier handled food related issues in various Ministries and Departments, such as–

Prevention of Food Adulteration Act, 1954
Fruit Products Order, 1955
Meat Food Products Order, 1973
Vegetable Oil Products (Control) Order, 1947
Edible Oils Packaging (Regulation) Order 1988
Milk and Milk Products Order, 1992

FSSAI was established in 2008 and fully functional in 2011 after its Rules and key Regulations were notified.

This marked a shift from a multi-level to a single line of control with focus on self-compliance rather than a pure regulatory regime.

FSSAI has been mandated by the FSS Act, 2006 for performing the following functions:

Framing of Regulations to lay down the Standards and guidelines in relation to articles of food and specifying appropriate systems of enforcing various standards thus notified.
Laying down mechanisms and guidelines for accreditation of certification bodies engaged in certification of food safety management systems for food businesses.
Laying down procedure and guidelines for accreditation of laboratories and notification of the accredited laboratories.
To provide scientific advice and technical support to Central Government and State Governments in the matters of framing the policy and rules in areas which have a direct or indirect bearing of food safety and nutrition.
Collect and collate data regarding food consumption, incidence and prevalence of biological risk, contaminants in food, residues of various contaminants in foods products, identification of emerging risks and introduction of rapid alert systems.
Creating an information network across the country so that the public, consumers, Panchayats etc receive rapid, reliable and objective information about food safety and issues of concern.
Provide training programmes for persons who are involved or intend to get involved in food businesses.
Contribute to the development of international technical standards for food, sanitary and phyto-sanitary standards.
Promote general awareness about food safety and food standards.
Initiatives of FSSAI:
Heart Attack Rewind – It is the first mass media campaign of FSSAI. It is aimed to support FSSAI's target of eliminating trans fat in India by the year 2022.
FSSAI-CHIFSS – It is collaboration between FSSAI and CII-HUL Initiative on Food Safety Sciences to promote collaborations between Industry, Scientific Community, Academia for food safety.
State Food Safety Index (SFSI): The FSSAI developed the State Food Safety Index (SFSI) index to measure the performance of states on five significant parameters of Food Safety.

The parameters include Human Resources and Institutional Data, Compliance, Food Testing – Infrastructure and Surveillance, Training & Capacity Building and Consumer Empowerment.
The first State Food Safety Index for the year 2018-19 was announced on the first-ever World Food Safety Day on 7th June 2019.

Eat Right India Movement: It is an initiative of the Government of India and FSSAI to transform the country's food system in order to ensure safe, healthy and sustainable food for all Indians..
Eat Right Station Certification: The certification is awarded by FSSAI to railway stations that set benchmarks (as per the Food Safety and Standards Act, 2006) in providing safe and wholesome food to passengers.
Subject : Economy
Context:
Uday Kotak has highlighted that India needs to manage inflation and growth well to break out from the EM tag and move towards its goal of becoming a standalone investment destination.
Emerging Market:
An emerging market economy refers to a country that is in the process of developing its economy to become more advanced.
Countries classified as emerging market economies are those with some, but not all, of the characteristics of a developed market.
Features: 

Emerging market economies typically feature a unified currency, stock market, and banking system; they're in the process of industrializing.
It strategies to move away from activities focused on agricultural and resource extraction toward industrial and manufacturing activities.
As an emerging market economy develops, it typically becomes more integrated with the global economy. That means it can have increased liquidity in local debt and equity markets, increased trade volume and foreign direct investment.
Their governments usually pursue deliberate industrial and trade strategies to encourage economic growth and industrialization.

These strategies include export led growth and import substituting industrialization.

Emerging market economies make up 80% of the world's population and almost 70% of the world's GDP growth.
Risks of Emerging Markets-Political instability, domestic infrastructure problems, currency volatility, and illiquid equity, lack highly developed market and regulatory institutions as those found in developed nations.

A key aspect of emerging market economies is that over time, they adopt reforms and institutions like those of modern developed countries. This promotes economic growth.

Emerging market economies are classified in different ways by different observers.
The International Monetary Fund (IMF) classifies 23 countries as emerging markets
Morgan Stanley Capital International (MSCI) classifies 24 countries as emerging markets.

Brazil, Chile, China, Colombia, Czech Republic, Egypt, Greece, Hungary, India, Indonesia, Korea, Malaysia, Mexico, Pakistan, Peru, Philippines, Poland, Russia, Qatar, South Africa, Taiwan, Thailand, Turkey and the United Arab Emirates

Standard and Poor's (S&P) classifies 23 countries
FTSE Russell classifies 19 countries as emerging markets
Dow Jones classifies 22 countries as emerging markets.
BRICS countries represent 5 emerging markets with major economic growth and opportunities for investment—Brazil, Russia, India, China, and South Africa.
8. European Union executive recommends suspending in funds for Hungary
Subject : International Relations
Context:
The European Union executive recommended suspending some 7.5 billion euros in funding for Hungary over corruption, the first such case under a new sanction meant to better protect the rule of law.
European Union:
It is a political and economic union of 27 member states that are located primarily in Europe.
Timeline of European Union's History: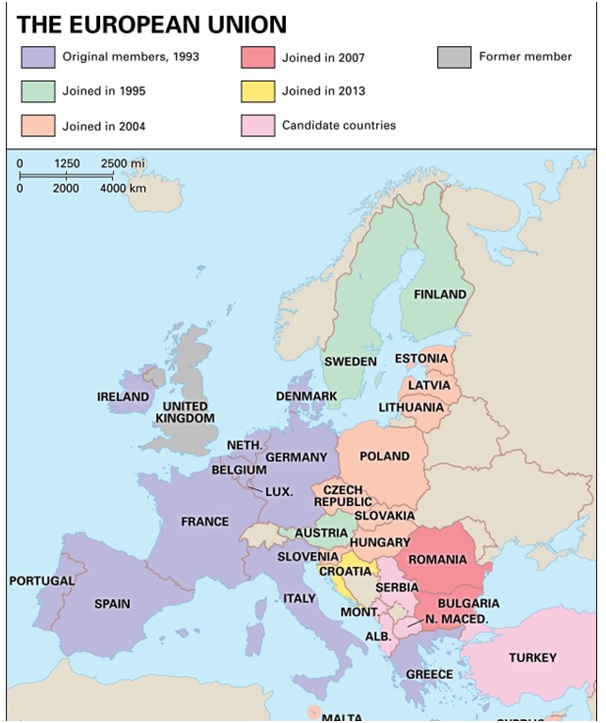 1952– European Coal and Steel Community (ECSC) was founded under Treaty of Paris (1951).
1957– European Atomic Energy Community (EAEC or Euratom), an international organisation established by the Euratom Treaty (1957).
1957- European Economic Community (EEC) was created by the Treaty of Rome (1957).
1965– Merger Treaty (1965, Brussels) in which an agreement was reached to merge the three communities (ECSC, EAEC, and EEC) under a single set of institutions, creating the European Communities (ECs).
1985– Schengen Agreement (1985) paved the way for the creation of open borders without passport controls between most member states. It came into effect in 1995.
1992– The Maastricht Treaty-1992 (also called the Treaty on European Union) by which European Communities (ECSC, EAEC, and EEC) incorporated as European Union. European citizenship was created, allowing citizens to reside in and move freely between Member States.
Organs of European Union:
European Council: It is a collective body that defines the European Union's overall political direction and priorities.
European Parliament: It is the only parliamentary institution of the European Union (EU) that is directly elected by EU citizens aged 18 years or older.
Council of the European Union: It is part of the essentially bicameral EU legislature (the other legislative body being the European Parliament) and represents the executive governments (Minister) of the EU's member states.
European Commission (EC): It is an executive body of the European Union, responsible for proposing legislation, implementing decisions, upholding the EU treaties and managing the day-to-day business of the EU.
European Court of Auditors (ECA): It investigates the proper management of finances within both the EU entities and EU funding provided to its member states.
The Court of Justice of the European Union (CJEU): It interprets EU law to make sure it is applied in the same way in all EU countries, and settles legal disputes between national governments and EU institutions.
The European Central Bank (ECB): It is the central bank for the euro and administers monetary policy within the Eurozone, which comprises 19 member states of the European Union.
Brexit:
The treaty of Lisbon contains a clause under Article 50, providing for a member to leave the European Union. The United Kingdom withdrew from the European Union on 31 January 2020.
9. Special tourist train to run on 'Ambedkar Circuit'
Subject :Art and Culture
Context:
The Union Tourism and Culture Minister recently announced a special tourist train to cover the "Ambedkar Circuit".
Ambedkar Circuit:
Ambedkar Circuit covers Madhya Pradesh's Mhow, Ambedkar's birthplace; Nagpur, where he converted to Buddhism; the residence in Delhi where he lived during his last years; and Dadar in Maharashtra, where his body was cremated.
The Tourism Ministry has drawn up an action plan for various circuits under its Swadesh Darshan scheme.
Swadesh Darshan Scheme:
Swadesh Darshan Scheme is a Central Sector scheme launched in 2014-15 by the Ministry of Tourism and Culture for the integrated development of theme-based tourist circuits.
Under the Swadesh Darshan scheme, the Ministry of Tourism provides Central Financial Assistance – CFA to State Governments, Union Territory Administrations for the infrastructure development of circuits.
Theme-based tourist circuits — Buddhist Circuit, Coastal Circuit, Desert Circuit, Eco Circuit, Heritage Circuit, Northeast Circuit, Himalayan Circuit, Sufi Circuit, Krishna Circuit, Ramayana Circuit, Rural Circuit, Spiritual Circuit, Tirthankar Circuit, Wildlife Circuit and Tribal Circuit.
10. Scientists work on smart materials to help convert waste heat to electricity
Subject: Science and Technology
Context:
Industrial and energy generation processes often produce a huge amount of waste heat that gets absorbed into the atmosphere.
A group of scientists in India are working on new materials that can recover waste heat from these processes and facilitate its usage.
Kanishka Biswas and his team of researchers at the Jawaharlal Nehru Centre for Advanced Scientific Research (JNCASR) have found several new smart materials which can efficiently convert waste heat to electricity and power small home appliances and automobiles.
Thermoelectric materials–
Materials that can convert waste heat to electrical energy are called thermoelectric materials.
Electrical voltage is generated by keeping one end of the material heated and the other end cold, which creates a temperature gradient.
Finding an efficient material to realise this thermoelectric effect entails fitting in three seemingly different properties into a single material — high electrical conductivity of metals, high thermoelectric sensitivity of semiconductors and low thermal conductivity of glass.
The group of scientists from JNCASR work with the thermoelectric properties of a certain class of inorganic chemical compound called chalcogenides of lead, bismuth, tin, germanium and noble metals.
They explore materials which, by the virtue of their unique structure, exhibit intrinsic glass-like thermal conductivity and crystal-like electrical conductivity.
Applications of these materials–
Internationally, thermoelectric materials, have been applied in highly efficient cooling and refrigeration, energy scavenging, sensing, and thermopower systems.
They are also used in the seat climate-control system of certain cars that use thermoelectric devices to generate power from the heat radiated from the engine.
Thermoelectric materials provide a sustainable energy alternative.
The ever-rising demand for energy is primarily addressed using earth's renewable sources, out of which only a handful fraction of it is utilised and more than 65% wasted as form of heat. Thermoelectric devices thus are centric for global sustainability as they utilise the waste heat to generate electricity. Given heat's ubiquitous nature, thermoelectric devices provide total-package solution to mitigate environmental crisis and energy needs.
Environmental Significance of these materials–
The new and efficient thermoelectric materials have the potential to help the country leapfrog to sustainable new age technologies and facilitate the journey towards the country's National Mission for Enhanced Energy Efficiency (NMEEE), one of the eight national missions under the National Action Plan on Climate Change (NAPCC), ensuring a faster transition to a low carbon economy.
They could also contribute towards climate change mitigation, paving the path towards facilitating India's ambitious climate change targets as reflected in the recently submitted Nationally Determined Contributions under the Paris Agreement.
Significance in Space missions–
The research into these materials also has a major significance in space missions.
Such energy converting thermoelectric materials were used by the U.S. National Aeronautics and Space Administration (NASA) in their deep space mission to convert heat energy generated by radioactive plutonium to electrical energy, which could be the source of energy for satellites for over 30 years, since the half-life of plutonium is close to 30 years.
The Bhabha Atomic Research Centre (BARC) is working with Indian Space Research Organisation (ISRO) to cater to similar requirements of the organisation for their space missions.
ISRO's plans to set up a space station, along with the various missions in the pipeline, call for continuous sources of energy in space.
ISRO's upcoming missions include the first Indian human space flight mission, Gaganyaan; the first Indian solar observatory, Aditya L-1; the second Indian space telescope, X-ray Polarimeter Satellite (XPoSat); Mangalyaan-2, India's second interplanetary mission to Mars; Chandrayaan-3, the lunar exploration mission; and the Venus orbiter mission, Shukrayaan.
To cater to this, ISRO's main centre for the design and development of all satellites, UR Rao Satellite Centre (URSC) is developing a Radioisotope Thermoelectric Generator (RTG).
RTGs are a type of nuclear-powered battery that use thermoelectricity to convert the heat emitted by the decay of suitable radioactive material into electricity.
While in normal satellites, the use of heavy equipment for energy generation makes the satellites bulky, RTG systems are less bulky, more fuel efficient and make the travel of the satellite system smoother and faster.
Furthermore, since it does not work on solar power, it can operate on the darker side of the satellite.
Such technologies will need the use of efficient indigenously developed thermoelectric materials.
Improving efficiency of these materials–
India needs to improve upon efficiency of thermoelectric materials and develop fabrication methods to make them cost effective.
In another study published in the journal Science last year, the researchers introduced cadmium (Cd) into silver antimony telluride (AgSbTe2) through a process known as doping, in order to increase electrical transport properties, which make the material more efficient.
While most efficient thermoelectric materials developed by scientists use lead as a major constituent element – thereby restricting their use for mass-market applications – the AgSbTe2 was free of lead and hence devoid of its toxic environmental consequences. This has brought about a paradigm shift in research on thermoelectric materials.
Conclusion–
Scientists are working on a scalable thermoelectric device that can convert low grade waste heat to electricity. The utility of such energy saving materials range from small home appliances and automobiles to space missions.
11. The significance of Ethereum's Merge for the future of cryptocurrencies
Subject : Environment
Context–
The Ethereum blockchain is fully transitioned to a new way of processing transactions.
The switch enable efficient energy consumption.
Developers say the transition to what is called a 'proof-of-stake' consensus mechanism will cut Ethereum's energy consumption by 99.95%.
What is Ethereum?
Ethereum, was co-founded by VitalikButerin.
It is one of the most used platforms by developers to build decentralised apps (dApps), smart contracts, and even crypto tokens.
The platform's currency, Ether is only second to Bitcoin (BTC) in terms of market capitalisation.
Environmental concerns of mining cryptocurrency–
The change in the way Ethereum builds the blockchain comes with not just environmental consequences, but also major cyber and financial security implications.
Decentralised transactions are processed on blockchains using consensus mechanisms. Ethereum's former method, 'proof-of-work', which is also used by Bitcoin, needs powerful mining hardware that consumes a lot of electricity and generates enormous amounts of heat.
This energy is then used to process extremely difficult mathematical puzzles, the solution of which would let new transactions be added to the blockchain so as to reward the miners with crypto.
Many environmentalists, policymakers, and regulators have strongly criticised the impact of Bitcoin mining on local communities.
Common centres for mining included China (before a near-total crypto ban), the U.S., Russia, and Kazakhstan — countries with cheap electricity rates and colder climates.
Ethereum's website admitted that their crypto's total annualised power consumption nearly matches that of Finland while its carbon footprint is comparable to Switzerland.
For some time, European countries even mulled a crypto mining ban, while China actually carried out a nationwide crackdown on crypto miners, sending them fleeing Overseas.
Consequences of crypto mining–
Some Bitcoin supporters go so far as to say that miners' activities, though harmful to the environment now, will help bring about an energy revolution and the faster adoption of solar, wind, gas, and nuclear energy.
However, the consequences of crypto mining across the globe have included mass electricity blackouts, fire accidents, overburdened grids, struggles between locals and crypto miners for more control over the energy supply, and even crypto mining on indigenous land.
Need for a new mechanism–
Probably as a response to the backlash, Ethereum has decided to switch to a 'proof-of-stake' consensus mechanism, where Ether owners will stake their own coins in order to serve as collateral and help process new blockchain transactions, in return for rewards.
Crypto experts are divided as to which consensus mechanism offers better protection from hackers.
Theoretically, there are ways to hack both verification methods. But Ethereum claims the proof-of-stake consensus mechanism offers better security.
Which other cryptocurrencies are changing to proof-of-stake now?
For now, no other top coin is planning an Ethereum-style Merge.
After Bitcoin, Dogecoin [DOGE] is the largest proof-of-work-based cryptocurrency.
After that comes Ethereum Classic [ETC], formerly part of Ethereum before a community schism.
Way Forward–
This is an important day for crypto trackers as Ethereum's Merge event, as it is known, could change the nature of crypto and Web3.0 itself.
Ethereum Classic has made it clear that it is loyal to the proof-of-work mechanism.
It has invited miners to mine ETC and has said that stakers are free to choose ETH2. Both chains co-exist in their own right providing options for stakers and miners.
Traders are also watching the markets and charts to see if other proof-of-work coins experience a price lift from new investors who don't want to support a proof-of-stake Ethereum.