Daily Prelims Notes 22 November 2021
November 22, 2021

Posted by:

OptimizeIAS Team

Category:

DPN

Daily Prelims Notes
22 November 2021
Table Of Contents
Subject – Environment
Context – The Glasgow pact recently signed at COP26 deals with many issues of the Paris Agreement, such as finance, reporting of climate actions, transparency in climate actions, and rules for creating global market for trading in carbon offsets (carbon credits).
Concept –
Carbon credit is a financial instrument issued to an entity, a company or municipal body, for undertaking an activity, that has the effect of either avoiding emission of CO2 into the atmosphere or absorbing back some of the already emitted CO2 (sequestration).
A carbon credit is a permit that allows the company that holds it to emit a certain amount of carbon dioxide or other greenhouse gases. One credit permits the emission of a mass equal to one ton of carbon dioxide.
Carbon credits were devised as a market-oriented mechanism to reduce greenhouse gas emissions.
Companies get a set number of credits, which decline over time. They can sell any excess to another company.
Thus, "cap-and-trade" is an incentive to reduce emissions.

Companies that pollute are awarded credits that allow them to continue to pollute up to a certain limit. That limit is reduced periodically. Meanwhile, the company may sell any unneeded credits to another company that needs them.

Negotiators at the Glasgow COP26 climate change summit in November 2021 agreed to a global carbon credit offset trading market.
Its history –
With the signing of the Kyoto Protocol in 1997, a market was created for the reduction of greenhouse gases, assigning a monetary value to the reduction of emissions. One of the Flexible Mechanisms defined by the Kyoto Protocol is the Clean Development Mechanism (CDM).
The signatory countries of the Protocol have agreed to reduction targets. Carbon credits received in the process of meeting these targets can be sold to governments or companies that have not been able to reduce their emissions.
Despite the difficulty some countries have had in reducing emissions, experts agree that the most important thing from an ecosystem perspective is the global effort to reduce greenhouse gases, regardless of political boundaries and progress toward compliance in specific jurisdictions.
Thus the carbon market allows a government or business to acquire emissions reductions created elsewhere to achieve its own objectives.
The goals of the initial agreement were expanded and updated at the Durban Climate Change Conference in 2011.
Carbon markets existed under the Kyoto Protocol, which is being replaced by the Paris Agreement in 2020.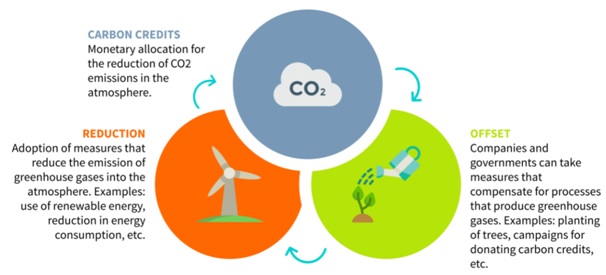 How is a Carbon Credit different from a Renewable Energy Certificate?
Other trading units under Kyoto Protocol –
The other units which may be transferred under the scheme, each equal to one tonne of CO2, may be in the form of:
A Removal Unit (RMU) on the basis of land use, land-use change and forestry (LULUCF) activities such as reforestation.
An Emission Reduction Unit (ERU) generated by a joint implementation project.
A Certified Emission Reduction (CER) generated from a clean development mechanism project activity.
Transfers and acquisitions of these units are tracked and recorded through the registry systems under the Kyoto Protocol.
Internationally Transferred Mitigation Outcomes (ITMO)
Internationally Transferred Mitigation Outcomes (ITMO) are units from the new mechanism for the international emissions trading between Parties to the Paris Agreement.
General rules in this regard are stipulated in Article 6(2) of the Paris Agreement but details for this mechanism are to be established yet.
All assets under the Paris Agreement – called International Traded Mitigation Outcomes – are authorised for use in another country's NDC are subject to an adjustment mechanism to ensure that only one party takes credit for these reductions.

Parties have the right to include the reduction of emissions in any other country as their NDC, as per the system of carbon trading and accounting.

One reason for international transfers of mitigation outcomes is that they allow a 'buyer' country to finance lower-cost emissions reductions in another country to meet its own commitment without losing environmental integrity. This allows them to be more ambitious.

It also allows 'seller' countries to finance domestic mitigation beyond what can be achieved with their own resources.
Subject – Geography
Context – A Chinese mining conglomerate has bought a stretch of southeast Congo, called Kisanfu and is racing to retrieve its buried treasure: millions of tons of cobalt. This, holds one of the largest and purest untapped reserves of cobalt in the world.
Concept –
Cobalt is a chemical element with the symbol Co and atomic number 27.
Like nickel, cobalt is found in the Earth's crust only in a chemically combined form, save for small deposits found in alloys of natural meteoric iron.
The free element, produced by reductive smelting, is a hard, lustrous, silver-grey metal.
Cobalt makes up only 0.001% of Earth's crust. Most of the Earth's cobalt is in its core.
It is similar to iron and nickel in its physical properties.
It is found in plants and animals, air, water, soil, rocks.
Cobalt is used in many alloys & super alloys to make parts in aircraft engines, gas turbine, high-speed steels, corrosion resistant alloys, cemented carbides. It is also used in magnets and magnetic recording media.
The radioactive isotopes, cobalt-60, is used in medical treatment and also to irradiate food.
Cobalt is stable in air and unaffected by water, but is slowly attacked by dilute acids.
The metal, typically extracted from copper deposits, has historically been of secondary interest to miners. But demand is set to explode worldwide because it is used in electric car batteries, helping them run longer without a charge.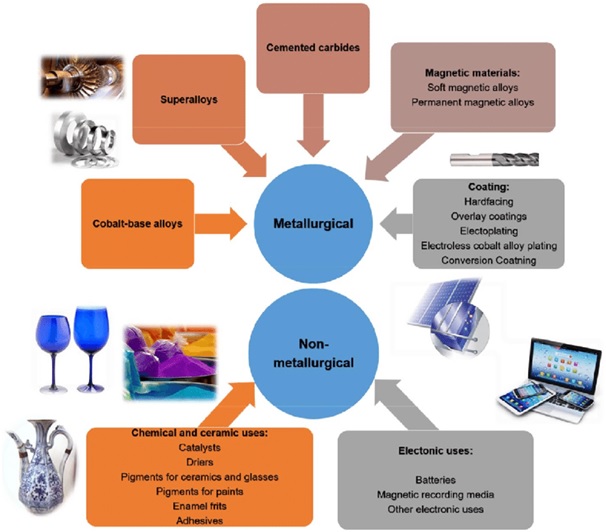 Cobalt Reserves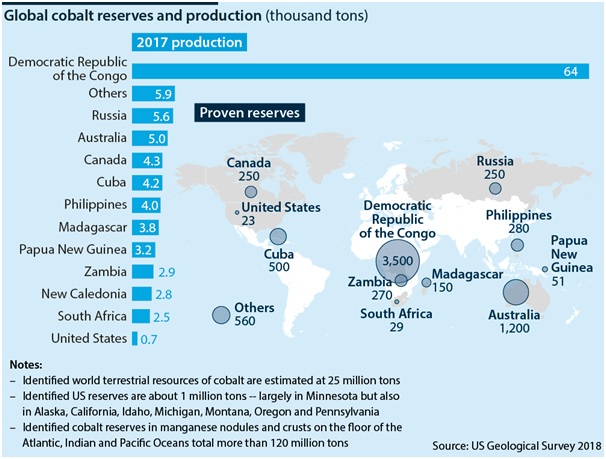 3. National Critical Information Infrastructure Protection Centre (NCIIPC)
Subject – Security and Defence
Context – PNB server vulnerability may have exposed data of over 180 m customers: CyberX9
Concept –
National Critical Information Infrastructure Protection Centre (NCIIPC) is an organisation of the Government of India created under the Section 70A of the Information Technology Act, 2000 (amended 2008).
Based in New Delhi, India, it is designated as the National Nodal Agency in terms of Critical Information Infrastructure Protection.
It is a unit of the National Technical Research Organisation (NTRO) and therefore comes under the Prime Minister's Office (PMO).
Critical Information Infrastructure
The Information Technology Act, 2000 defines Critical Information Infrastructure (CII) as "… those computer resource, the incapacitation or destruction of which, shall have debilitating impact on national security, economy, public health or safety".
NCIIPC has broadly identified the following as 'Critical Sectors' :-
Power & Energy
Banking, Financial Services & Insurance
Telecom
Transport
Government
Strategic & Public Enterprises
To know about CERT-In, please refer August 2021 DPN.
Subject – IR
Context – The crisis being faced by India's strategic port project at Chabahar in Iran has deepened after crane-makers failed to turn up for a tender to supply four new ship-to-shore cranes to the port.
Concept –
| | | |
| --- | --- | --- |
| Port | Location | Bordering Countries |
| Chabahar port | In south-eastern Iran, on the Gulf of Oman | 72 km away from the Gwadar port in Pakistan which has been developed by China. |
Features
Importance for India

It consists of two separate ports named ShahidBeheshti and Shahid Kalantari.

It is the only Iranian port with direct access to the Indian Ocean.

With this, India can bypass Pakistan in transporting goods to Afghanistan.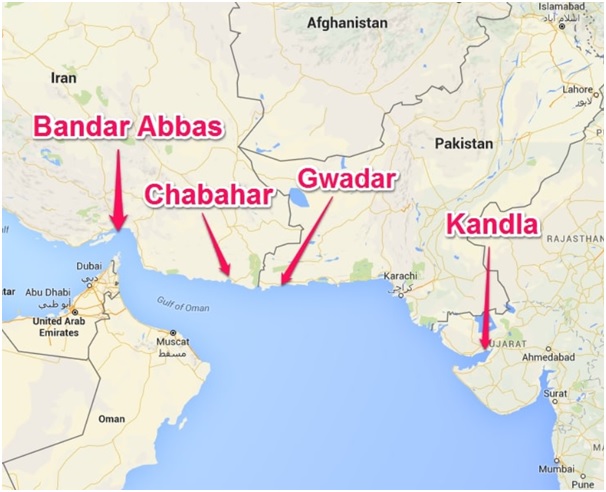 Subject – Economy
Context – To correct duty structure, FinMin notifies 12% GST on textiles, footwear from January 1
Concept –
An inverted duty structure arises when the taxes on output or final product is lower than the taxes on inputs, creating an inverse accumulation of input tax credit which in most cases has to be refunded.
Inverted duty structure has implied a stream of revenue outflow for the government prompting the government to relook the duty structure.
What are the problems with the current inverted duty structure under GST?
The inverted duty structure is causing several administrative problems in our GST system.
Taxpayers will have accumulated credits in the form of refund claims with the tax Department.
The inverted duty structure is a revenue loss for the government as it has to refund the tax already paid (in inputs).
Under GST, the inverted duty structure is identified for goods and not for services. Or in other words, there is recognition for 'input good' and not for 'input services.'
6. National Securities Depository Limited (NSDL)
Subject – Economy
Context – FPIs adopt contrarian game plan: Invest in IPOs, sell in stock market
Concept –
National Securities Depository Limited (NSDL) is an Indian central securities depository under the jurisdiction of Ministry of Finance, Government of India based in Mumbai.
It was established in1996 as the first electronic securities depository in India with national coverage.

The enactment of Depositories Act in August 1996 paved the way for establishment of NSDL.

NSDL provides bucket of services to investors, stock brokers, custodians, issuer companies, Saving account current account Business corresponding etc. through its nationwide network of Depository Participants or DPs and digital platforms.

It handles most of the securities held and settled in dematerialized form in the Indian capital market.

It is a depository of Indian securities that stores digitally securities such as investor bonds, shares and debentures.
It is India's first and largest depository of national securities dealing with issues related to paper-based securities settlement such as terrible distribution and delayed transfer of title, etc.
It aims at ensuring the safety and soundness of Indian marketplaces by developing settlement solutions that increase efficiency, minimize risk and reduce costs.
To know about Initial Public Offering (IPO), please refer August 2021 DPN.
7. Importer-Exporter Codes (IECs)
Subject – Economy
Context – Importer-exporter codes not updated after Jan 2014 to be deactivated
Concept –
The Importer-Exporter Code (IEC) is a key business identification number that is mandatory for exports or imports.
No person shall make any import or export except under an IEC number granted by the DGFT.
The nature of the firm obtaining an IEC includes proprietorship, partnership, LLP, limited company, trust, and society.
After the introduction of GST (Goods and Services Tax), the IEC number is the same as the PAN of the firm.
It is issued by the DGFT (Director General of Foreign Trade – Ministry of Commerce and Industry).
IEC is a 10-digit code which has lifetime validity.
Predominantly importers cannot import goods without the Import Export Code and similarly, the exporter merchant cannot avail benefits from DGFT for the export scheme, etc. without IEC.
Directorate General of Foreign Trade (DGFT)
Directorate General of Foreign Trade (DGFT) organisation is an attached office of the Ministry of Commerce and Industry and is headed by Director General of Foreign Trade.
It is responsible for formulating and implementing the Foreign Trade Policy with the main objective of promoting India's exports.
Headquarters: New Delhi
Functions:

Licensing of imports and exports.
Regulate, restrict or prohibit exports and imports.
It plays an advisory role to the Government on Policy measures pertaining to national and international economic scenarios.
Subject – Governance
Context – Madhya Pradesh: Commissionerate system stuck in IAS-IPS wrangle 11 years and promises later
Concept –
In the commissionerate system, the Commissioner of Police (CP) is the head of a unified police command structure, is responsible for the force in the city, and is accountable to the state government.
The office also has magisterial powers, including those related to regulation, control, and licensing.
Under the new system, a commissioner does not have to report to the district magistrates. And, the judicial and executive powers from inquiries to granting license, permits and permissions — will be shifted to police officers from magistrates.
The CP is drawn from the Deputy Inspector General rank or above, and is assisted by Special/Joint/Additional/Deputy Commissioners.
In the arrangement in force at the district level, a 'dual system' of control exists, in which the Superintendent of Police (SP) has to work with the District Magistrate (DM) for supervising police administration.
It is supposed to allow for faster decision-making to solve complex urban-centric issues.
Under the 7th Schedule of the Constitution, 'Police' is under the State list, meaning individual states typically legislate and exercise control over this subject.
The sixth National Police Commission report, which was released in 1983, recommended the introduction of a police commissionerate system in cities with a population of 5 lakh and above, as well as in places having special conditions.
The British brought the system first in Kolkata and followed it in Mumbai and Chennai presidencies. Delhi turned into a commissionerate during the Morarji Desai regime.
Subject – IR
Context – Russia and Ukraine must abide by their commitments in the Minsk accord
Concept –
The Minsk Protocol is an agreement which sought to end war in the Donbas region of Ukraine.
It was written by the Trilateral Contact Group on Ukraine, consisting of Ukraine, the Russian Federation, and the Organization for Security and Co-operation in Europe (OSCE), with mediation by the leaders of France and Germany in the so-called Normandy Format.
10. Indira Gandhi Prize for Peace Disarmament and Development for 2021
Subject – Governance
Context – Pratham gets Indira Gandhi Peace Prize
Concept –
Pratham, a civil society organisation dedicated to improving the quality of education among underprivileged children in India and across the world, has been selected for the Indira Gandhi Prize for Peace, Disarmament and Development for 2021.
About Pratham –
Set up in 1995 in Mumbai by Dr.Madhav Chavan and Ms. Farida Lambay, Pratham started work in Mumbai slums, setting up community based "Balwadis" or pre-schools and offering remedial education for students lagging behind their grade level curriculum.
Its Annual Status of Education Report (ASER), based on surveying 6,00,000 rural Indian children, is now used as a model to assess education outcomes and learning deficiencies in 14 countries over three continents.
In basic education, Pratham develops low-cost and replicable innovations, working with the Government and community to improve learning outcomes. Its programmes now cover children and young adults in 21 States.
11. Healthcare equity in urban India
Subject – Governance
Context – Life expectancy lower for urban poor, says study
Concept –
Life expectancy among the poorest is lower by 9.1 years among men and 6.2 years among women from the corresponding figures for the richest in urban areas, noted a report released recently by Azim Premji University in collaboration with 17 regional NGOs across India.
The report, "Healthcare equity in urban India", explores health vulnerabilities and inequalities in cities in India.
It also looks at the availability, accessibility and cost of healthcare facilities, and possibilities in future-proofing services in the next decade.
It notes that a third of India's population lives in urban areas, with this segment seeing a rapid growth from about 18% (1960) to 28.53% (2001) and 34% (in 2019). Close to 30% of people living in urban areas are poor.
The report, besides finding disproportionate disease burden on the poor, also points to a chaotic urban health governance, where the multiplicity of healthcare providers both within and outside the Government without coordination are challenges to urban health governance.
The other key findings include a heavy financial burden on the poor, and less investment in healthcare by urban local bodies.
12. Tadoba­Andhari Tiger Reserve (TATR)
Subject – Environment
Context – ₹15 lakh compensation for kin of forest guard killed by tigress in TATR.
Concept –
Tadoba Andhari Tiger Reserve is located in Chandrapur district in Maharashtra.
It is Maharashtra's oldest and largest national park.
It is one of India's 50 "Project Tiger" – Tiger reserves.
Tadoba-Andhari Tiger Reserve was established as the second Tiger Reserve in Maharashtra in 1993-94.
The first Tiger Reserve established in the State is Melghat Tiger Reserve (1973-74).
It represents Southern Tropical Dry Deciduous Teak Forests in the Tiger habitat and has viable tiger population of more than 40 tigers.