Daily Prelims Notes 23 August 2022
August 23, 2022

Posted by:

OptimizeIAS Team

Category:

DPN

Daily Prelims Notes
23 August 2022
Table Of Contents
1. The privatization of public sector banks
Subject :Economy
Section: Banking
Context :India's public sector banks have struggled with high levels of non-performing assets (NPAs) leading to restriction of normal functioning and decline in profitability
Steps taken:

RBI has put many Public sector banks under Prompt Corrective Action (or PCA)
Recapitalisation of banks
Privatisation of PSBs
Arguments in favour of privatisation:
Reduce the financial burden on the government 
Banks would be more efficient and profit-making entities under private ownership
Private sector banks have lower bad assets
Higher percentage of contribution in getting deposits from savers and lending.
Better contribution in employment generation and branch addition
Less prone to banking fraud
Higher market capitalisation than PSB

Arguments against rapid privatization:
PSBs source of rural development  and financial inclusion

Private banks dominate the metropolitan areas, it is the public sector banks that operate branches in rural India. 
Further PSBs opened more ATMs in rural areas  
Private sector banks accounted for just 1.3 crores of the total of almost 46 crore beneficiaries under the Pradhan Mantri Jan Dhan Yojana (PMJDY).

As per RBI report contrary to public perception, PSBs are more efficient than PVB, on the metric of objective fulfillment.

When profit maximisation is the sole motive, efficiency of the PVBs has always surpassed that of their public sector but when the objective function is changed to include financial inclusion—like total branches, agricultural advances and PSL advances— PSBs prove to be more efficient than PVBs.

Dominant share in Infrastructure finance-low profitability and long gestation projects
PSBs are also more effective in monetary policy transmission, aiding the countercyclical monetary policy actions to gain traction.
Conclusion-focus should be laid on achieving a mix of public and private banks that best serves the needs of a diverse economy such as India.
Concept:
Scheduled Commercial Banks'are banks included in the second schedule of the RBI Act. It comprises Public Sector Banks, Regional Rural Banks, Private Sector Banks, Small Finance Banks (SFBs), Scheduled Payments Banks and Foreign Banks.
| | | |
| --- | --- | --- |
| Basis | Private sector bank | Public sector bank |
| Controlling authority  | Private individual | Government of India |
| Shareholding pattern | More than 50% share with private corporations or individuals | Majority shares with central or state government |
| Governing act | Registered under Companies Act 2013 | Special acts passed in Parliament like- State Bank of India(Subsidiary Banks)Act 1959 |
| Regulating body | RBI | RBI |
| FDI | Cap on 74% no control and management. No single entity has more than 10% stake in a bank. | 20% |
| Selection of management  | Own process as per RBI guidelines | Bank Bureau of India |
| Central Vigilance Commission and RTI Act 2005 | private sector banks are not under the ambit of the Central Vigilance Commission and RTI Act 2005 | All PSB's come under the purview of the Central Vigilance Commission and RTI Act 2005. |
Subject :Economy
Section: External sector
Why in the news?
The finance ministry made it tougher for loan defaulters and those facing probe by investigative agencies to invest in overseas entities.
Details:
They need to secure a no-objection certificate (NOC) from their lenders, or the regulators or probe agencies concerned before making overseas investments,
This NOC will be mandatory for any person who has a bank account classified as a non-performing asset, or is labelled a wilful defaulter by any bank, or is under investigation by a financial service regulator, the Enforcement Directorate (ED) or the Central Board of Investigation (CBI).
Concept:
At present, the overseas investment by a resident in India is governed by

the Foreign Exchange Management (Transfer or Issue of Any Foreign Security) Regulations, 2004, and
the Foreign Exchange Management (Acquisition and Transfer of Immovable Property Outside India) Regulations, 2015.
The Overseas Investment Rules and Regulations, notified under the Foreign Exchange Management Act (FEMA), subsumes all existing norms relating to overseas investments as well as the acquisition and transfer of immovable property outside India.

As per the Foreign Exchange Management (Overseas Investment) Rules 2022,

An Indian entity can invest up to four times of its net worth in a foreign entity .
It is permitted to invest  up to 50 per cent of its net worth in overseas portfolio investment.
An Indian entity may make Overseas Direct Investment (ODI) by way of buying shares either through subscription, acquisition through bidding or tender procedure by way of rights issue or allotment of bonus, shares, capitalisation, swap of securities and through merger, demerger, amalgamation or any scheme of arrangement.
An Indian Financial institution may make ODI in a foreign entity , which is directly or indirectly engaged in fifinancial services activity.
A resident individual can invest in non financial companies without any limit, to acquire foreign securities by way of inheritance, gift from a person residing in India and in case the gift giver is in abroad (as per th provisions of the Foreign Contribution (Regulation) Act 2010)
Employee or a director of an office in India or branch of an overseas entity or a subsidiary in India of an overseas entity, or of an Indian entity in which the overseas entity has direct or indirect equity holding allowed acquisition of shares or interest under Employee Stock Ownership Plan or Employee Benefits Scheme or sweat equity shares.
Indian entities or residents can make ODI in startups recognised under the law in the host country, but only from its internal accruals.
No Indian resident will be permitted to make investments in foreign entities that are engaged in real estate business, gambling in any form and dealing with financial products linked to the Indian rupee without the central bank's specific approval.

Direct investment outside India means investments, either under the Automatic Route or the Approval Route, by way of contribution to the capital or subscription to the Memorandum of a foreign entity or by way of purchase of existing shares of a foreign entity either by market purchase or private placement or through stock exchange, signifying a long-term interest in the foreign entity .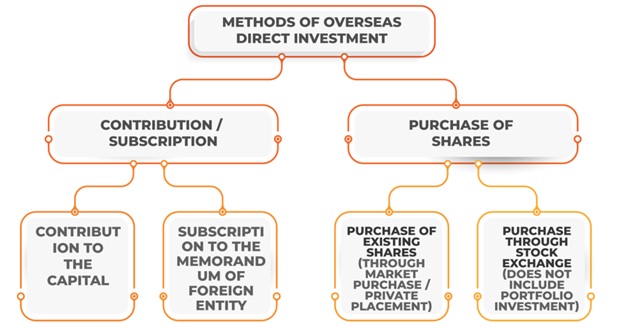 Overseas Portfolio Investment-listed Indian companies can invest up to 50% of their net worth as on the date of the last audited Balance Sheet in overseas companies, listed on a recognized stock exchange, or in the rated debt securities issued by such companies.
Foreign direct investment (FDI) occurs when a company purchases an interest in a company by a company located outside its own borders. Overseas direct investment ODI occurs when a resident company invests in a wholly-owned subsidiary (or joint venture) in a non-resident country, in order to expand the business.
3. Declining State Financial Health
Subject :Economy
Section : Fiscal Policy
Chief Ministers expressed their concern about dwindling State revenues in a NITI Aayog meeting chaired by the Prime Minister.
Causes of worsening financial health of States:
Schemes and exigency-implementation of the Ujwal DISCOM Assurance Yojana, farm loan waivers, the pandemic
Revenue- expenditure mismatch-

The Constitution grants the Union government more revenue-raising powers while the States are tasked to undertake most of the development and welfare-related responsibilities.
| | | |
| --- | --- | --- |
| | Aggregate Revenue raised | Aggregste Expenditure made |
| Centre | 62.7% | 37.3% |
| State | 37.6% | 62.4% |
Decline in devolution-

Although the 14th and 15th FC raised the share of States in gross taxes to over 40%, the actual share never reached this mandated level.
After reaching a peak of 36.6% in FY19, States' share fell and has since stagnated at around 29%.

Rising gap in tax devolution-

The gap between the share recommended by the FC and the actual devolution has widened to the highest in at least two decades.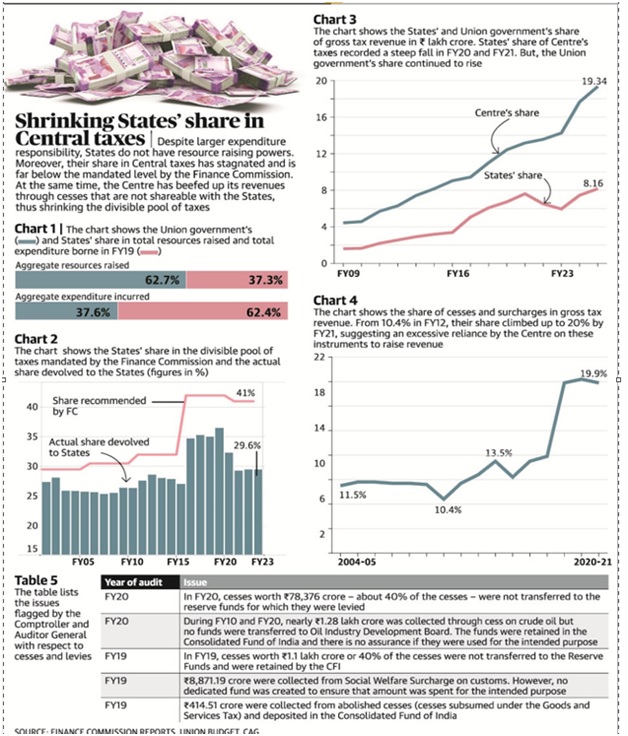 Mismatch in revenue shares-State's share declining while Centre's share rising
The share of cesses and surcharges in gross tax revenue has risen from 10.4% in FY12 to 20% by FY21 which is not shared with States.

In FY19 and FY20, about 40% of the cesses levied were not transferred to the Reserve Funds.
Between FY10 and FY20, not a single rupee of oil cess was transferred to the Oil Industry Development Board (OIDB).
Subject: Government Schemes
Section:
Context: With a view to re-energising the country's large labour workforce, the Union Labour Ministry is set to initiate discussions with State Labour Ministers on strategies for greater participation of women, new needs of the digital and gig economy, as well as transitioning towards green jobs.
The issue will be a key agenda at the upcoming National Labour Conference of Labour Ministers' and Secretaries of States and UTs that will be held on August 25 and 26 in Tirupati.
Concept :
The labour ministry is also conducting three surveys on an all-India basis. These are :
All India Survey on Migrant Workers
All-India Quarterly Establishment-based Employment Survey
All India Survey on Domestic Workers
5. 23rd meeting of Central Zonal Council
Subject :Polity
Section: Personality
Context :
Context: Union Home and Cooperation Minister Shri Amit Shah chaired the 23rd meeting of Central Zonal Council in Bhopal today.
Concept:
The Zonal Councils are the statutory (and not the constitutional) bodies. They are established by an Act of the Parliament, that is, States Reorganisation Act of 1956.
The act divided the country into five zones (Northern, Central, Eastern, Western and Southern) and provided a zonal council for each zone.
While forming these zones, several factors have been taken into account which includes: the natural divisions of the country, the river systems and means of communication, the cultural and linguistic affinity and the requirements of economic development, security and law and order.
Each zonal council consists of the following members:
     (a) home minister of Central government.
     (b) chief ministers of all the States in the zone.
     (c) Two other ministers from each state in the zone.
     (d) Administrator of each union territory in the zone.
Besides, the following persons can be associated with the zonal council as advisors (i.e., without the right to vote in the meetings):
      (i) a person nominated by the Planning Commission;
      (ii) chief secretary of the government of each state in the zone; and
      (iii) development commissioner of each state in the zone.
The home minister of the Central government is the common chairman of the five zonal councils.
Each chief minister acts as a vice-chairman of the council by rotation, holding office for a period of one year at a time.
The zonal councils aim at promoting cooperation and coordination between states, union territories and the Centre.
They discuss and make recommendations regarding matters like economic and social planning, linguistic minorities, border disputes, inter-state transport, and so on.
They are only deliberative and advisory bodies.
The objectives (or the functions) of the zonal councils, in detail, are as follows:
To achieve an emotional integration of the country.

To help in arresting the growth of acute state-consciousness, regionalism, linguism and particularistic trends.

To help in removing the after-effects of separation in some cases so that the process of reorganisation, integration and economic advancement may synchronise.

To enable the Centre and states to cooperate with each other in social and economic matters and exchange ideas and experience in order to evolve uniform policies.

To cooperate with each other in the successful and speedy execution of major development projects.

To secure some kind of political equilibrium between different regions of the country

.
6. Ayushman Bharat Digital Health mission
Subject: Government Schemes
Context: The National Health Authority (NHA) issued hardware guidelines across States and Union Territories for healthcare institutions like hospitals, clinics and health and wellness centres to promote digitization in hospitals.
Concept:
This scheme will be launched with the aim of harnessing technology in order to improve the effectiveness, efficiency, and transparency of healthcare delivery across India.
It also seeks to create a national digital health infrastructure by building Health IDs, Unique Identifiers for doctors & health facilities, telemedicine & e-pharmacy, Personal Health Records etc.
It will enable the patients to store, access and give consent to share their health records with doctors as well as health facilities of their choice.
Unique digital health ID – This health ID will comprise of all the health records of each individual. It will be created with the help of details such as Aadhar and mobile number in order to generate a unique ID for them.
National digital health ecosystem – Under this scheme, a national digital health ecosystem will be created by means of provision of a wide-range of data, information & infrastructure services, and duly leveraging open & interoperable standards-based digital systems. It will also provide security, confidentiality and privacy of personal information related to health.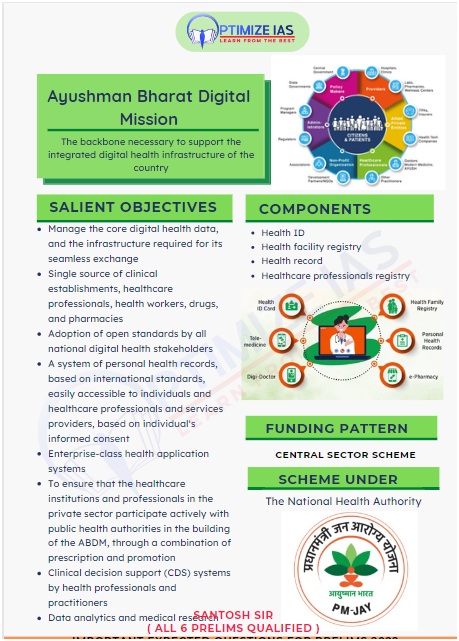 7. Scientists track cause of mystery paddy dwarfing in Punjab and Haryana
Subject :Agriculture
Context :
Agriculture scientists have narrowed down the cause of a mystery disease causing "dwarfing" of rice plants in Punjab and Haryana to either grassy stunt virus or phytoplasma bacteria.
The vector responsible for their transmission is the brown plant hopper, an insect pest that sucks sap from the stems and leaves of rice plants.
Scientists at the Indian Agricultural Research Institute (IARI), who had collected samples of plants from farmers' fields – which showed symptoms of stunting and yellowing — have undertaken their electron microscopy analysis and DNA isolation through PCR (polymerase chain reaction) technique.
"Phytoreovirus" or rice grassy stunt virus
Preliminary laboratory analysis indicates the "phytoreovirus" or rice grassy stunt virus as the source of infection. This virus, which induces stunting and yellowing of rice plants, is transmitted by brown plant hopper.
The infected plants remained stunted even after application of the recommended dose of fertilizers
Phytoplasma
The second possible source is phytoplasma, a bacterial pathogen that is spread by both brown plant hopper and green leaf hopper sucking insect pests.
IARI scientists are also not ruling out fusarium fungus and rice root nematode that are known to cause dwarfism
8. Kerala Assembly passes unanimous resolution to counter divisive forces
Subject :Polity
Section: Legislature
Context :
The resolution was moved and passed during the special one-day conference held in the House to commemorate the 75th anniversary of India's independence.
The conference also marked the beginning of the 10-day Assembly session which has been convened in the wake of 11 ordinances of the state government expiring on August 8 for want of approval of the Kerala Governor.
Article 174: Sessions of the State Legislature, prorogation and dissolution.
(1) The Governor shall from time to time summon the House or each House of the Legislature of the State to meet at such time and place as he thinks fit, but there should not be a gap of more than six months between two sessions (from last sitting of a session to first sitting of next session)
(2) The Governor may from time to time—
(a) prorogue the House or either House
(b) dissolve the Legislative Assembly
Article 213 : Power of Governor to promulgate Ordinances during recess of Legislature.
Governor can promulgate an ordinance only when the legislative assembly (in case of a unicameral legislature) is not in session or (in case of a bicameral legislature) when both the Houses of the state legislature are not in session or when either of the two Houses of the state legislature is not in session. The last provision implies that an ordinance can be promulgated by the governor when only one House (in case of a bicameral legislature) is in session because a law can be passed by both the Houses and not by one House alone.
He can promulgate an ordinance only when he is satisfied that circumstances exist which render it necessary for him to take immediate action.
His ordinance-making power is co-extensive with the legislative power of the state legislature. This means that he can issue ordinances only on those subjects on which the state legislature can make laws.
An ordinance issued by him has the same force and effect as an act of the state legislature.
An ordinance issued by him is subject to the same limitations as an act of the state legislature. This means that an ordinance issued by him will be invalid to the extent it makes any provision which the state legislature cannot make.
He can withdraw an ordinance at any time.
His ordinance-making power is not a discretionary power. This means that he can promulgate or withdraw an ordinance only on the advice of the council headed by the chief minister.
An ordinance issued by him should be laid before the legislative assembly or both the Houses of the state legislature (in case of a bicameral legislature) when it reassembles.
An ordinance issued by him ceases to operate on the expiry of six weeks from the reassembly of the state legislature. It may cease to operate even earlier than the prescribed six weeks, if a resolution disapproving it is passed by the legislative assembly and is agreed to by the legislative council (in case of a bicameral legislature).
He cannot make an ordinance without the instructions from the President in three cases:
(a) If a bill containing the same provisions would have required the previous sanction of the President for its introduction into the state legislature.
(b) If he would have deemed it necessary to reserve a bill containing the same provisions for the consideration of the President.
(c) If an act of the state legislature containing the same provisions would have been invalid without receiving the President's assent.
9. India and Iran sign MoU for smooth movement of seafarers between both countries
Subject :International relations
Section: international organisation
Context :
In a bid to smoothen the movement of seafarers between the two countries, India and Iran on Monday signed a Memorandum of Understanding (MoU) on recognition of Certificates of Competency in Unlimited Voyages to help seafarers from both the countries as per the provisions of International Convention on Standards of Training, Certification and Watch Keeping for Seafarers (1978).
International Convention on Standards of Training, Certification and Watch Keeping for Seafarers (1978)
It sets qualification standards for masters, officers and watch personnel on seagoing merchant ships.
STCW was adopted in 1978 by conference at the International Maritime Organization (IMO) in London, and entered into force in 1984.
The 1978 STCW Convention was the first to establish basic requirements on training, certification and watch keeping for seafarers on an international level.
The Convention prescribes minimum standards relating to training, certification and watch keeping for seafarers which countries are obliged to meet or exceed.
One important feature of the Convention is that it applies to ships of non-party States when visiting ports of States which are Parties to the Convention.
The Manila amendments to the STCW Convention and Code were adopted on 25 June 2010, marking a major revision of the STCW Convention and Code.
10. Covid-19 and Tomato flu show similar symptoms, know how to differentiate
Subject :Science and Technology
Section: Biotechnology
Context :
Amid the monkeypox outbreak and the probability of the fourth wave of COVID-19, a new virus "Tomato flu" or "Tomato fever" has become a cause of concern.
Tomato Fever & Covid-19: Similarity and Differences
It has been observed by the experts that the Tomato fever and Covid 19 have similar symptoms like fever, fatigue, and body aches, some Covid patients even reported rashes. Tomato flu could be an after-effect of dengue fever or chikungunya in children rather than a viral infection.
Tomato flu is such a disease which tends to resolve on its own, without treatment. As per the Lancet report, tomato flu is currently in an endemic state and is considered non-life threatening
Tomato Fever: Similar Symptoms With Other Diseases
Symptoms of tomato flu,
As with other viral infections include, fatigue, nausea, vomiting, diarrhoea, fever, dehydration, swelling of joints, body aches, and common influenza-like symptoms, which are quite similar to dengue.
Tomato fly
It is also known as "The Hand Foot Mouth Disease" (HFMD).
According to The Lancet, Tomato flu is highly contagious. They have also said, that the rare viral infection is in an endemic state.
Till now more than 80 children have been infected with tomato flu in Kerala and Kollam.
It is affecting children below five years.
Treatment
This flu is a self-limiting one and so far, there is no specific drug for its cure.
Symptoms vanish over time on their own with medicinal support.
Utensils, clothes and other items used by the infected persons must be sanitised to prevent the flu from spreading.
Fluid intake should be increased to counter dehydration.
11. Who was Pandurang Khankhoje, Ghadarite revolutionary and a hero of Mexico?
Subject : History
Section: Personality
Context :Lok Sabha Speaker Om Birla, who is currently in Canada for the 65th Commonwealth Parliamentary Conference, will travel to Mexico where he will unveil statues of Swami Vivekananda and Maharashtra-born freedom fighter and agriculturalist Pandurang Khankhoje (1883-1967).
Khankhoje had a close connection with Mexico, the country in which he sought refuge due to his association with the radical pro-Indian independence Ghadar Party.
Who was Pandurang Khankhoje?
Born in Wardha, Maharashtra, in the late 19th century, Pandurang Khankhojecame in contact with other revolutionaries early on.
Closer to home, the Hindu reformer Swami Dayanand and his Arya Samaj movement, which called for a spirit of reform and social change, became the hero to a young student group led by Khankhoje
He joined the Mount Tamalpais Military Academy in California to fulfil his original purpose of leaving India
What was his association with the Indian independence movement?
Khankhoje was one of the founding members of the Ghadar Party, established by Indians living abroad in 1914, mostly belonging to Punjab. Its aim was to lead a revolutionary fight against the British in India.
Along with the Indian workers, militant action was planned by Khankhoje in India, but the outbreak of the First World War halted these He then reached out to BhikajiCama in Paris, and met with Vladimir Lenin in Russia among other leaders, seeking support for the Indian cause. However, as he was facing possible deportation from Europe and could not go to India, he sought shelter in Mexico.
Soon, in part due to his prior friendship with Mexican revolutionaries, he was appointed a professor at the National School of Agriculture in Chapingo, near Mexico City. He researched corn, wheat, pulses and rubber, developing frost and drought-resistant varieties, and was part of efforts to bring in the Green Revolution in Mexico.
Later on, the American agronomist Dr Norman Borlaug, called the Father of the Green Revolution in India, brought the Mexican wheat variety to Punjab.
Pre-Ghadr revolutionary activity
As early as 1907 ,Ram nath Puri ,a political exile on the west coast issued a circular-e-azadi(circular of liberty) in which he also pressed support to the swadeshi movement ;
Tarak Nath Das in Vancouver started the Free Hindustan and adopted a very militant nationalist tone;
D.Kumar set up a Swadesh Sevak Home in Vancouver on the lines of the India house in London and also began to bring out a Gurumukhi paper called Swadesh Sewak which advocated social reform and also asked Indian troops to rise in revolt against the British.
In 1910, TarakNath Das and G.D. Kumar, by now forced out of Vancouver, set up the united India house in Seattle and U.S.A..
The Ghadar Party
The Ghadar Movement was formed in 1913 by expatriate Punjabis in the United States with shared leadership from Sikhs, Hindus, and Muslims. The goal of the movement was to assist in overthrowing British colonial rule in India. The publicity that the group attracted in the United States was used as further justification for anti-Asian discrimination and suspicion.
It was organized and headed by a Punjabi Hindu, Har Dayal, who was at Stanford University. Its early leaders also included two Sikhs and a Muslim and the masthead of its publication bore the names "Ram, Allah, and Nanak."
Sohan Singh, Kartar Singh, Abdul Mohamed Barakatullah, TarknathDas , and Rashbehari Bose were among the prominent leaders who laid the groundwork for the establishment of an Indian political organization in the United States and Canada.
Ghadar Party – Activities
The Ghadrprogramme aimed to organise assassinations of officials, publish revolutionary and anti-imperialist literature, work with Indian troops stationed abroad, obtain arms, and spark a simultaneous revolt in all British colonies.
When the First World War broke out in 1914, some members of the Ghadar Party arrived in Punjab to foment an armed revolution for India's independence.
They were also successful in smuggling weapons and inciting mutiny among Indian soldiers in the British Army.
The ensuing uprising, now known as the Ghadar Mutiny, was brutally suppressed by the British, who executed 42 mutineers following the Lahore Conspiracy Case trial.
Nonetheless, the Ghadar Party fought against colonialism from 1914 to 1917, with the support of Imperial Germany and the Ottoman Empire, both of which were Central Powers opposed to the British.
The party was organized around the weekly newspaper The Ghadar, which featured the masthead caption: Angrezi Raj Ka Dushman (an enemy of British rule). "Wanted brave soldiers to stir up rebellion in India," the Ghadar declared.
Following the Komagata Maru Incident in 1914, which was a direct challenge to Canadian anti-Indian immigration laws, thousands of Indians living in the United States sold their businesses and homes in order to drive the British out of India, bolstering the ranks of the Ghadar Party.
From 1914 to 1917 Ghadarites continued underground anti-colonial actions with the support of Germany and Ottoman Turkey, known as the Hindu–German Conspiracy, which led to a sensational trial in San Francisco in 1917.
Although its attempts at overthrowing the British Raj were unsuccessful, the insurrectionary ideals of the Ghadar Party influenced members of the Indian Independence Movement opposed to Gandhian nonviolence.