Daily Prelims Notes 24 April 2022
April 24, 2022

Posted by:

OptimizeIAS Team

Category:

DPN

Daily Prelims Notes
24 April 2022
Table Of Contents
1. Seafloor spreading rates have slowed down- Study
Subject: Geography
Section: Geomorphology
Context: According to a study Seafloor spreading rates have slowed down by roughly 35 per cent globally, growing mountains might be one of the factors driving the slowdown, the analysis found.
Concept:
Seafloor spreading is a geological process that creates crusts, the outermost shell of Earth.
Tectonic plates separate, allowing magma from the earth's interior to fill the gap in this phenomenon.
The magma cools to form a new oceanic crust. These activities occur along mid-ocean ridges — large mountain ranges rising from the ocean floor.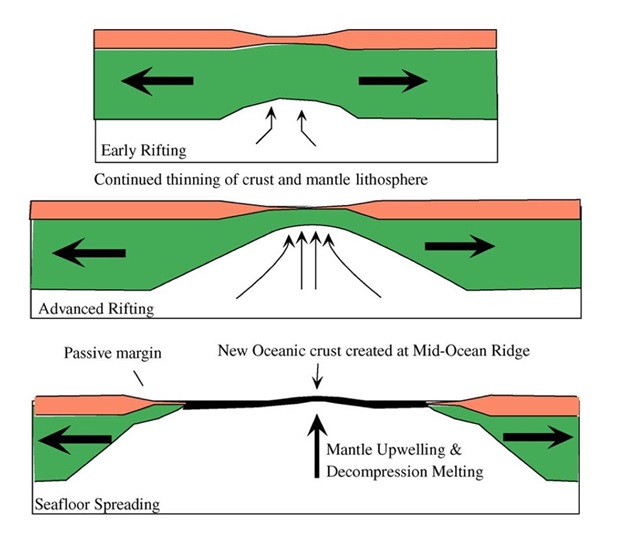 Process:
Seafloor spreading and other tectonic activity processes are the result of mantle convection.
Mantle convection is the slow, churning motion of Earth's mantle.
Convection currents carry heat from the lower mantle and core to the lithosphere.
Convection currents also "recycle" lithospheric materials back to the mantle.
Seafloor spreading occurs at divergent plate boundaries. As tectonic plates slowly move away from each other, heat from the mantle's convection currents makes the crust more plastic and less dense. The less-dense material rises, often forming a mountain or elevated area of the seafloor.
Eventually, the crust cracks. Hot magma fueled by mantle convection bubbles up to fill these fractures and spills onto the crust.
This bubbled-up magma is cooled by frigid seawater to form igneous rock.
This rock (basalt) becomes a new part of Earth's crust.
Mid-Ocean Ridges
Seafloor spreading occurs along mid-ocean ridges— large mountain ranges rising from the ocean floor.
The Mid- Atlantic Ridge, for instance, separates the North American plate from the Eurasian plate, and the South American plate from the African plate.
The East Pacific Rise is a mid-ocean ridge that runs through the eastern Pacific Ocean and separates the Pacific plate from the North American plate, the Cocos plate, the Nazca plate, and the Antarctic plate.
The Southeast Indian Ridge marks where the southern Indo- Australian plate forms a divergent boundary with the Antarctic plate.
Seafloor spreading is not consistent at all mid-ocean ridges.
Slowly spreading ridges are the sites of tall, narrow underwater cliffs and mountains. Rapidly spreading ridges have a much more gentle slopes.
The Mid-Atlantic Ridge, for instance, is a slow spreading center. It spreads 2-5 centimeters (.8-2 inches) every year and forms an ocean trench about the size of the Grand Canyon.
The East Pacific Rise, on the other hand, is a fast spreading center. It spreads about 6-16 centimeters (3-6 inches) every year. There is not an ocean trench at the East Pacific Rise, because the seafloor spreading is too rapid for one to develop!
The newest, thinnest crust on Earth is located near the center of mid-ocean ridge—the actual site of seafloor spreading. The age, density, and thickness of oceanic crust increases with distance from the mid-ocean ridge.
Geographic Features:
Oceanic crust slowly moves away from mid-ocean ridges and sites of seafloor spreading. As it moves, it becomes cooler, more dense, and more thick. Eventually, older oceanic crust encounters a tectonic boundary with continental crust.
Active Plate Margins: In some cases, oceanic crust encounters an active plate margin.

An active plate margin is an actual plate boundary, where oceanic crust and continental crust crash into each other.
Active plate margins are often the site of earthquakes and volcanoes. Oceanic crust created by seafloor spreading in the East Pacific Rise, for instance, may become part of the Ring of Fire, the horseshoe-shaped pattern of volcanoes and earthquake zones around the Pacific ocean basin.

Passive Plate margins: In other cases, oceanic crust encounters a passive plate margin.

Passive margins are not plate boundaries, but areas where a single tectonic plate transitions from oceanic lithosphere to continental lithosphere.
Passive margins are not sites of faults or subduction zones. Thick layers of sediment overlay the transitional crust of a passive margin.
The oceanic crust of the Mid-Atlantic Ridge, for instance, will either become part of the passive margin on the North American plate (on the east coast of North America) or the Eurasian plate (on the west coast of Europe).

New geographic features can be created through seafloor spreading. The Red Sea, for example, was created as the African plate and the Arabian plate tore away from each other.
2. RBI recommends technology for India's cement industry to reduce carbon emissions
Subject: Environment
Section: Climate Change
Context- The Reserve Bank of India (RBI), in a recent report, advocated the adoption of technology, such as carbon capture, to contribute to India's net-zero carbon emission target. It acknowledged that India's cement sector has already made progress in reducing carbon emission targets.
Concept-
India is the world's second-largest cement producer and consumer, after China.
On a global level, cement production contributes around eight percent of the anthropogenic CO2 (carbon dioxide) emissions.
The Indian cement industry is among the most energy and carbon-efficient of cement industries globally and has the lowest carbon footprint on account of early and voluntary actions.
Recent developments in green technologies, particularly related to reverse calcination, offer "exciting opportunities" for the cement sector.

reverse calcination could sequester up to five percent of cement's emissions at present, which could be extended to 30 percent with the improvement in technology.

Dalmia Cement was the first cement group to commit to becoming carbon negative on account of a circular economy, energy efficiency, non-fossil power generation, electric mobility, use of green hydrogen, sustainable biomass use as a fuel and carbon capture and utilisation
About Calcination:
Calcination is a thermo-chemical process, widely used in the cement industry, where limestone is converted by thermal decomposition into lime CaO and carbon dioxide CO2.
Calcination is done to bring about some change in the substance physical or chemical constitution.
During calcination, solids are heated at high temperatures.
This is done to mainly remove volatile substances, water or oxidize the substance. This process is also sometimes described as a purification
Reverse Calcination:
It proposes the introduction of calcium hydroxide at the calcination phase, when high temperatures split limestone raw feed into CO2 gas and calcium oxide.
It has the potential to sequester CO2 and recreate limestone in a continuous loop.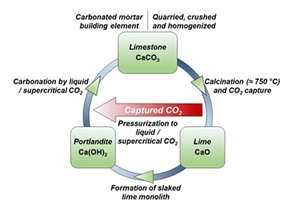 3. Generating energy from banana peel
Subject: Science & Tech
Section: Biotechnology
Context- Dried banana peel has a hydrogen content of 5%, and 33% is carbon.
Concept-
Biomass is a catch-all term for organic waste material of plant and animal origin.
It is a rich source of both hydrogen and carbon — our dried banana peel has a hydrogen content of 5%, and 33% is carbon.
The Swiss group uses pyrolysis, wherein organic matter is decomposed using small bursts of intense heat under inert conditions.
Here decomposition of a kilogram of banana peel powder — liberating 100 litres of hydrogen gas.
This short burst of pho- tothermal energy also produces 330 grams of biochar, a solid residue that is rich in carbon.
If the biomass had been burnt, gaseous carbon would have escaped as carbon monoxide and carbon dioxide.
However Pyrolysis ensures that carbon remains sequestered as a solid.
Pyrolisis:
Pyrolysis is the thermal decomposition of materials at elevated temperatures in an inert atmosphere.
It involves a change in chemical composition. The word is coined from the Greek-derived elements pyro "fire" and lysis "separating".
It is most commonly used in the treatment of organic materials. It is one of the processes involved in charring wood.
It is considered as the first step in the processes of gasification or combustion.
About Biochar:
Biochar is a high-carbon, fine-grained residue that is currently produced through modern pyrolysis processes (direct thermal decomposition of biomass in the absence of oxygen and preventing combustion).
It produces a mixture of solids (the biochar proper), liquid (bio-oil), and gas (syngas) products.
Biochar may increase soil fertility of acidic soils (low pH soils), increase agricultural productivity, and provide protection against some foliar and soil-borne diseases.
Benefits of biochar:
Biochar has other uses too — apart from safekeeping carbon, biochar has several uses in agriculture.
Agricultural leftovers such as rice husk are a major source of biomass, and the biochar it forms has significant mineral content. Adding it to soil enriches plant nutrients.
The porous nature of biochar makes it suitable for remediation — the adsorption of toxic substances in polluted soils – thus reducing the potency of contaminants in the soil.
Subject: Science & Tech
Section: Biotechnology
Context- Researchers are exploring new approaches, including the mRNA technology.
Concept-
Messenger RNA (mRNA) is a single-stranded RNA molecule that is complementary to one of the DNA strands of a gene.
The mRNA is an RNA version of the gene that leaves the cell nucleus and moves to the cytoplasm where proteins are made.
During protein synthesis, an organelle called a ribosome moves along the mRNA, reads its base sequence, and uses the genetic code to translate each three-base triplet, or codon, into its corresponding amino acid.
Messenger RNAs, also known as mRNA, are one of the types of RNA that are found in the cell.
This particular one, like most RNAs, are made in the nucleus and then exported to the cytoplasm where the translation machinery, the machinery that actually makes proteins, binds to these mRNA molecules and reads the code on the mRNA to make a specific protein.
So in general, the DNA instruction , can be transcribed into an mRNA molecule that will end up making one specific protein.
What are mRNA vaccines?
mRNA vaccines trick the body into producing some of the viral proteins itself.
They work by using mRNA, or messenger RNA, which is the molecule that essentially puts DNA instructions into action.
Inside a cell, mRNA is used as a template to build a protein.
How it works?
To produce an mRNA vaccine, scientists produce a synthetic version of the mRNA that a virus uses to build its infectious proteins.
This mRNA is delivered into the human body, whose cells read it as instructions to build that viral protein, and therefore create some of the virus's molecules themselves.
These proteins are solitary, so they do not assemble to form a virus.
The immune system then detects these viral proteins and starts to produce a defensive response to them.
Subject: Science & Tech
Section: Space
Context- Blue stragglers, is a particular type of star seen in clusters and also, sometimes, alone. Indian Institute of Astrophysics, Bengaluru conducted a study on their aberrant behaviour.
Concept-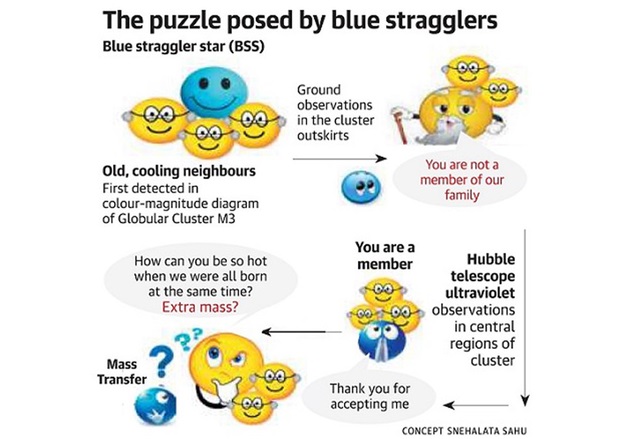 For this, the researchers also made use of the observations by the UVIT instrument (Ultra Violet Imaging Telescope) of ASTROSAT, India's first science observatory in space.
About Blue Straggler Stars:
A blue straggler is a main-sequence star in an open or globular cluster that is more luminous and bluer than stars at the main sequence turnoff point for the cluster.
These are unusually hot and bright stars found in the cores of ancient star clusters known as globulars.
Blue stragglers were first discovered by Allan Sandage in 1953 while performing photometry of the stars in the globular cluster M3.
The Milky Way's largest and brightest globular is Omega Centauri.
Blue straggler stars appear to violate standard theories of stellar evolution.
The puzzle of why a blue straggler is more massive, and energetic, than expected may be resolved in several ways:

One, that these do not belong to the family of stars in the cluster, and hence are not expected to have the group properties. But if they actually belong, the evasive behaviour is due to these stars gaining mass from a binary companion.
Second, the straggler draws matter from the giant companion and grows more massive, hot and blue, and the red giant ends up as a normal or smaller white dwarf.
The third possibility is that the straggler draws matter from a companion star, but that there is a third star that facilitates this process.

The IIAP researchers have shown evidence that supports the second of the hypotheses listed above.
Subject: Geography
Section: Economic Geography
Context- The India Energy Outlook 2021 report of the International Energy Agency (IEA) said energy use in India has doubled since 2000, with 80% of demand still being met by coal, oil and solid biomass.
Concept-
On Friday, Tamil Nadu Chief Minister M.K. Stalin wrote to Prime Minister Narendra Modi, requesting him to ensure adequate supply of coal to the power-generating units in the State.
In Maharashtra, Deputy Chief Minister Ajit Pawar said the State government planned to import coal to cope with the power crisis.
The other top power-consuming State in the country, Gujarat, is also planning to import coal, according to reports.
Decline in coal stocks and the resulting power outages in several States have spurred queries of renewable energy's potential to fill in for the conventional resource.
Earlier this week, coal stocks in more than 100 thermal power plants in India fell below the critical mark (less than 25% of the required stock) while it was less than 10% in over 50 plants across India.
Is there a coal crisis?
Coal accounts for 55% of the country's energy needs.
The India Energy Outlook 2021 report of the International Energy Agency (IEA) said energy use in India has doubled since 2000, with 80% of demand still being met by coal, oil and solid biomass.
Pandemic-related disruptions, however, prevented the stock-up of coal.
Mining operations were halted to curb the spread of the virus. Mining activities were hampered during the monsoons, delaying arrival of stocks.
With household demand for power picking up and the arrival of summer, combined with the sudden acceleration in economic activity, it has resulted in a demand-supply mismatch.
The country had experienced a similar situation last October, but with peak summer approaching, the coal stock situation is more worrisome now because demand for power will be high.
The energy de- mand will go up as urbanisation and the population increase. The IEA estimates that despite the shock from COVID-19, India's demand is expected to grow by almost 5% a year till 2040.
What is the consumption pattern?
Coal is abundantly available, has shorter gestation periods and coal-based plants have lower capital costs than hydel and nuclear plants, therefore, making it the most viable enabler of energy security in the country.
The conventional resource's capacity addition is further helped by the increased participation of the private sector in power generation.
In Washington recently, Finance Minister Nirmala Sitharaman said India's move away from coal will be hampered by the war in Ukraine.
Where does India stand on renewable energy sources?
The report of the Central Electricity Authority on optimal generation capacity mix for 2029-30 estimates that the share of renewable energy in the gross electricity generation is expected to be around 40% by that financial year.
A total of 90 GW of renewable energy capacity has been installed in the country as on February 28, as per government figures.
This includes

78 GW from solar power,
13 GW from wind power,
63 GW from bio-power,
84 GW from small hydel power and
52 GW from large hydel power.

In accordance with the Prime Minister's announcement at COP26 (the 2021 United Nations Climate Change Conference), the Ministry of New and Renewable Energy aspires to install 500 GW of electricity capacity from non-fossil fuel sources by 2030.