Daily Prelims Notes 24 November 2022
November 24, 2022

Posted by:

OptimizeIAS Team

Category:

DPN

Daily Prelims Notes
24 November 2022
Table Of Contents
1. Biopic on freedom fighter Khudiram Bose to be screened for MPs during winter session
Subject: History
Who was Khudiram Bose?
Khudiram Bose was born in 1889 at a small village in Midnapore district. He was drawn towards revolutionary activities, being inspired by a series of public lectures given by Sri Aurobindo and sister Nivedita, when the duo visited Midnapore in the early 1900s.
In 1905, when Bengal was partitioned, he actively participated in protests against the British. At the age of 15, Bose joined the Anushilan Samiti, an early 20th century organisation that propounded revolutionary activities in Bengal. Within a year, he had learnt how to make bombs and would plant them in front of police stations.
The deciding moment of Bose's life came in 1908 when he along with another revolutionary, Prafulla Chaki were assigned the task of assassinating the district magistrate of Muzaffarpur, Kingsford. Before being transferred to Muzaffarpur, Kingsford was a magistrate in Bengal. His tortuous clamping down on revolutionaries, had earned him the ire of this young group of nationalists who decided to hurl a bomb on him.
What happened during Kingsford's assassination attempt?
On April 30, 1908, Bose threw a bomb on a carriage which he suspected was carrying Kingsford. But it turned out that it was carrying the wife and daughter of a barrister named Pringle Kennedy, who lost their lives, as Kingsford escaped.
By midnight the entire town was aware of the incident and the Calcutta police was summoned to catch the duo. Bose was arrested from a railway station called Waini where he had reached next morning after having walked 25 miles. Chaki on the other hand, killed himself before he could get arrested.\
On May 21, 1908, the historic trial of Bose began presided by Judge Corndoff, Nathuni Prasad and Janak Prasad in the Jury. Bose's lawyer Narendra Kumar argued that he was too young to be able to make bombs. However, the judges had evidence of more revolutionary activities planned.
On July 13, 1908, Bose was finally sentenced to death. When the English judge asked him if he understood the meaning of the sentence, Bose is known to have smiled and calmly said, "Yes, I do and my lawyer said that I was too young to make bombs. If you allow me some time before I'm taken away from here, I can teach you the skills of making bombs too." Soon after, the streets of Calcutta swelled up in large protests by the student community for several days. He was executed on August 11, 1908.
Subject :Economy
SBI chairman has said that amid lagging deposit growth and constrained liquidity, government spending and the surplus of SLR (statutory liquidity ratio) with banks, will help support credit and economic growth.
SBI chairman dismissed concerns of a slowdown in deposit growth dampening banks' ability to lend, saying that the Indian GDP is growing at around 6-7 per cent which will also "pump money into the system", in addition to the existing 8-9 per cent already being seen in deposits.
Statutory Liquidity Ratio
Statutory Liquidity Ratio popularly called SLR is the minimum percentage of deposits that the commercial bank maintains through gold, cash and other securities. However, these deposits are maintained by the banks themselves and not with the RBI or Reserve Bank of India.
Section 24 and Section 56 of the Banking Regulation Act 1949 mandates all scheduled commercial banks, local area banks, Primary (Urban) co-operative banks (UCBs), state co-operative banks and central co-operative banks in India to maintain the SLR.
Assets held under SLR are ones that can easily be converted into cash, gold and SLR securities:
Dated securities
Treasury Bills of the Government of India;
Dated securities of the Government of India issued from time to time under the market borrowing programme and the Market Stabilization Scheme;
State Development Loans (SDLs) of the State Governments issued from time to time under the market borrowing programme; and
Any other instrument as may be notified by the Reserve Bank of India
If CD (credit-deposit) ratio goes high, then there could be a challenge for banks. They would have to raise resources at high cost which is happening now. Some of the banks are willing to go to the extent of giving 7.5 per cent for deposits. This will curtail their ability to lend at competitive rates," he said.
Saying that an ideal credit-deposit ratio is usually around 75 per cent, Khara added that SBI is still at around 65 per cent. He said that the bank is currently growing sufficiently to fund its credit growth and so far hasn't drawn from its excess SLR of around ₹3.85 lakh crore.
About Credit Deposit Ratio
The CD ratio is the ratio of a bank's total loans and total deposits.
Low credit to deposit ratio is an indicator of excess liquidity because of higher deposits with the banking system and the lack of alternatives in credit markets.
Under Reserve Bank of India rules, banks have to set aside 3% of deposits as cash reserve ratio (CRR) and another 18% in statutory liquidity ratio (SLR) compliant holdings. The rest, along with other resources, can be used for lending.
3. Measles outbreak hits Mumbai and nearby areas: 13 deaths in a month
Subject: Science and Technology
Context:
With 13 deaths over the last month and a sharp spike in cases, Mumbai and its surrounding areas are staring at a measles outbreak. Until 23 nov, the city had reported 233 confirmed cases, of which over 200 were reported in the last two months.
Cases of Measles in the state-
The state (Maharashtra) reported 193 cases and 3 deaths in 2020; and 153 cases and 3 deaths in 2019.
Measles cases in the last few years in Mumbai-

10 cases and 1 death in 2021
29 cases and no death in 2020; and
37 cases and 3 deaths in 2019.

Seven pockets of Mumbai – Dharavi, Govandi, Kurla, Mahim, Bandra and Matunga – have emerged as hotspots.
When the outbreak started, only 41 per cent of the eligible children had been vaccinated in Mumbai.
Vaccine hesitancy has turned into the biggest hurdle for ASHA and health volunteers.
Vaccine coverage-
| | | |
| --- | --- | --- |
| Year | Vaccine coverage (In Mumbai) | Vaccine Coverage (In Maharashtra) |
| 2022-23 | 42.5% (1st dose), and 41.2% (2nd dose) | 60% (1st dose) & 56% (2nd dose) |
| 2021-22 | 72% (1st dose), & 82% (2nd dose) | 97% (1st dose) & 97% (2nd dose) |
| 2020-21 | 87% (1st dose) & 87% (2nd dose) | 97% (1st dose) & 94% (2nd dose) |
| 2019-20 | 92% (1st dose) & 90% (2nd dose) | 99% (1st dose) & 98% (2nd dose) |
What are measles and rubella?
Measles-

Measles (also called rubeola) is a very contagious respiratory viral infection that causes a total-body skin rash and flu-like symptoms.
It is transmitted person-to-person via droplets when infected people sneeze or cough.
Initial symptoms usually occur 10–12 days after infection and comprise high fever, runny nose, bloodshot eyes and Koplik's spots (tiny white spots on the inside of the mouth).
Several days later, a rash develops and the most severe complication includes blindness, encephalitis (an infection that causes brain swelling), severe diarrhoea and pneumonia.
There is no specific medical treatment.

Rubella

Rubella is a viral disease caused by the rubella virus that mostly affects the skin and lymph nodes.
In kids, rubella (commonly called German measles or 3-day measles) is usually a mild illness.
But the infection is dangerous for pregnant women because it can cause serious health problems in their babies.
Rubella is transmitted in airborne droplets from the nose, mouth or throat of infected people.
Cases in India-
India has seen an increase in the number of measles cases – 11,156 cases of measles have been reported in 2022 till September, according to data from the World Health Organization.
To compare, there were 6,078 recorded in 2021, 5,598 cases in 2020, and 10,708 cases in 2019.
What about the vaccination?
The MR vaccine is a combined product, targeting two diseases in one shot.
Two doses of MR vaccine should be given at 9-12 months and 16-24 months of age.
However, if a child misses the scheduled dose, the MR vaccine can be given till 5 years of age.
For epidemiological reasons, rubella vaccination had to cover children up to 15 years.
The same vaccine is being given in the routine Universal Immunisation Programme (UIP) of India.
4. Indonesia earthquake kills over 260, why was it so deadly?
Subject: Geography
Context:
A 5.6 magnitude earthquake with a depth of 10 kms (6.2 miles) left more than 260 dead and hundreds injured as buildings crumbled and terrified residents ran for their lives on Indonesia's main island of Java.
Impacted area-
The hardest-hit city is Cianjur, in the province of West Java and some 217 kilometres (135 miles) south of the capital, Jakarta.
Earthquake-
An earthquake in simple words is the shaking of the earth. It is a natural event. It is caused due to release of energy, which generates waves that travel in all directions.
The vibrations called seismic waves are generated from earthquakes that travel through the Earth and are recorded on instruments called seismographs.
The location below the earth's surface where the earthquake starts is called the hypocenter, and the location directly above it on the surface of the earth is called the epicentre.
Earthquakes based on the depth of focus
The earthquakes are divided into three zones: shallow, intermediate, and deep based on their depth which ranges between 0 – 700 km.

Shallow earthquakes have a focus of 0 – 70 km deep.
Intermediate earthquakes have a focus 70 – 300 km deep.
Deep earthquakes have a focus of 300 – 700 km deep.
Wadati–Benioff zone
Deep earthquakes (300-700 km) are produced in this zone.
It is a zone of subduction, along which earthquakes are common, which are produced by the interaction of a downgoing oceanic crustal plate against a continental plate.
Some of the most powerful earthquakes occur along this zone.
These earthquakes can be produced by slip along the subduction thrust fault or by slip-on faults within the downgoing plate as the plate is pulled into the mantle.
Damage caused by earthquakes depends upon-
Magnitude and depth of the earthquake
proximity to fault lines,
Type of soil
the shallowness of the quake and
inadequate infrastructure that cannot withstand earthquakes.
Does Indonesia usually have earthquakes like this?
Indonesia is frequently struck by earthquakes, volcanic eruptions and tsunamis because of its location on the arc of volcanoes and fault lines in the Pacific Basin known as the "Ring of Fire."
The area spans some 40,000 kilometres (25,000 miles) and is where a majority of the world's earthquakes occur.
Many of Indonesia's earthquakes are minor and cause little to no damage.
In February, a magnitude 6.2 earthquake occurred in West Sumatra province.
In January 2021, a magnitude 6.2 earthquake caused havoc in West Sulawesi province.
A powerful Indian Ocean quake and tsunami in 2004 killed 230,000 people in a dozen countries, most of them in Indonesia.
What is the Pacific Ring of Fire?
The Ring of Fire, also referred to as the Circum-Pacific Belt, is a path along the Pacific Ocean characterized by active volcanoes and frequent earthquakes.
It is largely a result of Plate Tectonics where the massive Pacific Plate interacts with less-dense plates surrounding it.
The majority of Earth's volcanic eruptions and earthquakes take place along the Ring of Fire.
The next most seismically active region (5-6% of earthquakes) is the Alpide belt (which extends from the Mediterranean region, eastward through Turkey, Iran, and northern India.
Geographical Stretch of Ring of Fire
The Ring of Fire is stretched to approximately 40,000 kilometres (24,900 miles) tracing boundaries between several tectonic plates including the Pacific, Juan de Fuca, Cocos, Indian-Australian, Nazca, North American, and Philippine Plates.
The chain runs up along the western coast of South and North America crosses over the Aleutian Islands in Alaska and runs down the eastern coast of Asia past New Zealand and into the northern coast of Antarctica.
Bolivia, Chile, Ecuador, Peru, Costa Rica, Guatemala, Mexico, United States, Canada, Russia, Japan, Philippines, Australia, Papua New Guinea, Indonesia, New Zealand, and Antarctica are some of the important places located in the ring of fire.
5. India's initiatives on green hydrogen could help global decarbonisation
Subject: Environment
Context:
India has announced its long-term low-emission development strategy, which focuses on climate justice, sustainable lifestyles, and equity, at the ongoing UN climate summit in Egypt, joining a select group of fewer than 60 nations to do so.
India's vision of the Hydrogen economy-
Green hydrogen mission was announced in 2021 to make India the Green Hydrogen hub.
The central government has set a target of an annual production capacity of 25 million tonnes by 2047.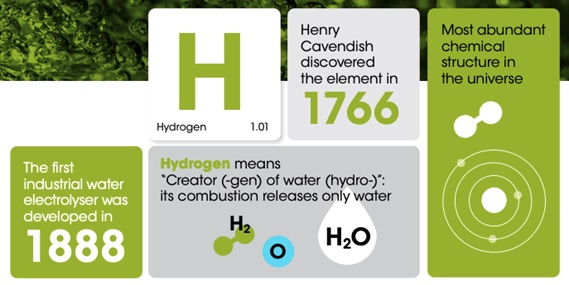 Production of Green hydrogen-
Produced by breaking down water in an electrolyser using only renewable energy, resulting in no carbon emissions.
The hydrogen can then be combined with nitrogen to make green ammonia, avoiding hydrocarbons in the process.
Green ammonia is used to store energy and make fertilisers.
Green hydrogen could become an alternative to coal in steel mills and fossil fuels in long-haul transport like shipping and trucking.
Current status-
Currently, the bulk of hydrogen produced in the world uses natural gas, which is known as black hydrogen.
There is also grey hydrogen made from low-carbon technologies, but its share in the global market is negligible.
India has set a target of five million tonnes of green hydrogen by 2030.
Over the next decade, the country plans to add 175 GW of green hydrogen-based energy.
Cost of production-
Hydrogen produced with renewable resources costs anywhere between $3 per kg and $6.55 per kg, compared with fossil-based hydrogen which costs about $1.80 per kg.
In India, the production cost of green hydrogen is around Rs 500 per kg.
The government expects to reduce the cost of manufacturing green hydrogen by 40-50% through its policy initiatives.
Prospects of the industry-
According to market researcher Precedence Research, the global green hydrogen market was valued at $1.83 billion in 2021 and is expected to hit over $89.18 billion by 2030, expanding at a compound annual growth rate of as high as 54% from 2021 to 2030.
The Asia-Pacific region is the fastest-growing area in the green hydrogen market.
Challenge of demand generation-
Scaling up the technology and making it cost-effective
Uncertainty on demand growth
Fuel may not become the first choice in transport and industry
Private investments in hydrogen energy generation-
Reliance and L&T has announced to invest in hydrogen energy generation.

L&T has recently made a pact with the Indian Institute of Technology Bombay to carry out research on furthering green hydrogen technology.

Indian Oil Corporation also announced its plans to build a green hydrogen plant at its Mathura refinery in Uttar Pradesh.
GAIL plans to build India's largest green hydrogen plant, as does state-owned power utility NTPC.
6. Grey, blue, green – why are there so many colours of hydrogen?
Subject: Environment
Context:
Hydrogen fuel-
Hydrogen emits only water when burned. But creating it can be carbon intensive.
Scientists assign colours according to the production method of hydrogen.
Depending on production methods, hydrogen can be grey, blue or green – and sometimes even pink, yellow or turquoise.
Green hydrogen is the only type produced in a climate-neutral manner.
It could play a vital role in global efforts to reduce emissions to net zero by 2050.
Black, Brown and Grey hydrogen
Grey hydrogen is the most common form and is generated from natural gas, or methane, through a process called "steam reforming".
This process generates just a smaller amount of emissions than black or brown hydrogen, which uses black (bituminous) or brown (lignite) coal in the hydrogen-making process.
Black or brown hydrogen is the most environmentally damaging as both the CO2 and carbon monoxide generated during the process are not recaptured.
Blue hydrogen
Hydrogen is labelled blue whenever the carbon generated from steam reforming is captured and stored underground through industrial carbon capture and storage (CSS).
Blue hydrogen is sometimes referred to as carbon neutral as the emissions are not dispersed in the atmosphere.
However, 10-20% of the generated carbon cannot be captured.
Green hydrogen
Green hydrogen – also referred to as "clean hydrogen" – is produced by using clean energy from surplus renewable energy sources, such as solar or wind power, to split water into two hydrogen atoms and one oxygen atom through a process called electrolysis.
It currently makes up about 0.1% of overall hydrogen production.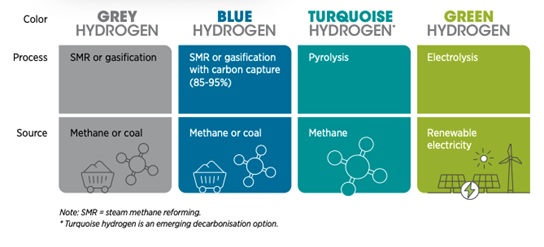 Other colours of hydrogen
Turquoise hydrogen

refers to a way of creating the element through a process called methane pyrolysis, which generates solid carbon.
As such, there is no need for CCS and the carbon can be used in other applications, like tyre manufacturing or as a soil improver.

Pink hydrogen

Like green hydrogen, it is created through the electrolysis of water but the latter is powered by nuclear energy rather than renewables.

Yellow hydrogen

is the term used for hydrogen made through the electrolysis of water using solar power, although some use it to mean hydrogen generated through electrolysis of water using mixed sources depending on what is available.

Hydrogen can also be generated from biomass and, depending on the type of biomass and CCS technologies can have lower net carbon emissions than black/brown or grey hydrogen.
7. How preserving forests could save the Indian giant squirrel
Subject: Environment
Giant Squirrel species in India-
Among the four global giant squirrels, three are found in India

the Indian giant squirrel (Ratufa indica),
the black giant squirrel (Ratufa bicolor) and
the grizzled giant squirrel (Ratufa macroura).

Of these, only the IGS (or the Malabar giant squirrel) is endemic to India.
The mammal can exhibit different colour patterns with shades of black, brown and deep red being the most predominant.
The IGS shares a characteristic of rodents: nibbling
Habitat-
The Indian giant squirrel (IGS) was found in the deciduous, mixed deciduous or moist evergreen forests of India.
It can be found across the Western Ghats, parts of the Eastern Ghats and the Satpura ranges.
It is also the state animal of Maharashtra, where it is called shekru in Marathi.
Conservation status-
Currently listed in the Least Concern category of the IUCN Red List.
Food-
It primarily feeds on fruits, flowers, seeds, leaves, bark, and occasionally on insects and bird eggs.
Role in the ecosystem-
It is an indicator species, indicative of a healthy forest
balancing the forest's ecological systems
Seed dispersal
Forest growth
Indirectly supports the local wildlife population
Reducing the human-wildlife conflict indirectly
Challenges and threats
Being an arboreal species, the IGS needs access to a wide area of trees offering fruits, insects and barks as well as breeding opportunities.
Habitat destruction,
Habitat alteration like fragmentation,
the building of roads and laying of power lines, and
cutting of old and tall trees.
Roadkill by the vehicles
Poaching, especially in the Eastern Ghats
8. Tarballs dot India's west coast annually, indicating continued oil spills, ship fuel discharge
Subject: Environment
Context:
Tarballs-
These are dark, sticky balls surfaced every year after monsoon spell on the coastline of India's western states, from Maharashtra, Gujarat, and Goa to Karnataka.
These are a seasonal phenomenon.
Tarballs affect marine life and flag concerns about oil spills from an offshore oil rig along the Maharashtra-Gujarat coast in the Arabian Sea.
Origin–
These weathered oil blobs are often remnants of oil spills
Can also be produced from natural seeps, places where oil slowly escapes from the earth's surface above some petroleum reservoirs.
Goa's beaches reveal a similar story-
2021-22 witnessed huge tarballs along almost all beaches, including Morjim, Vagator, Anjuna and Arambol beaches.
Researchers at India's National Institute of Oceanography (NIO) documented the sources of the 2010/11 tarballs that appeared in Goa to be from oil tanker wash, while the probable source for the tarballs in Gujarat's coasts in 2012 was the crude oil spill from the Bombay High (BH) offshore oil rig.
Ocean-atmosphere patterns-
The monsoon has a connection with tarballs.
From the southern hemisphere, winds blowing from the Australian coast cross the equator and start hitting the mainland of India around mid-May or June.
Since these changes in the wind direction are happening in the atmosphere, including its lowermost part near the Earth's surface, sea waves also get influenced.
This is why during the southwest monsoon season, from June to September, these winds slam India's west coast. 
Waves and ocean currents near the surface move towards the west coast, and lead to accumulations like the tarballs being washed ashore along beaches.
Oil spills from ships-
According to a report by the Ministry of Shipping, around 95% of India's trading by volume and 70% by value is through maritime transport.
India is also a signatory to the MARPOL Convention – International Convention for the Prevention of Pollution from Ships – which covers the prevention of pollution of the marine environment by ships from operational or accidental causes.
Laws and convention to prevent marine pollution-
The MARPOL Convention was adopted on November 2, 1973, by the International Maritime Organisation (IMO).
Under the Territorial Waters, Continental Self, Exclusive Economic Zone and Other Maritime Zones Act, 1976, the power to control and regulate marine pollution falls within the central government's jurisdiction.

Pollution Control Boards and municipal authorities do have the power to be called upon for rendering assistance or provision of any specific facilities..
For ships causing oil spills, provisions for civil liability laid down under Merchant Shipping Act, 1958 may be invoked.
The owner of a ship causing an oil spill can be held liable from the first instance of occurrence if it is a series of events that has led to the oil spill.

There are legal provisions (like NGT) to ensure the protection of marine life.

In-situ conservation is one of the mechanisms for the protection of species.
Scattered data is a challenge-
The Indian Coast Guard has a mandate to provide reports to the Ministry of Defence, Ministry of Shipping and other allied Ministries as and when an instance of an oil spill occurs.
The NGT may also constitute committees and ask for detailed reports to be submitted to it in the event of oil spills.
International Convention for the Prevention of Pollution from Ships (MARPOL Treaty)
The MARPOL is the main international convention covering prevention of pollution of the marine environment by ships from operational or accidental causes.
The MARPOL Convention was adopted on 2 November 1973 at IMO. The Protocol of 1978 was adopted in response to a spate of tanker accidents in 1976-1977.
The current convention is a combination of the 1973 Convention and the 1978 Protocol, which entered into force on 2 October 1983.
The Convention includes regulations aimed at preventing and minimizing pollution from ships – and currently includes six technical Annexes:

Annex I: Regulations for the Prevention of Pollution by Oil
Annex II: Regulations for the Control of Pollution by Noxious Liquid Substances in Bulk
Annex III: Prevention of Pollution by Harmful Substances Carried by Sea in Packaged Form
Annex IV: Prevention of Pollution by Sewage from Ships
Annex V: Prevention of Pollution by Garbage from Ships
Annex VI: Prevention of Air Pollution from Ships

In 2011, IMO became the first international regulator for a transport sector to adopt globally binding energy efficiency requirements, which apply to all ships globally, regardless of trading pattern or flag State, aimed at reducing greenhouse gas emissions from international shipping.
International Maritime Organization
The International Maritime Organization is a specialized agency of the United Nations.
IMO is responsible for measures to improve the safety and security of international shipping and to prevent pollution from ships.
It is also involved in legal matters, including liability and compensation issues and the facilitation of international maritime traffic.
It was established by means of a Convention adopted under the auspices of the United Nations in Geneva on 17 March 1948 and met for the first time in January 1959.
It currently has 174 Member States.
9. Lifestyle For Environment is a noble concept, but needs a holistic approach
Subject: Environment
Context:
Mission LiFE
Introduced by India during the 26th United Nations Climate Change Conference of the Parties (COP26) in Glasgow in 2021.
Launched at Statue of Unity, Gujrat
Piloted by NiTi Aayog and implemented by- Ministry of Environment, Forest and Climate change.
The idea promotes an environmentally conscious lifestyle that focuses on 'mindful and deliberate utilization' instead of 'mindless and wasteful consumption i.e. Net-zero living or sustainable lifestyle.
On 5 June 2022, on World Environment Day, India furthered the vision of LiFE by launching the LiFE Global Movement, inviting academicians, researchers, and start-ups across the world to think about specific and scientific ways in which the full potential of collective action can be harnessed to address the environmental crisis.
The Mission encourages the P3 model, i.e., Pro Planet People.
Advocates for the circular economy.
Mission LiFE makes everyone trustees of the environment.
Mission LiFE aims at following a three-pronged strategy–

First is by nudging individuals to practice simple yet effective environment-friendly actions in their daily lives (demand);
Second is by enabling industries and markets to respond swiftly to the changing demand (supply) and;
Third is to influence government and industrial policy to support both sustainable consumption and production (policy).

Mobilize at least one billion Indians and other global citizens to take individual and collective action for protecting and preserving the environment in the period 2022 to 2027.
The main objectives enumerated in the LiFE concept are

saving energy at home,
cycling and using public transport instead of driving,
eating more plant-based food and wasting less, and
leveraging our position as customers and employees to demand climate-friendly choices.
LiFe places emphasis on the urban population
The current objective of LiFE is better suited for the urban population because-
urban people have access to air conditioners, freezers and other energy-consuming equipment which directly or indirectly influence climate change.
The India's rural population does not consume much energy because they do not have access to modern energy-consuming equipment.
Rural communities are facing the direct impacts of climate change, because of their high dependence on natural resources.
They are less prepared to tackle climate change impacts.
Rural population's contribution to climate change-
Rural population contributes less to global warming than urban population.
The rural population contributes to environmental degradation differently.
The local communities depend entirely on the forest for survival.
Use of wood log for energy causes air pollution in rural areas.
Natural forest was burnt to construct a residence in one area.
Agricultural activities leads to groundwater exploitation, and greenhouse gas emissions.
India's achievement-
India's commitment to reach 40% of installed electric capacity from non-fossil fuel-based sources has been achieved nine years ahead of schedule.
The target of 10% ethanol blending in petrol has been achieved five months ahead of the November 2022 target.
Subject: Economy
Context:
Centre issued the Companies (registered valuers and valuation) Amendment Rules 2022 for the valuation entity.
Details:
It seeks to clarify the standards used by the valuers to conduct valuations.
No partnership entity or company shall be eligible to be a registered valuer if it is not a member of a registered valuer organization
Entities cannot be registered with more than one valuer organization at a given time.
A partnership or company registered as a valuer will get six months to comply with the new rules
Valuers may follow either the internationally accepted valuation standards or valuation standards adopted by a registered valuer organization.
A registered valuer will not be allowed to take up employment but can hold the designation of whole-time directors.
Registered valuers have to intimate IBBI about any change in their internal structure and changes in the partners and directors, its charter or partnership agreement.
Concept:
What is a registered valuer?
The concept of registered valuer was introduced in the Companies Act in 2017 and before it, valuation was done in an arbitrary manner, often leading to question marks over the authenticity of the valuation.
Presently, a registered valuer is an individual or entity which is registered with the Insolvency and Bankruptcy Board of India (IBIBI) as a valuer in accordance with the Companies (Registered Valuers and Valuation) Rules, 2017.

Under Section 458 of the Companies Act, IBBI has been specified as the authority by the central government.

It regulates the valuation of assets and liabilities linked to a company and to standardize the valuation procedure in line with global valuation standards.
It plays an important role in corporate restructuring, mergers and acquisitions, and bankruptcy resolutions. Such transactions are dependent on the assessment of these assets and liabilities and are key to due diligence.
Who can become a registered valuer?

An individual needs to clear the Valuation Examination conducted by IBBI.

For what assets can a registered valuer undertake valuation?

Registered valuer can get themselves registered for valuation of assets such as land and building; plant and machinery; and securities and financial assets.
They can undertake valuation of only the assets for which they have got the registration.
Registered valuer organizations:
The organisation conducts following functions:
conducts educational courses in valuation.
grants membership or certificate of practice to individuals, who possess the qualifications and experience in respect of valuation of asset class.
conducts training for the individual members before a certificate of practice is issued to them.
lays down and enforces a code of conduct for valuers who are its members.
provides for continuing education of individuals who are its members.
monitors and reviews the functioning, including quality of service, of valuers who are its members.
address grievances and conduct disciplinary proceedings against valuers who are its members.
Subject Polity
Context:
States have approached the NITI Aayog to set up their own public policy institutions to boost development and drive inclusive growth.
Details:
Rajasthan, Odisha, Chhattisgarh, Andhra Pradesh, Uttar Pradesh, Karnataka, Madhya Pradesh, Assam and Maharashtra — have made requests to constitute state institutions for transformation, or SITs, along the lines of the National Institution for Transforming India (NITI) Aayog.
State Support Mission
In July, NITI Aayog started a State Support Mission to assist states prepare development strategies. 
Under the mission, the central body will be supporting states to set up SITs or help the governments reform the role of planning departments.
Initially, it aims for 8-10 states to set up such bodies, before reaching out to all by March 2023.
As part of this, the Maharashtra Institution for Transformation, or Mitra, was set up along the lines of NITI Aayog.
The move is in recognition of the fact that except for sectors like defence, railways and highways, the national gross domestic product (GDP) growth is an aggregation of states' rates of growth.
SITs would prepare States' development strategies.

It would reorient state planning boards, prepare a blueprint to guide states in policy formulation, take up monitoring and evaluation of government policies and programmes, and suggest better technology or models for delivery of schemes.

Lateral entry of professionals will be encouraged in SITs to undertake high-quality analytical work and policy recommendations.
What is NITI Aayog:
NITI Aayog is a premiere policy think tank of the Government of India. It was established with the aim to achieve sustainable development goals by active involvement of state government in the planning process
It was established in 2015 via an executive resolution by replacing the Planning Commission of India
What is the composition of the NITI Aayog:
Chairperson: Prime Minister
Vice-Chairperson: To be appointed by Prime-Minister.Equivalent to cabinet minister.
Governing Council: Chief Ministers of all states and Governors of Union Territories.
Regional Council: To address specific regional issues, Comprising Chief Ministers and Lt. Governors Chaired by the Prime Minister or his nominee.
Adhoc Membership: 2 members in ex-officio capacity from leading Research institutions on rotational basis.
Ex-Officio membership: Maximum four from the Union council of ministers to be nominated by the Prime minister.
Chief Executive Officer: Appointed by Prime-minister for a fixed tenure, in rank of Secretary to Government of India.
Special Invitees: Experts, Specialists with domain knowledge nominated by the Prime-minister
The Planning Commission was replaced with the NITI Aayog in January 2015, mainly as a think-tank for forging a national vision on development.

The Centre has since given the plan fund allocation powers to the Finance Ministry.
12. Ransomware attacks cripples AIIMS service
Subject : Science and Technology
Context:
AIIMS Delhi hospital was hit by ransomware which crippled important services for over 30 hours
What is the issue:
The National Informatics Centre (NIC) at AIIMS Delhi on Wednesday said that a ransomware attack affected the hospital server due to which day-today activities including OPD registrations and blood sample reports remained halted at the premier institute
What is Ransomware attack:
A ransomware attack is a cyberattack using malware that encrypts the victim's files and requires users to pay a ransom to decrypt the files. 
It is often designed to spread across a network and target database and file servers, and can thus quickly paralyze an entire organization.
Unlike other cyber-attacks, in this form of attack, the user is notified of the attack.
Ransomware spreads easily when it encounters unpatched or outdated software.
Some history of Ransomware attack:
The first ever recorded use of ransomware occurred as early as 1989 in the form of the AIDS Trojan,
However, this method gained prominence only after the unleashing of the WannaCry Ransomware in 2017. This was a massive attack that affected more than 200,000 systems in some 150 countries and accounted for a loss of several million dollars.
Since then, the use of ransomware attacks has seen an upward trend for committing cyber-crime.
What are some safeguards available in India against Cyber Threats
Information Technology Act, 2000 (Amended in 2008): It is the main law for dealing with cybercrime and digital commerce in India.
National Critical Information Infrastructure Protection Centre (NCIIPC) was created under Section 70A of IT Act 2000 to protect Cyber infrastructure.
CERT-In (Cyber Emergency Response Team, India): It is National Nodal Agency for Cyber Security and is Operational since 2004
National Cyber Security Policy, 2013: The policy provides the vision and strategic direction to protect the national cyberspace.
Cyber Swachhta Kendra: Cyber Swachhta Kendra helps users to analyse and keep their systems free of various viruses, bots/ malware, Trojans,
Indian Cyber Crime Coordination Centre (I4C): Launched in 2018, It is an apex coordination center to deal with cybercrimes.
Cyber Surakshit Bharat: It was launched by the Ministry of Electronics and Information Technology in 2018 with the aim to spread awareness about cybercrime and building capacity for safety measures for Chief Information Security Officers and frontline IT staff across all government departments.
The Cyber Warrior Police Force: It was organised on the lines of the Central Armed Police Force in 2018.
13. Frame rules for fixing electricity tariff Supreme Court to state
Subject :Polity
Context:
The Supreme Court on Wednesday directed all the state electricity regulatory commissions to frame within three months rules under the Electricity Act-2003 on the terms and conditions for determination of tariff.
What was the issue:
The order came as the court dismissed the appeal of Tata Power Company Limited Transmission, challenging the award of ₹7,000 crore Maharashtra Electricity Regulatory Commission transmission (MERC) contract to Adani Electricity Mumbai Infra Limited (AEMIL).
The power company under Tata Group had challenged the awarding of the infrastructure project without a tariff-based competitive bidding.
Tata Power was in the Supreme Court in appeal against an order of the Appellate Tribunal for Electricity (APTEL).
The APTEL had on February 18 dismissed the plea of TPC-T against the grant of electricity transmission license to AEMIL by MERC in March 2021.
The MERC had granted the transmission license to AEMIL for setting up a 1000 MW high voltage direct current link between Kudus and Aarey station in Mumbai.
What was Supreme Court Stand:
Supreme Court on Wednesday ruled that the National Tariff Policy (NTP) is not binding on the electricity regulatory commissions and held that tariff determination falls within the exclusive domain of the state regulatory commissions, and directed them to frame pertinent regulations for determination of power tariff within a period of three months
A bench, headed by Chief Justice of India Dhananjaya Y Chandrachud, noted that although the 2003 Electricity Act aimed at providing the states with sufficient flexibility to regulate the intrastate electricity system and simultaneously empower the regulatory commissions for determining tariffs, the commissions had not framed the relevant regulations.
The determination of tariff and framing regulations for the determination of tariff fall within the exclusive domain of the appropriate commission.
The top court, in its judgment, held that MERC was at liberty to allot the project without a competitive bidding under its general regulatory powers since the state commission was yet to frame regulations or notify guidelines prescribing the criteria for choosing the modalities to determine tariff.
Besides, the bench also noted that MERC cannot be bound by either the National Electricity Policy (NEP) or the NTP since the determination and regulation of tariff falls within the exclusive domain of the regulatory commission. 
The NEP and NTP can be one of the guiding factors for the commission while framing regulations and fixing tariffs.
While framing these guidelines on determination of tariff, the court said, the appropriate commission shall be guided by the principles prescribed in Section 61, which also includes the NEP and NTP.
Section 61 stipulates that the appropriate commission shall specify the terms and conditions for the determination of tariff.
Section 181 lays down that the commission shall frame regulations consistent with the Act and the rules framed by the state government.
14. Supreme Court tweaks case listing process
Subject :Polity
Context:
The Supreme court had decided to tweak the listing process of cases.
What is the new listing process:
Under the new scheme,10 transfer petitions, in which notice has already been issued, will be listed at the top of the board before the court on all five days of the week. This will be followed by 10 bail matters.
Moreover around seven fresh matters will also be listed on Tuesday,Wednesday and Thursday.
Regular hearing matters will now be listed on Wednesday and Thursday.
No regular hearing matters will be listed on Tuesday.
The changes will come into effect from November 28
15. Prevention of cruelty of animal act,1960
Subject :Polity
Context:
In a move to overhaul the Prevention of Cruelty to Animal Act-1960, the Centre has proposed to introduce 61 amendments in the six-decade-old law, Including provision of three-year jail for committing "gruesome cruelty" and five-year imprisonment for killing an animal.
What is Prevention of cruelty of animal act,1960
The act prohibits any person from inflicting, causing, or if it is the owner, permitting, unnecessary pain or suffering to be inflicted on any animal.
The act  provides for punishment for causing unnecessary cruelty and suffering to animals.
Section 2 of the act defines animals and types of animals like domestic or captive animals.
Section 4 of the act provides for the Animal Welfare Board of India (AWBI), a statutory advisory body for animal welfare and protection of animals from unnecessary suffering and pain.
The act mentions forms of cruelty, exceptions, and killing of a suffering animal in case any cruelty has been committed against it, so as to relieve it from further suffering.
The act also provides the guidelines relating to experimentation on animals for scientific purposes.
An animal cannot be exhibited or trained by any person, if:

Such a person is unregistered as per the provisions of this chapter;
Such an animal has been barred from being included in any performance by the Central Government through a notification in the Official Gazette.

This Act provides for the limitation period of 3 months beyond which no prosecution shall lie for any offences under this Act.
What are the amendments in the draft:
The draft Prevention of Cruelty to Animal Act,(Amendment) Bill 2022 has been prepared by the Ministry of Fisheries, Animal Husbandry and Dairying. 
The draft includes 'bestiality' as a crime under the new category of 'gruesome cruelty' and it defines gruesome cruelty as "an act that leads to extreme pain and suffering to the animals which may cause life long disability or death".
Gruesome cruelty shall be punishable with a minimum fine of Rs 50,000 which may be extended up toRs 75,000 or the cost may be decided by judicial magistrate in consultation with the jurisdictional veterinarians whichever is more or with the imprisonment of one year which may extend up to three  years or with both.
The draft proposes a maximum 5-year imprisonment, along with a fine,for killing an animal. For this, a new clause, Section11(B) has been proposed.
The draft also proposes insertion of a new Section 3A, which provides 'five freedoms' to animals.It shall be the duty of every person having charge of an animal to ensure that the animal in his care or under his charge has:

Freedom from thirst, hunger and malnutrition; 
Freedom from discomfort due to environment; 
Freedom from pain,injury and diseases.
Freedom to express normal behaviour for the species; 
Freedom from fear and distress.

Incase Community Animals, the local government shall be responsible for their care.
The Draft proposals introduced the community animal as "any animal born
in a community for which no ownership has been claimed excluding wild animals as defined under the Wildlife Protection Act,1972.
16. Behind Paris Olympic Mascot :-the Cap of liberty
Subject : History
Context:
Mascots for the Paris 2024 Olympics and Paralympics are based on the enduring idea of liberty, taking the form of Phrygian caps, the headwear that has symbolised freedom for the French for centuries.
What is the history of a Phrygian cap:
The origin of the Phrygian cap, also known as the liberty cap and bonnet rouge, is tied to the history of suppressed people.
The cap's floppy design can be traced to the pileus or pilos hats that were given as signs of freedom to Roman slaves.
In Greek and Roman mythology, the twins Castor and Pollux hatched from an egg and are shown wearing the pileus just as slaves are seen as being born into new life with their freedom.
Headdress became a matter of importance in asserting political identity and loyalty during the FrenchRevolution (1787–99).
Hats adorned with a tricolour ribbon cockade became symbols of patriotism,while the liberty cap or bonnet rouge became a symbol of the Revolution.
During the Third Republic in France, announced in 1870, Marianne began to appear in statues and busts either as a revolutionary figure or a wise woman.
Incidentally,in some cases, it was thought that the Phrygian cap was too seditious and Marianne was made to wear a diadem or a crown
Nonetheless,to this day,the red cap is associated in France with liberty.
It is also an international symbol of liberty present in many emblems in North and SouthAmerica
17. UK Supreme Court says no to Scotland's plan to hold independence vote
Subject :Polity
Context:
Britain's Supreme Court has ruled that Scotland's government cannot unilaterally hold a second referendum on whether to secede from the United Kingdom,
When was the issue:
The government did allow a referendum in 2014, in which a majority of Scots voted to remain in the United Kingdom, by 55 percent to 45 percent.
The independence question was complicated two years later in the June 2016 vote over Brexit in which the Scots strongly backed remaining in the European Union, by 62 percent to 38 percent.
When did Scotland and England unite:
The Act of Union between Scotland and England was signed on Jan. 16, 1707.
It came into effect on May 1 of that year, creating the United Kingdom of Britain.
The Scottish Parliament was dissolved, and a single Parliament was created at Westminster in London.
What was the supreme court ruling:
The Scottish Parliament does not have the power to stage a referendum on independence without consent from the British government,
The Scottish Parliament can't legislate on the matter, as on union the power is held by the British Parliament sitting in the Palace of Westminster in London.
Types of Direct Democracy
Direct democracy has 4 devices – Referendum, Initiative, Recall and Plebiscite
Referendum – procedure in which a proposed legislation is referred to the electorate for acceptance through direct voting.
Initiative – method by means of which the people can propose a bill to the legislature for enactment.
Recall – way for voters to remove a representative or an officer before the expiry of his/her term, when he fails to discharge his duties properly.
Plebiscite – method of obtaining the opinion of people on any issue of public importance. It is generally used to solve territorial disputes.
18. Bangladesh- Mizoram Border
Subject: Geography
Topic: Mapping
Context: More than 200 people belonging to the Kuki-Chin-Mizo community from Bangladesh's Chittagong Hill Tracts (CHT) have entered Mizoram's Lawngtlai district due to an armed conflict between the neighbouring country's Army and an ethnic armed group and are being referred to as "officially displaced persons" as per the State Government records.
Content:
Lawngtlai is near the trijunction of India, Myanmar, and Bangladesh in south Mizoram.
Bandarban and Rangamati in the CHT are the areas which had unrest.
Background:
Bangladesh's CHT is home to a dozen Buddhist and Christian ethnic groups collectively known as the Jumma people.
The emergence of the Kuki-Chin National Front (KNF), the armed wing of the Kuki-Chin National Army, (formed to carve out an autonomous state) and its alleged linkages with an Islamist group has been simmering the unrest for the past several decades along with other factors.