Daily Prelims Notes 25 June 2020
June 25, 2020

Posted by:

admin1

Category:

DPN

Table Of Contents
1. IN-SPACe
Subject: Science and tech
Context:
The Union Cabinet has approved the creation of the Indian National Space Promotion and Authorization Centre (IN-SPACe)
Concept:
It is constituted to provide a level playing field for private companies to use Indian space infrastructure.
This is part of reforms aimed at giving a boost to private sector participation in the entire range of space activities
The IN-SPACe will also hand-hold, promote and guide the private industries in space activities through encouraging policies and a friendly regulatory environment.
Earlier New Space India Limited (NSIL) was formed as nodal agency to produce PSLV through Indian industries under consortium route.
These reforms would allow the Indian Space Research Organsiation (ISRO) to focus more on research and development activities, new technologies, exploration missions and human spaceflight programme.
2. 2020 Global Education Monitoring Report
Subject: IR
Context:
UNESCO has released 2020 Global Education Monitoring Report with theme "Inclusion and education – All means all".
Concept:
This year's report is the fourth annual UNESCO GEM Report to monitor progress across 209 countries in achieving the education targets adopted by UN Member States in the 2030 Agenda for Sustainable Development.
It noted 258 million children and youth were entirely excluded from education, with poverty as the main obstacle to access.
Findings:
The report provided an in-depth analysis of key factors for exclusion of learners in education systems worldwide including background, identity and ability (i.e. gender, age, location, poverty, disability, ethnicity, indigeneity, language, religion, migration or displacement status, sexual orientation or gender identity expression, incarceration, beliefs and attitudes).
It identified an exacerbation of exclusion during the Covid-19 pandemic and estimates that about 40 per cent of low and lower- middle income countries have not supported disadvantaged learners during temporary school shutdown.
The 2020 Global Education Monitoring (GEM) Report urged countries to focus on those left behind as schools reopen so as to foster more resilient and equal societies.
3. Animal husbandry infrastructure development fund
Subject: Scheme
Context:
The Cabinet Committee on Economic Affairs (CCEA) has given its nod to set up a ₹15,000 crore Animal Husbandry Infrastructure Development Fund.
Concept:
Why?
Government has been implementing several schemes for incentivizing the investment made by dairy cooperative sector for development of dairy infrastructure.
However, government realizes that even MSMEs and Private companies also need to be promoted and incentivized for their involvement in processing and value addition infrastructure.
How?
AHIDF would facilitate much needed incentivisation of investments in establishment of infrastructure for dairy and meat processing and value addition infrastructure and establishment of animal feed plant in the private sector.
For whom?
The eligible beneficiaries under the Scheme would be Farmer Producer Organizations (FPOs), MSMEs, Section 8 Companies, Private Companies and individual entrepreneur with minimum 10% margin money contribution by them. The balance 90% would be the loan component to be made available by scheduled banks.
Government of India will provide 3% interest subvention to eligible beneficiaries. There will be 2 years moratorium period for principal loan amount and 6 years repayment period thereafter.
Subject: Economy
Context:
The Cabinet has decided to bring urban cooperatives and multi-State cooperative banks under RBI regulation.
Concept:
Government banks, including 1,482 urban cooperative banks and 58 multi-state cooperative banks, are now being brought under supervisory powers of Reserve Bank of India (RBI)
Background:
The move to bring these urban and multi-State coop banks under the supervision of the RBI comes after several instances of fraud and serious financial irregularities, including the major scam at the Punjab and Maharashtra Co-operative (PMC) Bank last year.
In September, the RBI was forced to supercede the PMC Bank's board and impose strict restrictions.
The Union Cabinet in February amended Banking Regulation Act to strengthen the cooperative banks in the country.
During Budget 2020, Finance Minister also announced that cooperative banks will be brought under the ambit of RBI.
Cooperative banks
Co-operative banks are financial entities established on a co-operative basis and belonging to their members. This means that the customers of a co-operative bank are also its owners. These banks provide a wide range of regular banking and financial services.
Structure:
Broadly, co-operative banks in India are divided into two categories – urban and rural.
Rural cooperative credit institutions could either be short-term or long-term in nature.
Further, short-term cooperative credit institutions are further sub-divided into State Co-operative Banks, District Central Co-operative Banks, and Primary Agricultural Credit Societies.
Meanwhile, the long-term institutions are either State Cooperative Agriculture or Rural Development Banks (SCARDBs) or Primary Cooperative Agriculture and Rural Development Banks (PCARDBs).
On the other hand, Urban Co-operative Banks (UBBs) are either scheduled or non-scheduled. Scheduled and non-scheduled UCBs are again of two kinds- multi-state and those operating in single state.
Current Regulation:
In India, co-operative banks are registered under the States Cooperative Societies Act. They also come under the regulatory ambit of the Reserve Bank of India (RBI) under two laws, namely, the Banking Regulations Act, 1949, and the Banking Laws (Co-operative Societies) Act, 1955.
They were brought under the RBI's watch in 1966, a move which brought the problem of dual regulation along with it.
Subject: Economy
Context:
Centre has decided to allow milk powder imports under Tariff Rate Quota (TRQ). It irked dairy farmers, who are already struggling with lower realizations amid excess supply and demand destruction due to Covid-19.
Concept:
A TRQ is a mechanism that allows a set quantity of specific products to be imported at a low or zero rate of duty.
They are established under trade agreements between countries.
TRQ commitment does not apply any limits on the quantity of the import products.
But it applies a higher rate of duty for that specific product exceeding quota limit.
6. Article 340
Subject: Polity
Context:
Cabinet has approved the extension of the term of the Commission to examine the issue of Sub-categorization of Other Backward Classes, by six months till January 2021.
Concept:
The Government has constituted a Commission on 2nd October, 2017 under article 340 of the Constitution to examine the issues of the sub-categorization of Other Backward Classes with the following terms of reference:
To examine the extent of inequitable distribution of benefits of reservation among the castes or communities included in the broad category of Other Backward Classes with reference to such classes included in the Central List;
To work out the mechanism, criteria, norms and parameters in a scientific approach for sub-categorisation within such Other Backward Classes; and
To take up the exercise of identifying the respective castes or communities or sub-castes or synonyms in the Central List of Other Backward Classes and classifying them into their respective sub-categories.
The four-member Commission headed by Justice G. Rohini, former Chief Justice Delhi High Court.
Article 340
The President may by order appoint a Commission consisting of such persons as he thinks fit to investigate the conditions of socially and educationally backward classes within the territory of India and the difficulties under which they labour and to make recommendations as to the steps that should be taken by the Union or any State to remove such difficulties and to improve their condition.
7. ICC
Subject: IR
Context:
U.S. President has issued an executive order authorizing sanctions against individuals involved in an International Criminal Court (ICC) investigation over U.S. forces committed war crimes in Afghanistan
Concept:
The International Criminal Court ("the ICC" or "the Court") is a permanent international court established to investigate, prosecute and try individuals accused of committing the most serious crimes of concern to the international community as a whole, namely the crime of genocide, crimes against humanity, war crimes and the crime of aggression
On 17 July 1998, 120 States adopted the Rome Statute of the International Criminal Court establishing the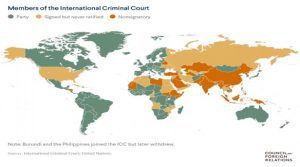 Image Source: ICC, UN
The International Criminal Court is not a substitute for national courts. According to the Rome Statute, it is the duty of every State to exercise its criminal jurisdiction over those responsible for international crimes.
The International Criminal Court can only intervene where a State is unable or unwilling genuinely to carry out the investigation and prosecute the perpetrators.
The ICC is an independent body whose mission is to try individuals for crimes within its jurisdiction without the need for a special mandate from the United Nations.
8. Lal-Bal-Pal
Subject: History
Context:
To mark the death centenary of Tilak, Pune-based NGO is planning to launch a series of literary and cultural programmes to strengthen connections between Maharashtra and West Bengal to revive the Independence-era spirit of the 'Lal-Bal-Pal'
Concept:
Punjab, Bengal and Maharashtra have played significant roles during the struggle for Indian Independence.
The historical association and cultural bonds among the three States was solidified in the modern era by the trinity of 'Lal-Bal-Pal'.
The triumvirate had played a stellar role in the second phase of the Swadeshimovement
Swadeshi Movement:
In 1900, Bengal was the major province in British India. The Indian national movement began in Bengal and thus, Britishers decided to part Bengal.
When Lord Curzon, then Viceroy of India, announced the partition of Bengal in July 1905, Indian National Congress, initiated Swadeshi movement in Bengal.
The Swadeshi Movement was officially proclaimed on August 7, 1905 at the Calcutta Town Hall, in Bengal.
Forms of struggle:
Boycott movement was also launched along with the Swadeshi movement. It included using goods produced in India and burning British-made goods.
Public meetings and processions emerged as major methods of mass mobilization
Samitis such as the Swadesh BandhabSamiti of Ashwini Kumar Dutta (in Barisal) and in Tamil Nadu, Swadeshi Sangam was formed. These samitis generated political consciousness among the masses through magic lantern lectures, swadeshi songs, providing physical and moral training to their members, social work during famines and epidemics, organisation of schools, training in swadeshi crafts and arbitration courts
Bengal National College, inspired by Tagore's Shantiniketan, was set up with Aurobindo Ghosh as its principal. Soon national schools and colleges sprang up in various parts of the country.
The nationalists of all hues took inspiration from songs written by Rabindranath Tagore, Rajnikant Sen, Dwijendralal Ray, Mukunda Das, Syed Abu Mohammad and others.
In painting, Abanindranath Tagore broke the domination of Victorian naturalism over the Indian art scene and took inspiration from Ajanta, Mughal and Rajput paintings. Nandalal Bose, who left a major imprint on Indian art.
In science, Jagdish Chandra Bose, Prafullachandra Roy and others pioneered original research which was praised the world over.
Key people in the Swadeshi movement:
Bal GangadharTilak
Bipin Chandra Pal
LalaLajpat Rai
Aurobindo Ghosh
VO Chidambaram Pillai
Babu Genu