Daily Prelims Notes 3 November 2021
November 3, 2021

Posted by:

OptimizeIAS Team

Category:

DPN

Daily Prelims Notes
3 November 2021
Table Of Contents
1. 'Bird of the Year' award in New Zealand
Subject – Environment
Context – 'Bird of the Year' award has created controversy in New Zealand
Concept –
Pekapeka-tou-roa, a native New Zealand bat, has won the country's annual Bird of The Year award, hosted by Forest and Bird, an independent conservation organisation.
The title, awarded to a native mammal instead of a bird, has rung up controversy in the country.
Pekapeka-tou-roa or New Zealand's long-tailed bat is one of the two surviving species endemic or native to New Zealand. They are present throughout the mainland and can also be found on some offshore islands in the country.
The species is a small-sized bat with a long tail, which is the only difference between long-tailed bats and New Zealand's other land mammal, the short-tailed bat.
Long-tailed bats fly at duck using echolocation calls to hunt moths, mosquitoes and insects.
IUCN status – Critically Endangered
Subject – Environment
Context –The Global Methane Pledge was launched at the ongoing UN COP26 climate conference in Glasgow
Concept –
The Global Methane Pledge was launched at the ongoing UN COP26 climate conference in Glasgow.

So far, over 90 countries have signed this pledge, which is an effort led jointly by the United States and the European Union.

Methane is the second-most abundant greenhouse gas in the atmosphere, after carbon dioxide, and, therefore, pledges related to cutting down its emissions are significant.
The pledge was first announced in September by the US and EU, and is essentially an agreement to reduce global methane emissions. One of the central aims of this agreement is to cut down methane emissions by up to 30 per cent from 2020 levels by the year 2030.
Among the signatories is Brazil — one of the five biggest emitters of methane, which is generated in cows' digestive systems, in landfill waste and in oil and gas production.

Three others —China, Russia and India — have not signed up.
Australia has said it will not back the pledge.

According to the latest Intergovernmental Panel on Climate Change report, methane accounts for about half of the 1.0 degrees Celsius net rise in global average temperature since the pre-industrial era.
About Methane –
According to the UN, 25 per cent of the warming that the world is experiencing today is because of methane, a greenhouse gas, which is also a component of natural gas.
Because it is a greenhouse gas, its presence in the atmosphere increases Earth's temperature.
There are various sources of methane including human and natural sources.

Human sources of methane include landfills, oil and natural gas systems, agricultural activities, coal mining, wastewater treatment, and certain industrial processes

The oil and gas sectors are among the largest contributors to human sources of methane.
NASA notes that human sources (also referred to as anthropogenic sources) of methane are responsible for 60 per cent of global methane emissions.

These emissions come primarily from the burning of fossil fuels, decomposition in landfills and the agriculture sector.

Coalbed Methane (CBM), like shale gas, is extracted from what are known as unconventional gas reservoirs — where gas is extracted directly from the rock that is the source of the gas (shale in case of shale gas and coal in case of CBM).
The methane is held underground within the coal and is extracted by drilling into the coal seam and removing the groundwater. The resulting drop in pressure causes the methane to be released from the coal.
According to the International Energy Agency (IEA), while methane has a much shorter atmospheric lifetime (12 years as compared to centuries for CO2), it is a much more potent greenhouse gas simply because it absorbs more energy while it is in the atmosphere.
Methane is a powerful pollutant and has a global warming potential that is 80 times greater than carbon dioxide, about 20 years after it has been released into the atmosphere.
The IEA has also said that more than 75 per cent of methane emissions can be mitigated with the technology that exists today, and that up to 40 per cent of this can be done at no additional costs.
To know more about Methane, please refer September 2021 DPN.
Subject – Agriculture
Context – Agro-ecology in dryland regions can bolster nutrition security
Concept –
The United Nations Environment Program defines agro-ecology as "an ecological approach to agriculture, often described as low-external-input farming.
Other terms such as regenerative agriculture or eco-agriculture are also used.
Agro-ecology is not just a set of agricultural practices, it focuses on changing social relations, empowering farmers, adding value locally and privileging short value chains.
It allows farmers to adapt to climate change, sustainably use and conserve natural resources and biodiversity
In simple words, agro-ecology celebrates crop diversity.
It seeks low energy external inputs, agro-ecological services as enterprises, soil covered for a large period of time through multiple cropping, niche crops and regional markets.
The Prime Minister's call for using less fertilisers and pesticides "as a great step for saving mother earth" on August 15, 2019 and reiteration of his "Vocal for Local" idea, aptly captures the essence of agro-ecology and it also meets 12 out of the 17 UN Sustainable Development Goals.
Rain-fed areas provide nutrition security through millets, pulses and oilseeds.

Productivity of most of the rain-fed crops is meagre as compared to their irrigated cousins and hence traits of resilience and improved productivity are screened for under rain-fed crop improvement programs.

Most of the endemic and cultivable land races of these regions are ephemerals. The word 'ephemeral' denotes all plants lasting a very short period of time and they inhabit rain-fed areas.
Introducing agro-ecology in rain-fed areas could thus be a good policy option.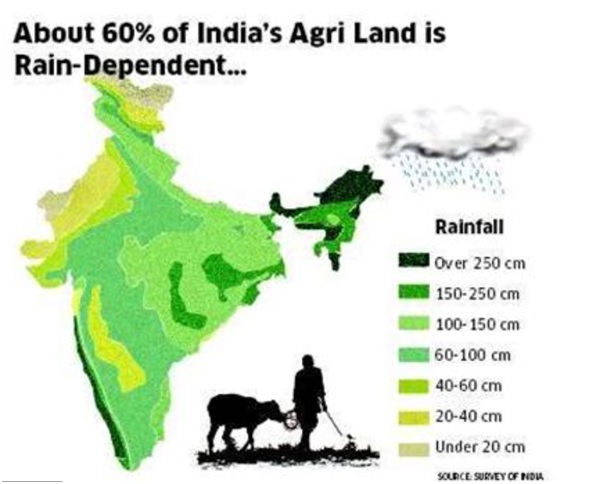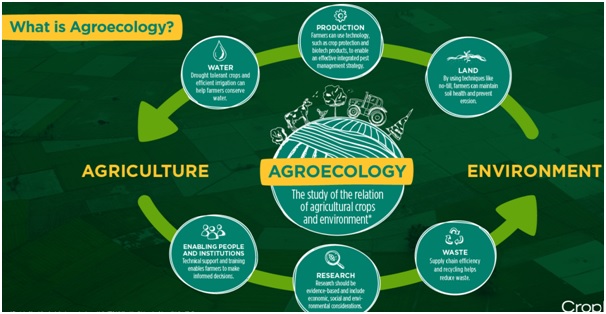 Subject – Environment
Context – An international team, which studied a global temperature rise that occurred 56 million years ago, has found that it took about 20,000 to 50,000 years for the climate to stabilise after the rise of five to eight degrees Celsius.
Concept –
About 56 million years ago, our Earth experienced a natural period of global warming triggered by a volcanic eruption. This period was known as the Paleocene-Eocene Thermal Maximum (PETM) and there were huge amounts of carbon dioxide released into the atmosphere.

This caused about 8° C Surface Ocean warming in the high latitudes.
Several studies have shown that during this period ocean acidification caused mass extinctions in the deep ocean and there were changes in the biota in the surface ocean.

Due to global warming, there would have been weathering of rocks. These dissolving rocks release lithium into surrounding water bodies and by studying the isotopes of lithium we can understand the amount of erosion.

Clay minerals from the bottom of the sea were used to study the lithium isotopes stored in water.

Lithium has the advantage that it is one of the very few elements that is not used by biology or plants at all. So signals from growing or dying plants don't affect lithium.

Also, Lithium isotopes (Li-6 and Li-7) have their relationship (ratio) to each other changed by the weathering process – Li-6 is preferentially retained in clays that form during weathering.

The difference between the PETM and the present is that the PETM had more warming (up to 8°C) but was slower, but what we're seeing at the moment is probably 3-4°C (worst case), but much much quicker than the PETM.
Using weathering to artificially remove CO2 from the atmosphere on more useful timescales – this process is known as 'enhanced weathering'.

You speed up weathering by grinding up rock into powder (so it weathers faster) and ploughing it into fields, where it should remove CO2 and act as a fertiliser. This is now at the field experiment stage in several places around the world.
It will never remove all the CO2 we're adding to the atmosphere, but if we manage to significantly reduce emissions, processes such as enhanced weathering could remove the rest, and help us with 'negative emissions', that is removing more CO2 than we add, and reducing CO2 concentrations.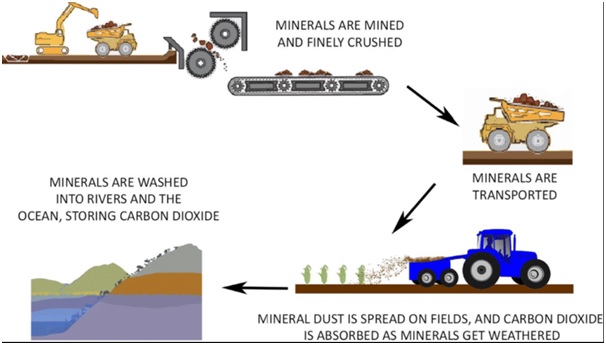 Subject – Economy
Context – PCA framework revised: Asset quality, capital and leverage key
Concept –
PCA is a framework under which banks with weak financial metrics are put under watch by the RBI.
The RBI introduced the PCA framework in 2002 as a structured early-intervention mechanism for banks that become under capitalised due to poor asset quality, or vulnerable due to loss of profitability.
It aims to check the problem of Non-Performing Assets (NPAs) in the Indian banking sector.
The framework was reviewed in 2017 based on the recommendations of the working group of the Financial Stability and Development Council on Resolution Regimes for Financial Institutions in India and the Financial Sector Legislative Reforms Commission.
PCA is intended to help alert the regulator as well as investors and depositors if a bank is heading for trouble.
The idea is to head off problems before they attain crisis proportions.
Essentially PCA helps RBI monitor key performance indicators of banks, and taking corrective measures, to restore the financial health of a bank.
The PCA framework deems banks as risky if they slip some trigger points – capital to risk weighted assets ratio (CRAR), net NPA, Return on Assets (RoA) and Tier 1 Leverage ratio.
Certain structured and discretionary actions are initiated in respect of banks hitting such trigger points.
The PCA framework is applicable only to Scheduled commercial banks and not to co-operative banks and non-banking financial companies (NBFCs).
What are the recent changes?
The new provisions will be effective from January 1, 2022, an RBI notification said.
The revised framework excludes return on assets as a parameter which may trigger action under the framework.
Payments banks and small finance banks (SFBs) have also been removed from the list of lenders where prompt corrective action can be initiated.
Capital, asset quality and leverage will be the key areas for monitoring in the revised framework.
Indicators to be tracked for capital, asset quality and leverage would be CRAR/ common equity tier I ratio, net NPA ratio and tier I leverage ratio, respectively, as per the revised framework.
In governance related actions, the RBI can supersede the board under Section 36ACA of the BR Act, 1949.
The breach of any risk threshold may result in invocation of the PCA.
The framework will apply to all banks operating in India, including foreign banks operating through branches or subsidiaries based on breach of risk thresholds of identified indicators.
A bank will generally be placed under PCA framework based on the audited annual financial results and the ongoing supervisory assessment made by the RBI.
The RBI may impose PCA on any bank during the course of a year (including migration from one threshold to another) in case the circumstances so warrant.
Exit from PCA
Once a bank is placed under PCA, taking the bank out of PCA Framework and/or withdrawal of restrictions imposed under the PCA Framework will be considered:
a) if no breaches in risk thresholds in any of the parameters are observed as per four continuous quarterly financial statements, one of which should be Audited Annual Financial Statement (subject to assessment by RBI)
b) based on Supervisory comfort of the RBI, including an assessment on sustainability of profitability of the bank.
The corrective actions that may be prescribed to the bank that is placed under PCA are:
Risk Threshold 1 –
Restriction on dividend distribution/remittance of profits.
Promoters/Owners/Parent (in the case of foreign banks) to bring in capital
Risk Threshold 2

In addition to mandatory actions of Threshold 1
Restriction on branch expansion; domestic and/or overseas

Risk Threshold 3

In addition to mandatory actions of Thresholds 1 & 2.
Appropriate restrictions on capital expenditure, other than for technological upgradation within Board approved limits.
The common menu for discretionary actions includes special supervisory actions, strategy related, governance-related, capital-related, credit risk related, market risk related, HR-related, profitability related and operations/business-related among others.
6. Nuclear power and the environment
Subject – Environment
Context – Nuclear energy helped prevent 72 billion tonnes CO2 emissions since 1970
Concept –
Nuclear reactors worldwide have helped avoid the emission of 72 billion tonnes of carbon dioxide since 1970, compared to coal-fired electricity generation.
Reduced electricity demand resulting from the novel coronavirus disease (COVID-19) pandemic saw generators curtail output in response, the World Nuclear Performance Report 2021 stated.
Nuclear power contributes to tackling climate change, for example, by providing 10 per cent of the world's electricity, according to International Atomic Energy Agency. This is close to a third of the global low-carbon electricity.
Nuclear electricity generation will need to double between 2020 and 2050 if the world is to meet its net-zero ambitions, the International Energy Agency's Net-Zero by 2050 Roadmap projected.
Nuclear power and the environment
Unlike fossil fuel-fired power plants, nuclear reactors do not produce air pollution or carbon dioxide while operating.
However, the processes for mining and refining uranium ore and making reactor fuel all require large amounts of energy.
Nuclear power plants produce no greenhouse gas emissions during operation, and over the course of its life-cycle, nuclear produces about the same amount of carbon dioxide-equivalent emissions per unit of electricity as wind, and one-third of the emissions per unit of electricity when compared with solar.
7. Climate Change from past to contemporary
Subject – Environment
Context – CoP26: Humanity is compressing millions of years of natural change into just a few centuries
Concept –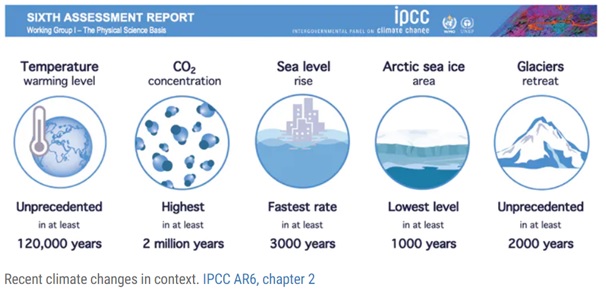 According to IPCC report, global temperature (currently 1.1℃ above a pre-industrial baseline) is higher than at any time in at least the past 120,000 or so years.

That's because the last warm period between ice ages peaked about 125,000 years ago – in contrast to today, warmth at that time was driven not by CO2, but by changes in Earth's orbit and spin axis.

Another finding regards the rate of current warming, which is faster than at any time in the past 2,000 years – and probably much longer.
The current atmospheric CO2 concentration of around 415 parts per million (compared to 280 ppm prior to industrialisation in the early 1800s), is greater than at any time in at least the past 2 million years.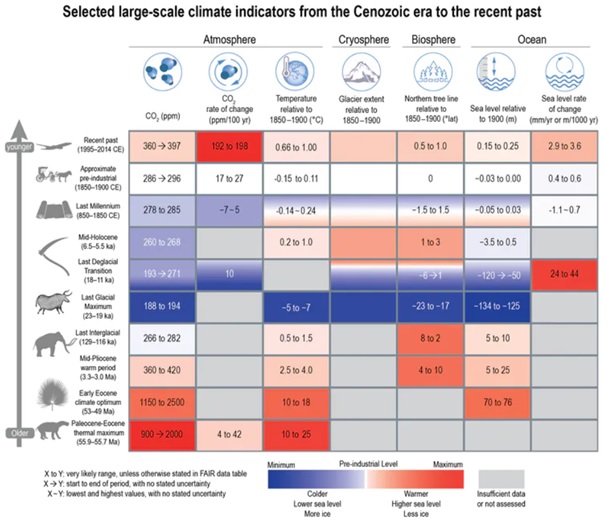 An IPCC graphic showing climate changes at various points since 56 million years ago. Note most rows show changes over thousands or millions of years, while the top row (recent changes) is just a few decades.
Other climate variables can also be compared to past changes.

These include the greenhouse gases methane and nitrous oxide (now greater than at any time in at least 800,000 years),
late summer Arctic sea ice area (smaller than at any time in at least the past 1,000 years),
glacier retreat (unprecedented in at least 2,000 years)
sea level (rising faster than at any point in at least 3,000 years),
ocean acidity (unusually acidic compared to the past 2 million years).

An "intermediate" amount of emissions will likely lead to global warming of between 2.3°C and 4.6°C by the year 2300, which is similar to the mid-Pliocene warm period of about 3.2 million years ago.
Extremely high emissions would lead to warming of somewhere between 6.6°C and 14.1°C, which just overlaps with the warmest period since the demise of the dinosaurs — the "Paleocene-Eocene Thermal Maximum" kicked off by massive volcanic eruptions about 55 million years ago.
"Climate sensitivity" — the amount it warms when atmospheric CO2 is doubled.
Subject – Geography
Context – President of Palau, a Pacific state of 500 low-lying islands under threat from rising sea levels, told the leaders of the G20 industrial powers in a speech: "We are drowning and our only hope is the life-ring you are holding."
Concept –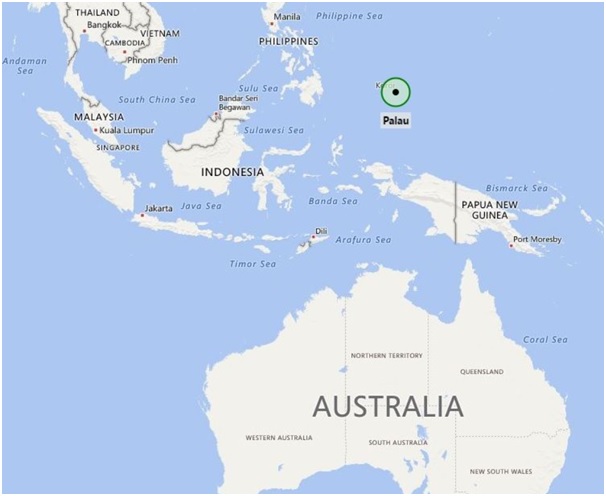 Country
Location
Boundaries
Uniqueness
Palau

An island country in the western Pacific.

The nation has approximately 340 coral and volcanic islands and connects the western chain of the Caroline Islands with parts of the Federated States of Micronesia.

Palau shares maritime boundaries with international waters to the north, Micronesia to the east, Indonesia to the south, and the Philippines to the north west.
A huge barrier reef system, continuous on the west and broken on the east, encircles most of the archipelago.
9. 2014 New York Declaration of Forests
Subject – Environment
Context – World leaders pledge to save forests at COP 26
Concept –
Leaders at the COP26 global climate conference in Glasgow have pledged to stop deforestation by the end of the decade and slash emissions of the greenhouse gas, methane, to help slow climate change.
In 2020, the world lost 2,58,000 sq. km of forests according to the Global Forest Watch.
The conservation charity WWF estimates that 27 football fields of forest are lost every minute.
Over 100 national leaders pledged to halt and reverse deforestation and land degradation by the end of the decade, underpinned by $19 billion in public and private funds to invest in protecting and restoring forests.
The agreement expands a commitment by 40 countries as part of the 2014 New York Declaration of Forests.
Under the agreement, 12 countries pledged to provide $12 billion of public funding between 2021 and 2025 for developing countries to restore degraded land and tackle wildfires.
About 2014 New York Declaration of Forests
The New York Declaration on Forests is a voluntary and non-legally binding political declaration which grew out of dialogue among governments, companies and civil society, spurred by the United Nations Secretary-General's Climate Summit held in New York in 2014.
The Declaration pledges to halve the rate of deforestation by 2020, to end it by 2030, and to restore hundreds of millions of acres of degraded land.
The proposed land restoration is described as covering "an area larger than India".
It has presently over 200 endorsers – including national governments, subnational governments, companies, indigenous groups, financial institutions and NGOs. These endorsers have committed to doing their part to achieve the NYDF goals and follow its accompanying action agenda.
Presently, India has not signed the New York Declaration on Forests (NYDF).
Subject – Environment
Context – One Sun, One World, One Grid for seamless energy
Concept –
On the second day of COP26, an initiative by India and the United Kingdom to tap solar energy and have it travel seamlessly across borders was announced.
It includes a group of Governments called the Green Grids Initiative — One Sun One World One Grid group — and was announced at COP26 by summit host United Kingdom's Prime Minister Boris Johnson and Prime Minister Narendra Modi.
A Ministerial Steering Group will work towards accelerating the making of large solar power stations and wind farms in the best locations, linked together by continental-scale grids crossing national borders.

The Ministerial Steering Group includes France, India, the United Kingdom and the United States, and will also have representatives from Africa, the Gulf, Latin America and Southeast Asia.

Research support for the Green Grids Initiative is being provided by the Climate Compatible Growth consortium of universities, which includes Cambridge, Imperial College, Oxford and University College London.
The Green Grids Initiative Working Groups made up of national and international agencies have already been established for Africa and for the Asia-Pacific region.

Their membership includes most major multilateral development banks, such as the African Development Bank (AfDB), the Asian Development Bank (ADB) and the World Bank.
International Solar Alliance (ISA)
It is an Indian initiative that was launched by the Prime Minister of India and the President of France on 30th November 2015 in Paris, France on the side-lines of the Conference of the Parties (COP-21), with 121 solar resource-rich countries lying fully or partially between the tropic of Cancer and tropic of Capricorn as prospective members.
Objective: To collectively address key common challenges to the scaling up of solar energy in ISA member countries.
The Government of India has allotted 5 acres of land to the ISA in National Institute of Solar Energy (NISE) campus, Gurugram and has released a sum of Rs. 160 crore for creating a corpus fund, building infrastructure and meeting day to day recurring expenditure of the ISA up to the year 2021-22.
11. Defence Acquisition Council
Subject – Defence and Security
Context – DAC clears proposals worth ₹7,965 cr.
Concept –
It was formed, after the Group of Ministers recommendations on 'Reforming the National Security System', in 2001, post Kargil War (1999).
The Defence Acquisition Council is the highest decision-making body in the Defence Ministry for deciding on new policies and capital acquisitions for the three services (Army, Navy and Air Force) and the Indian Coast Guard.
The Minister of Defence is the Chairman of the Council.
The objective of the Defence Acquisition Council is to ensure expeditious procurement of the approved requirements of the Armed Forces in terms of capabilities sought, and time frame prescribed, by optimally utilizing the allocated budgetary resources.
12. J&K State Investigation Agency
Subject – Security and Defence
Context – Anti-terror agency set up in J&K
Concept –
The J&K Government has set up a new State Investigation Agency (SIA) for "speedy and effective investigation and prosecution of militancy-related cases in the Union Territory"
The SIA will be a nodal agency for coordinating with the National Investigation Agency (NIA) and other Central agencies
The head of the CID wing shall be the ex-officio Director of the SIA.