Daily Prelims Notes 4 July 2020
July 4, 2020

Posted by:

admin1

Category:

DPN

Table Of Contents
Subject: Polity
Context:
Union government has introduced a new category of 'absentee voters', who can now also opt for postal voting.
Concept:
In October last year, Law Ministry amended the Conduct of Election Rules, 1961, to extend the facility of postal ballots to people who are unable to cast their vote because of service conditions.
On June 19, the ministry notified a fresh change in the rules, allowing those aged 65 years and above and COVID 19 suspect or affected persons to opt for postal ballot.
These people can choose to vote through postal ballot by filling up Form 12D and submitting it to the nodal officer within five days of notification of an election.
2. Covaxin
Subject: Science and tech
Context:
Indian Council of Medical Research (ICMR) has envisaged launch of a Covid vaccine "Covaxin" for public health use latest by August 15. It sparked debate that whether it is possible to check efficacy and safety of vaccine in short time.
Concept:
Covaxin has been developed by the company Bharat Biotech India (BBIL) in collaboration with ICMR's National Institute of Virology (NIV).
It is an inactivated vaccine that is made by using particles of the Covid-19 virus that were killed, making them unable to infect or replicate.
Injecting particular doses of these particles serves to build immunity by helping the body create antibodies against the dead virus.
Vaccine development
The general stages of the development cycle of a vaccine are:
Exploratory stage
Pre-clinical stage
Clinical development
Regulatory review and approval
Manufacturing
Quality control
Clinical development is a three-phase process.
During Phase I, small groups of people receive the trial vaccine.
In Phase II, the clinical study is expanded and vaccine is given to people who have characteristics (such as age and physical health) similar to those for whom the new vaccine is intended.
In Phase III, the vaccine is given to thousands of people and tested for efficacy and safety.
In India, Central Drugs Standard Control Organisation gives approvals for clinical trials.
Central Drugs Standard Control Organisation
CDSCO under Directorate General of Health Services, Ministry of Health & Family Welfare is the National Regulatory Authority (NRA) of India.
The Drugs & Cosmetics Act,1940 and rules 1945 have entrusted various responsibilities to central & state regulators for regulation of drugs & cosmetics.
CDSCO is constantly thriving upon to bring out transparency, accountability and uniformity in its services in order to ensure safety, efficacy and quality of the medical product manufactured, imported and distributed in the country.
Under the Drugs and Cosmetics Act, CDSCO is responsible for approval of Drugs, Conduct of Clinical Trials, laying down the standards for Drugs, control over the quality of imported Drugs in the country and coordination of the activities of State Drug Control Organizations by providing expert advice.
Drug Controller General of India within CDSCO is responsible for approval of licenses of specified categories of Drugs such as blood and blood products, I. V. Fluids, Vaccine and Sera
Immunogenicity
Immunogenicity is the ability of a foreign substance to enter a person's body and cause an immune response.
A great example of immunogenicity is a vaccination.
When a person gets vaccinated, they are injected with a very tiny amount of a specific disease. Once a person receives the injection, their immune system will begin to create antibodies, which are special proteins created by the body that help protect us against infectious viruses and bacteria.
Subject: Polity
Context:
There is a growing clamour in India for boycotting trade with China amidst recent political tensions between the two countries. It became major cause of concern for India's pharmaceutical industry as it depends on china for APIs.
Concept:
India is the third largest producer of finished drugs in the world, it relies significantly on China for supplies of active pharmaceutical ingredients (APIs), the key components in making medicines.
An estimated 70 per cent of API requirements of India's pharmaceutical industry are sourced from China.
The 1970 Indian Patent Act is widely lauded for facilitating the growth of India's pharmaceutical industry.
Indian patent act 1970
The Patents Act, 1970 is the legislation that till date governs patents in India. It first came into force in 1972.
The Patents Act has been repeatedly amended: 1999, 2002, 2005, 2006. These amendments were required to make the Patents Act TRIPS-compliant
The major amendment was in 2005, when product patent was extended to all fields of technology like food, drugs, chemicals and micro organism
The Indian Patent Act, 1970 strikes a balance between the rights of the applicant and his obligation to the society granting the rights.
Some salient features of the Act include, product and process patent, term of patent as 20 years,patent examination conducted on request, fast track mechanism for quick disposal of appeals, pre-grant and post-grant opposition allowed, protection of biodiversity and traditional knowledge, and, publication of applications after 18 months of date of filing of patent application.
One of the most important aspects of Indian Patents Act, 1970, is compulsory licensing of the patent subject to the fulfillment of certain conditions.
Section 3(d) stipulates that the mere discovery of a new form of a known substance which does not result in the enhancement of the known efficacy of that substance or the mere discovery of any new property or new use for a known substance or of the mere use of a known process, machine or apparatus unless such known process results in a new product or employs at least one new reactant, is not patentable
4. Where is Nagarahole Park situated and why its important?
Subject: Environment
Context:
The Forest Department is going to have traffic monitoring mechanism along the roads adjacent to Nagarahole National Park to ensure better compliance of forest laws by motorists and to minimise road kills.
Concept:
Nagarahole is named after Nagarahole (Cobra river in the local language, Kannada), a winding river which runs eastwards through its centre. Situated in the two districts of Mysore and Kodagu in the state of Karnataka.
It was originally constituted into a sanctuary in the year 1955 and given the status of a National Park in 1983.
It is located to the north-west of Bandipur National Park and the Kabini reservoir separates the two parks.
Nagarahole National Park forms a part of the Nilgiri Biosphere Reserve and together with Bandipur National Park (875 sq. kms) and Mudumalai Wildlife Sanctuary (325 sq. kms) to its South East and Wayanad (350 sq. kms) to the South-West
It is one of the last remaining and best protected habitats for endangered species like the Elephant and the Tiger.
The vegetation in this park predominantly comprises of moist, tropical and mixed deciduous forest, with some portions being the dry deciduous type. Rosewood, Sandalwood, Teakwood and Silver Oak are some of the more commercially important and easily available trees in this area.
5. What are Seismic Zones of India
Subject: Geography
Context:
Since April, 20 earthquakes have been recorded in and around Delhi. Of the 20, two were above magnitude 4.
Concept:
Earthquake – prone areas of the country have been identified on the basis of scientific inputs relating to seismicity, earthquakes occurred in the past and tectonic setup of the region.
Based on these inputs, Bureau of Indian Standards [IS 1893 (Part I):2002], has grouped the country into four seismic zones, viz. Zone II, III, IV and V.
Of these, Zone V is seismically the most active region, while zone II is the least.
Broadly, Zone – V comprises entire northeastern India, parts of Jammu and Kashmir, Himachal Pradesh, Uttaranchal, Rann of Kutch in Gujarat, part of North Bihar and Andaman & Nicobar Islands.
Zone – IV covers remaining parts of Jammu and Kashmir and Himachal Pradesh, National Capital Territory (NCT) of Delhi, Sikkim, Northern Parts of Uttar Pradesh, Bihar and West Bengal, parts of Gujarat and small portions of Maharashtra near the west coast and Rajasthan.
Zone – III comprises Kerala, Goa, Lakshadweep islands, remaining parts of Uttar Pradesh, Gujarat and West Bengal, Parts of Punjab, Rajasthan, Madhya Pradesh, Bihar, Jharkhand, Chhattisgarh, Maharashtra, Orissa, Andhra Pradesh, Tamilnadu and Karnataka.
Zone – II covers remaining parts of country.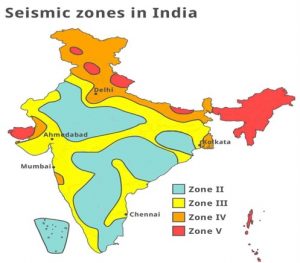 Source: https://scroll.in/
Subject: Science and tech
Context:
The Mars Colour Camera (MCC) onboard ISRO's Mars Orbiter Mission has captured the image of Phobos, the closest and biggest moon of Mars.
Concept:
Mars Orbiter Mission is India's first interplanetary mission to planet Mars with an orbiter craft designed to orbit Mars in an elliptical orbit.
It has been configured to carry out observation of physical features of mars and carry out limited study of Martian atmosphere with following five payloads:
Mars Colour Camera (MCC)
Thermal Infrared Imaging Spectrometer (TIS)
Methane Sensor for Mars (MSM)
Mars Exospheric Neutral Composition Analyser (MENCA)
Lyman Alpha Photometer (LAP)
ISRO had launched the spacecraft on PSLV C25 rocket from Sriharikota on November 5, 2013.