Daily Prelims Notes 4 November 2021
November 4, 2021

Posted by:

OptimizeIAS Team

Category:

DPN

Daily Prelims Notes
4 November 2021
Table Of Contents
Subject – IR
Context –Prime Minister Modi said India has made special arrangements for cooperation with the Pacific islands and Caricom countries in the wake of the threat of climate change.
Concept –
The Caribbean Community (CARICOM or CC) is an intergovernmental organisation of 15 member states (14 nation-states and one dependency) throughout the Caribbean.
CARICOM is the oldest surviving integration movement in the developing world.
Objective – promote economic integration and cooperation among its members, to ensure that the benefits of integration are equitably shared, and to coordinate foreign policy.
The organisation was established in 1973.
All CARICOM countries are classified as developing countries.
They are all relatively small in terms of population and size, and diverse in terms of geography and population, culture and levels of economic and social development.
CARICOM countries share similarities and challenges.
The secretariat headquarters is in Georgetown, Guyana.
CARICOM is an official United Nations Observer beneficiary.
They are from the main ethnic groups of Indigenous Peoples, Africans, Indians, Europeans, Chinese, Portuguese and Javanese. The Community is multi-lingual; with English as the major language complemented by French and Dutch and variations of these, as well as African and Asian expressions.
CARICOM has 15 members – Antigua and Barbuda, Bahamas, Barbados, Belize, Dominica, Grenada, Guyana, Haiti, Jamaica, Montserrat, St. Kitts and Nevis, St Lucia, St. Vincent and the Grenadines, Suriname, and Trinidad & Tobago.
The Chairmanship of the Community is rotated every six months among the member countries.
The CARICOM Single Market and Economy are intended to benefit the people of the region by providing more and better opportunities to produce and sell goods and services and to attract investment.
All members have an equal say regardless of size or economic status.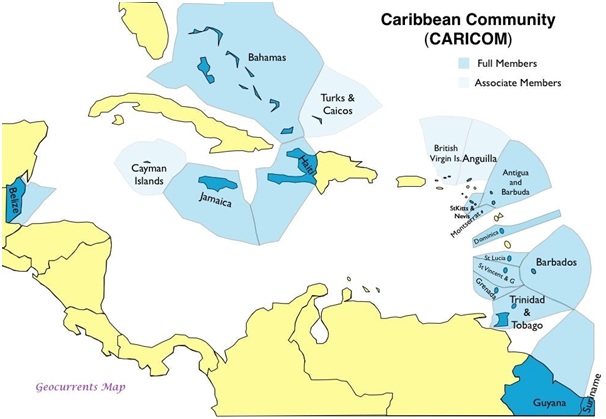 Subject – IR
Context – India appreciated the efforts of the Third World Network (TWN) for its support to Like Minded Developing Countries (LMDC), and expressed the need to ensure resources to TWN.
Concept –
Third World Network (TWN) is an independent non-profit international research and advocacy organisation involved in issues relating to development, developing countries and North-South affairs.
TWN was formed in November 1984 in Penang, Malaysia at the concluding session of an International Conference on "The Third World: Development or Crisis?".
Its mission is to bring about a greater articulation of the needs and rights of peoples in the South, a fair distribution of world resources, and forms of development which are ecologically sustainable and fulfill human needs.
It provides a platform representing broadly Third World interests and perspectives at international fora such as United Nations agencies, conferences and processes, WTO, the World Bank and IMF.
TWN Publications –
Third World Resurgence – a monthly magazine on development, ecology, economics, health, alternatives and South-North relations.
Third World Economics – a bi-monthly economics magazine focussing on the GATT/WTO, the World Bank/IMF, etc.
SUNS bulletin – the daily South-North Development bulletin published from Geneva, Switzerland.
3. Leadership Group for Industry Transition (LeadIT)
Subject – Environment
Context – India requested the Like­ Minded Developing Countries (LMDC) members to join hands with India to support the global initiatives it has pioneered, including the International Solar Alliance (ISA), Coalition for Disaster Resilient Infrastructure (CDRI) and the Leadership Group for Industry Transition (LeadIT).
Concept –
The Leadership Group for Industry Transition (LeadIT) gathers countries and companies that are committed to action to achieve the Paris Agreement.
It was launched by the governments of Sweden and India at the UN Climate Action Summit in September 2019 and is supported by the World Economic Forum.
LeadIT members subscribe to the notion that energy-intensive industry can and must progress on low-carbon pathways, aiming to achieve net-zero carbon emissions by 2050.
The Management Board is made up of representatives from Sweden, India, and the World Economic Forum
The Secretariat is responsible for managing the work of the Leadership Group and is hosted by Stockholm Environment Institute (SEI).
Members –
| | | |
| --- | --- | --- |
| Argentina | France | Republic of Korea |
| Australia | Germany | Sweden |
| Austraia | India | Northern Ireland |
| Denmark | Ireland | USA |
| Ethiopia | Luxemburg | Netherland |
Subject – IR
Context – GOP Senators support CAATSA waiver for India
Concept –
Three Republican Senators have introduced an amendment to the National Defense Authorization Act FY2022 — an annual defence budget Bill — to make it harder for the executive branch of the U.S. government to impose sanctions on members of the Quadrilateral Security Dialogue (Quad) for buying Russian arms.
The move comes as India is expected to take delivery of the S-400 Triumf missile defence system from Moscow — possibly this month or next, potentially attracting sanctions under U.S. domestic law, the Countering Americas Adversaries Through Sanctions Act (CAATSA) of 2017.
The latest legislation, called the Circumspectly Reducing Unintended Consequences 15 Impairing Alliances and Leadership (CRUCIAL) Act of 2021, requires the U.S. President to certify to "appropriate congressional committees" that a U.S. Quad partner country (India, Australia, Japan) is not cooperating on "security matters critical to the United States strategic interests," prior to applying CAATSA sanctions on entities from that country.
Effectively, this would mean the administration would have to say the Quad is dysfunctional, before imposing invoking CAATSA sanctions on its members.
If the amendment goes through, this certification requirement will be in effect for 10 years from the date of its passage.
5. Blockchain Technology: Layer-1 and Layer-2 Networks
Subject – Science and Tech
Context – At $4,643, Ether scales to record high; Bitcoin trails
Concept –
Ether, the world's second-largest cryptocurrency, hit an all-time high on Wednesday, catching up with Bitcoin's rally and riding on news of wider blockchain adoption.
The Ether token, which underpins the Ethereum blockchain network, rose to as high as $4,643 in Asian hours.
In the days since Bitcoin, the world's largest cryptocurrency, hit its record high of $67,016.5 on October 20, other tokens on the base layer of blockchain networks, known as Layer 1 networks, have gathered momentum.
Some important terms –
Blockchain Trilemma: the balancing act between decentralization, security, and scalability within a blockchain infrastructure.
Blockchain Decentralization: it refers to the meaningful distribution of computing power and consensus throughout a network,
Blockchain security: it reflects a blockchain protocol's defenses against malicious actors and network attacks.
Blockchain scalability: it refers to a blockchain network's ability to support high transactional throughput and future growth (capable of accommodating an exponentially growing number of users, transactions, and data).
Layer-1 Scaling Solutions
In the decentralized ecosystem, a Layer-1 network refers to a blockchain, while a Layer-2 protocol is a third-party integration that can be used in conjunction with a Layer-1 blockchain.
Bitcoin, Litecoin, and Ethereum, for example, are Layer-1 blockchains.
Layer-1 scaling solutions augment the base layer of the blockchain protocol itself in order to improve scalability.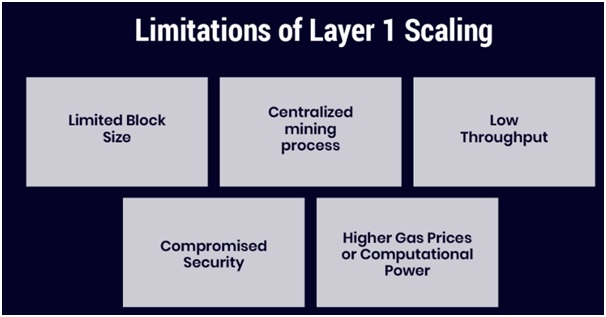 Layer-2 Scaling Solutions
Layer-2 refers to a network or technology that operates on top of an underlying blockchain protocol to improve its scalability and efficiency.
This category of scaling solutions entails shifting a portion of a blockchain protocol's transactional burden to an adjacent system architecture, which then handles the brunt of the network's processing and only subsequently reports back to the main blockchain to finalize its results.
By abstracting the majority of data processing to auxiliary architecture, the base layer blockchain becomes less congested — and ultimately more scalable.
Examples of Layer-2 solutions –
Lightning Network
Nested blockchains
State channels
Sidechains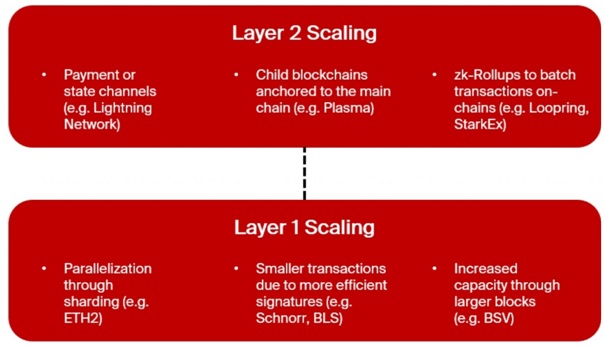 Boosting Blockchain Networks' Scalability
Layer-1 and Layer-2 scaling solutions are two sides of the same crypto coin: They're strategies designed to make blockchain networks faster and more accommodating to a rapidly growing user base.
These strategies are not mutually exclusive either, and many blockchain networks are exploring combinations of Layer-1 and Layer-2 scaling solutions to achieve increased scalability without sacrificing adequate security or decentralization.